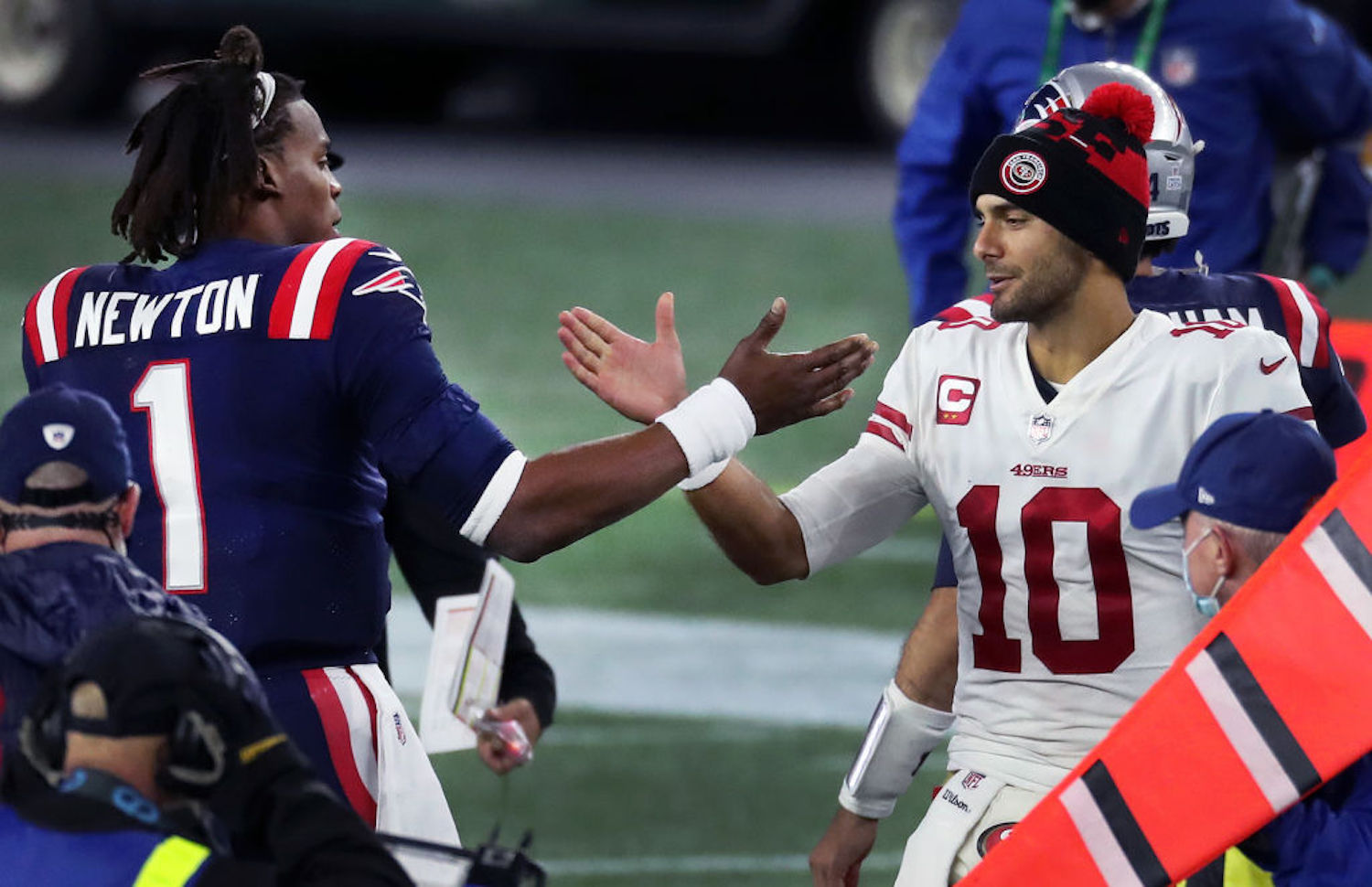 Jimmy Garoppolo Sends a Stern Message to Bill Belichick About Trading Him Away
Bill Belichick traded Jimmy Garoppolo to the San Francisco 49ers in 2017, and the QB just made him severely regret that decision.
Jimmy Garoppolo was supposed to be the heir apparent to Tom Brady in New England. Boy, would they like to have him under center right about now?
Patriots head coach Bill Belichick traded Garoppolo for a second-round draft pick in 2017, and the QB has surely made him regret that decision. Not only did Garoppolo lead his new team to the Super Bowl last year, but he just gave Belichick and the Pats their worst home loss in over 20 years.
Bill Belichick traded Jimmy Garoppolo in 2017
When the Patriots drafted Garoppolo in the second round in 2014, the franchise made it clear he was going to be groomed to replace Brady in the future. Brady was 37 at the time. Not many quarterbacks have sustained success into their late 30s, and virtually none of them thrive past the age of 40.
Brady can't play football forever. Belichick and Robert Kraft faced that realization in 2014, so they decided to plan ahead. Garoppolo sat and learned behind Brady for three seasons, and he flashed immense potential when he did see the field.
But Brady just kept on winning. He led the Patriots to Super Bowl victories in 2014 and 2016, and he made the Pro Bowl in three straight seasons after Garoppolo joined the team. It was almost as if Brady was telling management, 'you can't replace me.'
So Belichick moved on from his QB project. He traded Garoppolo to the 49ers in 2017 for a 2018 second-round pick. Fast forward three years later — Brady is in Tampa Bay, and Garoppolo is embarrassing Belichick in more ways than one.
Belichick must be regretting the trade
Garoppolo didn't win the starting job in San Francisco until Week 13 of 2017, but he took off once he finally got the nod. The QB led the 49ers to five straight wins to finish the season. During that stretch, he completed over 67% of his passes and threw seven touchdowns.
Two years later, Garoppolo led the 49ers to a 13-3 record in the regular season. San Francisco breezed through the playoffs in the NFC to reach the Super Bowl against Patrick Mahomes and the Kansas City Chiefs. Garoppolo fell short in the end, but he established himself as a promising franchise quarterback moving forward.
Belichick was undoubtedly happy to see his ex-QB flourish in a starting role, but he couldn't help but dream about what could've been.
Garoppolo just handed Belichick his worst home loss ever
Garoppolo returned to New England on Sunday for the first time since being traded in 2017, and he clearly entered the game with something to prove.
The QB completed 20 of his 25 attempts for 277 yards against the vaunted Patriots defense, and the 49ers demolished his former team, 33-6. The 27-point loss marked the worst home loss of Belichick's storied career in New England.
"It was a cool week," Garoppolo said after the game. "Just a lot of emotions, a lot of memories. Especially coming back here, seeing the same stadium, hearing the same songs they used to play, a lot of memories came back … But it was a fun night. Couldn't imagine it going any better than this."
Meanwhile, Cam Newton threw three interceptions in the game as his midseason struggles continued. The Patriots now sit at 2-4 and on the outside looking in in the AFC playoff picture, while Garoppolo has the 49ers in position to steal a Wild Card spot in the NFC.
Belichick hasn't made many mistakes during his NFL coaching career, but trading Garoppolo sure is one of them.
All stats courtesy of Pro Football Reference