Jimmy Garoppolo Shuts up Tedy Bruschi After Pregame Slam: 'I Just See an Error Repeater Over the Years'
It's easy to take shots at San Francisco 49ers starting quarterback Jimmy Garoppolo. The New England Patriots got rid of him, he's oft-injured, he's not (and never will be) a truly elite NFL QB, and his own coach recently drafted his replacement. When Jimmy G is in there, though, he wins ball games and shuts up his critics, which is exactly what he did Sunday to the Cincinnati Bengals and ESPN analyst Tedy Bruschi.
ESPN analyst Tedy Bruschi crushed San Francisco 49ers QB Jimmy Garoppolo on Sunday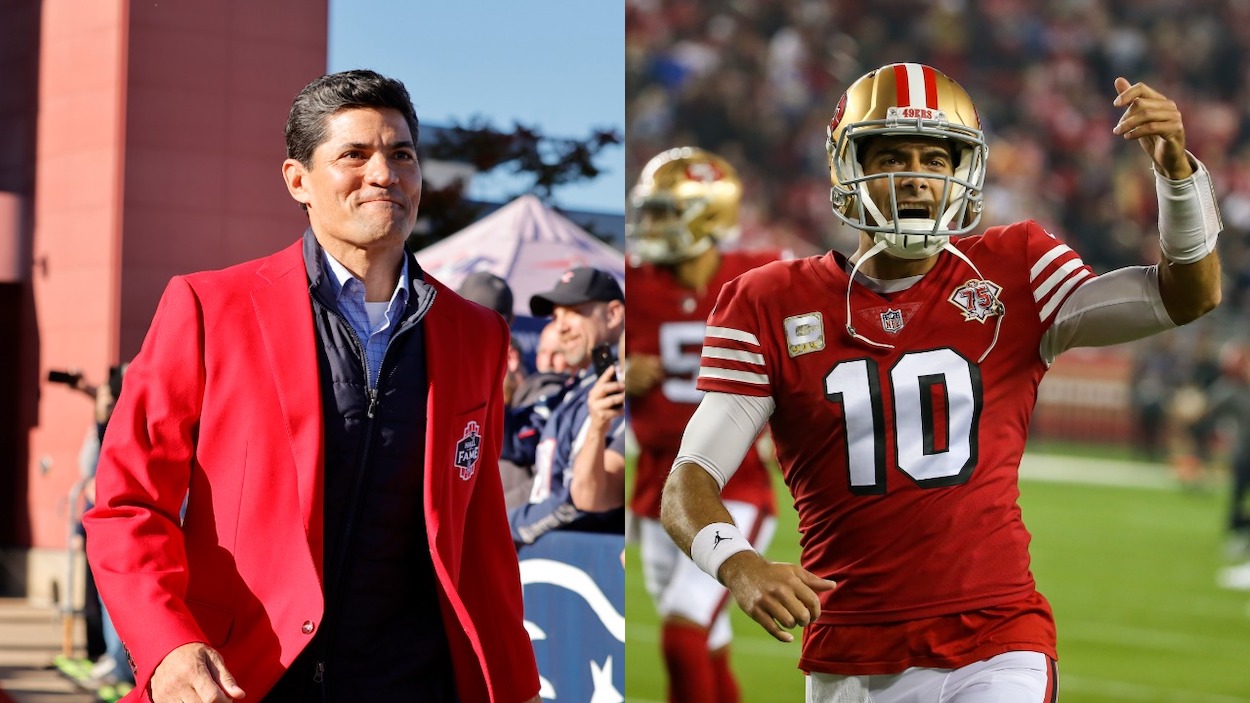 Former linebacker Tedy Bruschi and San Francisco 49ers QB Jimmy Garoppolo both played for the New England Patriots. Although, Bruschi left six years before Garoppolo got to Foxborough.
Bruschi is now an NFL analyst on ESPN and, as such, shared a few thoughts about his old franchise-mate, Jimmy G, on the NFL Sunday Countdown pregame show this week:
One of the factors I'm looking at in this game is Jimmy Garoppolo. I watch Jimmy play, and I start to see why they traded three first-round picks to go up and get Trey Lance with the No. 3 overall pick. Because I just see an error repeater over the years. Seeing Jimmy do the same thing over and over again. … You're waiting for the Niners to be a contender again, but it looks like, at times, Jimmy Garoppolo is holding them back.

Tedy Bruschi on Jimmy Garoppolo
Bruschi went into some technical reasons that Garoppolo's two interceptions during San Fran's loss to the Seattle Seahawks last week were bad. And, he praised head coach Kyle Shanahan for hiding "the negatives about Jimmy Garoppolo," as Randy Moss called them, with motion and the run game.
This is the same Coach Shanahan, by the way, who is 29-13 with a Super Bowl appearance when Garoppolo is his starter and 7-28 without him.
We all knew five-plus years ago when they played on the same team that Garoppolo is no Tom Brady. We know now that he is no Aaron Rodgers or Patrick Mahomes — or maybe even no Mac Jones.
That said, as Joe Flacco taught us years ago, you don't have to be "elite" to win a Super Bowl. You just need to be good enough to get the job done, and Garoppolo is certainly that.
And he proved it once again on Sunday vs. the Cincinnati Bengals.
Garoppolo and the 49ers went out and won another game against the Cincinnati Bengals
The San Francisco 49ers and Cincinnati Bengals are both fighting tooth and nail for a playoff spot in their conference as the 2021 season nears its conclusion.
The game started out looking like a rout for Jimmy Garoppolo, Kyle Shanahan, and the 49ers. With their two best offensive players — George Kittle and Deebo Samuel — both healthy and in the lineup, it looked like the Niners were going to win in a walk.
Touchdowns from Samuel and Kittle, combined with two field goals from Robbie Gould, gave San Francisco a 20-6 lead midway through the third quarter. However, back-to-back touchdowns by Joe Burrow and Ja'Marr Chase tied the score and forced overtime.
In OT, the Bengals grabbed control, kicking a field goal on their opening possession. On a do-or-die drive, though, Tedy Bruschi's whipping boy showed up and won the game 26-23.
Jimmy G completed his last six passes in a row, including a 12-yard touchdown pass to Brandon Aiyuk to give the 49ers the W. It took the team to 7-6 and gave it possession of the No. 6 playoff spot in the NFC.
It was a great answer to his critics and could set the 49ers up for another Super Bowl run.
Jimmy G and the Niners can make a Super Bowl run in 2021
Step one for Jimmy Garoppolo and the San Francisco 49ers to make a Super Bowl run is to make the playoffs. Beating the Bengals was a good start. Now, the rest of the team's schedule is conducive to the 49ers securing that spot.
The next three games for San Fran are against the Atlanta Falcons, Tennessee Titans, and Houston Texans. These are all winnable games. Game 17 is against the team the 49ers are chasing — and a team Kyle Shanahan and company have owned the last few years — the Los Angeles Rams.
If they get in, things could line up nicely for the 49ers in this year's playoffs.
The five teams above them right now include two division rivals in the Rams and Arizona Cardinals. The Niners won't be intimidated or surprised by either. It also consists of the Dallas Cowboys and Green Bay Packers. These are two teams for which the 49ers' dynamic rushing attack and stout defense could create problems.
The toughest opponent would be the Tampa Bay Buccaneers. The 49ers would play the Bucs in the first round if the season ended today.
It would be a fascinating matchup between the king, Tom Brady, and the prince that never was in Jimmy G. It wouldn't be easy, but if Garoppolo and the Niners could clear that hurdle, another title game appearance would be on the table.
And, if that happens, even Tedy Bruschi would have to eat his words.
All stats courtesy of Pro Football Reference