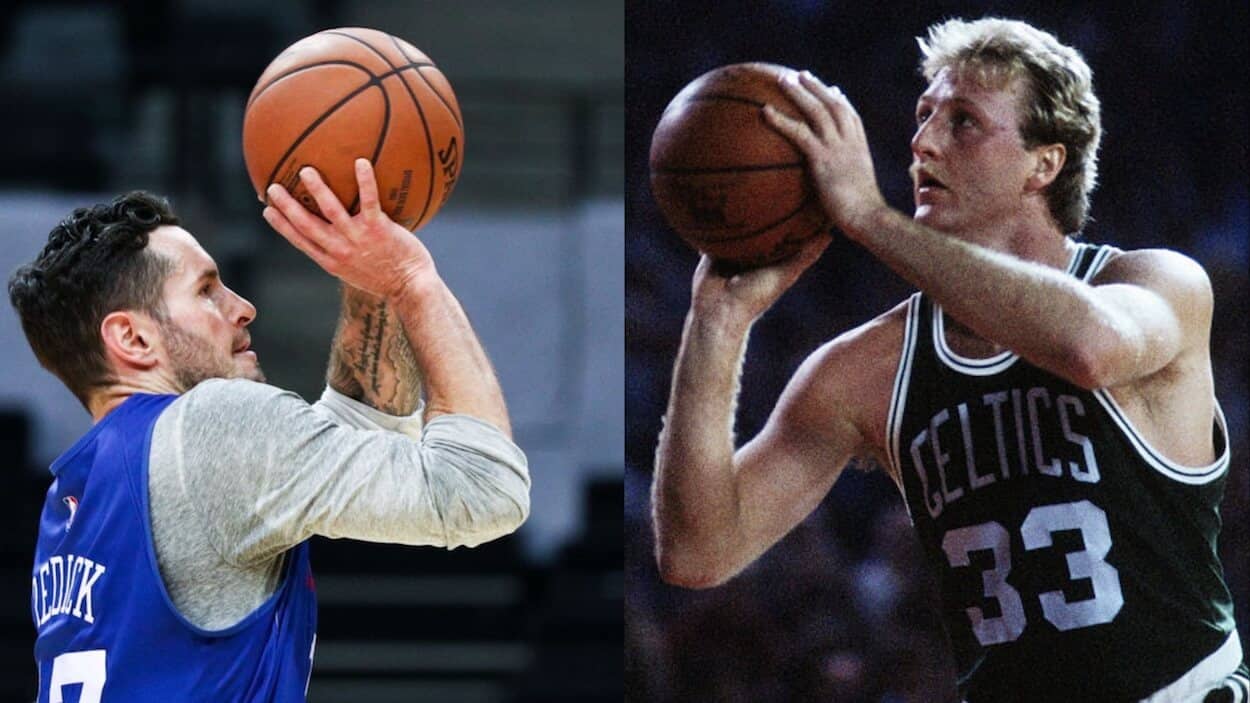 JJ Redick Wouldn't Trust Anyone to Shoot a Jumper to Save His Life, Not Even Larry Bird
If your life was on the line, would you trust JJ Redick or Larry Bird to knock down a jumper. The former Duke Blue Devil knows who he'd pick.
While he never reached legendary status, JJ Redick carved out a respectable career as an NBA player. While it initially looked like the Duke Blue Devil would flop in the Association, the Redick proved that he could be more than just a sharpshooter. That reality, however, didn't make him any less confident in his jumper.
Even in retirement, it seems like the guard still trusts his ability to knock down a shot. In fact, if his life depended on a single jumper, Redick would take on that responsibility himself. No one, not even Larry Bird, would be entrusted with the rock in that situation.
Is that overconfident? Or completely understandable? Let's break it down.
JJ Redick wants his life in his hands, not Larry Bird's
If you've listened to sports talk radio (or podcasts) for any amount of time, you'll know that wacky hypothetical questions will occasionally find their way into the mix. JJ Redick, thanks to his time on the airwaves, probably understands that reality as well as anyone else.
During an appearance on The Dan LeBatard Show, the former Duke star was hit with one of those questions: If his life depended on sinking a single jump shot, would he take it himself? Or would he trust Larry Bird with the ball?
"I gotta say something," Reddick explained before properly answering the question. "Every time this has happened, people want to compare my career to some … I never put myself in any category. I never said I was a great player. I never said I was one of the all-time greatest shooters. Why are you bringing me into it?"
That disclaimer, however, didn't affect the sharpshooter's response. With his life on the line, no one else is getting that ball.
"I'm always taking myself," JJ said. "I'm not putting my life in someone else's hands. I'm always going to shoot that shot."
While that makes sense on a human level — there's something less scary about taking control of your own fate as opposed to letting someone else determine if you'd live or die — is it the right choice?
The numbers say Redick is right to keep the ball ahead of Larry Legend, assuming the shot is a 3-pointer
Upon first blush, it sounds bizarre to give anyone other than Bird the ball. Larry Legend is, well, a legend, and he possessed both incredible confidence and a knack for clutch performances. And while he'd be more than capable of taking a single jump shot, the numbers actually favor JJ Redick, provided we're talking about three-pointers (and I assume we are since that increases the challenge. It wouldn't be much of a risk if your life depended on a lay-up).
For the purposes of this hypothetical, the first place to look is three-point shooting percentage. There, Redick actually holds a comfortable advantage over Bird. The former Duke star drained 41.5% of his long-range shots, while the Indiana State Sycamore sunk a respectable 37.6% of attempts from behind the arc.
With that established, the next check is each man's respective shooting volume; we don't want to be misled by a small sample size, after all.
Once again, though, Redick actually holds the advantage. He attempted significantly more three-pointers than Bird did (4704 vs. 1727), which, combined with his shooting percentage, suggests a comfort from behind the arc. If you're both taking and making more shots, it's safe to say you have the edge.
Does that mean Larry Legend is a wrong choice? Absolutely not. The Celtics star's numbers are influenced by his era — who knows what they'd look like in today's NBA when long-range shooting is an essential skill — and he possessed incredible confidence. If nothing else, deciding someone's fate wouldn't faze him.
With all of that qualifying out of the way, though, it's time to ask you the all-important question. If your life is on the line, do you hand JJ Redick or Larry Bird the ball?
Let us know in the comments below.