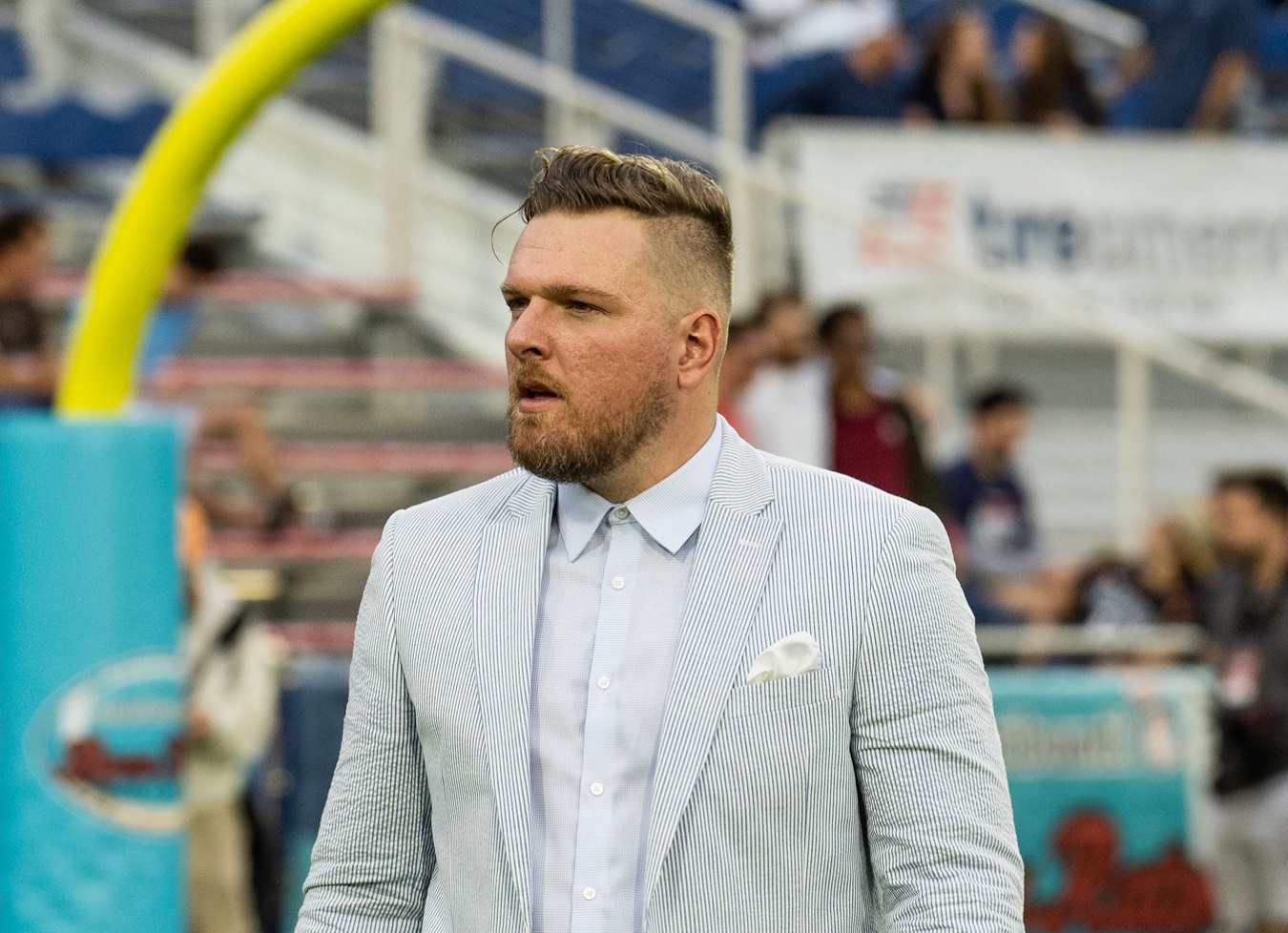 Joe Buck Tried Goading Pat McAfee Into Giving Aaron Rodgers Money That the Packers Quarterback Doesn't Need
Fox Sports NFL announcer Joe Buck kidded Pat McAfee that he should share money from his new contract with Green Bay Packers QB Aaron Rodgers.
Joe Buck was feeling generous Sunday during the NFL game between the Green Bay Packers and Baltimore Ravens. Unfortunately, Fox Sports' No. 1 play-by-play announcer was trying to do so with Pat McAfee's money.
Oddly enough, McAfee almost seemed on board with the idea. In fact, he might have even been willing to go along with it if not for the fact that the proposed recipient might be 10 times wealthier than McAfee.
Former NFL punter Pat McAfee is swimming in money now
Popular radio and YouTube talk show host Pat McAfee recently signed a deal with FanDuel for a reported $120 million over four years, an impressive score for a gig outside of mainstream media. McAfee made $15 million in an eight-year NFL career as a punter and has presumably been doing nicely as a media celebrity since retiring in 2016. But $30 million a year is quite a score, even if he has to pay his staff and overhead out of his own pocket.
It's no accident that McAfee has focused on the internet and extraterrestrial radio. He has a vocabulary skewing toward NSFW that would never fly on radio or TV stations that have to answer to the FCC. But McAfee has won his audience over with his personality and his access to guests like Green Bay Packers quarterback Aaron Rodgers.
In fact, Rodgers congratulated McAfee on the lucrative new deal during one of his near-weekly appearances on the show.
"Couldn't be more happy for you guys," Rodgers told McAfee. "Couldn't happen to better people, harder workers in the business, and I watched that — and I was texting with you last week — but I watched that video that you put together and, it's, umm — it gets you a little misty watching that, man."
Joe Buck tried goading Pat McAfee into giving Aaron Rodgers money
Fox Sports' national NFL game Sunday was a gem as the Green Bay Packers held off the Baltimore Ravens, 31-30. Along the way, play-by-play announcer Joe Buck fired a funny comment Pat McAfee's way.
During an appearance on McAfee's popular show, Rodgers spoke about how much he likes running play fakes, a conversation Buck mentioned during the game. He wrapped up the story with a suggestion for McAfee.
"And one more note, Pat McAfee, Rodgers is still looking for his cut of your new big deal."

Joe Buck
McAfee appreciated the joke, responding on Twitter.
"Shahtaht you too dude," he wrote.
Aaron Rodgers doesn't need anyone else's money
Pat McAfee's net worth is $20 million, according to Celebrity Net Worth. Green Bay Packers quarterback Aaron Rodgers earns that much two-thirds of the way through an NFL season, courtesy of the four-year, $134 million contract extension he signed before the 2018 season.
That would be reason No. 1 why McAfee shouldn't feel compelled to offer any of his newfound wealth to Rodgers. Reason No. 2 would be that McAfee is already committed to spending a healthy chunk of change.
Shortly after revealing his new $120 million deal, McAfee announced he was paying $250,000 bonuses to each of his on-air team members. Sports Illustrated reported he also announced more than $6 million in donations to youth sports programs and a variety of charities, including $1 million to the Peyton Manning children's hospital.
Financial data courtesy of Spotrac.com.