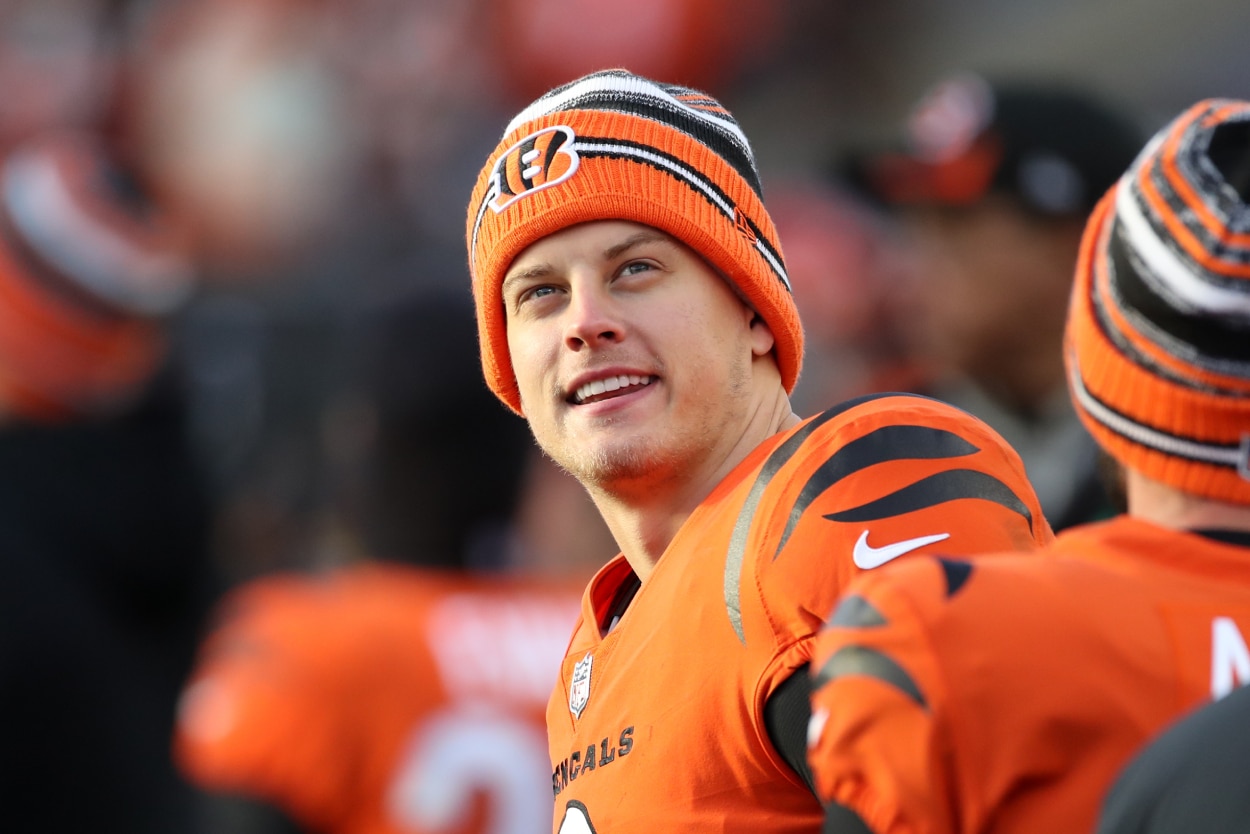 Joe Burrow Says Playing in the AFC North Forced Him to Take His Game to the Next Level
Joe Burrow had a breakout season in 2021, and the Cincinnati Bengals quarterback says that playing in the AFC North forced him to take his game to the next level.
Joe Burrow had a breakout 2021 campaign with the Cincinnati Bengals. After an injury-shortened rookie season, Burrow not only threw for 4,611 yards and 34 touchdowns, but he also led the Bengals to their first Super Bowl appearance in over 30 years.
So, what helped lead to his success? Believe it or not, his injury actually played a role in it, as well as the fact that his team plays in the AFC North.
Playing in the AFC North forced Joe Burrow to improve his throwing mechanics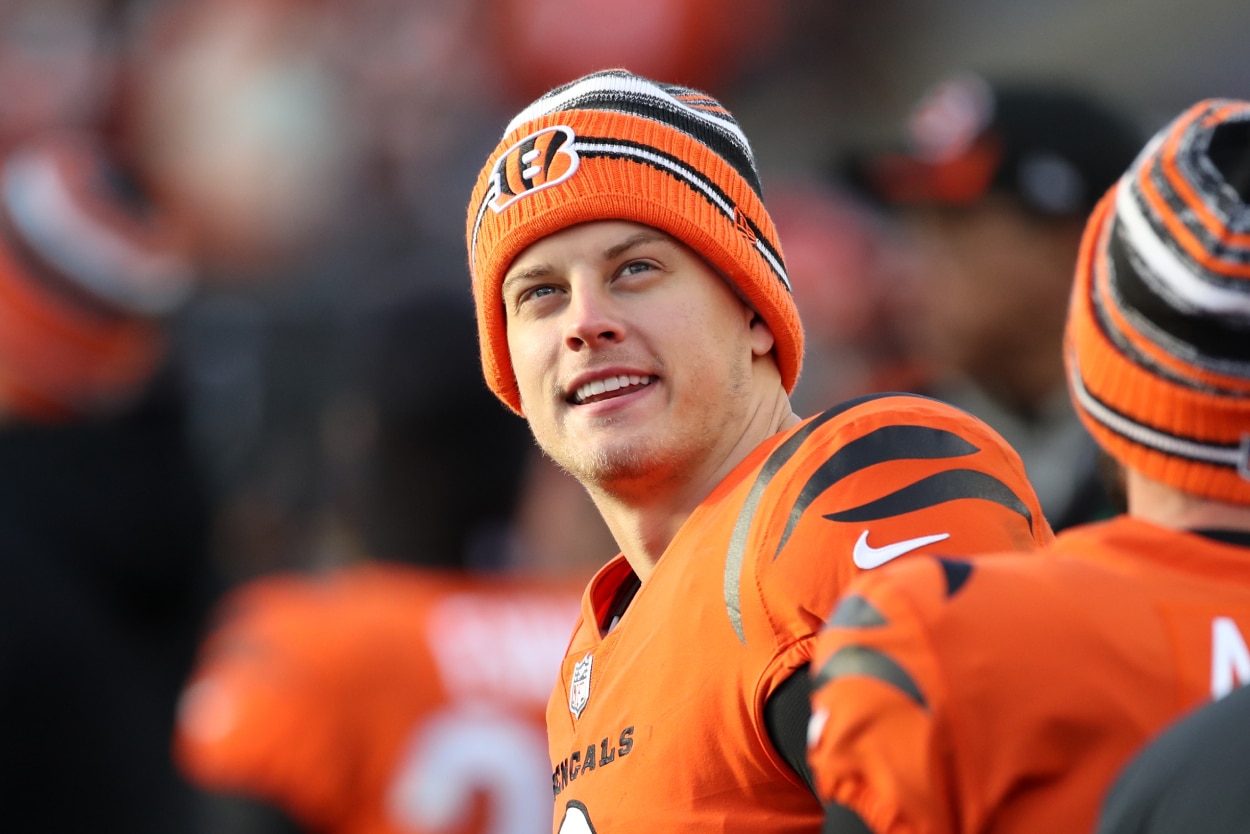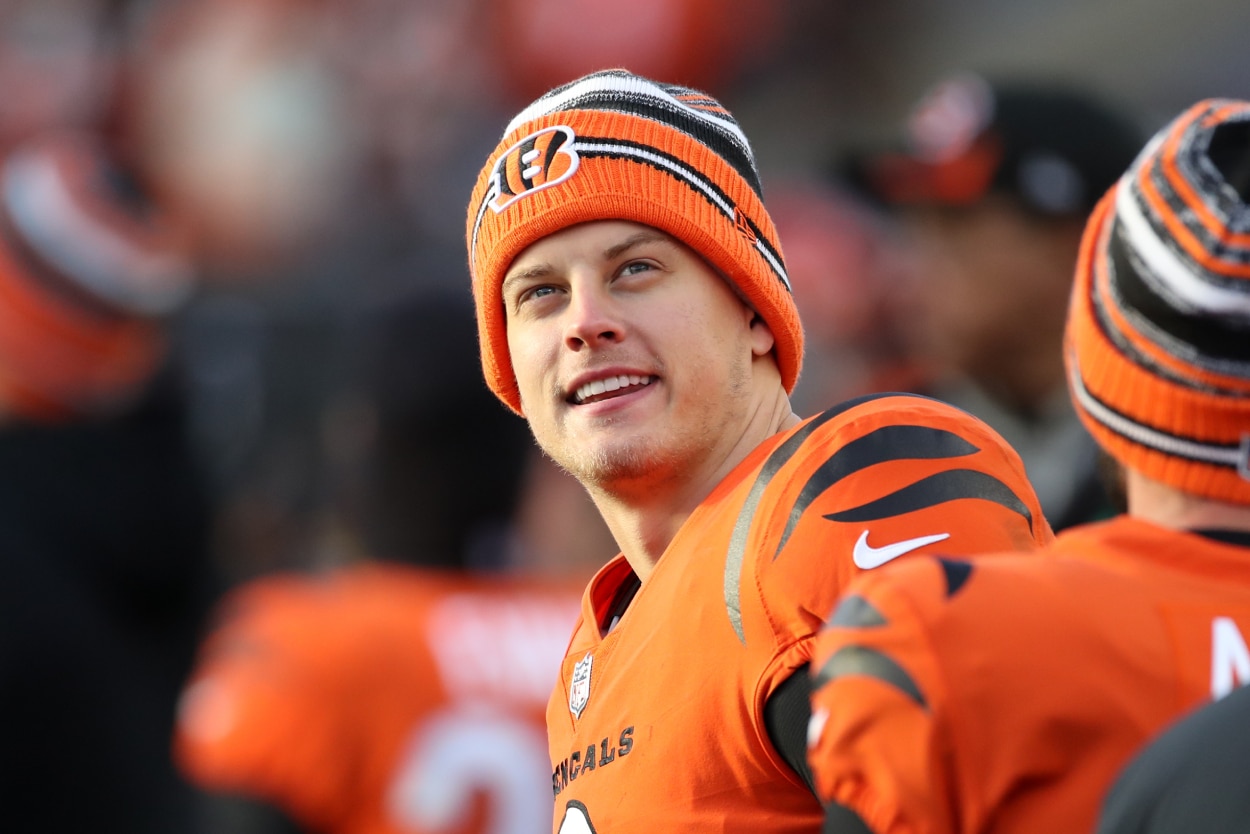 Joe Burrow was already pretty good at throwing the football. He won the Heisman Trophy at LSU in 2019 and had a tremendous start to his NFL career in 2020, picking up 2,688 yards, 13 touchdowns, and five interceptions through his first 10 games.
However, Burrow suffered a knee injury in Week 11, and it cut his season short. But he still played in enough snaps to realize he needed to start throwing the ball harder.
"It was really some of the elements in the AFC North," Burrow said to NBC Sports. "I grew up in Ohio, played high school football in Ohio, but then I played my college ball in Baton Rouge, and the weather's always great. And you come up here, and it's windy. It could be cold. And I couldn't cut the ball through the wind the way I really wanted to."
So, how did he improve in that area? The knee injury actually presented Burrow with an excellent opportunity to work on his throwing motion "from the ground up."
"At some point, I'm gonna just have to sit here and throw because I'm not gonna be able to move around," he said. "So, that was the beginning of the entire process. Just being more connected with my body and my legs. When I was just standing and throwing, coming off that surgery, and trying to figure out ways to get a little more power and torque just standing there, and then it just continued to grow. … My hips were stronger than they had ever been, just because of all the rehab I was doing for my knee, and it translated to more power on the football."
The hard work paid off, especially once the weather got colder.
During the coldest months of the regular season (December and January), Burrow threw for 1,776 yards, 12 touchdowns, and only two interceptions in five games, and he completed 72.38% of his passes. All but one of those games were in Cincinnati, and the one road contest took place in Denver.
Burrow played in Cincy, Nashville, and Kansas City in the playoffs before going to LA for the Super Bowl. He recorded 1,105 yards, five touchdowns, and two interceptions in those postseason contests.
Joe Burrow thrived in the cold weather for the Bengals last season, and it was all because he decided to increase his velocity. It'll be fun to see what he adds to his game this upcoming year for a Cincy team that has had a total vibe shift since bringing his generational skills to the Queen City.
Stats courtesy of Pro Football Reference