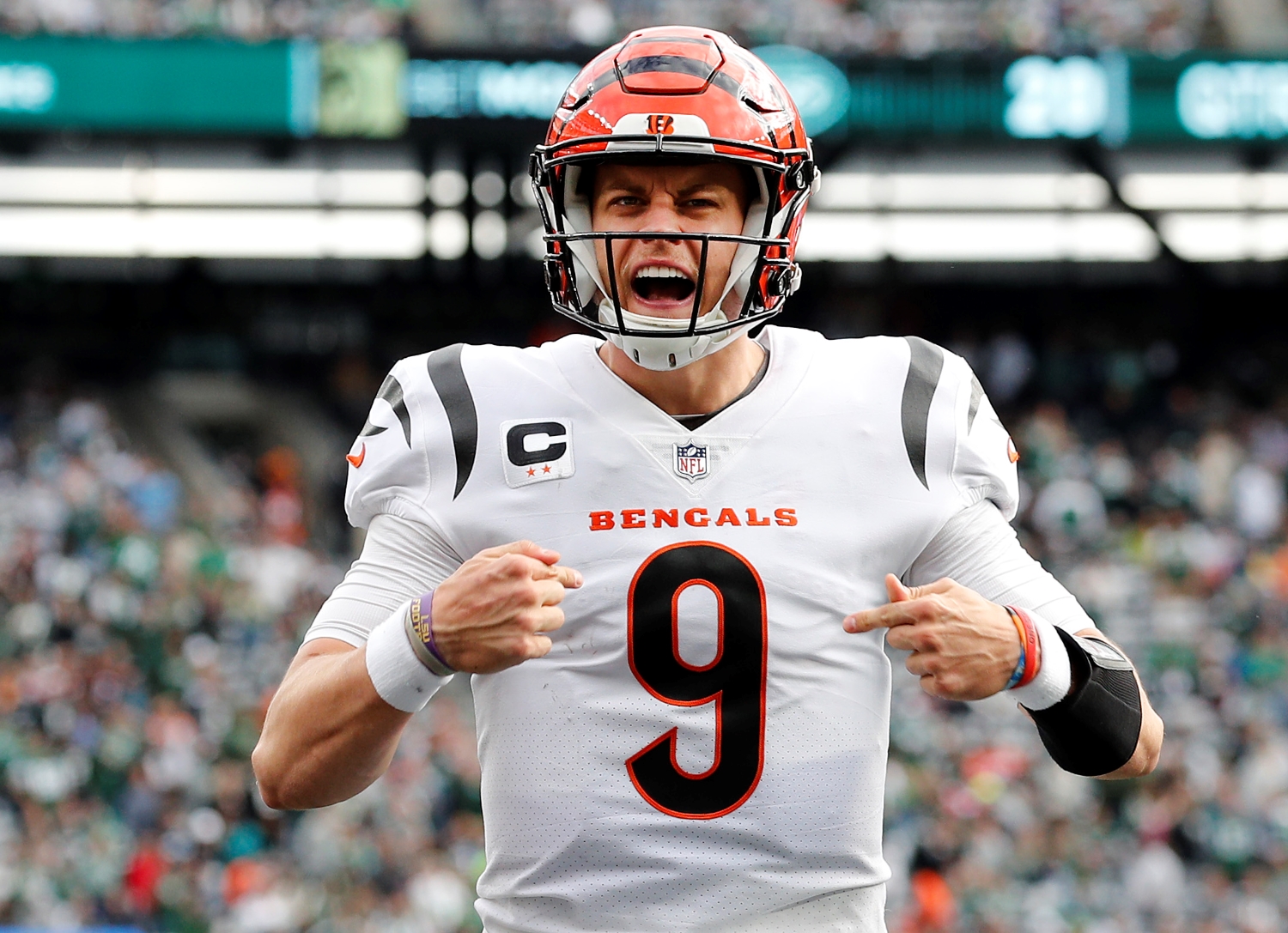 Joe Burrow's Improbable Transformation From Overlooked Backup and Goldman Sachs Intern to SEC Legend and NFL Star Has Made the Bengals More Dangerous Than Ever: 'He's Got a Different Mental Makeup Than the Rest of Us'
Joe Burrow has gone from backing up a future NFL draft bust and expecting to have to work a "real-life" job to dominating the SEC and becoming a superstar for the up-and-coming Bengals.
Like Tom Brady, Joe Burrow just needed the right opportunity to showcase his skills. And while the Tampa Bay Buccaneers quarterback had to wait much longer to hear his name called in the 2000 NFL Draft, the savior of the Cincinnati Bengals became the first player chosen two decades later.
Of course, nobody expected Roger Goodell to read Burrow's name before anyone else's before the 2020 college season began. But by undergoing a radical transformation and lighting it up at LSU, the uber-talented signal-caller put himself in a position to become the face of a franchise that remains in search of its first Super Bowl title.
And with the way the Bengals have played thus far, the Lombardi Trophy may finally make its way to Cincinnati sooner than expected.
Joe Burrow's college career couldn't have been more unconventional
Talk about a journey full of twists and turns.
Joe Burrow began his college career at Ohio State, but he remained buried on the depth chart behind big names like J.T. Barrett and Dwayne Haskins. After attempting just 39 passes with the Buckeyes, he took his talents to the SEC. And despite spending three years as a complete afterthought, he achieved legend status by the time he left LSU.
Burrow's magical senior season included a 76.3% completion rate, 5,671 passing yards, and 60 passing touchdowns. Most importantly, he led the Tigers to a national championship.
His ascension from overlooked backup to bonafide star had to surprise Buckeyes fans. After all, Burrow didn't even have plans to make a living as a pro athlete. He even did an internship at Goldman Sachs in 2016 — an experience you won't find on most NFL players' resumes.
"I was going to have to get a real-world job," he told NFL reporter Judy Battista. "But it turned out differently."
The SEC legend-turned-NFL star has transformed the Bengals from a middling franchise into a dangerous team on the rise
Luckily for Bengals fans, Burrow underwent a major transformation over a five-year period that led to him becoming the No. 1 pick in the 2020 draft. And thankfully for them, he's overcome a brutal knee injury that ended his promising rookie campaign and put himself in the conversation for NFL MVP honors.
With a 69.3% completion rate, 2,835 passing yards and 22 passing touchdowns, the 6-foot-4, 221-pound quarterback has made it abundantly clear that he'll be a force to be reckoned with for years to come. Showcasing excellent chemistry (no surprise there) with former LSU teammate and top draft pick Ja'Marr Chase, Burrow has led the Bengals to a 7-4 record — a remarkable accomplishment considering they went 2-14 in 2019 and 4-11-1 a year ago.
While the second-year signal-caller has to cut down on his turnovers (12 interceptions and three fumbles) and get better about avoiding sacks, it's safe to say he's completely changed the outlook in Cincinnati.
Just let his coach explain.
"He's got a different mental makeup than the rest of us," Zac Taylor told Battista. "That's why you're the national champion, Heisman Trophy-winning, No. 1 pick in the draft. There's a reason you do that and we don't."
Between Burrow and a much-improved roster, Cincinnati has a chance to compete for Super Bowl titles for years to come
Just over a year removed from tearing his ACL and MCL in his left knee, Burrow seems more dangerous than ever. He has a rock-solid set of weapons that includes Chase (50 catches for 906 yards and eight touchdowns), 2020 second-round pick Tee Higgins (43/560/3), steady veteran Tyler Boyd (46/471/2), and underrated tight end C.J. Uzomah (30/331/5). Plus, dynamic running back Joe Mixon (924 rushing yards, 192 receiving yards, 13 total touchdowns) has provided a formidable punch as a do-it-all playmaker.
Combine that with a defense that surprisingly ranks sixth in points allowed at 20.5 per game and the Bengals have the makings of a championship team. Not only do they boast balance (they're also sixth in points scored at 28.1 per game), but they have a roster full of young players on the rise. This is a team that has the opportunity to take over an AFC North division that may look a lot different after the season.
The Pittsburgh Steelers seem to be trending in the wrong direction mostly because of their refusal to move on from Ben Roethlisberger. The Baltimore Ravens remain a playoff-caliber team, but they have yet to take the next step with Lamar Jackson. And the Cleveland Browns continue to be the NFL's biggest tease, which has much to do with the up-and-down play of 2018 No. 1 overall pick Baker Mayfield.
As for the Bengals?
They clearly hit a home run by making Joe Burrow the first player off the board two years later. And as a late bloomer, it's scary to think what the future holds for someone who has the arm talent, athleticism, and attitude to win multiple Super Bowl titles.
All statistics courtesy of Sports Reference and Pro Football Reference.
RELATED: