Ja'Marr Chase Is Red Hot, but He's Getting Carried Away After His Early NFL Success
Cincinnati Bengals rookie wide receiver Ja'Marr Chase is having one heck of a season. He's had a touchdown reception in all but two of his team's eight games. Chase has eclipsed the 100-yard mark three times and even has a 200-yard gem under his belt. He can already be penciled in for the NFL's top rookie, and we're only halfway through the season. He's a confident receiver, but it might be time for him to slow his roll when it comes to talking about his success.
Ja'Marr Chase struggled mightily during training camp with the Cincinnati Bengals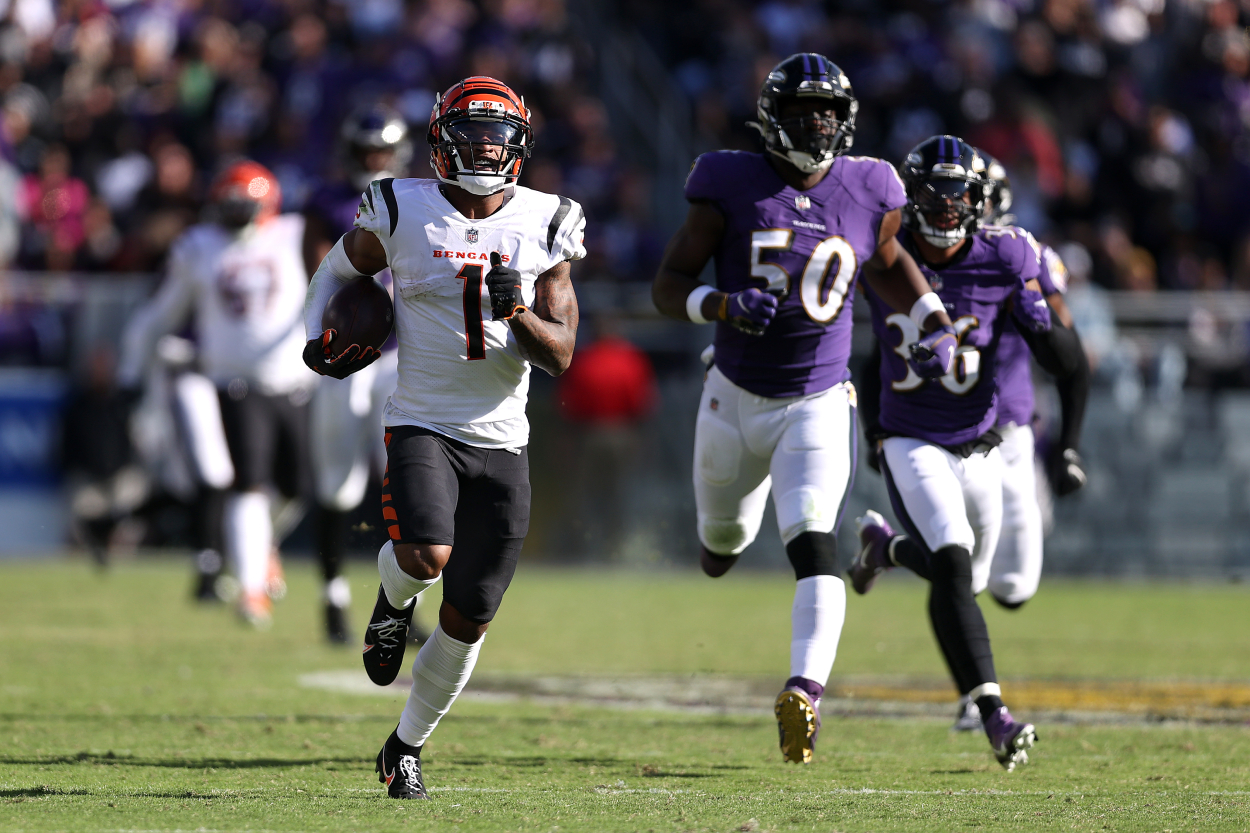 Chase played his college football at LSU, catching passes from Joe Burrow. Little did he know he'd team up with Burrow to form one of the hottest young QB/receiver tandems in the NFL. The Bengals selected him with the fifth overall pick in the 2021 NFL Draft. Cincinnati had taken Burrow with the top overall selection the year before.
During training camp, however, Chase suffered a case of the drops. In his first preseason game against the Washington Football Team, he dropped all three passes thrown in his direction.
Those dropped passes didn't appear to concern the Cincinnati coaching staff. Head coach Zac Taylor chalked it up as a bump in the NFL road.
"By no means are we down on Ja'Marr," Taylor said per ESPN. "He's just going through some of the things rookies go through in training camp, and we expect him to improve over the course of this week."
Following that ugly game against Washington, Bengals beat reporter Kelsey Conway posted on Twitter that Chase had two more drops during practice that week. It was an ugly preseason, prompting many to wonder if the Bengals made the right choice with that fifth overall pick.
Ja'Marr Chase has caught fire but may be getting a bit carried away after his success
Chase has certainly opened up some eyes after the red-hot start to his NFL career. Through eight games, he has 787 yards and seven touchdowns. He's exceeded expectations even for someone who was taken fifth overall.
Chase really caught the attention of NFL fans two weeks ago when the Bengals routed their NFC North rival Baltimore Ravens 41-17. In that game, he had season-highs in catches (8) and receiving yardage (201) and added a touchdown. His 201 yards is a franchise record, breaking the mark of Speedy Thomas, who had 177 yards in a 1969 game against the Denver Broncos.
"We've got so many weapons, the defense is playing great ball right now," Chase said after the Ravens game, per ESPN. "I think the sky is the limit for us."
Chase certainly has gotten his confidence back since that ugly preseason, but he may have gotten carried away with his comments earlier this week.
"I think we can better than Davante Adams and Mr. A-Rod," Chase said, per Ben Baby's Twitter report.
Chase was speaking about the Burrow/Chase combination in relation to the Green Bay Packers duo of Aaron Rodgers and Davante Adams.
Let that sink in.
Chase is confident, but he's wildly reaching with his comment
Chase has played eight games in the NFL — eight. In his last one, he caught three passes for 32 yards in a loss to the lowly New York Jets.
Adams is arguably the best wide receiver in the NFL. Rodgers ranks right up among the league's top quarterbacks. Comparing the second-year Burrow, who went 2-7-1 last year and missed the final six games with a torn ACL, to Rodgers, who was last season's MVP, is ludicrous. Likewise, putting himself in the same category as Adams is a bit far-fetched.
Maybe years down the road Burrow and Chase will be the hottest combination in the NFL. It's great to see Chase believe in himself, but comparing two young guns on a team that has proven nothing when it comes to winning to an established duo that has reached the NFC Championship Game the last two years (and four of the last seven), is foolish. Chase needs more than eight games under his belt to even be put in that conversation.
Chase and Burrow give the Bengals hope. For now, it should be baby steps.