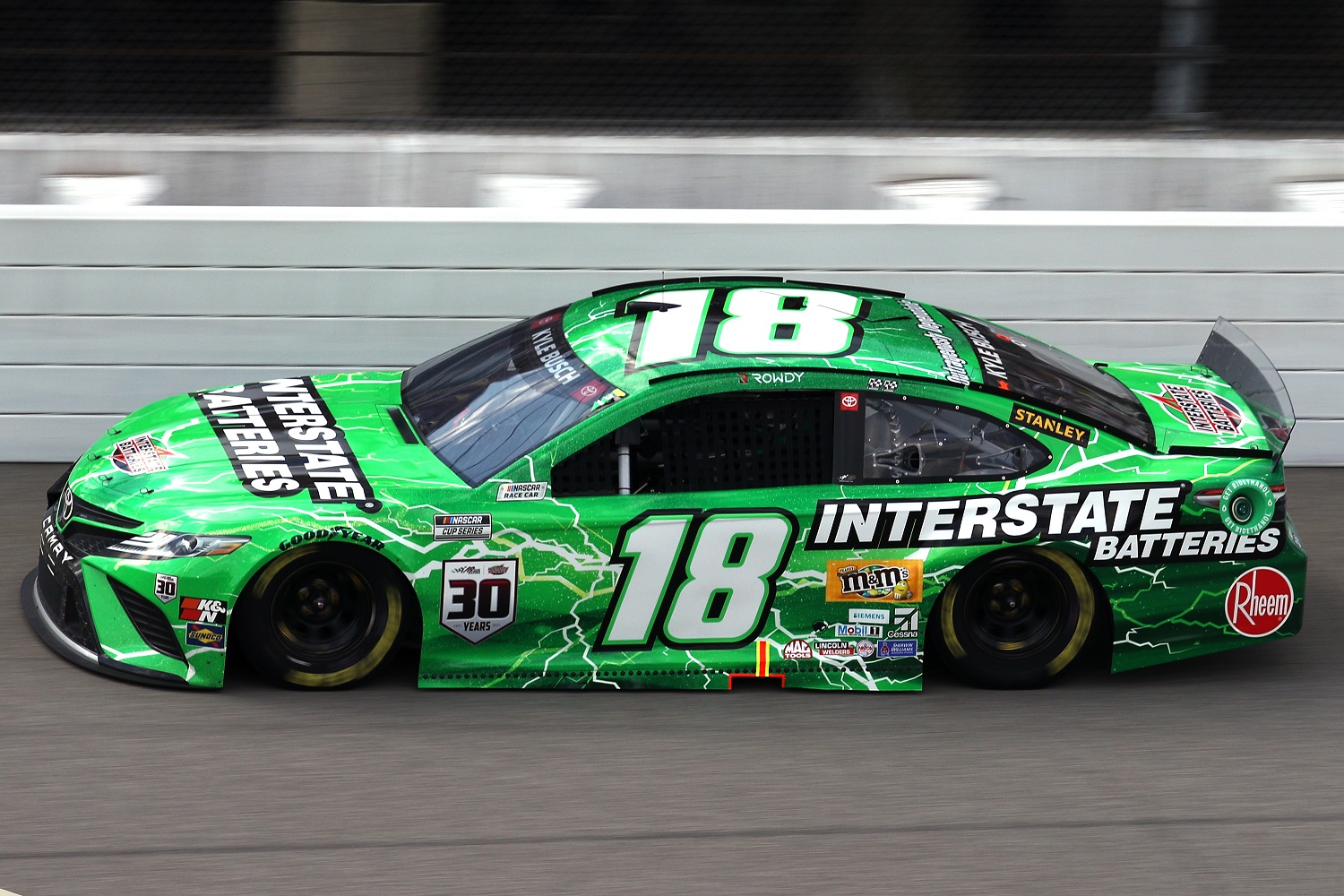 Joe Gibbs Traveled to Enemy Territory to Recruit a Kyle Busch NASCAR Sponsor That's Been Around Even Longer Than M&M's
While Joe Gibbs Racing will be losing Kyle Busch's longtime primary sponsor, the deal between JGR and Interstate Batteries remains as strong as ever.
Article Highlights:
Though Joe Gibbs Racing and Mars Inc. will part ways after next season, the NASCAR team maintains a long list of sponsors
Kyle Busch and the M&M's joined forces in 2008
Former Washington football coach Joe Gibbs landed Interstate Batteries as a sponsor in 1992 after a secret meeting in Dallas; they recently extended their long-standing partnership
The news on Monday that Joe Gibbs Racing and driver Kyle Busch will lose a big-name, longtime sponsor at the end of the 2022 NASCAR Cup Series sent a jolt through the sport.
Candymaker Mars Inc. began sponsoring NASCAR drivers three decades ago and aligned with Gibbs in 2008. However, executives have opted to withdraw from the sport completely when the contract expires.
The good news for JGR is that the team has plenty of time to bring new sponsors on board. Unlike the owner's dealings with the JGR team's very first major sponsor, Gibbs probably won't need to travel into enemy territory to get his next deal done.
Kyle Busch and the No. 18 M&M's Toyota are easy to spot
Sports Business Journal was first to report that Mars Inc., the maker of M&M's and other candies, will exit NASCAR after the upcoming season. The company began sponsoring Busch's No. 18 car in 2008, and the colorful paint schemes have made it easily identifiable at tracks across the country and on TV.
They have won 55 races and two Cup Series championships together.
Mars products were primary sponsors on Busch's car for three-quarters of the Cup Series races last season. Joe Gibbs Racing executives learned last summer that the sponsorship, which Forbes pegs at $20 million annually, would not be renewed. As bad as the blow is, JGR has a deep bench to fall back on. Its other major sponsors include Interstate Batteries, FedEx, Stanley Black & Decker, and Bass Pro Shops. The team also benefits from a solid relationship with Toyota.
Joe Gibbs traveled to enemy territory to recruit a NASCAR sponsor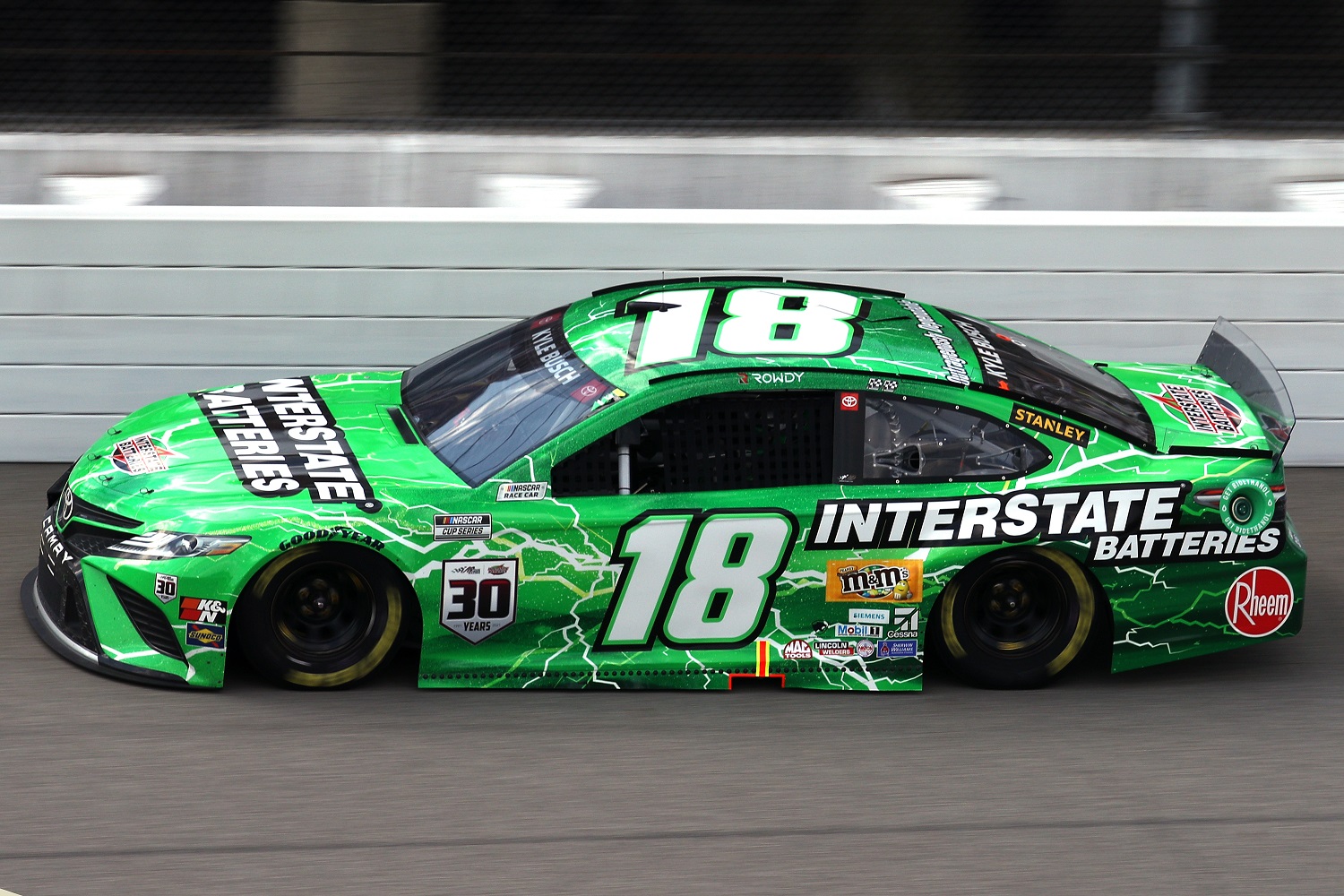 Joe Gibbs was late in his first stint as head coach of the Washington Football Team when he began contemplating what he wanted to do after his NFL days. By the time he hoisted his third Vince Lombardi Trophy after the 1991 season, Gibbs had settled upon becoming a NASCAR Cup Series team owner.
"I put together what was really just a dream on a sheet of paper," Gibbs told Forbes.
Knowing that sponsorships were crucial, Gibbs scouted NASCAR races to find companies he could approach. Interstate Batteries was a secondary sponsor on one of the cars that Gibbs saw, but he decided to call Norm Miller, the company's longtime president and CEO, anyway.
"When my assistant told me, 'Coach Joe Gibbs is calling,' I laughed and thought someone was pulling my leg," Miller recalled. "Turns out it actually was the NFL coach Joe Gibbs calling."
Miller said the conversation went well, so he invited Gibbs to come to his office to discuss possibilities in greater detail. There was one catch: Gibbs was still coaching Washington, and Miller's office was in Dallas, home of the hated Cowboys.
Joe Gibbs Racing made an early impact in the NASCAR Cup Series
Joe Gibbs didn't have very many answers when he secretly met Interstate Batteries executive Norm Miller that night in Dallas.
"We asked Joe a lot of questions like 'Who's your driver?' Joe said, 'I don't have one.' 'Where's your race shop?' 'I don't have one.' 'What car manufacturer are you working with?' 'I don't have one.' Then Joe quickly added: 'Norm, you don't understand. All I have is a dream on this piece of paper.'"

Norm Miller
That didn't scare Miller. His managers knew that the combination of football and NASCAR would appeal to the people running auto parts chains that Interstate wanted to recruit. When Gibbs called back a few days later to see if Miller would consider at least an associate sponsorship, he got an unexpected answer.
"I surprised him by saying, 'Actually, Joe, we decided we want to eat the whole enchilada,'" Miller said.
JGR made its debut in 1992 with Dale Jarrett behind the wheel. Jarrett finished second at Bristol and third in the Daytona summer race, but the breakthrough came in the 1993 opener when he shocked the sport by winning the Daytona 500.
Bobby Labonte took over the driving duties in 1995 and gave Gibbs his first Cup series championship in 2000. Tony Stewart followed with titles in 2002 and '05, and then Kyle Busch scored titles in 2015 and '19
Three decades later, the relationship between JGR and Interstate remains strong, making it one of the longest business relationships in NASCAR. Joe Gibbs Racing and Interstate Batteries renewed their contract in October. Interstate will sponsor Kyle Bush for six races next season and pick up Ty Gibbs for three races in his first full season in the Xfinity Series.
Like Sportscasting on Facebook. Follow us on Twitter @sportscasting19.