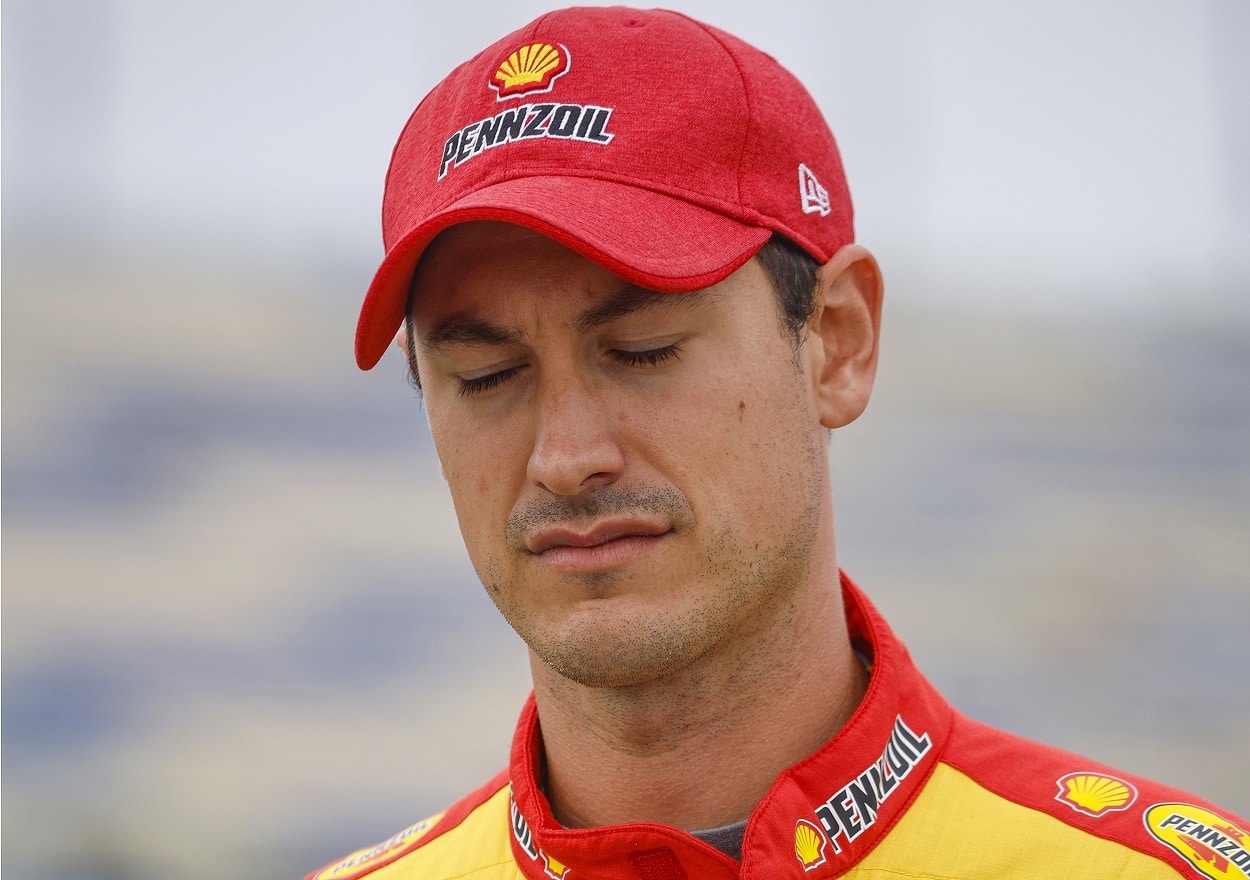 Joey Logano's Late-Race Pit Stop at Kansas Was Quite Disturbing for Team Penske
Joey Logano's late-race pit stop at Kansas showed the No. 22 team may not have confidence in its driver.
Joey Logano entered the second race of the NASCAR Cup Series Playoffs on Sunday as one of the hottest drivers in the series. But a curious late pit-strategy call at Kansas Speedway might have offered some reasons for concern for Logano's championship hopes.
Logano entered the 2022 playoffs as the No. 2 seed behind only Chase Elliott after Logano had a blistering finish to the regular season. He finished sixth or better in five of the final six regular-season races to rise from seventh to second in the points standings.
Joey Logano had a solid start to the NASCAR Playoffs
He then went out and won the pole award for the playoff opener at Darlington Raceway. No team had as much momentum as the No. 22 Team Penske outfit as the series sped to Kansas for the second postseason race.
Logano qualified second for the race at Kansas after a fourth-place result at Darlington that gave him the overall lead in the playoff standings. All indications were the No. 22 team was as much of a championship favorite as Logano had said it was before the playoffs began.
"I told my team (yesterday) we're the favorites," Logano said during NASCAR's playoff media day. "I gave reasons for it. So I don't feel like it's something made up in our mind. You have to race with confidence. I don't see any reason why we wouldn't right now."
His career stats rank among Hall of Fame-caliber drivers
Logano had plenty of reasons available for that feeling of confidence. He had won two races during the regular season, led laps in each of the final three regular-season events, and his track record as a Cup Series driver is in line with the best in the sport.
The 32-year-old has gone to Victory Lane at least once for 11 straight seasons. He has reached the Championship 4 on four separate occasions and won the 2018 championship. His 29 career wins are seventh-most among active drivers and already the 29th-most in Cup Series history. Logano has more victories than drivers such as Carl Edwards, Dale Earnhardt Jr., Ricky Rudd, and Terry Labonte.
This is a team that has legitimate championship potential, which is part of what made its final pit call Sunday at Kansas so surprising.
The No. 22 stayed on track longer than anyone in the final pit cycle
Logano showed occasional speed to run with the race leaders, but he finished Stage 1 in ninth and Stage 2 in eighth. Long-run speed appeared to be the issue for the No. 22 car. Logano had a 90.3 driver rating that ranked 11th in the field, but his minus-18 pass differential ranked 28th.
He likely would have had a top-10 finish at Kansas had he pitted with the rest of the leaders with approximately 55 laps to go, but his crew chief Paul Wolfe kept him on the race track for an additional dozen laps or so. That left Logano as the last driver to pit, and he had given up a significant amount of time to the leaders who had already run at least 10 laps on fresh tires.
Logano would have been among the leaders if a caution had come out before he pitted, but the race stayed green to the finish. He lost a lap during that final pit cycle and tried to battle for a potential "Lucky Dog" spot the rest of the race but ultimately finished 17th.
"Not a great day for us," he said after the race. "We were hanging in there in the beginning for a little bit, and it looked like at one point, in the middle of the race, that we were the fastest car on the track. … We put new tires on, and it just was not good. The balance was off without changing anything. Beats me."
The eight to 10 points Logano gave up because of the late pit stop likely won't matter much. He still has a 38-point cushion above the elimination cutline for Saturday's first-round finale at Bristol Motor Speedway. The lack of confidence the team displayed by trying to catch a caution to compete with the leaders should be more concerning.
More intermediate tracks later in the playoffs could hamper Logano's title chances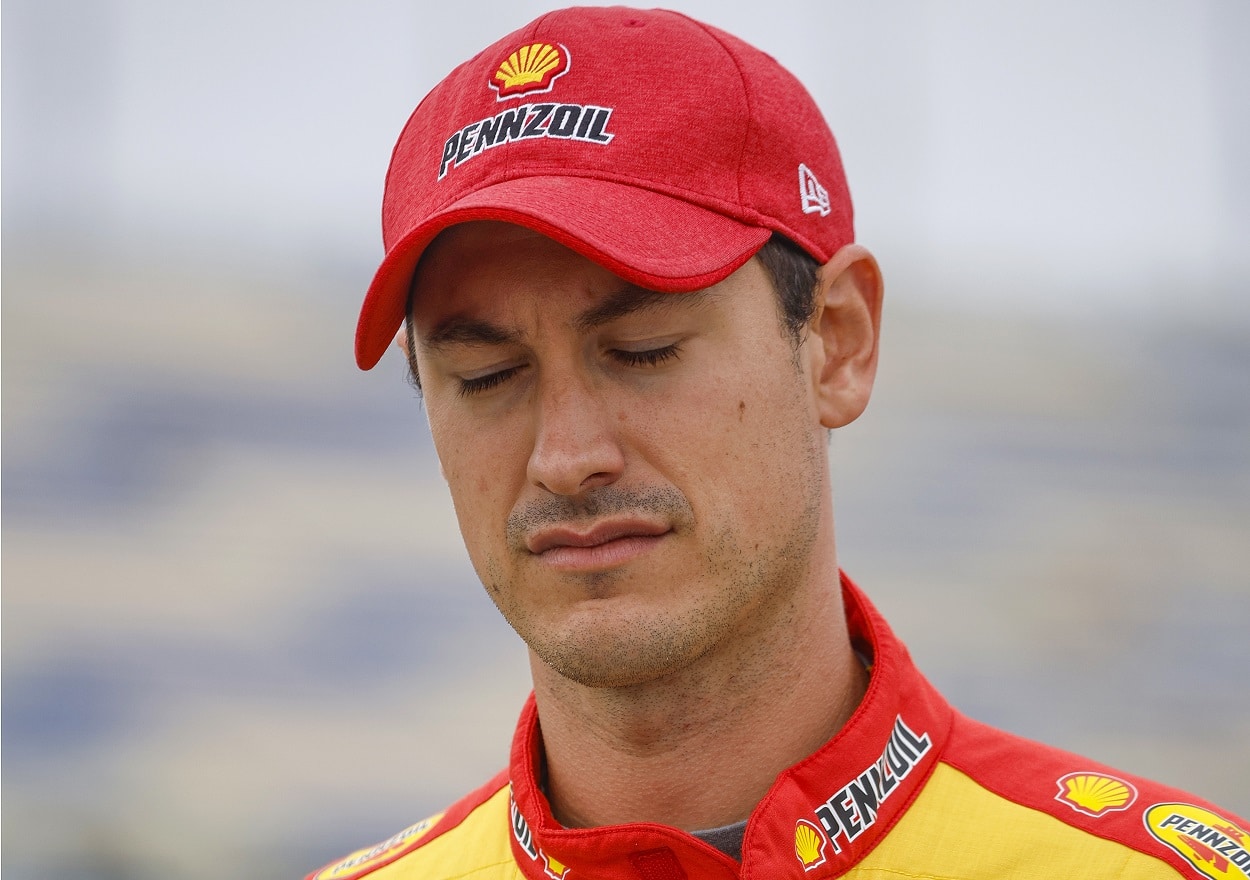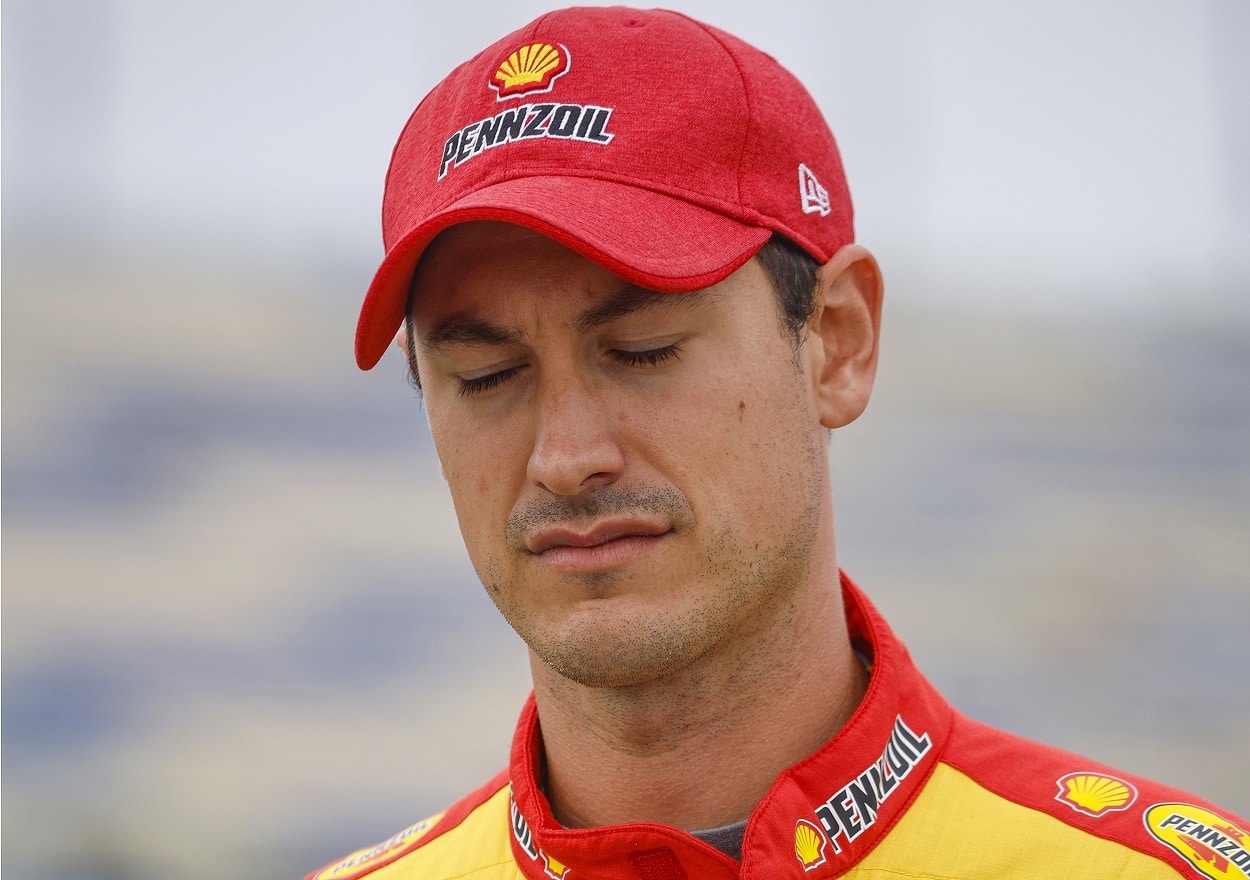 Logano also finished 17th in the spring race at Kansas and does not have a finish better than 14th on a 1.5-mile track aside from a ninth-place finish in a superspeedway-style race in March at Atlanta Motor Speedway.
The No. 22 team had enough of a points margin that it didn't need a great finish at Kansas, but three 1.5-mile ovals still remain in the final eight races of the year. The second round begins at Texas, and the first two races of the third round are at Las Vegas and Homestead-Miami.
With Talladega, the Charlotte Roval, and Martinsville as the other three races before the season-finale at Phoenix, Logano will have to have good finishes at the other intermediate tracks or risk needing excellent finishes at a superspeedway, road course, and short track.
Logano should still be considered a favorite for the 2022 title at this point, but Sunday's final pit decision might have exposed a weakness that could prevent his chance at a second championship.
Stats courtesy of Racing Reference
Like Sportscasting on Facebook. Follow us on Twitter @sportscasting19 and subscribe to our YouTube channel.