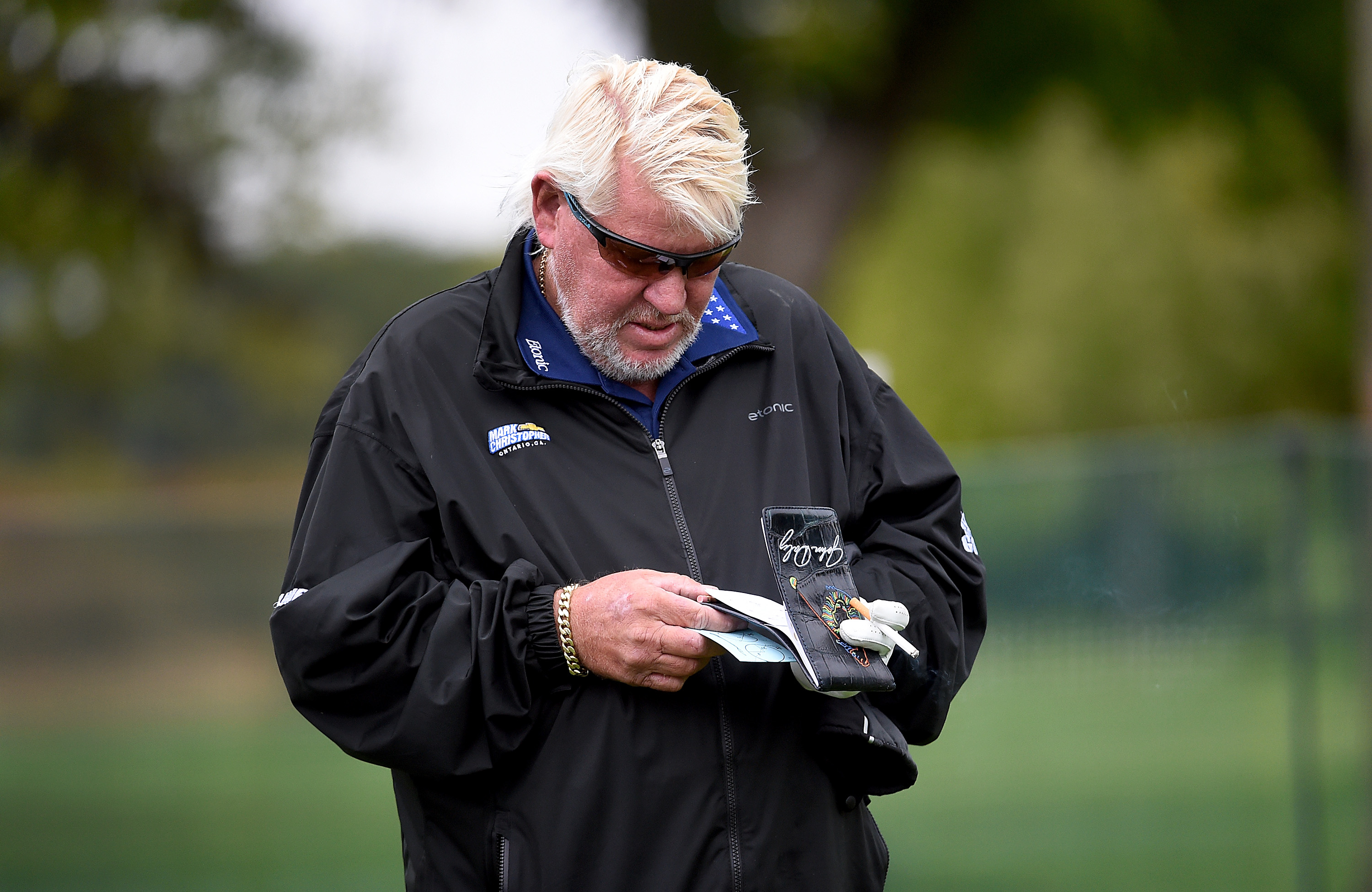 John Daly Shoots 68 After 'Peeing Cowboy Blue' During Cancer Treatment
John Daly shoots a 68 on the PGA Champions Tour after 'peeing cowboy blue' while undergoing treatment for bladder cancer.
It's been a rough few days for John Daly, and he knows it's going to get worse. Daly recently revealed he's been diagnosed with bladder cancer. He knows there will have to be changes made, especially to his diet and lifestyle, but the pro golfer continues to golf and maintains confidence that he will beat the disease.
John Daly reveals cancer diagnosis
John Daly had some back pain and had seen blood in his urine. He was dealing with some kidney stones and thought it was all related. He passed the kidney stones but then was told some grim news. "(The urologist said) it doesn't look like any stones are in there. But unfortunately, you have bladder cancer," Daly said last week, according to The Golf Channel.
Daly underwent a procedure to remove the cancer, but he's been told the likelihood is that it will return. "He said there's an 85 percent chance it comes back. So I've got to go back and see him in three months. They will probably have to cut it out again," he said.
"It's probably going to come back, and then another three months that you don't know. You just don't know. Luckily for me, they caught it early, but bladder cancer is something that I don't know all the details. But it doesn't look like it may go away. We will just see what happens. Maybe there's a miracle."
Daly will have to undergo some immediate change
John Daly has been told he will need to make a few changes to his lifestyle. He's a big smoker and doesn't have the healthiest of diets. He also said that, while he plans to make some changes, he's going to keep having fun and living his life.
"I'm cutting way, way back on the Diet Coke and counting minutes before I can have a cigarette. I'm trying to quit smoking," Daly said to The Golf Channel. "The doctors aren't saying it's too late.
"Unfortunately, it's a cancer that keeps coming back. But I'm going to listen to them, and I'm going to try and quit smoking. If it comes back, it comes back. Six months to a year, if it doesn't go away, I'm going to live my life. I'm gonna have some fun."
Daly trying to maintain some sense of normalcy
John Daly knows he has a long road ahead. He's trying to remain upbeat. "It's something a lot of people have beaten and can get through," Daly said Friday after shooting a 68 at the PGA Champions Tour's Sanford International in South Dakota. "But it's going to be painful. Eighty-to-85 percent chance it comes back, and most likely, I'll be getting it done again in November. The good news is it isn't in the kidneys or the pancreas or liver."
Daly said he feels confident he can beat the disease. "I feel confident if I do what they tell me to do – hell, I only smoked six cigarettes out there today, not even six cigarettes. It's usually about a pack and a half. I'm trying to slow everything down, but I just can't quit everything right now, and Doc is cool with that."
Daly said for eight straight days after removing the tumor off the bladder, he was taking three pills as his chemotherapy treatment. "I took the medicine, it had chemo in it," he said. "It was a pill – three pills I had to take. It was weird, peeing cowboy blue. That was kinda weird. We'll beat it. I'll beat it."