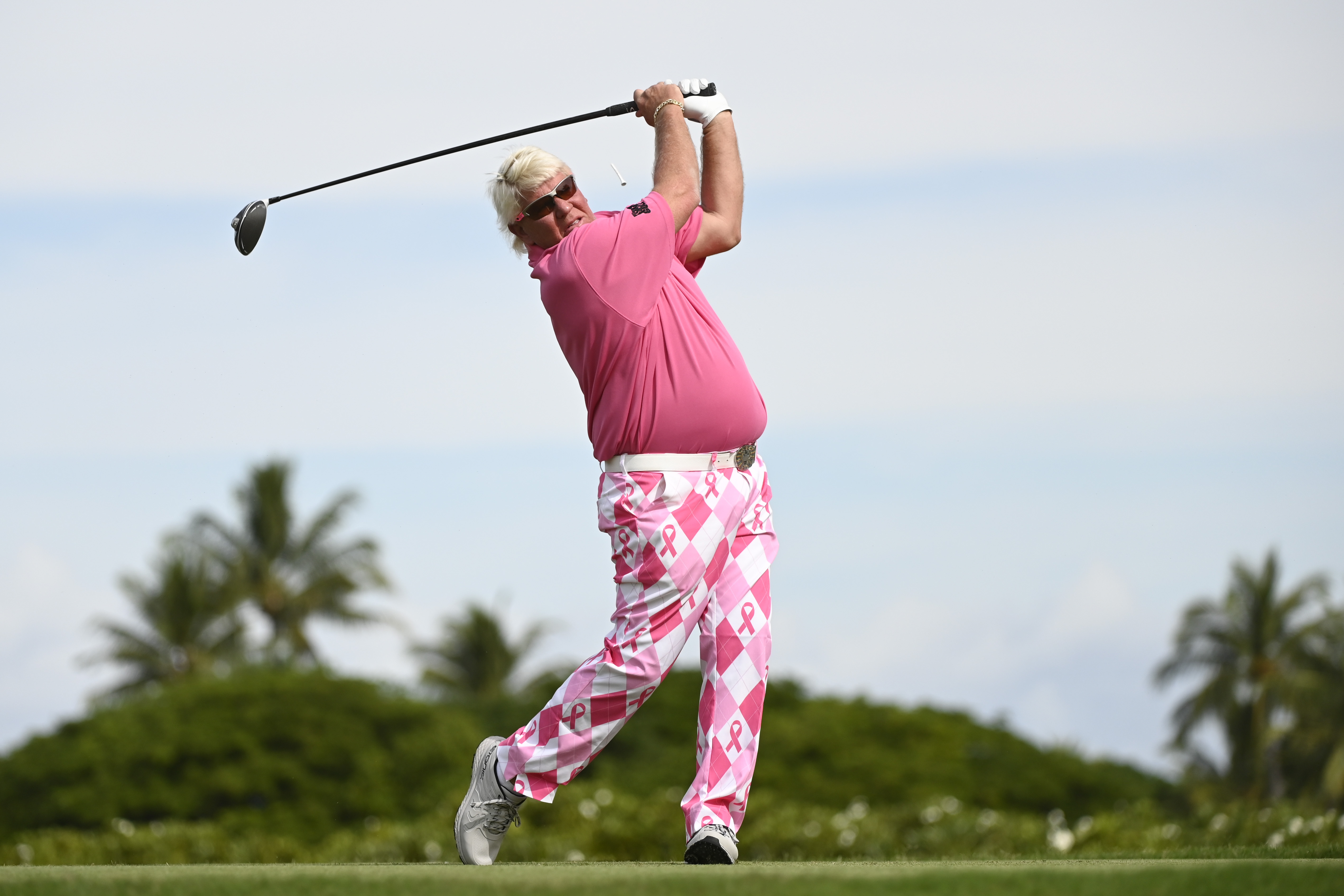 John Daly's Diet Consisted of 18K Cigarettes, 515 Gallons of Soda Per Year
Longtime golfer John Daly said his diet once consisted of 18,000 cigarettes and 515 gallons of diet soda per year.
John Daly has certainly had his ups and downs on the golf course. The same can be said for his life away from the greens. He's won a couple of majors on the PGA Tour and he's had his share of meltdowns on the course. Daly has battled alcohol, weight, and gambling problems and he isn't shy about confronting them. At one point in his life, his weight was getting so out of control that a college coach convinced him to start smoking to help shed a few pounds. He then took smoking and dieting to a new level.
Daly on the PGA Tour
John Daly is more known for hitting the ball into oblivion than he is for his golf success. That's not to say he hasn't been a successful professional golfer. Daly's power off the tee, combined with his outgoing personality, has made him one of golf's biggest names.
Daly was in his prime in the early 1990s. After attending the University of Arkansas, Daly turned pro in 1987 and captured his first victory in the 1987 Missouri Open. Daly joined the PGA Tour in 1991 and immediately made an impact. He claimed the PGA Championship in August as an alternate only after Nick Price dropped out at the last minute. Daly wound up becoming the PGA Tour Rookie of the Year.
Daly added another major to his resume when he won The Open Championship in 1995. Daly was a longshot entering the tournament but wound up a champion after defeating Costantino Rocca in a playoff. After that win, however, Daly's game faded. He struggled on the course and he struggled with alcohol. Butch Harmon, a golf coach who was working with Daly said in 2008, "(Daly's) got to show me golf is the most important thing in his life," he told The Guardian. "And the most important thing in his life is getting drunk."
Daly disputed Harmon's claims
After Butch Harmon came out and publicly blasted John Daly, Daly responded in The Guardian by saying Harmon was telling nothing but lies. "He just made up stuff that he didn't really know the facts were straight, and by putting it out all over the world and not talking to me, I mean, it's kind of ridiculous," Daly said. "Real men just don't do that. My lifestyle has been great. I'm eating too much, but I'm not drinking hardly at all and I never go out."
Harmon, however, stuck to his story. "I told him I was sorry that he was having problems in his life, about his situation and hope he can get himself squared away. He still has the ability to play golf. For me, you just consider the source. You know, I feel bad for John, I like John but I think John has a lot of personal problems and a lot of demons in his body. This is just another case of John never wanting to look in the mirror and take responsibility for his actions. He's always looking to blame somebody else."
According to CBS News, Daly is a recovering alcoholic who has twice been in rehab since his PGA Championship win in 1991. In 1998, Daly recalled when he relapsed. "I was just feeling down," he told Golf World in 1988. "I got in my Jeep, went in a store, bought a 12-pack of Miller Lite, and drank it all by the time I got to Dardanelle (Ark.). That's when I relapsed."
Daly's strange cigarette 'diet'
In a 2016 interview with Graham Bensinger, Bensinger asked John Daly if what he wrote in his book was true. Does he smoke 18,000 cigarettes in a year? "I started smoking when I was 19," Daly said. "Smoked for almost 29 years. I smoked the same as (what's in) the book, two packs, two-and-a-half packs a day." Bensinger asked if he had any desire to stop. "No, not really," Daly said.
The smoking began because a college coach told him he needed to lose weight. "He said 'you're going to lose 60-70 pounds before you play for this golf team,'" Daly said of Arkansas coach Steve Loy. "I weighed 230, maybe 235. He used to smoke Marlboro Lights and said 'here, just start smoking. Have a cigarette – whatever you gotta do to keep the weight off.' I wanted to play for the University of Arkansas. I wanted to play for the Hogs and I was going to starve myself to do it. I don't care how I had to do it."
Daly also spoke about his addiction to soda that had him drinking 515 gallons of Diet Coke per year. "I used to drink anywhere from 12-20 Diet Cokes a day," Daly said. "I went to McDonald's three or four times a day. To me, they always had the best fountain drinks. I don't like water. I can't stand drinking water. I used to be able to eat two Big Macs, two or three cheeseburgers, chocolate shake, regular Coke back then, in a sitting pretty easily."