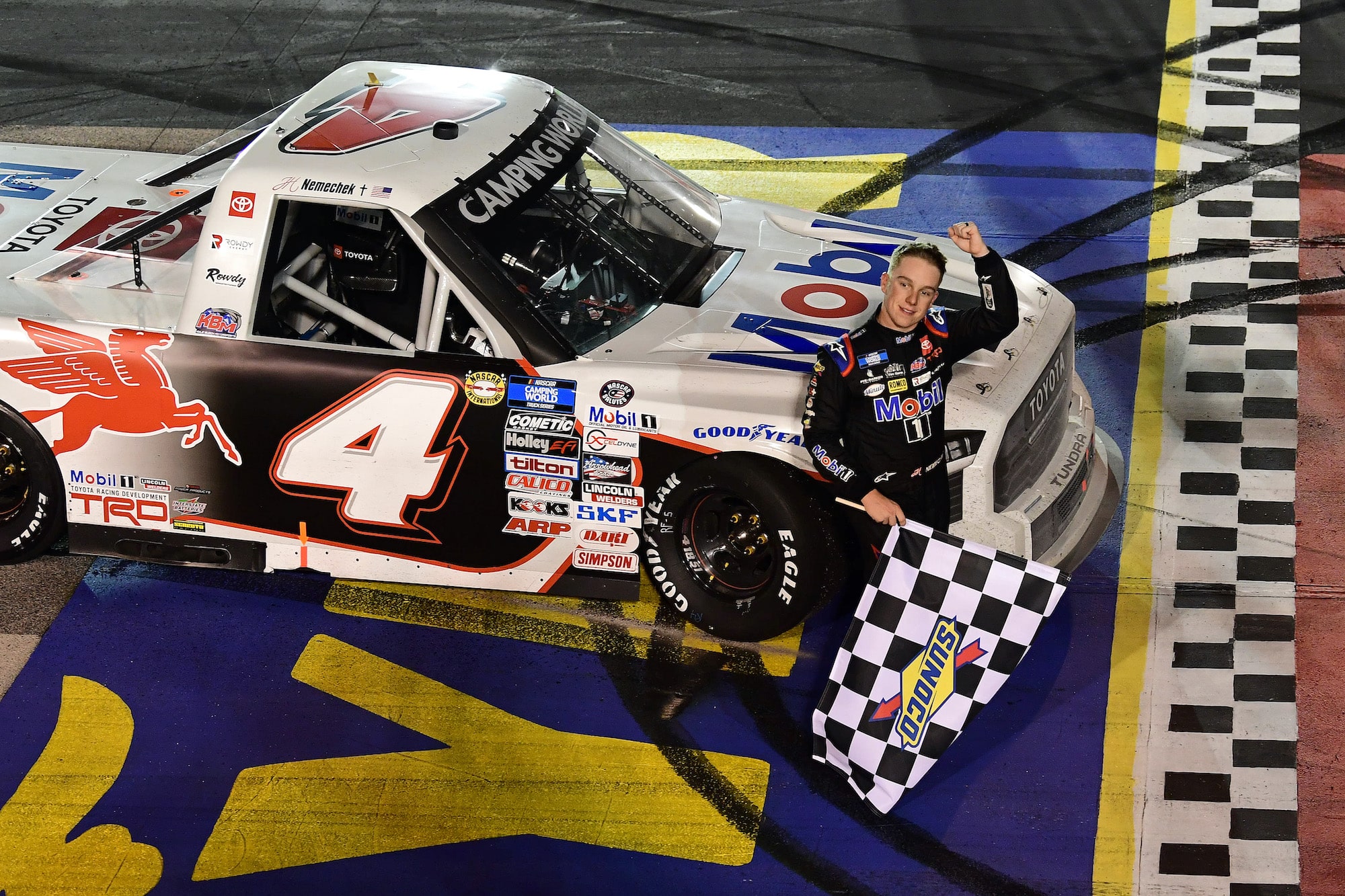 John Hunter Nemechek Narrowly Escapes Serious Injury During Postrace Interview at Darlington When Projectile From Stands Just Misses Him and Fox's Jamie Little
John Hunter Nemechek talked with Fox's Jamie Little after winning the Truck Series race at Darlington and narrowly escaped serious injury when a projectile from the stands just missed him and the reporter.
John Hunter Nemechek has had a rollercoaster of a start to the 2022 NASCAR Truck Series season, finishing 24th or worse in his first three races, followed by three consecutive top-5 finishes but no wins.
On Friday, the 24-year-old broke through at Darlington with his first win of the year. Moments after the race, it was a celebratory time that almost turned disastrous during the postrace interview when a fan threw something from the grandstands and narrowly missed the driver and Fox's Jamie Little.  
John Hunter Nemechek wins at Darlington
Last year, John Hunter Nemechek started the season strong, winning twice in the first six races. This year, through the same number of events, the Kyle Busch Motorsports driver hadn't made a trip to Victory Lane but had come close, finishing second at Circuit of the Americas and third on the Bristol dirt with a fourth-place finish at Martinsville sandwiched in between. 
On Friday at Darlington, Nemechek showed early that he was the truck to beat, posting the best times in both practice and qualifying. However, in the second stage, that speed became irrelevant when he had to pit for a second time under caution due to a loose wheel. He got shuffled back to 26th on the restart. 
The KBM driver rebounded, finished fifth in the stage, and, more importantly, moved into position for a push in the final segment. He did just that, leading a race-high 69 laps and holding off Carson Hocevar for the victory.  
Fan throws object that just misses Nemechek
Moments after the win, Nemechek first performed a celebratory burnout at the finish line before exiting the car for an interview with Fox's Jamie Little. 
After joking with the reporter that the difference between him winning this year's race versus finishing second the last time the trucks visited the Lady in Black was Sheldon Creed, who won both races last year, he began delivering the traditional thanks to those who help make it all happen.
"Huge shoutout to all the guys that work on this No. 4 KBM Toyota Tundra TRD Pro. Just Mobil 1, Pye-Barker Fire Alarm Services, ROMCO Equipment. Everyone that puts their heart and soul," Nemechek paused when a loud pop went off right behind him. He didn't initially realize what it was but the fans viewing at home did, as they watched a canned beverage bounce off the hood of his truck and land on the ground.   
To his credit, he continued the interview, but it was unquestionably an alarming moment, with the projectile missing its intended target by just a few feet. Nemechek later addressed the incident when visiting with reporters.
"I don't know what that was about. That thing was full too," he said. "I'm glad somebody didn't hit me in the head with that thing."
Victory Lane interview removes threat and possibility of injury
Postrace interviews and their location have been a hot topic of discussion this season. Just last month, Fox's Mike Joy said he preferred them on the front stretch. 
"TV and Nascar agreed on interviewing the winner at start/finish, capturing immediate raw emotion and sharing it with fans close by," Joy wrote on Twitter. "It also eliminates a sometimes long and uncomfortable pause getting the winning car to victory lane."
Dale Earnhardt Jr. disagreed with Joy and referred to them as "awkward" interviews.
"The first thing a driver usually wants to do after taking the checkered flag is get to his crew to celebrate," Earnhardt tweeted. "It's a special moment."
In the last year, fans have thrown objects that hit Denny Hamlin's car and delivered a derisive chant directed at the President. Friday night's incident with John Hunter Nemechek is just the latest behavior of fans gone bad and yet another reason for returning the interviews to Victory Lane.   
Like Sportscasting on Facebook. Follow us on Twitter @sportscasting19 and subscribe to our YouTube channel.