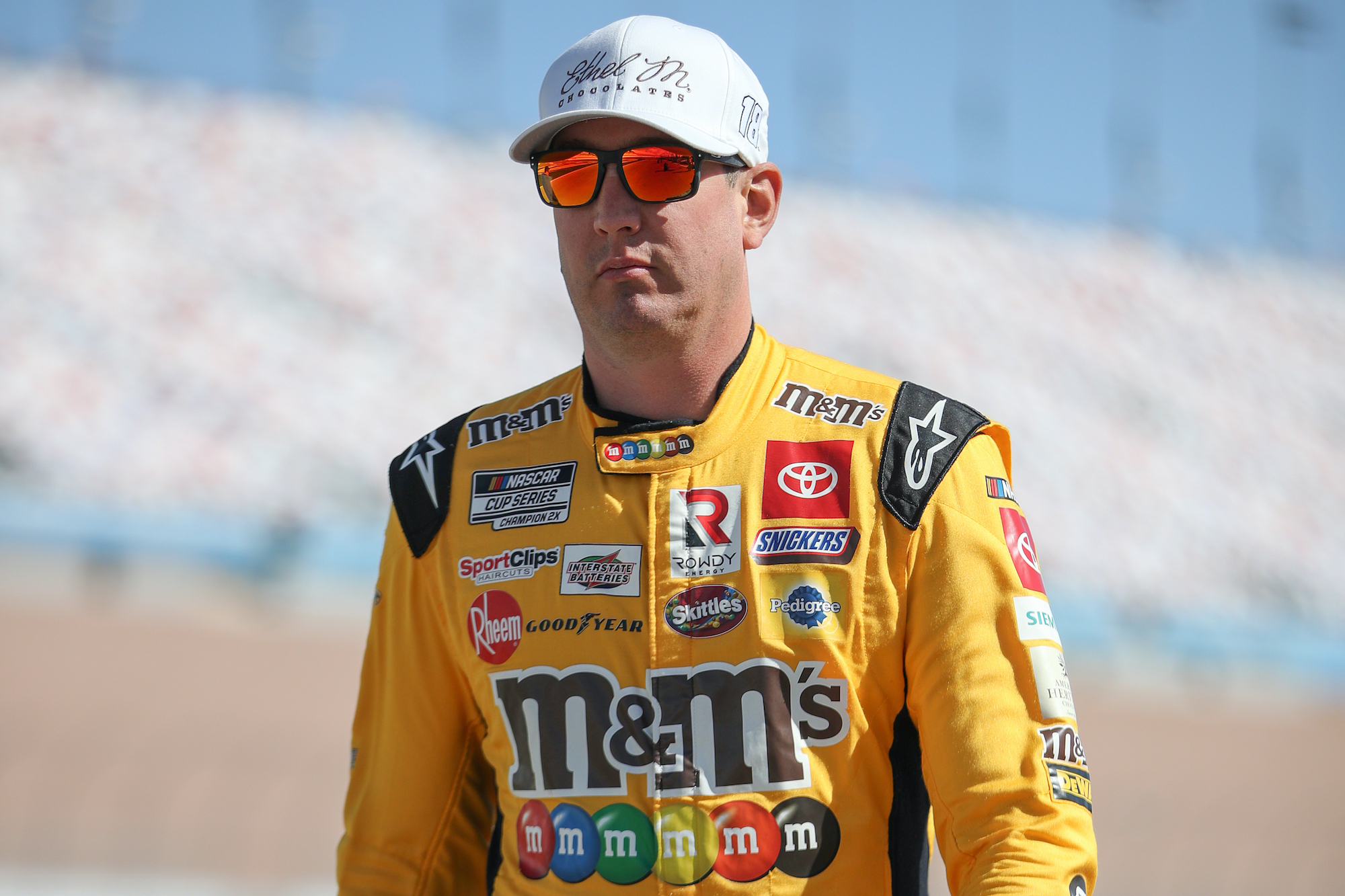 Kyle Busch Accepts Wager From Chandler Smith and Someone Will Have to Pay in an Embarrassing Way
Kyle Busch heads into this weekend's racing at Circuit of the Americas with extra motivation after his driver Chandler Smith challenged him to a bet.
Kyle Busch didn't like racing on the new Atlanta track and said as much after the race. Just a couple of weeks earlier, the Joe Gibbs Racing driver let his emotions get the best of him when he finished fourth and proceeded to blast Alex Bowman for "backing in" to his victory.
Busch has moved on and is focusing on racing at Circuit of the Americas, with a little extra motivation this week surprisingly coming from one of his Kyle Busch Motorsports drivers who challenged him to a friendly wager that's going to end with someone having to pay in an embarrassing manner. 
Kyle Busch off to solid start although his comments suggest otherwise
Kyle Busch is off to his best start to a NASCAR Cup Series season since 2019, with three top-10 finishes, including a fourth-place on his home track at Las Vegas. 
However, you wouldn't be able to tell he's had a solid start to the season by his comments. After being dominant and leading for dozens of laps near the end of the race in Vegas, the Joe Gibbs Racing driver took four tires on a late pit stop and watched Alex Bowman win the race on a pit strategy call with just two fresh tires.
Moments after the race, Busch went ballistic with an f-bomb tirade claiming that the HMS driver routinely backs into victories.
Fast forward to last weekend's race at the newly-reconfigured Atlanta Motor Speedway, which the two-time Cup Series champion blasted track officials over last year when they announced the upcoming changes. He was understandably unhappy after finishing 33rd in the race.   
Chandler Smith challenges his boss
This weekend, Busch hopes to rebound at Circuit of the Americas, a track he had success on last year. He finished 10th in Cup and won the inaugural Xfinity Series race.
Now officially retired from Xfinity racing, the 36-year-old driver will strap into one of his Kyle Busch Motorsports trucks for the second time this season. He previously raced at Las Vegas.
This week, KBM driver Chandler Smith decided to add a little spice to the Truck race and threw out a challenge to the boss for the first road-course test of the season.
"Hey @KyleBusch… Since we're both running @safelite Tundras at COTA this weekend, how 'bout a friendly wager?" the young driver tweeted.
Busch responded with an idea for the bet.
"Lower finisher cleans all the windshields at @KBMteam next wk," he replied.  
Smith and Busch both retweeted the KBM Twitter account's response, which was a wide-eyed emoji and a popcorn box.  
Kyle Busch lost to Smith last time out
While some fans might think it's foolish of the 19-year-old three-time Truck Series race winner to challenge the future Hall of Famer, who also just happens to hold the record for most wins in series history at 61, recent history suggests otherwise. 
In the second Truck race of the season at Las Vegas, Smith, Busch, and Zane Smith battled it out in the race's final laps. In the end, Chandler outlasted his boss and the other Smith to claim his first win of the season.
This weekend in Austin, he'll be looking to capture his second win of the season on a track where he finished 33rd last year. Although victory is the ultimate goal, the side bet will definitely be in the minds of both drivers and it will be interesting to see what lengths each will go to come out on top and avoid windshield-cleaning duty next week.
Like Sportscasting on Facebook. Follow us on Twitter @sportscasting19.