John Starks' Mother Threatened Patrick Ewing When He Berated Her Son for Headbutting Reggie Miller
Former New York Knicks All-Star guard John Starks recalled his mother not being too happy with Patrick Ewing during the 1993 NBA playoffs. Starks and Ewing were teammates when the Knicks faced Reggie Miller and the Indiana Pacers in Game 3 of a first-round playoff matchup. Miller antagonized Starks, who infamously headbutted the Pacers star. Ewing went after Starks before Starks' mother went after Ewing.
John Starks said headbutting Reggie Miller 'needed to happen'
The Knicks held a 2-0 lead in the best-of-five, first-round series against the Pacers in the '93 postseason. Game 3 was played in Indiana, and the Pacers needed to win or their season was over. Miller got under Starks' skin by elbowing him throughout the game before the Knicks guard finally snapped. He headbutted Miller, who admittedly overreacted, and Starks was tossed from the game.
Indiana survived, winning 116-93. The Knicks, however, closed out the series in four games.
Starks said the headbutt was something he needed to do.
"That needed to happen," Starks said during an interview with comedian Sam Morril. "No matter what, it needed to happen. That particular time, I remember, he kept hitting me with 'bows. He hit me with a 'bow, and I told the referee, and the referee said, 'Starks, shut up and play.' I was like, 'OK, I can handle this.' I scored on him and ran up the court, and I was so mad. I wanted to take my fist and put it through his face.
"Back then, you had to fight and you had to earn your respect from other players in this league. It wasn't given to you. Reggie was one of those players that he didn't respect you. You know, if he doesn't respect you, he's going to come at you. He going to talk noise. He's going to do all the dirty little things."
Patrick Ewing blew up at John Starks after the headbutt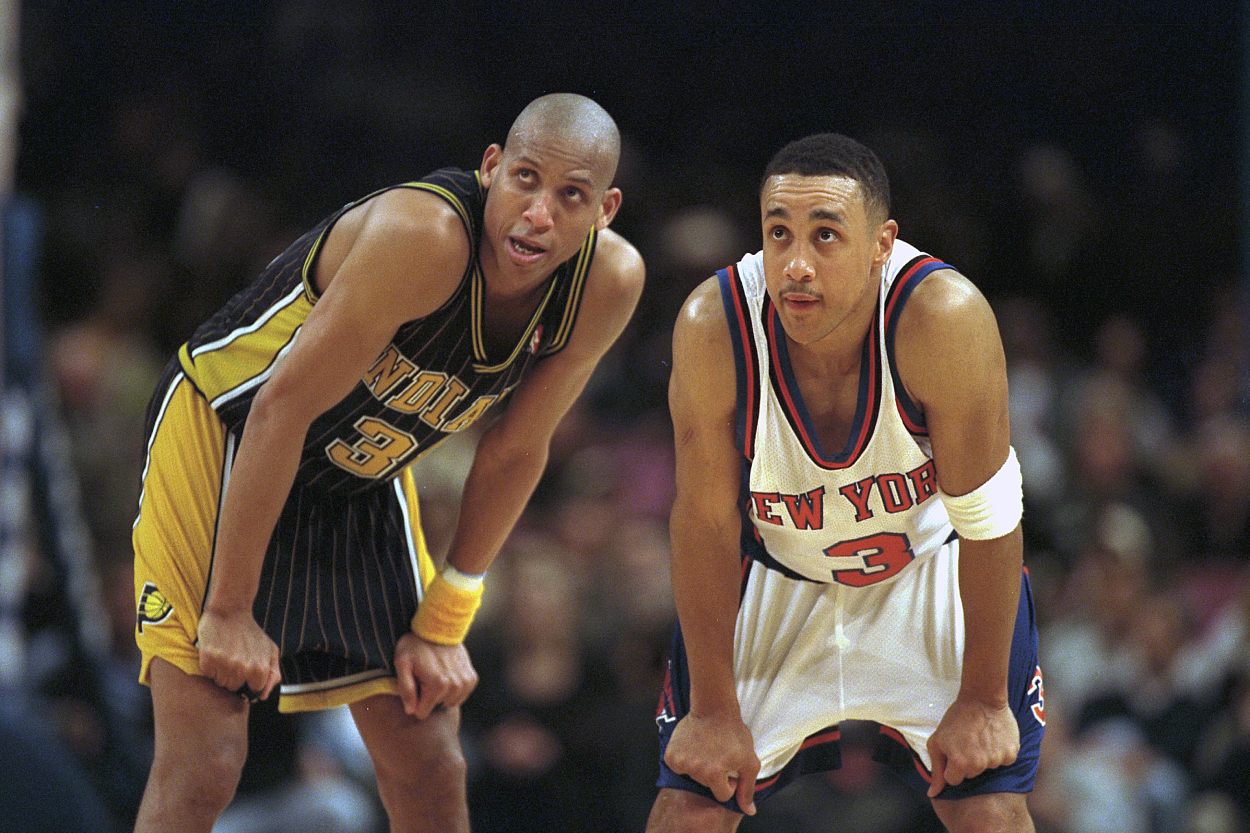 During the early part of his career, Ewing wasn't much of a vocal leader. He stepped up his leadership role as the years went by.
"I think when he came out of college, Patrick felt a little overwhelmed, a little hesitant about his surroundings," Michael Jordan said to Sports Illustrated in 1993. "He's an intelligent guy, a great guy, but he's shy, and he didn't want to appear backward or dumb in interviews. He only made himself open to people that he felt comfortable with, and that meant he often didn't sign autographs or smile for the cameras."
During the Starks/Miller incident, Ewing showed rare emotion when he berated Starks after the headbutt. Ewing blasted Starks because he ultimately hurt the team by getting ejected.
"That surprised me when I saw it on TV," Ewing's former teammate Trent Tucker said, per SI. "Pat's instinct is to lead by example, but there comes a time when a leader has to become visible and vocal. For a lot of years in New York, the team tried to get Patrick to do it, but I think it's only lately that he's accepted it."
Starks said his mother wasn't too happy with Ewing
After the headbutt, Starks got an earful from teammates Charles Oakley and Ewing.
"I can remember Oak and Patrick just beating on me," Starks said, "and I didn't feel them until after the game and when I saw the replay. Man, they was hitting me, bam, bam, bam."
That's when Starks' mother stepped in.
"My mother called Patrick and told him, 'If you ever put your hands on my son again…'" Starks said. "He said, 'Ms. Starks, if he do that again, I'm going to do the same thing.'"
Starks and the Knicks finished off Miller and the Pacers in Game 4, with Starks scoring 15 points and adding five assists. New York advanced to the conference semifinals, where they defeated the Charlotte Hornets in five games.
Jordan and the Chicago Bulls ended the Knicks' season in the Eastern Conference Finals before knocking off Charles Barkley and the Phoenix Suns in the Finals.