Reggie Miller Retaliated After a Headbutt From John Starks Like Any Theater Major Would: 'I Was Acting'
Reggie Miller is known for his long-range shooting and getting under people's skin. The former Indiana Pacers star's acting skills weren't too bad, either. The trash-talking Miller, third place on the NBA's all-time list for 3-pointers made behind Stephen Curry and Ray Allen, had his acting on full display during a 1993 playoff game after New York Knicks guard headbutted him during Game 3. Twenty-seven years later, Miller admitted his reaction was quite the acting job.
Reggie Miller got into a heated battle with John Starks in Game 3 of the 1993 playoffs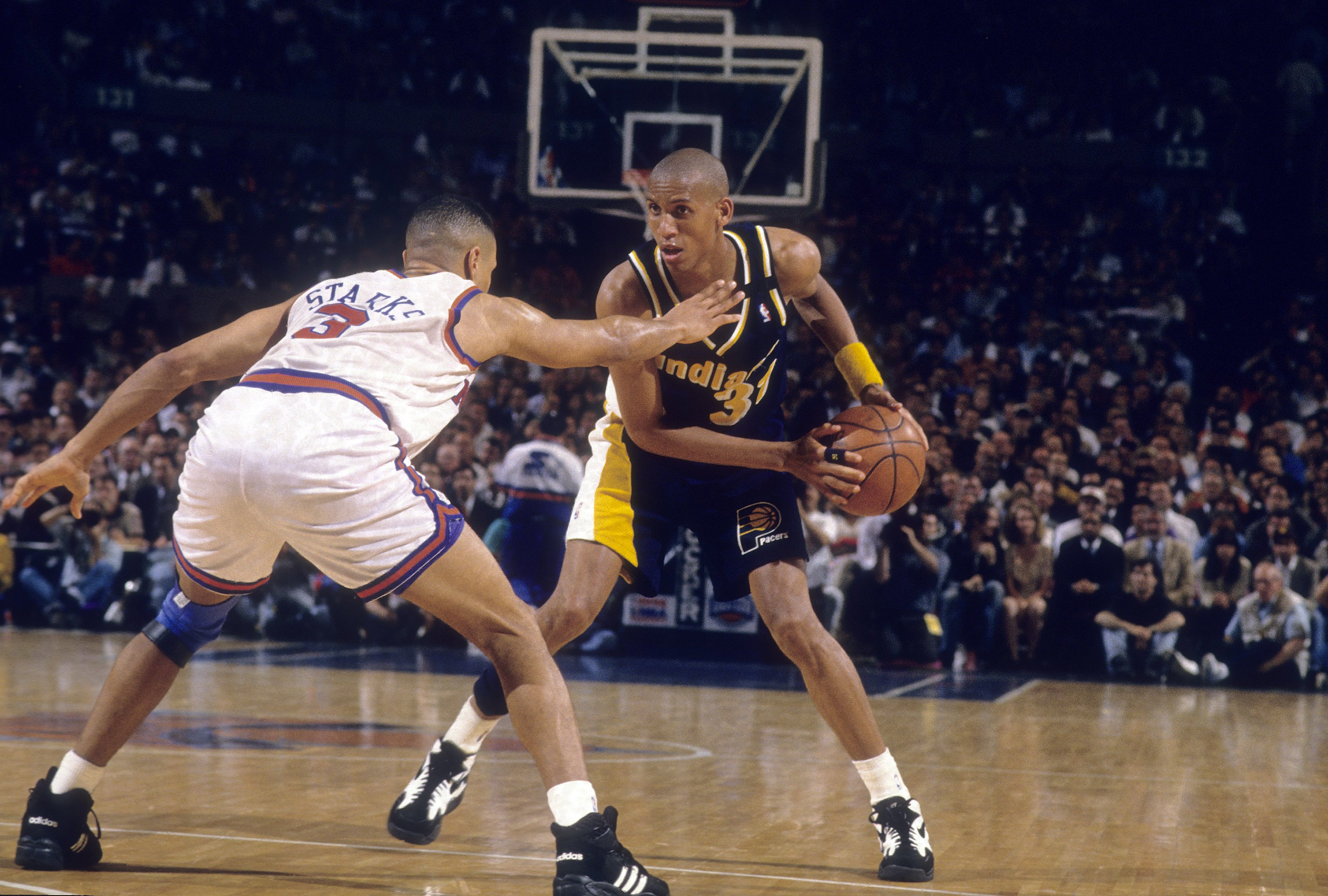 Miller's Indiana Pacers and the Knicks were bitter rivals in the '90s. Things heated up during their first-round playoff meeting in 1993. Miller was a talker, an instigator. He usually could back up his talk with his play.
The Knicks took care of business at home, winning the first two games of the best-of-five series. The Pacers faced elimination on their home court in Game 3, and Miller pulled out all the stops to make sure they survived. He antagonized Starks until the Knicks guard lost his cool, headbutting the Pacers' star.
"That needed to happen," Starks said during an interview with comedian Sam Morril. "No matter what, it needed to happen. That particular time, I remember, he kept hitting me with 'bows. He hit me with a 'bow, and I told the referee, and the referee said, 'Starks, shut up and play.' I was like, 'OK, I can handle this.' I scored on him and ran up the court, and I was so mad. I wanted to take my fist and put it through his face."
Starks got ejected from the game, and the Pacers extended the series, winning 116-93.
For Miller, it was mission accomplished.
Reggie Miller later admitted to overreacting to Starks' headbutt
Miller would have made any theater major proud. After Starks made contact via his head, Miller drew the attention of the referees by flailing his arms wildly, forcing Starks' ejection.
Miller said it wasn't quite flopping. He took it a step further.
In 2020, Milwaukee Bucks star Giannis Antetokounmpo uncharacteristically lost his cool and headbutted Washington Wizards forward Moe Wagner, who reacted in Miller-like fashion. Miller spoke about the Antetokounmpo incident right after it happened, triggering flashbacks of his incident with Starks.
"I reacted the same way Wagner did," Miller said, according to the Indianapolis Star. "You act like you've been shot out of a cannon. 'Oh, my God. What has happened to me?'
"I wasn't necessarily flopping. … I was acting." 
Starks said he needed to send a message to Miller
Starks lost his cool. He was ejected. The Knicks came back to win Game 4 and moved on to the Eastern Conference Semifinals. He said Miller never showed any respect to his opponents.
"Back then, you had to fight and you had to earn your respect from other players in this league" Starks told Morril. "It wasn't given to you.
"Reggie was one of those players that he didn't respect you. You know, if he doesn't respect you, he's going to come at you. He going to talk noise. He's going to do all the dirty little things."
Starks sent his message. He paid for it with his ejection. Miller won the battle that night, but Starks and the Knicks won the war.