John Starks Boldly Claims Reggie Miller and Clyde Drexler Were Harder to Guard Than Michael Jordan
John Starks was a rarity in the NBA. Undrafted out of Oklahoma State in 1988, Starks got a short stint with the Golden State Warriors and played in a pair of U.S.-based minor leagues before getting a shot with the New York Knicks in 1990. That meant he spent much of his New York career battling the likes of Michael Jordan and the Chicago Bulls dynasty
Over eight seasons in Manhattan, Starks rose to All-Star status, earned a Sixth Man of the Year award, and helped the Knicks become one of the top-tier teams in the NBA in the 1990s. Starks was an All-Defensive selection in 1992–93, but his answer for who was his biggest challenge at that end of the court might surprise you.
John Starks and his rise from the Silver Bullets and the Rockers to NBA stardom
When he arrived with the Golden State Warriors in 1988, Starks was a victim of timing. Starks signed as an undrafted free agent the same year Golden State took eventual Rookie of the Year and future Hall of Famer Mitch Richmond with the fifth overall pick. They played the same position.
Suffice it to say Richmond won the job. Starks played in only 36 games, and the Warriors renounced his rights the following summer. He played the 1989–90 seasons with the Cedar Rapids Silver Bullets in the old Continental Basketball Association. He played the spring and summer with the Memphis Rockers in the soon-to-become-defunct World Basketball League.
Starks got a shot with the Knicks during their 1990 training camp. A knee injury in the preseason kept him hitting the waiver wire. When he returned in early December, he scored 20 points in his second and third games and never looked back.
By 1992, he was often a starter, and in 1993, he took over a regular role in the lineup. In his lone NBA Finals appearance in 1994, Starks averaged 17.7 points and 5.9 assists per game but shot just 36.8% and was 16-of-50 (32%) from 3-point land. Against Michael Jordan in the playoffs, the Knicks lost the 1991 first round, the 1992 and 1996 conference semifinals, and the 1993 conference finals.
Starks was part of the Knicks' package sent to the Warriors to get Latrell Sprewell after the 1998–99 lockout ended.
Starks on covering Michael Jordan and other defensive challenges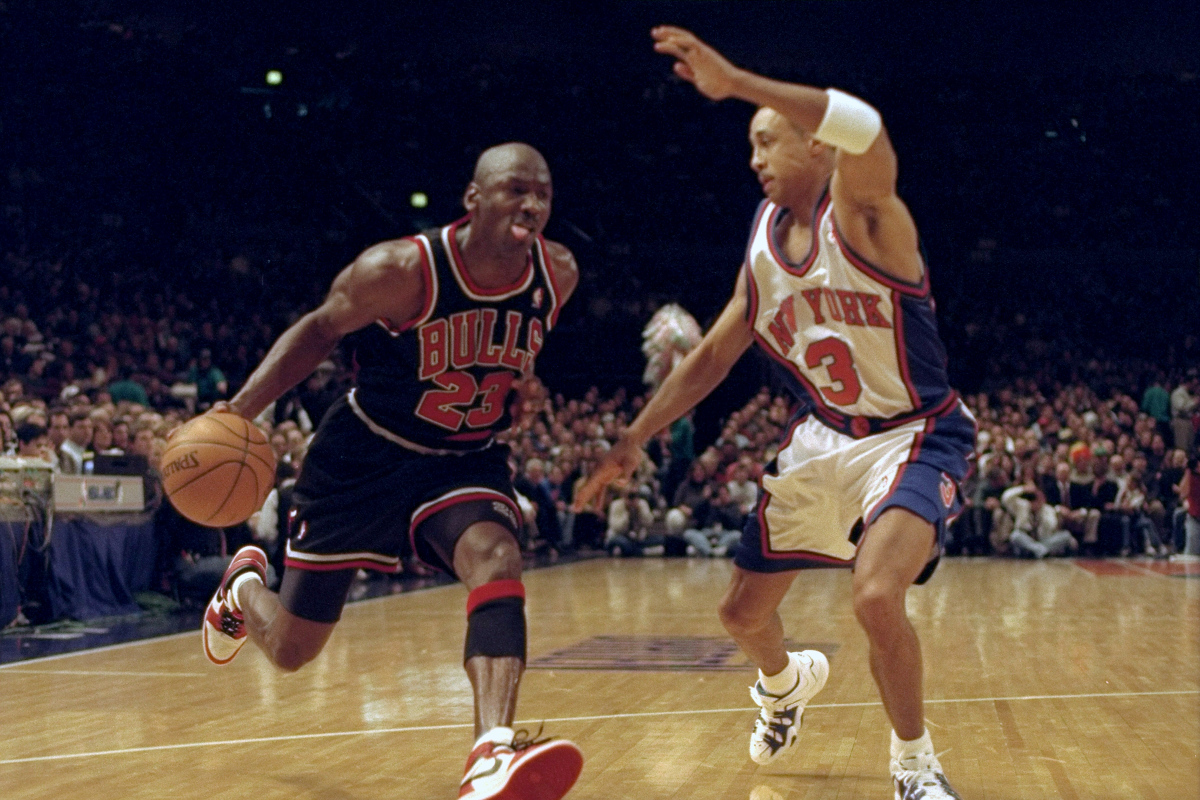 In a 2017 essay for The Players Tribune, John Starks wrote about the five toughest players he had to defend during his career. He is a firm believer that his era in the 1990s was the NBA's best.
As his five toughest challenges, he listed Richmond and Michael Jordan, Reggie Miller, Steve Smith, and Clyde Drexler. And he maintains that of the five, Jordan was the easiest to guard. Was Jordan easier to defend than Steve Smith? He has an explanation.
"I'm not saying I stopped him or anything. But let me explain. Reggie moved a lot. You had to chase his ass all over the floor and get pounded into picks. The thing about Michael is that he wasn't going to run you around a bunch of picks. He was just gonna get the ball and line you up. He was probably one of the only guys in the league who had no weaknesses in his game.

"You'd get the scouting report, and it would basically say, 'Good luck.' The only weakness I observed was that he wasn't a great 3-point shooter. He could make them when he needed, though, and over the years, he got even better at it."

John Starks
To be clear, Starks isn't saying Jordan was easy to stop. It was more that you knew what he would do, and Jordan just did it anyway. But there wasn't as much of that running and chasing like one had to do with Miller.
John Starks is still a fan favorite in New York
As a player, John Starks carved out a solid career from a humble starting point. He remains the Knicks' all-time leader in made 3-pointers with 982, and while it seems like a quaint little total today, Starks was the first NBA player to make more than 200 3s in a season when he canned 217 in 1994–95.
Starks still works with the Knicks both as a fan ambassador and a studio analyst for MSG Network's coverage of New York's home games.
Starks was a tenacious defender who embodied Pat Riley's tough defensive principles with the 1990s Knicks despite giving up size in most of his matchups.
John Starks never claims he stopped Michael Jordan, merely that he wasn't complex to guard. And Knicks fans will always have the dunk to remember Starks by, as well.
Statistics courtesy of Basketball Reference.