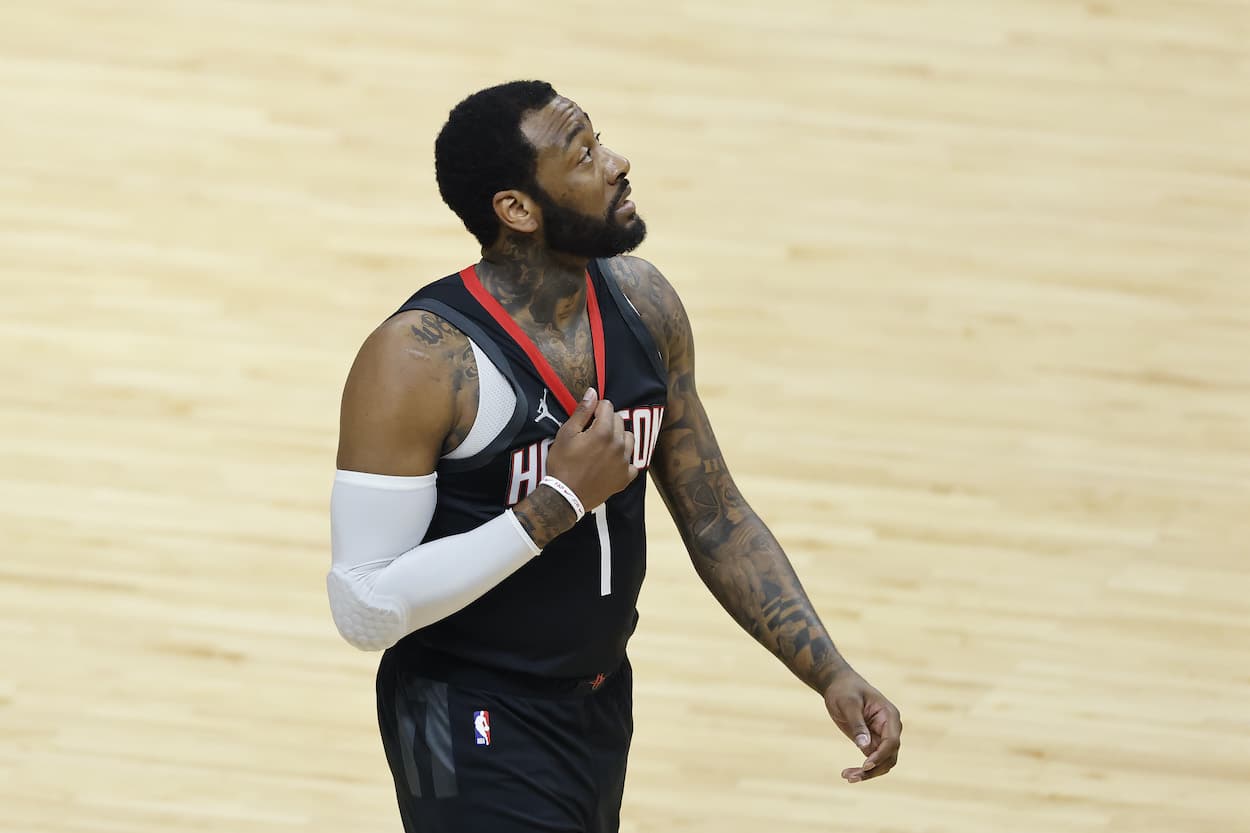 John Wall Made $3.09M Per Game Played the Last 3 Seasons and Is About to Make $47.3M More
John Wall just opted-in to a $47.3 million player option for the 2022-23 season after playing just 40 games the last three NBA seasons.
Houston Rockets guard John Wall was once the future of the NBA. After injury and age slowed his once-speedy game to a crawl, though, his is now an NBA afterthought. His 2019 max deal with the Washington Wizards is on the verge of going down as one of the worst player contracts in the history of the NBA, as he just opted in to almost $50 million for next season.
John Wall has played just 40 games on his max deal 
John Wall was the No. 1 pick in the 2010 NBA Draft. He's a five-time All-Star and has averaged 19.1 points and 9.1 assists. Wall was not a bad player.
However, injuries have derailed his career after signing a four-year max deal with Washington Wizards in 2019.
Wall has an extensive injury history that started when he missed 33 games in 2012 with a wrist injury. Despite knee and heel troubles in the following years, the Wizards gave the former Kentucky Wildcat a four-year, $171.1 million extension.
A devastating ruptured Achilles tendon followed, and the ensuing surgery revealed an infection from his earlier heel injury. That cost Wall the 2019-20 season. A trade to the Houston Rockets followed, and the point guard did manage to play 40 games in 2020-21.
With no trade partner willing to take on nearly $100 million in remaining salary, the rebuilding Rockets and Wall mutually agreed he'd sit out and continue to rehab during the entire 2021-22 season.
All told, Wall has made $123.7 million playing 40 out of a possible 226 games (1,288 minutes) in the last three seasons. That's $3.09 million per game, or $96,040 per minute played.
Now, heading into the 2022-23 season with no resolution in sight, Wall opted-in to his $47.2 million player option.
Financially, this decision is a no-brainer. However, Wall's contract significantly reduces his basketball options for next season.
The Rockets are still rebuilding (and will add another top-three pick in the 2022 NBA Draft). The team is also still looking for a trade. But the options for a 31-year-old with Wall's injury history and recent production are slim to none.
To Wall's credit, it sounds like he wants to get back on the court in a meaningful way in 2022-23. ESPN reports that if no trade comes, Wall and the Rockets will work on a buyout so the club can save some money and Wall can find a team for next season.
All stats courtesy of Basketball Reference