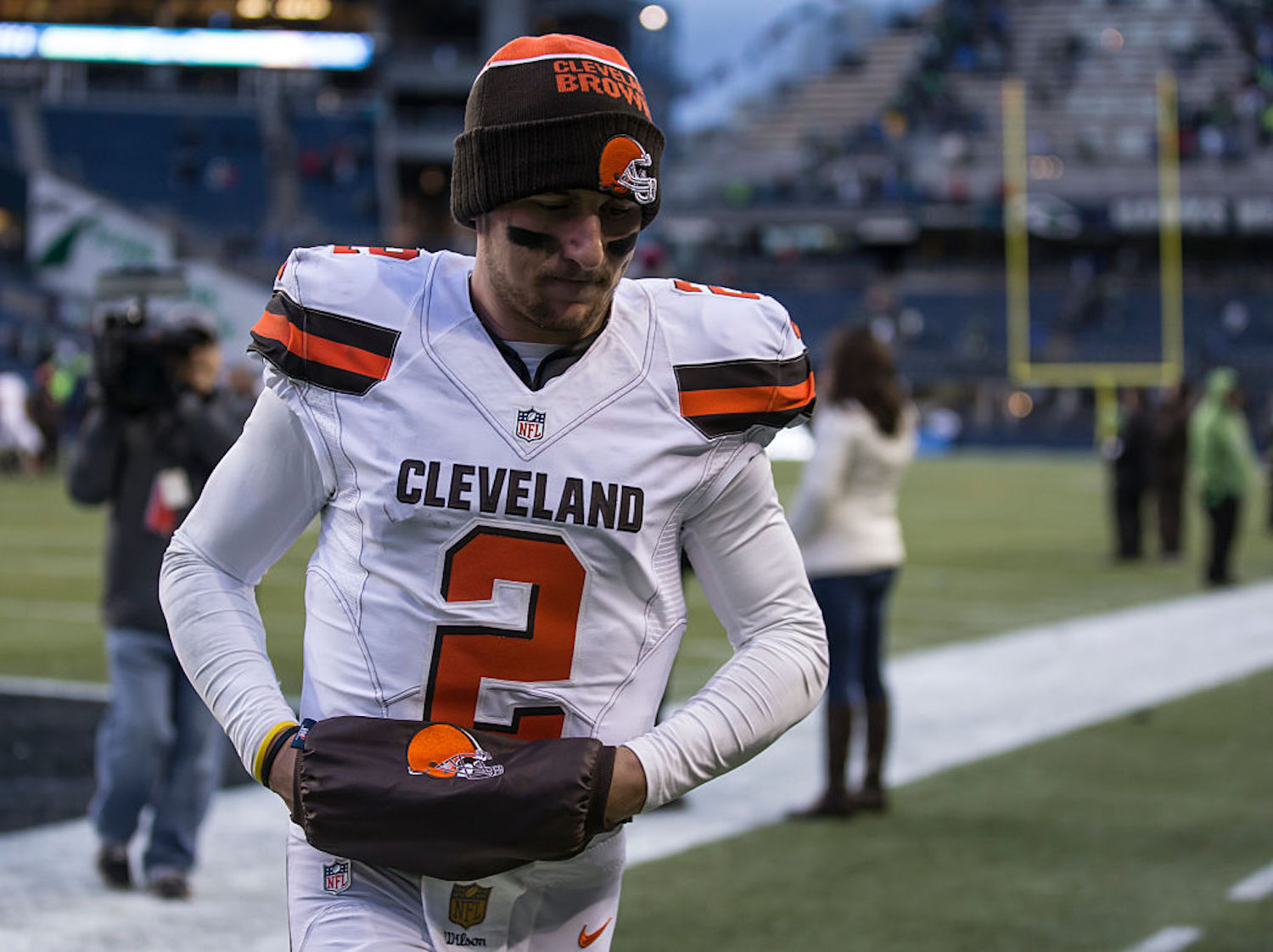 Johnny Manziel Just Gave Browns Fans Yet Another Reason to Hate His Guts
Johnny Manziel inexplicably trolled the Browns after their playoff loss against the Chiefs, which didn't sit right with Cleveland fans.
Cleveland Browns fans already had plenty of disdain for Johnny Manziel dating back to his tumultuous NFL career, but the epic draft bust just gave them another reason to hate his guts.
After the Browns fell to the Kansas City Chiefs in a hard-fought AFC divisional-round game Sunday, Manziel inexplicably decided to hop on Twitter and troll his former franchise. Cleveland fans, who were already reeling from the tough playoff loss, took their anger out on Manziel Sunday night.
Johnny Manziel's disastrous Browns career
Johnny Manziel's captivating college career made him one of the most intriguing prospects in the 2014 NFL draft. In two years at Texas A&M, Manziel racked up 9,989 total yards and 93 touchdowns. He won the Heisman Trophy in 2012 when he was just a freshman and quickly earned the nickname "Johnny Football."
The Browns took a chance on Manziel with the 22nd overall pick in the 2014 NFL draft, but it didn't take long for them to realize their mistake. Manziel wasn't good enough in camp to win the starting job as a rookie. He started two games late in the 2014 season, but he only completed 13 total passes and scored 13 points combined in those two starts.
It was just more of the same for Manziel in 2015. He started six games and went 2-4 in those starts. Manziel was out of the league by the end of his second season as a pro.
In his short NFL career, Manziel completed just 57% of his passes and threw as many interceptions (7) as he did touchdowns.
Manziel trolls the Browns after playoff loss
On Sunday afternoon, the Browns' dream season came to an end in Kansas City as they fell 22-17 to the Chiefs at Arrowhead Stadium. Considering Cleveland hadn't been to the playoffs in 18 years, the 2020 season was still a rousing success for a franchise that's been in the basement of the NFL standings for two decades.
But Johnny Manziel wasn't so impressed. He took to Twitter after the playoff loss to post a Stephen A. Smith gif trolling his former team. Browns fans were quick to jump on Manziel and remind him that he didn't do much better in his brief stint with the team, and Manziel evidently had time for his haters Sunday night.
Johnny Manziel gives Browns fans another reason to hate his guts
Browns fans and media members across the country hopped into Manziel's Twitter mentions after his controversial tweet Sunday night, and Manziel decided to have a little fun with some of them.
Manziel responded to one heckler by tweeting, "Bet we go back to 2014 your tweets would be all over my nuts." In another response, he tried to flaunt his lavish lifestyle. "Feet up in some 1's in a 5 star hotel …f— you mean," Manziel wrote. In another, Manziel tweeted, "Can't hear you there's too much money in my ear."
It's nice to see Manziel has matured since his incredibly successful NFL career ended.
All stats courtesy of Pro Football Reference