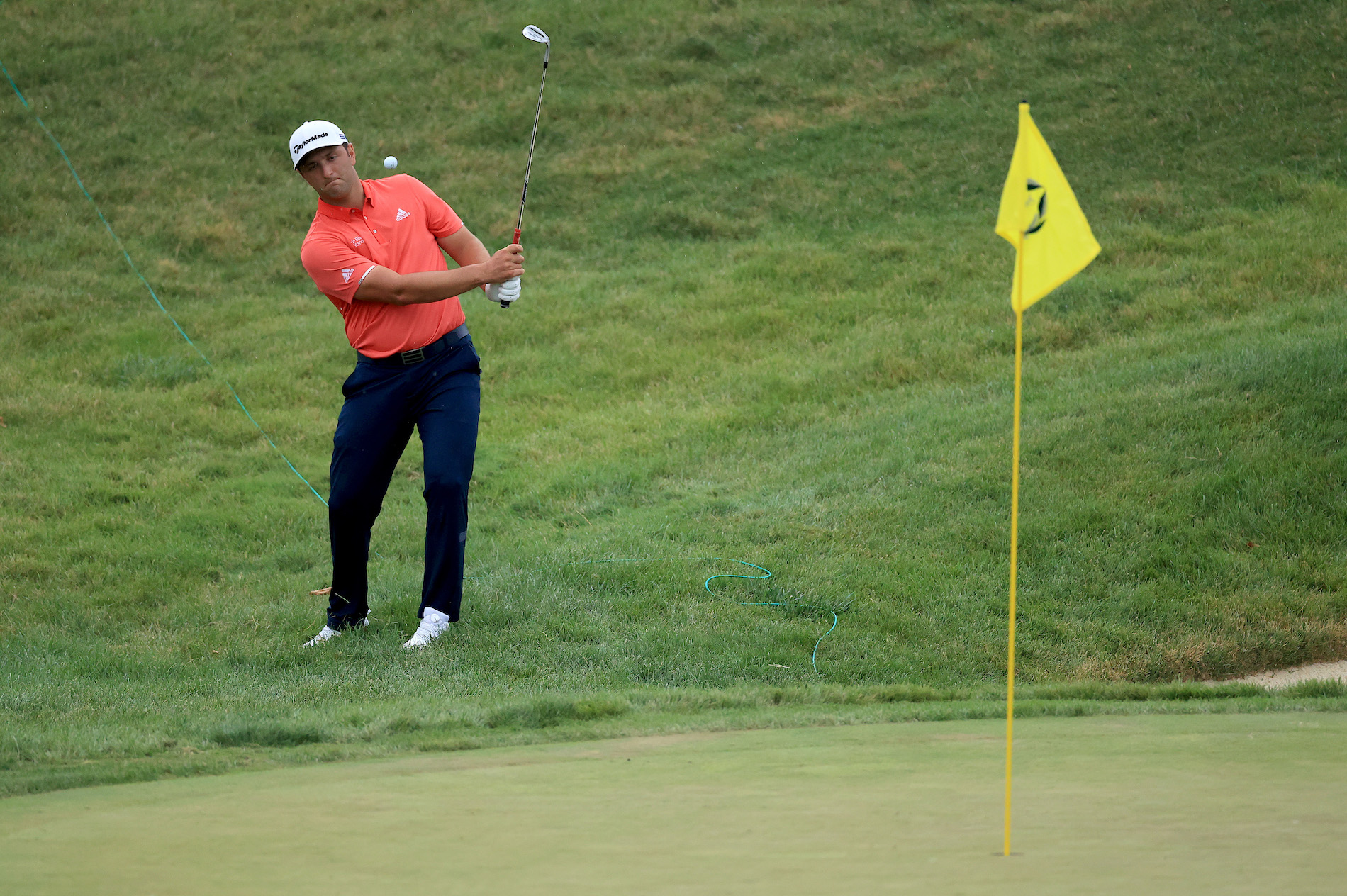 Jon Rahm Costs Daily Fantasy Player $150,000 by Moving His Golf Ball 1 Millimeter
When Jon Rahm was assessed a two-stroke penalty Sunday for moving his ball a millimeter, one unlucky bettor lost $150,000.
Jon Rahm won The Memorial Tournament at Muirfield Village Golf Club fairly easily last weekend, but it didn't come without any controversy. The new No. 1 in the world was assessed a two-stroke penalty after his round for accidentally moving his golf ball before a chip. Rahm still won by three after the penalty, so he couldn't have cared less about losing two strokes. However, one daily fantasy player lost a fortune because of Rahm's mishap.
Jon Rahm won The Memorial despite incurring a two-stroke penalty
When Jon Rahm walked to the 16th tee at Muirfield Village Sunday, he pretty much had the tournament locked up already. He had a massive lead with just three holes remaining, so only a catastrophe could stop Rahm from earning his fourth PGA Tour win.
Rahm's tee shot missed just left of the green on 16, but he made an incredible chip-in for a birdie. After further review, though, Rahm was assessed a two-stroke penalty on the hole for causing his ball to move in the rough before the chip.
The only thing that changed for Rahm was his winning margin. Instead of a five-stroke win, he only won by three. With his fourth victory locked up and a No. 1 ranking now in hand for the Spaniard, the two-stroke penalty meant nothing to Rahm.
For DFS player DraftMasterFlex, though, it meant a whole lot of cash.
Rahm cost DFS player $150,000 for moving his golf ball one millimeter
Golf is a sport of not just inches, but centimeters and millimeters. Just ask Dustin Johnson, who could have two more major championships to his name if not for a few minuscule blunders.
Every single shot in a 72-hole tournament is just as important as the last, not only for the players, but for sports bettors too. DFS player DraftMasterFlex knows that all too well after The Memorial.
When Rahm finished the tournament with a five-stroke lead, DraftMasterFlex was in position to take first place in a daily fantasy contest and take home $200,000. He even spoke to his wife about putting a down payment on a house.
Alas, the PGA Tour eventually announced the two-stroke penalty, costing DraftMasterFlex a first place finish. His possible $200,000 in winnings dropped to just $50,000.
DraftMasterFlex had a message for Jon Rahm after losing $150,000
The unlucky DFS player caught a tough break on Sunday, but he still ended the tournament with $50,000 in winnings. He would've taken that in a heartbeat before the tournament started.
DraftMasterFlex looked on the bright side when he appeared on Action Network's GolfBet podcast Tuesday. He even gave a light-hearted message to Rahm.
"My main message for Jon is you cut yourself short, right? Forget about me. I'm not worried about my $150,000," DraftMasterFlex said. "You deserved that birdie. You shot it in the hole, you earned it, and you should've fought for it. The fact that you didn't, yeah it cost me and I'm pissed."