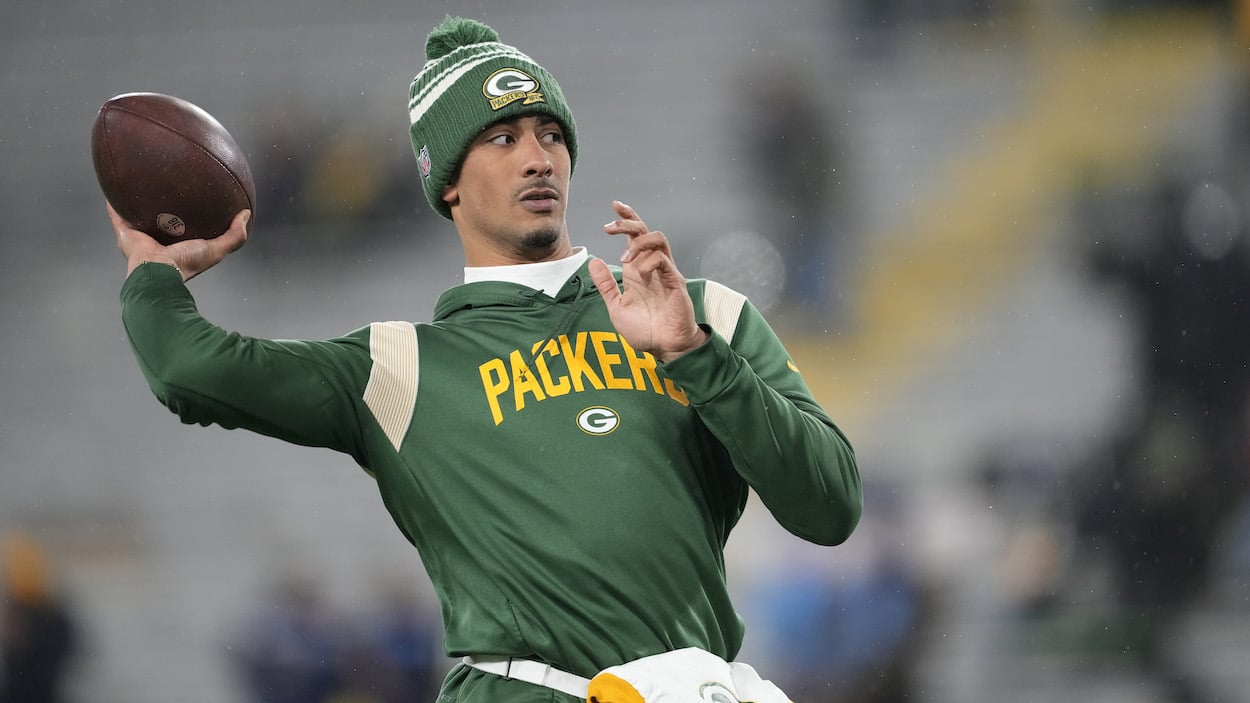 Jordan Love Contract: Packers QB Parties With Simone Biles Ahead of Crucial Season
After a new Jordan Love contract extension this offseason, some Packers fans weren't happy to see the QB partying on a boat with friends.
The Jordan Love Era with the Green Bay Packers is finally about to begin. The team finally sent Aaron Rodgers packing and is giving the reigns to the 2020 first-round pick. However, the team hasn't made a long-term commitment to the quarterback, who signed a new contract extension this offseason. With this Jordan Love contract, the QB now has just two seasons to prove himself, and partying on a boat with teammates and friends, including gold medal gymnast Simone Biles, might not be the best start.
The Jordan Love contract
Green Bay Packers general manager Brian Gutekunst made his bed with Jordan Love three years ago when he picked the former Utah State QB in the first round instead of selecting a player to help Aaron Rodgers.
It was nearly the exact same thing that happened 15 years earlier when then-Packers GM Ted Thompson drafted Rodgers while Brett Favre still had several years left in his career.
Like Rodgers, Love has sat on the Packers' bench for three seasons before finally getting his chance as a starter. And ahead of his first starting season, the QB made an interesting decision on the Jordan Love contract extension.
This offseason, the Packers had to make a decision on whether to pick up Love's fifth-year option for 2024, which would have been $20.272 million, per Spotrac. Instead, though, the Packers and Love negotiated a one-year extension with $13 million guaranteed in 2024, which could grow to as much as $22.5 million if he hits incentives.
If the Packers declined Love's fifth-year option and he played well in 2023, Green Bay would have had to give him a long-term deal at that point or franchise tag him, which would be worth $30 – $40 million. If he played poorly in 2023, they could have let him go without any more money.
This Jordan Love contract is a little confusing, as the QB had some leverage on his franchise, yet he took what could be less than his fifth-year option. Still, he now has two seasons to become the next great Packers QB, following in the footsteps of Bart Starr, Brett Favre, and Aaron Rodgers.
Pictures of Love partying in the offseason set social media on fire
This is the point of the NFL offseason, where players love posting social media snaps of them looking jacked in the gym. These football thirst traps get fans fired up for their team's potential in the upcoming season.
On Memorial Day Weekend, though, different types of pics popped up on social media of Love. Snaps of the QB and teammates celebrating the holiday on a boat caught Packers fans' attention.
Love, wider receiver Christian Watson, running back AJ Dillion, and others showed up on Instagram with red Solo cups on a boat in what some social media users identified as Door County, Wisconsin.
In addition to those three Packers stars, newly-signed Packers safety Jonathan Owens also showed up in snaps of the festivities. And while the presence of Owens, an NFL journeyman, isn't all that notable, the fact that his wife was with him did catch people's attention.
That's because Owens is married to four-time Olympic gold medalist Simone Biles.
In the end, the partying Packers on Memorial Day Weekend will likely not affect the 2023 NFL season that doesn't start for another three-plus months.
That said, after Packers fans survived the last few seasons of Aaron Rodgers' shenanigans, they surely want to see more ripped gym pics and fewer red cups from their new starting QB.