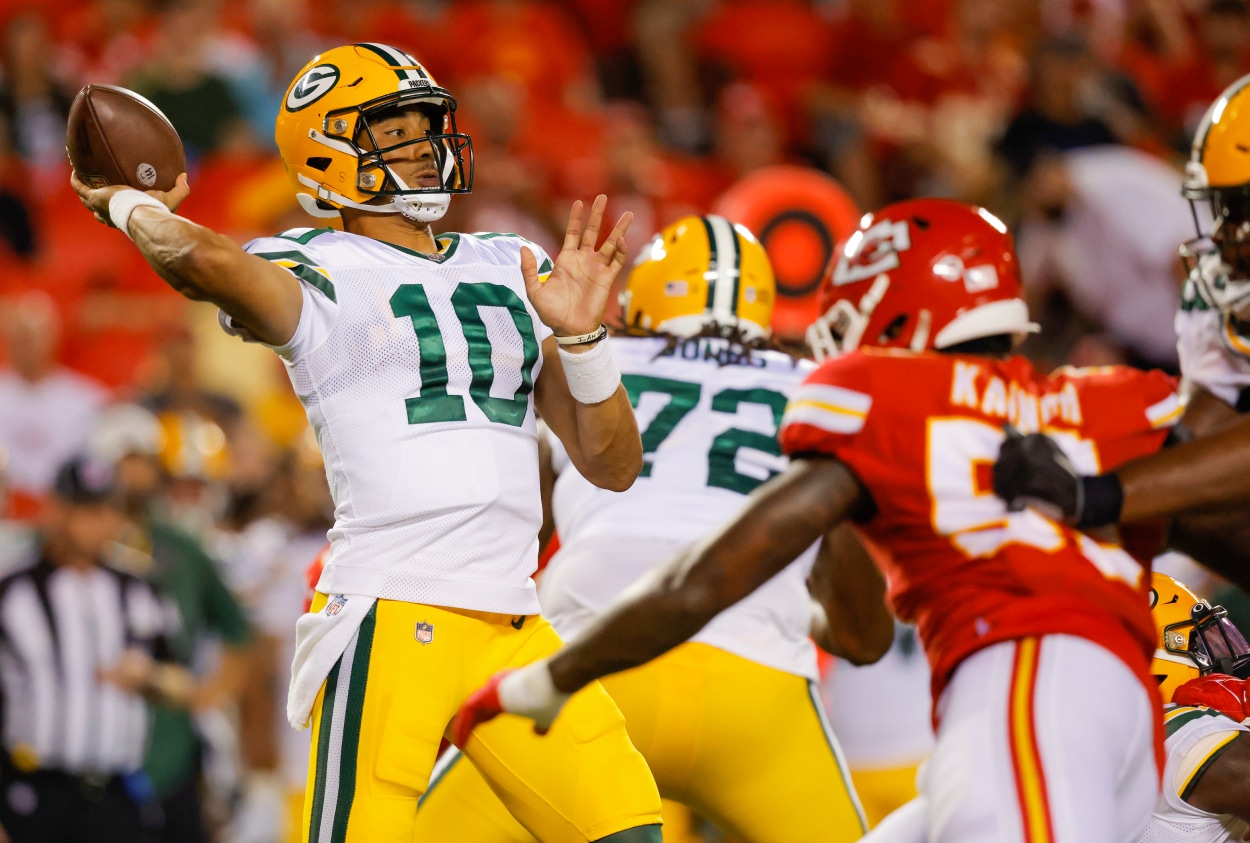 Jordan Love Is a 'Master' of the Packers Offense Despite Subpar Numbers
Jordan Love is looking quite comfortable under center with the Green Bay Packers.
Don't judge Jordan Love by his preseason numbers. In three games, the Green Bay Packers backup quarterback has more interceptions than touchdown passes and had hit on just 55.4% of his passes.
There's more to Love than stats. Quarterback Aaron Rodgers, a four-time MVP, has been highly impressed with the 2020 first-round draft pick in his three games this year. After Thursday night's 17-10 loss to the Kansas City Chiefs, a game in which Love went 16-for-26 for 148 yards and an interception, Rodgers referred to the third-year QB as a "master" of the Green Bay offense.
Jordan Love is getting more comfortable with the Green Bay Packers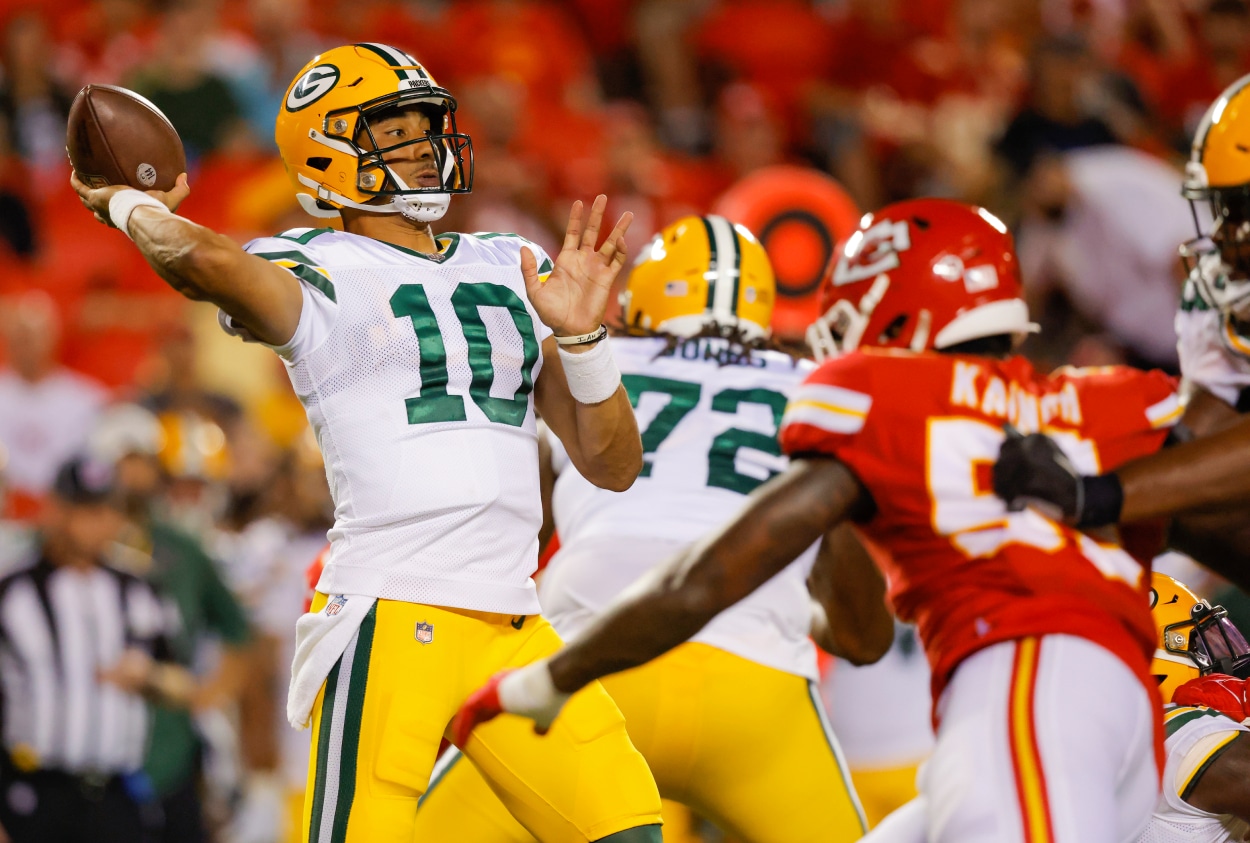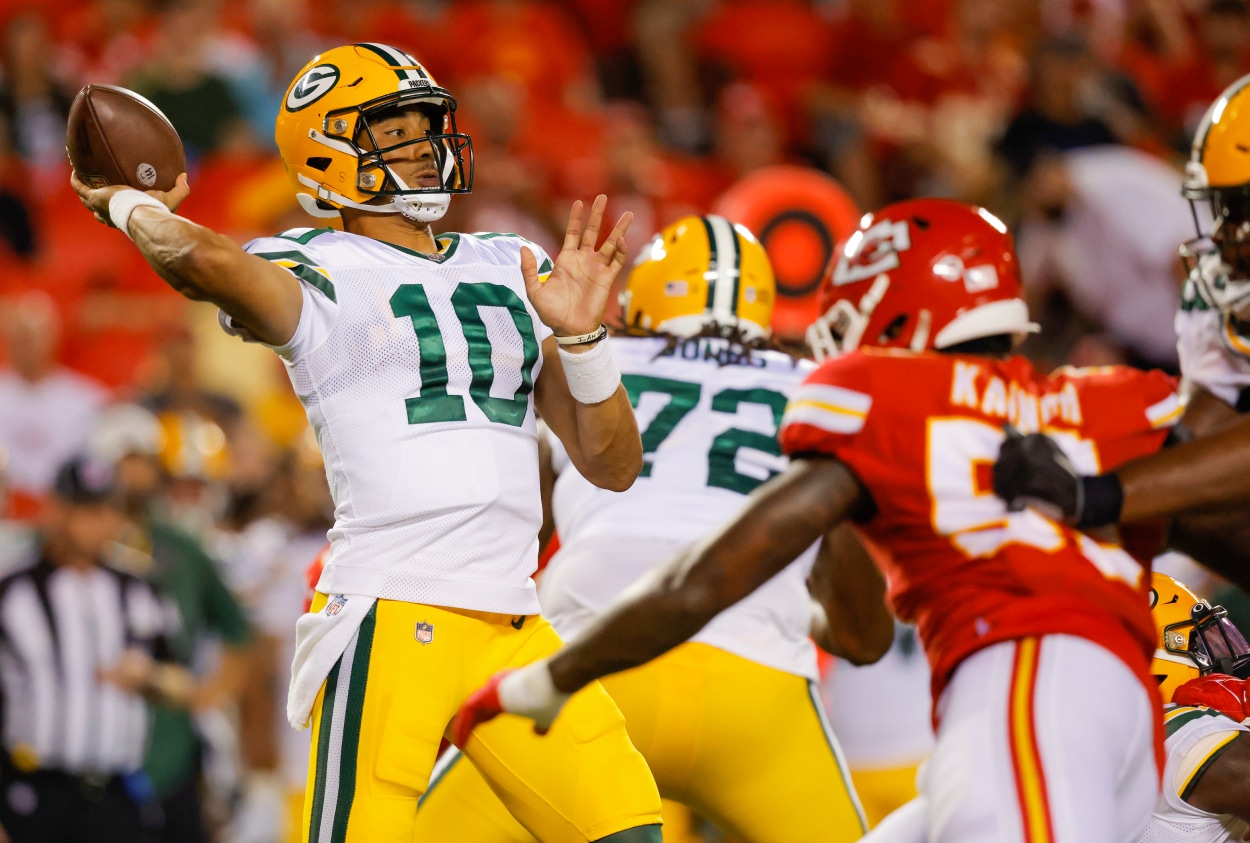 Through no fault of his own, Love's start with the Packers has been a difficult one. Packers GM Brian Gutekunst surprisingly traded up in the 2020 NFL Draft to snag the young quarterback out of Utah State. This came after Rodgers and the Packers earned a trip to the NFC title game. The move was also the beginning of an ugly feud between Rodgers and the Packers.
Love never really looked at home in his first two seasons in Green Bay, while Rodgers was named MVP of the league both of those seasons. This year, Love has looked far more comfortable in the system. That's a credit to better footwork after working with new quarterbacks coach Tom Clements.
"Watching film from last year, the games I played in, lot of throws, my feet would be kind of off, not be pointed to the target, not have a perfect base," Love said earlier this preseason, per Kassidy Hill of Packers News. "So that's the biggest thing I've been working on."
Rodgers acknowledged how good Love's looked, especially in the fundamentals department.
"The attentiveness to the fundamentals, I think is really going to help Jordan and Danny (Etling) out because if you want to be accurate in this league, you got to throw the ball in rhythm and on balance," Rodgers said. "And I think for the first time there's the right amount of emphasis on those fundamentals."
Love is a 'master' of the Packers offense, says Rodgers
Love has certainly done his part in camp. He's been the victim of dropped passes by a young receiving corps that's trying to find its way after the departure of Davante Adams. He also played Thursday's game against the Chiefs with players unlikely to make the team. Head coach Matt LaFleur elected to sit most of the regulars.
"I thought there was a lot of good things out there," LaFleur said, per USA Today. "I always look at the numbers at the end of it and go, 'That doesn't make sense.' I thought he did a lot of good things. We'll take a look at the tape. I'm sure there's always something you can clean up."
Love's pick Thursday was a deep ball into double coverage. LaFleur said he didn't have a problem with the ball overthrown to tight end Alize Mack.
"When I watched it live, I was not unhappy with the decision at all," LaFleur said. "I've got to go see how the safety was playing, but I was looking at the same place he was, and I thought Alize had a step on his man. Unfortunately, the strong safety was able to come across Alize and make the pick."
Despite the interception and the unflattering preseason numbers by Love, Rodgers likes what he sees from the young QB.
"I think he's definitely become a master of the offense," Rodgers said.
Rodgers' comment tells a better story than any statistics.
Like Sportscasting on Facebook. Follow us on Twitter @sportscasting19 and subscribe to our YouTube channel.