Jordan Poyer Contract: Buffalo Must Re-Sign Safety Despite His Goodbye to Bills Mafia
Offensive players always get the most attention, and the Buffalo Bills are no exception. Josh Allen and Stefon Diggs are the most famous players on the team, but the true heart and soul of the roster is safety Jordan Poyer. The All-Pro defensive back is a free agent this offseason, and he's already said a heartfelt goodbye to Bills Mafia, just in case he doesn't return. However, not giving out a new Jordan Poyer contract would be a major mistake by the Bills.
The Bills need to figure out a new Jordan Poyer contract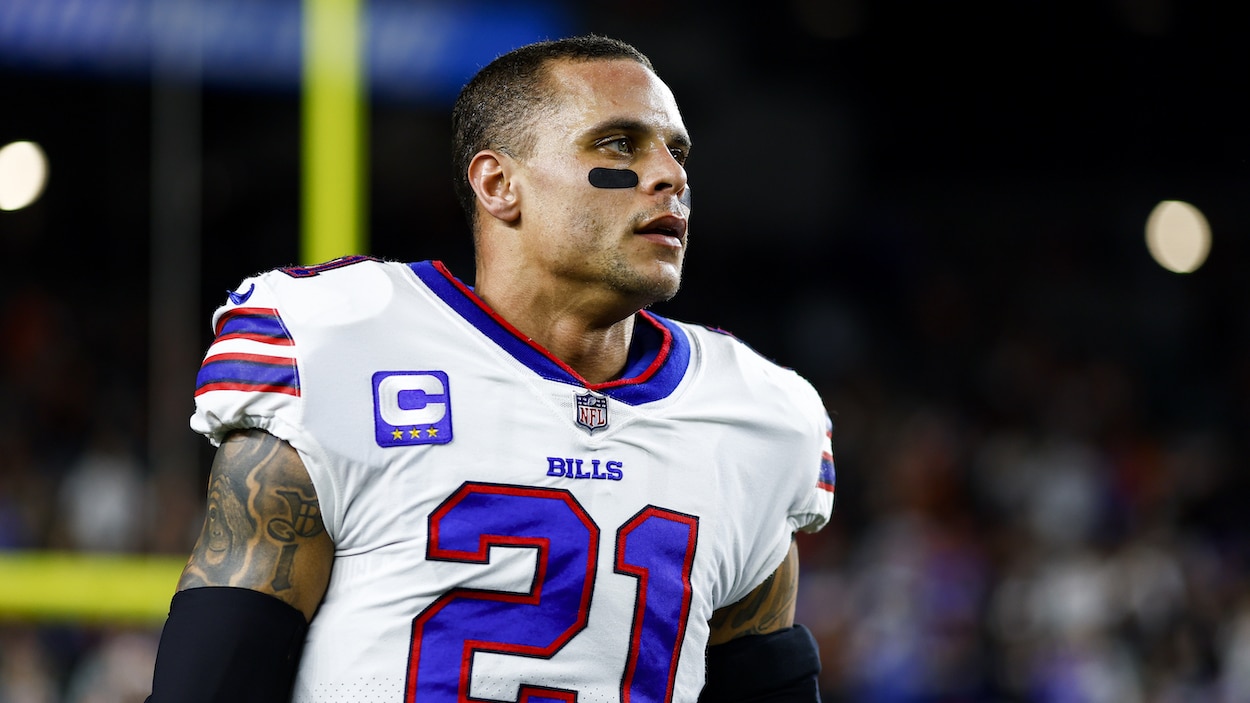 Jordan Poyer started his career as a seventh-round pick out of Oregon State who played for the Philadelphia Eagles and Cleveland Browns, starting 10 games as a backup in four seasons. In 2017, he landed in Buffalo as a free agent, and his career changed.
That same season, Green Bay Packers safety Micah Hyde also signed with the Bills, and the Poyer and Hyde duo quickly became the best safety tandem in the NFL. The pair's work culminated in 2021 when they both made the All-Pro team (Poyer, first team; Hyde, second team).
This season, Hyde played in just two games before missing the rest of the season with a neck injury. Still, Poyer was incredible, teaming with Damar Hamlin (before his stunning injury) and making the Pro Bowl.
The initial Jordan Poyer contract with the Bills was a four-year, $13,000,000 deal with $6,000,000 guaranteed and an average annual value (AAV) of $3,250,000. As that deal came to an end, the safety re-upped in 2020 with a two-year, $19,500,000 extension with $13,300,000 guaranteed and an AAV of $9,750,000 per season.
Now, at 31 (32 in April), the Bills safety is looking for what will likely be the last big Jordan Poyer contract. Spotrac estimated his market value at $11 million per year, which would make him the 13th NFL safety. To get him into the top 10, the Bills would need to pay him over $13 million per.
To afford that, the Bills will have to make some moves. They are currently projected at $-5,463,850 over the cap heading into the offseason. Still, it is a move the team has to make. Poyer is the leader of the defense and the biggest playmaker on the team. Especially with Damar Hamlin's future in doubt, the Bills need to figure out how to keep Poyer in the building for the next few years.
Poyer already said goodbye to Buffalo, just in case
A new Jordan Poyer contract must be a priority for the Bills this offseason. However, the player himself can read the writing on the wall and knows that to get the most money, he may need to look somewhere else.
With his future in Western New York in doubt, Poyer took to his podcast to send a heartfelt message to Bills Mafia in case the Divisional Round matchup with the Cincinnati Bengals is his last in front of the Buffalo fans.  
"It could be my last home in Buffalo. It's crossed my mind a couple times," Poyer shared. "It will be kind of emotional. Just cause you don't know. … Bills fans, I just wanna let you know I appreciate everything that you've done for me and my family over these last six years. … Learned so much out here in Buffalo about myself, about life, about the game … I just want to thank all of Bills Mafia. You are family and will forever be family."
That quote sounds like a player who is willing to go back to Buffalo next season but isn't sure if the team is going to make it happen. However, if the franchise wants to keep this incredible rebuild project going — that started in 2017 with Sean McDermott and Brandon Beane bringing in Poyer and Hyde — they need to figure out how to get a new Jordan Poyer contract on the books.
If that doesn't happen, safety will become a top priority for the Bills in the 2023 NFL Draft.