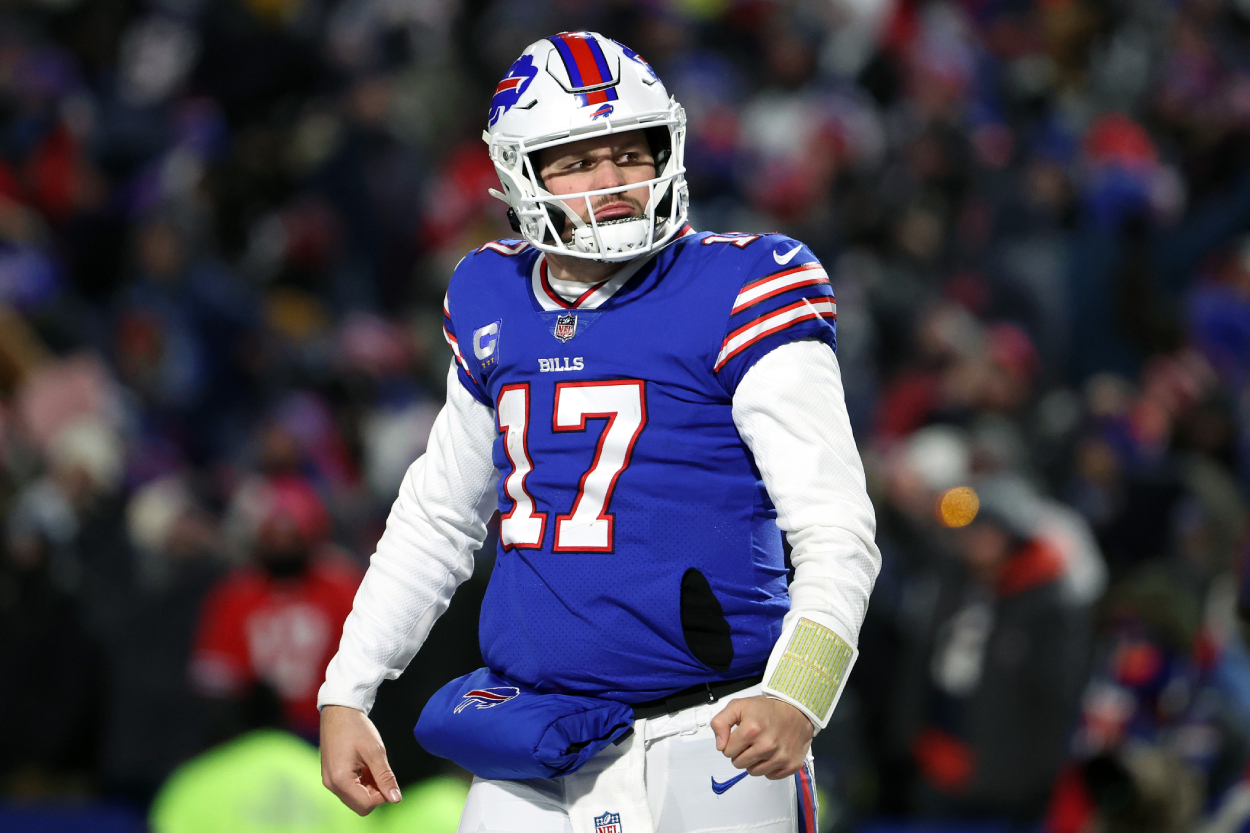 Josh Allen Looks to Ride Bill Belichick's Praise Through the Super Bowl
Bill Belichick heaped praise on Buffalo Bills quarterback Josh Allen after last weekend's game.
No team looked more dominant in its playoff game than the Buffalo Bills when they manhandled Bill Belichick's New England Patriots last weekend. Quarterback Josh Allen couldn't be stopped in Buffalo's 47-17 victory as he guided the team to a touchdown on every possession but the final kneel-down. His performance even drew a rare appearance in the visitors' locker room from Belichick for "an extended period." Allen hopes to ride the coach's praise to Buffalo's first Super Bowl.
Josh Allen was unstoppable in blowout victory over Bill Belichick's New England Patriots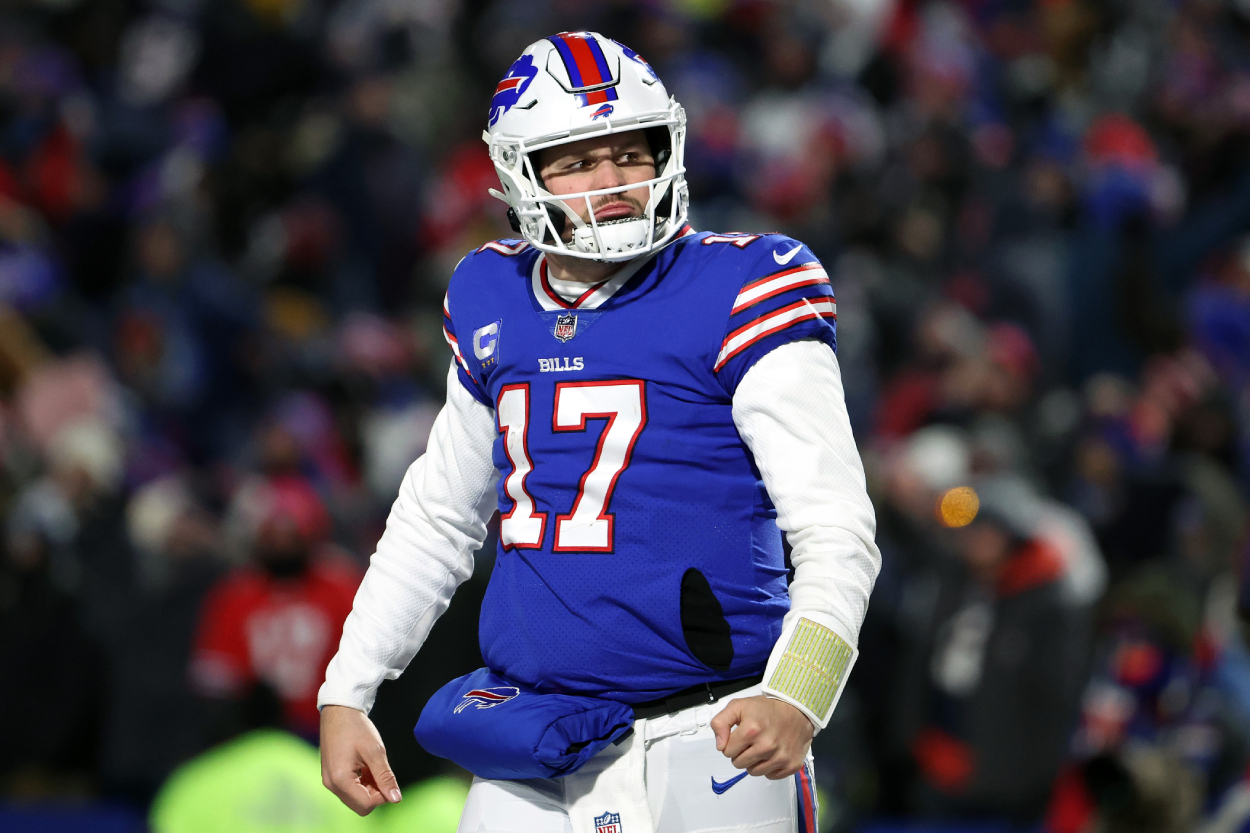 The Patriots' defense is no slouch, but Allen manhandled it last weekend. The quarterback set a team playoff record with five touchdown passes in the convincing victory. He also racked up 66 yards on the ground to propel the Bills into this week's game against the second-seeded Kansas City Chiefs. His performance left the Patriots' defenders flustered.
"Shoot, every drive we couldn't get a stop was frustrating," Patriots linebacker Matthew Judon said, per ESPN. "It wasn't only one play. Wasn't one single player — it was everything. It was the whole game."
Allen led the Bills to 480 yards of offense and 47 points on a frigid Buffalo evening. He was happy with the performance, but he also knows it's time to move on.
"I think we feel good," Allen said. "There's some things that we can clean up and work on. But at the end of the day, we moved on, we're on to the next one and it doesn't matter what we did today. It's what we do next week."
Bill Belichick offered high praise of Allen, who hopes to carry it with him through the playoffs
Belichick went out of his way to praise Allen after the game. After a loss, Belichick typically is short with his answers, usually saying the team needs to play better, coach better, and then adding they'll have to look over the film. This time, he made his way over to the Bills' locker room and heaped praise on Allen.
Allen, during a recent appearance on the Pat McAfee Show, shared what Belichick said to him.
"He came up to me, which is really cool," Allen said Thursday. "I've got a lot of respect for him and what he's done over his career, and obviously he's one of the, if not the, greatest coach of all time. 
"So for him to come up to me after a game and give me some kudos and dap me up meant a lot to me, just knowing the type of coach that he is, the type of players that he's been around and he's coached, and obviously the success that he's had throughout his career. It was a pretty cool moment for me."
Allen said Belichick showed mutual respect for the quarterback.
"Just more respect … like, 'What you did out there was awesome,'" Allen said. "'You played well tonight. We didn't have an answer.' 
"Again, I shared respect right back, obviously, because I'm a big fan of his and I could go on and on about the accolades that he has. But again, for a coach to do that, that high caliber, was pretty special."
Allen soaked up the praise and will take it with him to Arrowhead Stadium on Sunday. Receiving that type of praise from one of the best coaches of all time can go a long way. For Allen's sake, it will stay with him through the Super Bowl.
Allen won't quite call Bills vs. Chiefs a rivalry just yet
The Bills travel to face the Chiefs on Sunday with the winner earning a berth in the AFC title game. Allen and Chiefs quarterback Patrick Mahomes are two of the best in the NFL. In Week 5, the Bills went into Kansas City and thumped the Chiefs 38-20. That came after The Chiefs eliminated the Bills in the AFC Championship last year.
Despite all the hype surrounding the quarterbacks and the success of the teams, Allen was hesitant to call the teams rivals.
"I don't know if rivalry is the right word, but they are the mecca of the AFC," Allen said, according to Syracuse.com. "And that's the team that everybody wants to aspire to be, to be in three AFC championships in a row and being in two Super Bowls in a row.
"That's the type of level that we want to be and in order to be the best, you gotta beat the best. And they've really been one of the, if not the, best team in the last four years. And again, we've got a good opportunity here and we're excited for it, as I'm sure they are as well."