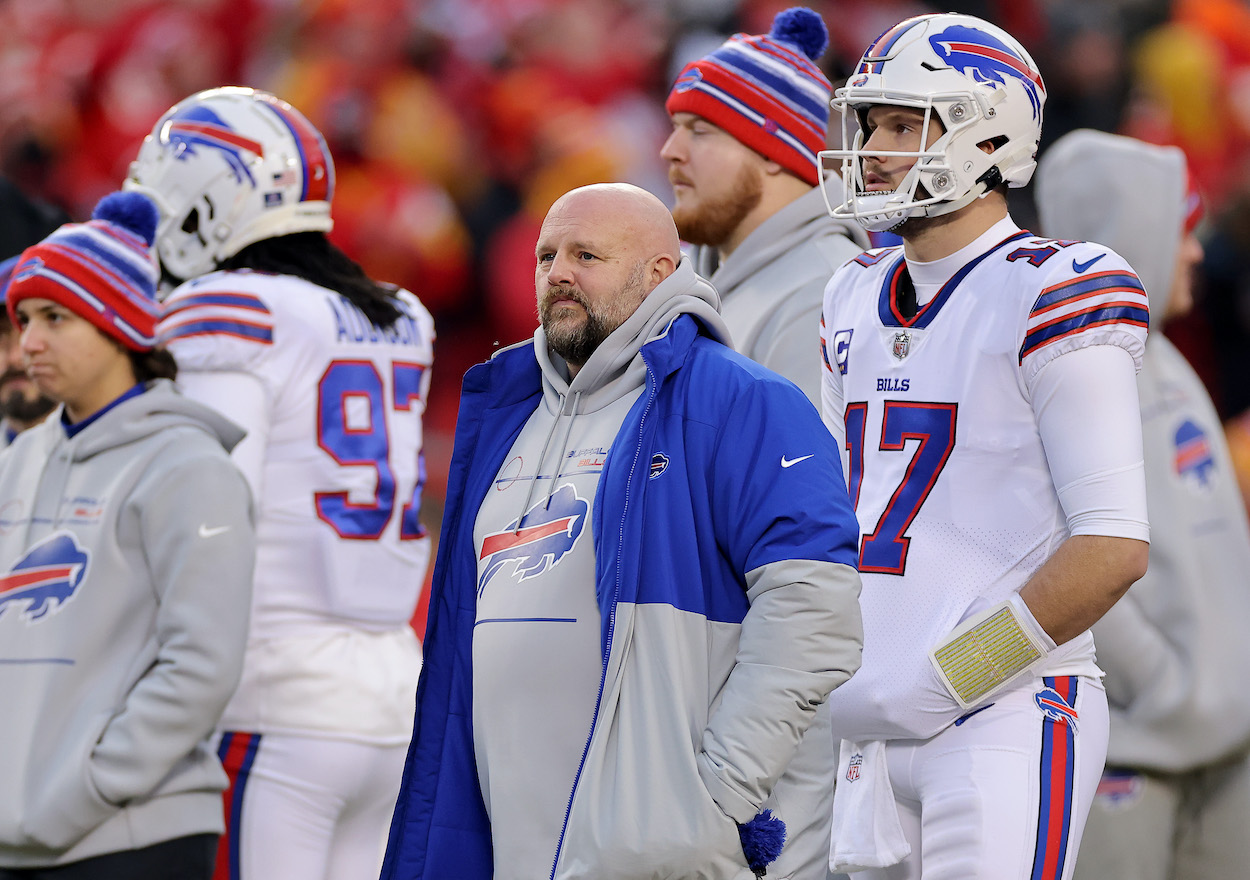 Josh Allen Selflessly Promotes OC Brian Daboll for a Head Coaching Job but 'Selfishly' Hopes for Something Else
Buffalo Bills OC Brian Daboll is likely off to a head coaching job but, as much as Josh Allen thinks he deserves it, he'd love him to stay.
The Buffalo Bills are officially out of the NFL playoffs after a heartbreaking 43-36 loss to the Kansas City Chiefs. With their season over, it means that changes will start to come as the offseason gets underway. One of these changes may be new coordinators as both offensive coordinator Brian Daboll, and defensive coordinator Leslie Frazier are head coaching candidates. Bills quarterback Josh Allen gave one of his coaches a ringing endorsement recently but also said he kind of hopes it doesn't happen.
Buffalo Bills offensive coordinator Brian Daboll is a hot head coaching candidate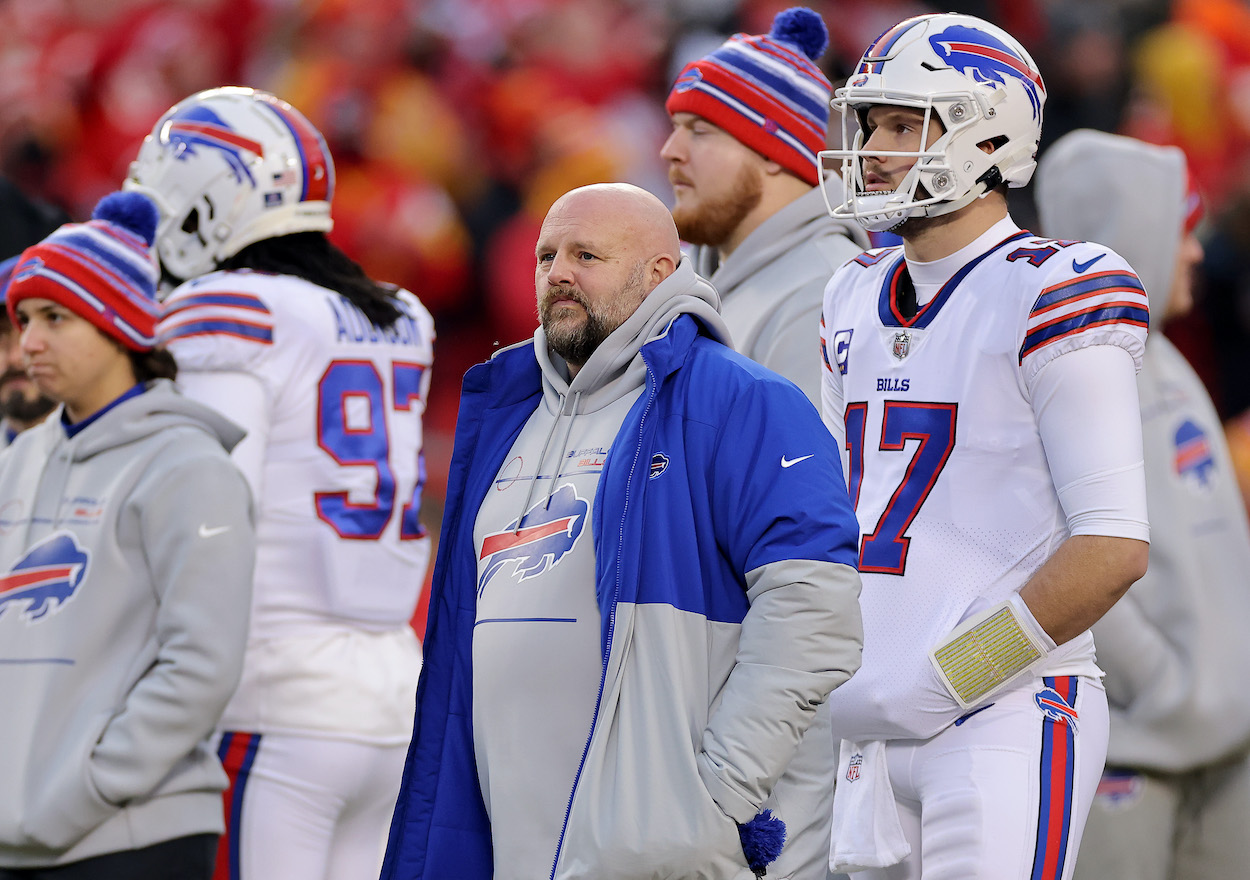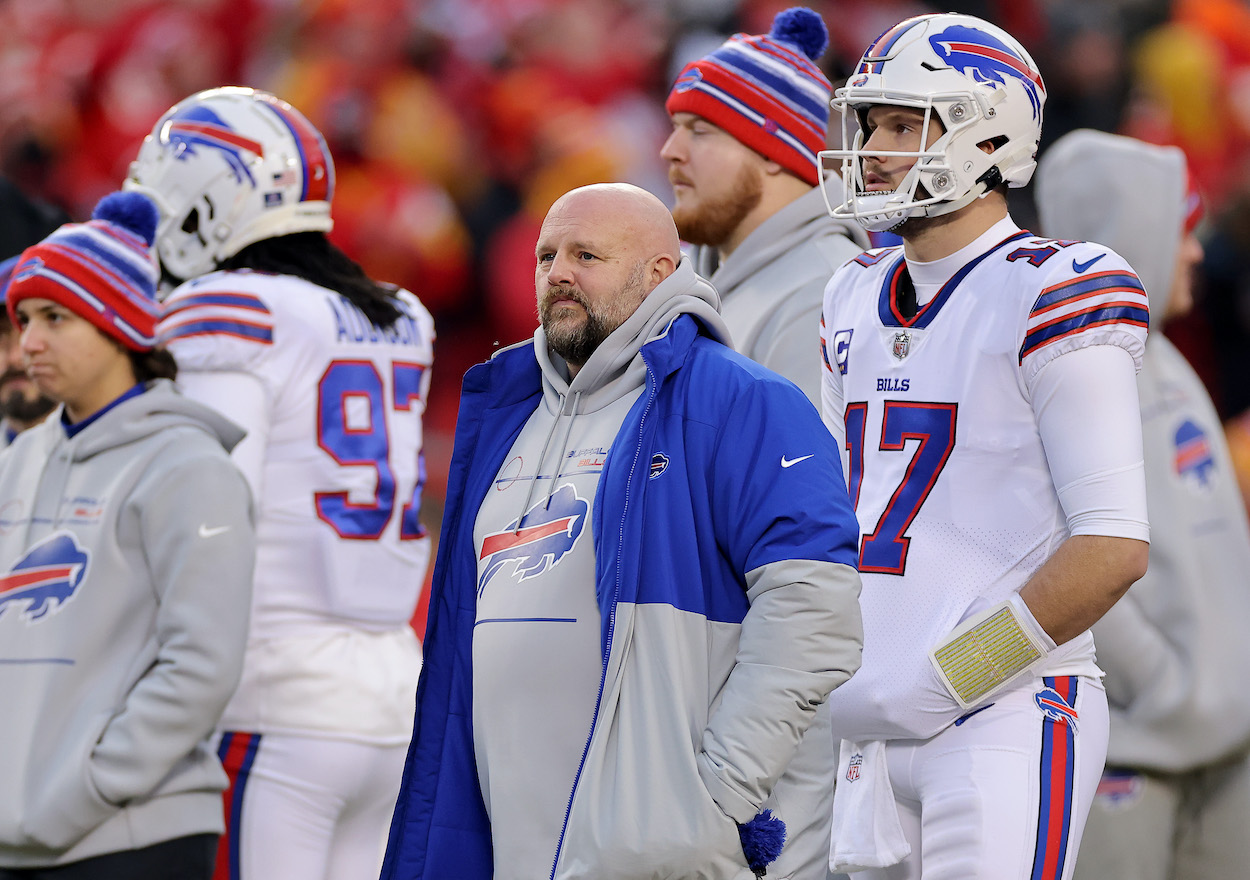 Brian Daboll grew up in the Buffalo, New York area, attending St. Francis High School in the Buffalo suburb of Hamburg, NY. He stayed in Western New York for college, too, attending the University of Rochester.
After a brief stint coaching in college, Daboll joined the New England Patriots staff in 2000. He was first a defensive assistant and later became wide receivers coach. When Pats assistant Eric Mangini left for the New York Jets, Daboll followed him and became the Jets QB coach.
Daboll stayed with Bill Belichick-related coaches for the next few seasons. He went with Mangini to the Cleveland Browns as OC. Then, he held the same position for Tony Sparano's Miami Dolphins and Romeo Crennel's Kansas City Chiefs.
In 2013, he returned to the Patriots and coached tight ends before spending a year as OC at Alabama with Nick Saban. After that college gig, Daboll broke out of the Belichick tree. He took the coordinator position with Sean McDermott and the Buffalo Bills.
Back in Buffalo, Daboll has helped develop Josh Allen into one of the premier young QBs in the NFL. In 2020, the Bills had the No. 2 scoring offense in the NFL and the No. 3 unit in 2021.   
These lofty numbers and his association with one of the hottest young QBs in the game have made Daboll one of the most in-demand coordinators of the 2022 head coaching cycle.
Josh Allen is endorsing his coach to lead a team
In the weeks leading up to the Buffalo Bills Divisional Round Game, Brian Daboll had initial interviews with the New York Giants, Chicago Bears, and Miami Dolphins, per NFL.com.
When the Giants hired Buffalo Bills assistant general manager Joe Schoen to be the team's new GM, chatter picked up that Daboll would be the choice to man the sidelines in New Jersey.
After the loss to the Chiefs, the media asked Josh Allen about the possibility of losing the only OC he's ever worked under in the NFL. The star QB was gracious and supportive in his answer. Although, he also noted how much he would love to continue working with the Buffalo native. Allen said:
I think teams would be foolish not to offer Brian Daboll a head coaching job. I hope they don't, though, selfishly, because I want him here.

Josh Allen on Brian Daboll
That is the double-edged sword of success in the NFL. It's great when a group of players and coaches have success together. However, it also means other teams are circling to come take some of the players and coaches away in the offseason.
Understandably, Allen wants to continue to work with Daboll after all the winning they've done together. However, after another crushing loss to the Chiefs, it may not be a bad thing to shake up the play-calling a bit in 2022.
If Daboll does leave — which seems fairly certain — who will take over?
Who will replace Brian Daboll? 
According to News 4 Buffalo's Heather Prusak, Josh Allen is hoping for input as to who will be the next OC of the Buffalo Bills. His preference is to keep the hire in-house, promoting quarterbacks coach Ken Dorsey.
Dorsey's name should be familiar to college football fans. He played QB at the University of Miami from 1999-2002, winning a national title in 2001. He was also a backup in the NFL for five seasons. Dorsey started 13 games (going 2-11) for the San Francisco 49ers and Cleveland Browns.
After hanging up his cleats, he worked in the Carolina Panthers organization from 2011 to 2015. He eventually became QB coach and worked with a young Cam Newton. After a brief stint back in the college ranks, he joined the Buffalo Bills as quarterbacks coach in 2019 and helped develop Josh Allen. The organization also added "passing game coordinator" to his title last season.
There is a chance that Daboll takes Dorsey with him to the Giants or wherever he ends up.
If that happens, some names connected to the Bills' coveted OC job include Mike Shula, who was OC in Carolina with Sean McDermott and Dorsey. If McDermott goes back further, he could bring in an offensive coach he served with under Andy Reid during his time with the Philadelphia Eagles. These names include former Chicago Bears HC Matt Nagy, former Denver Broncos OC Pat Shurmur, or former Houston Texans HC David Culley.
No matter who the potential candidates are, Prusak also reports that Allen would like to have a say in the hire. As a QB with five years left on his massive offseason extension, it's fair to guess he will.
All stats courtesy of Pro Football Reference