Josh Allen Is Wasting No Time Getting Back to His Beloved Offseason Activity: 'It's My Favorite Thing Besides Football to Do'
Football was Josh Allen's first love growing up, but he's always had a soft spot for golf.
Josh Allen didn't expect his season to end in January. He planned on leading the Buffalo Bills to the Super Bowl in his fourth year at the helm, and it pained him to watch the AFC Championship Game from his couch last weekend.
But the silver lining for Allen is that he now has more time to get back to his "favorite thing besides football to do" — golf.
Josh Allen had a tough time watching the AFC Championship
Allen did everything in his power to lead the Bills to a thrilling AFC Divisional Round victory over Patrick Mahomes and the Kansas City Chiefs, and he nearly did just that. The fourth-year QB threw for 329 and four touchdowns in the game, and he even led the team in rushing with 68 yards on the ground.
But after giving Buffalo a three-point lead with just 13 seconds left, Allen watched from the sidelines as his defense gave up a last-second field goal in regulation and an easy touchdown drive in overtime to seal the game.
A week later, Allen watched the AFC Championship from home with pain still in his heart.
"It was a fun game to be a part of. I know that everybody I've talked to so far has come up to me and talked about how much they enjoyed that game. It's a small consolation prize I guess to be a part of that game, just where two teams are going back and forth. Unfortunately, we didn't get the job done," Allen told reporters this week ahead of the AT&T Pebble Beach Pro-Am. "It hurt watching last week's game, and it's gonna hurt watching the Super Bowl knowing what could've been. But again, we move on. We'll learn from it, and we'll use it to our advantage."
Allen will be back with a vengeance next year, but for now, he'll enjoy his time off and get back to his favorite offseason activity.
Golf is Allen's "favorite thing besides football to do"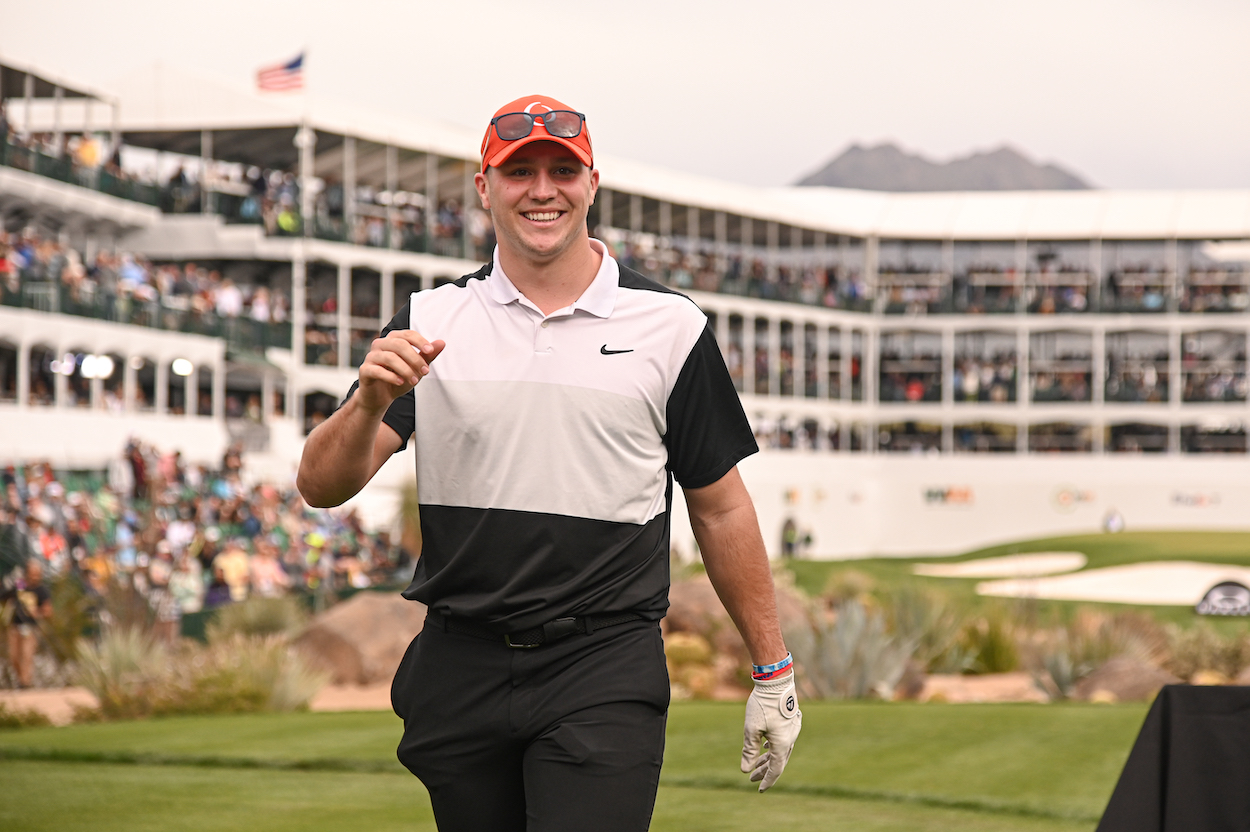 Allen has loved football more than anything else since he was a child, but he'll always have a soft spot for golf.
The star QB grew up in a golfing family and frequently visited the iconic Pebble Beach Golf Links, which is just two hours away from his hometown of Firebaugh, California. Allen started to pick up the sport in a serious fashion while he was in college at the University of Wyoming.
He's just a tad busy during the NFL season, but Allen immediately gets back on the golf course after the Bills play their final game. Allen said this week he hasn't played a full 18 holes since last July, but he's excited to get back to his favorite hobby — besides football, of course.
It's been a while, it's knocking off the rust. I'm not the best player in the world. I'm not gonna tell you that I am, but when I can hit it, I'm gonna hit it a long way. It's something that I enjoy to do, though. It's my favorite thing besides football to do, is to be out on the golf course, and hitting shots, and hanging out with the boys, and having a good time.

Josh Allen
He's just like the rest of us.
Starting out the offseason with a bang at Pebble Beach
Because the Bills lost in the AFC Divisional Round, Allen had the opportunity to play in the Pro Bowl this Sunday. But he decided to make other plans.
This week, Allen will be playing in the AT&T Pebble Beach Pro-Am for the first time. He's taken in the tournament as a fan many times, but he's never teed it up on the famed Monterey Peninsula as a player. Until now, that is.
Allen said this week he's excited to get back on the golf course and pick up some tips from his professional partner, Keith Mitchell, but he's coming for the trophy above all else.
"Absolutely," he said. "I love to win."