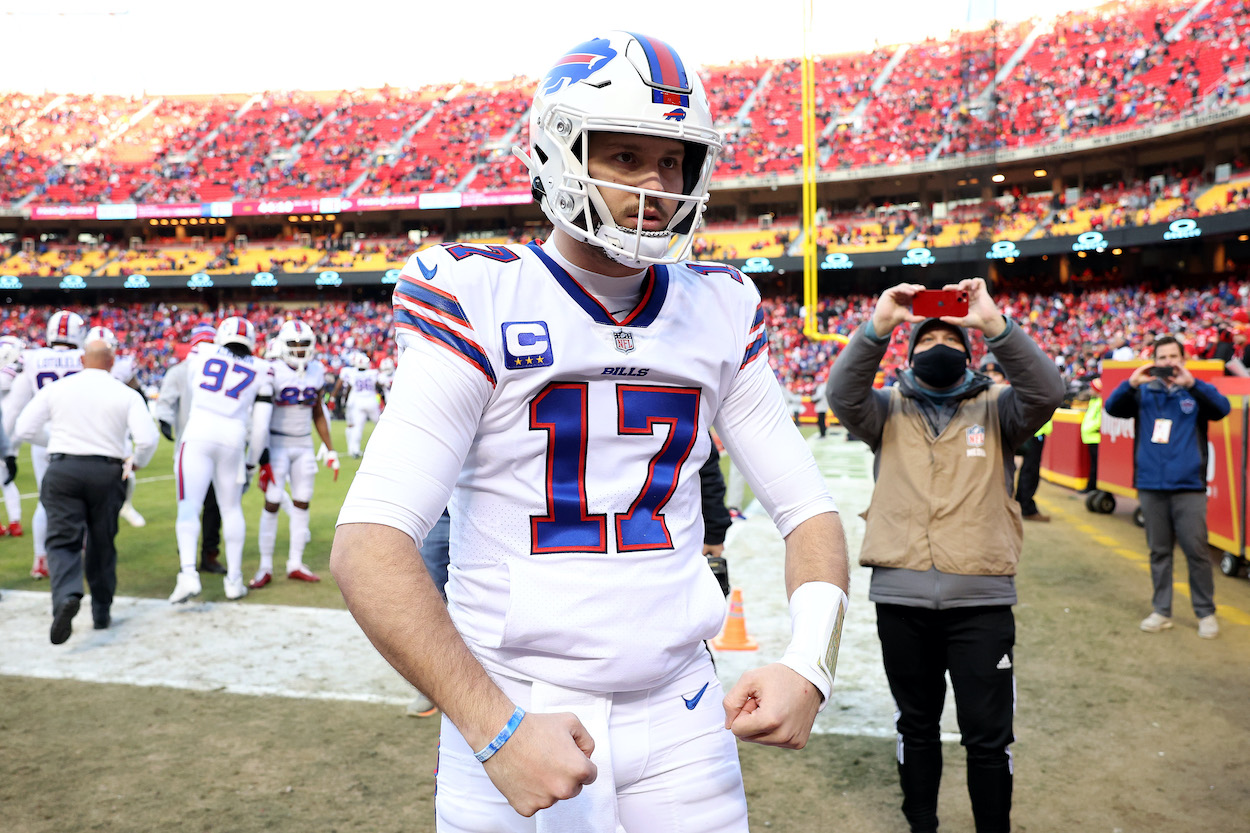 Josh Allen Snubs the Pro Bowl After the Pro Bowl Snubbed the Buffalo Bills QB
Buffalo Bills QB Josh Allen made the 2021 Pro Bowl as an alternate, so he's skipping it to focus on healing and maybe learning a new offense.
Despite an excellent season from Buffalo Bills quarterback Josh Allen, he didn't make the Pro Bowl as one of the AFC's three QBs. The fans, players, and coaches who vote for the Pro Bowl did make Allen an alternate, but he said thanks but no thanks as he looks to recover from a grueling 2021 season and prepare for the uncharted waters ahead.
Buffalo Bills QB Josh Allen had a fantastic season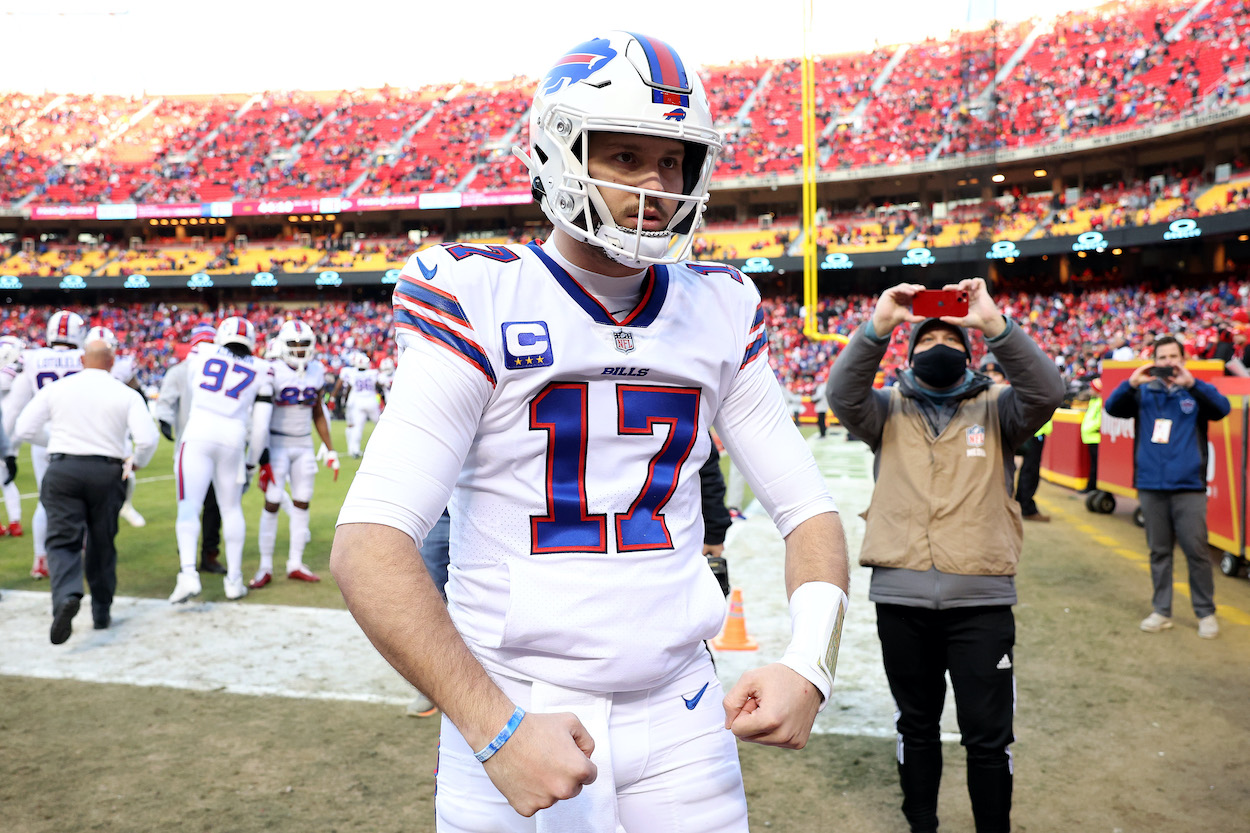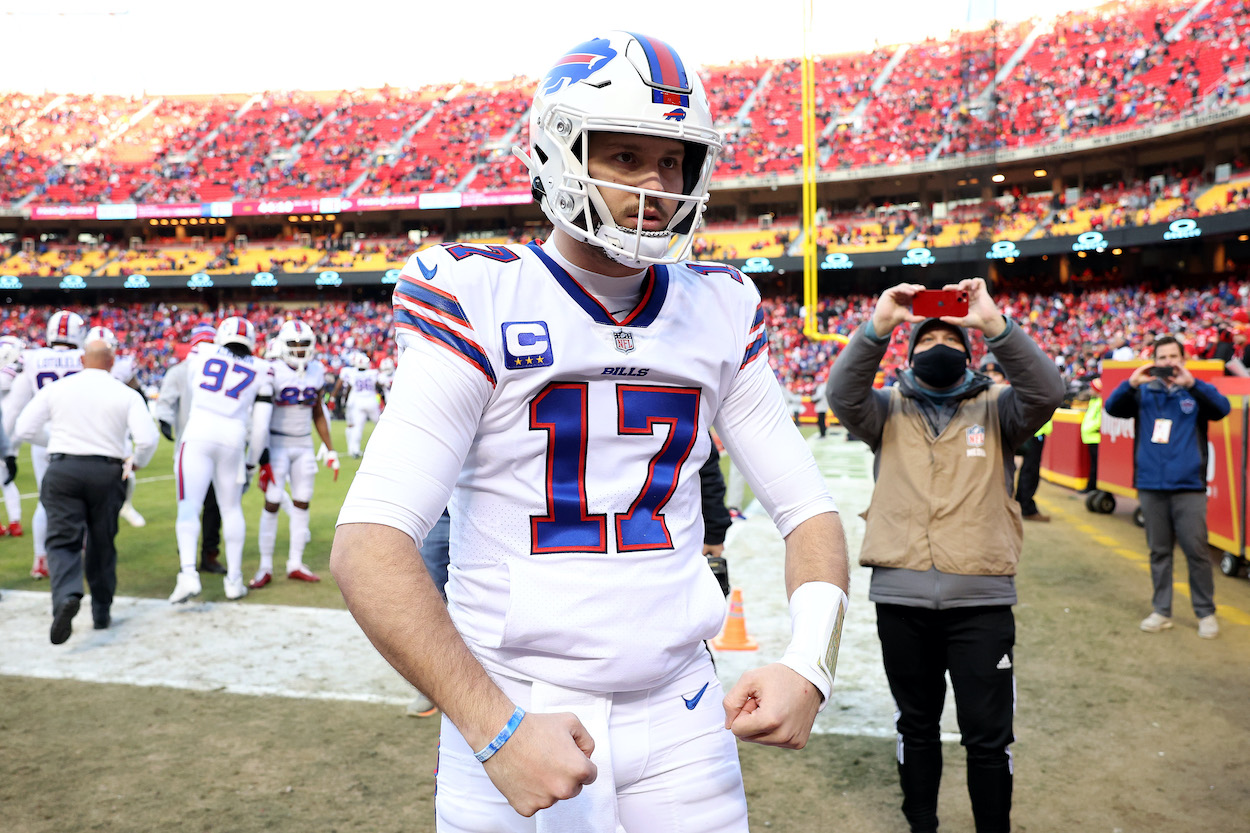 Josh Allen came into the 2021 season as one of the favorites to win the NFL MVP Award. The signal-caller's season (and by extension, the Buffalo Bills') was too inconsistent to win the award for the league's best player. However, to say that he isn't one of the three best quarterbacks in his division seems a bridge too far.
The AFC Pro Bowl honors went to the Los Angeles Chargers Justin Herbert, the Kansas City Chiefs Patrick Mahomes, and Lamar Jackson of the Baltimore Ravens.
Here's how these three QB's statistics stack up to Allen's this season:
| | | | | | | | | |
| --- | --- | --- | --- | --- | --- | --- | --- | --- |
| Player | Games | Record | Comp. % | Pass Yards | TDs | INT | Rush Yards | Rush TD |
| Josh Allen | 17 | 11-6 | 63.3% | 4,407 | 36 | 15 | 763 | 6 |
| Justin Herbert | 17 | 9-8 | 65.9% | 5,041 | 38 | 15 | 302 | 3 |
| Patrick Mahomes | 17 | 12-5 | 66.3% | 4,839 | 37 | 13 | 381 | 2 |
| Lamar Jackson | 12 | 7-5 | 64.4% | 2,882 | 16 | 13 | 767 | 2 |
You can draw your own conclusion from these numbers, but with all his contributions to his team's wins, it's nearly impossible to say Allen doesn't belong in the top three of this list, especially over Jackson.
Apparently, though, the people who vote for the popularity contest that is the Pro Bowl don't see it that way. The QB from the second-smallest market in the league is only seen as an alternate in this group of talented signal-callers.
Allen snubbed the Pro Bowl following his Pro Bowl snub
The 2021 Pro Bowl snubbed the Buffalo Bills all over the place. In addition to Josh Allen's alternate distinction, only wide receiver Stefon Diggs and tackle Dion Dawkins made it on the offensive side of the ball.
On the defensive side, it was even more egregious. The No. 1-ranked defense in the NFL produced zero Pro Bowlers. This is despite the fact that safeties Jordan Poyer and Micah Hyde both made the (even more prestigious) All-Pro team.
Considering all this, it shouldn't come as a surprise that Allen decided to snub the Pro Bowl right back this year.
In a statement released through ESPN's NFL insider Chris Mortensen, the Bills QB wrote, "Unfortunately I will be declining the invitation to play in the pro bowl this year." He cited his need to allow his body to "rest and recover from the harshness of the season."
While the NFL and Pro Bowl fans (if there are any) might not be happy, Bills Mafia surely is. They want their QB to be as rested and ready as possible, heading into a 2022 season with big expectations and big changes.
Next season will be very different for the Buffalo Bills QB after losing OC Brian Daboll
When Josh Allen showed up in Buffalo in 2018, he began to work with the team's new offensive coordinator, Brian Daboll.
Daboll, a Buffalo native, turned Allen from the raw, athletic prospect he was into the Pro Bowl alternate he is today. He also took a Buffalo Bills offense ranked 22nd in scoring in 2017 to one that finished second in 2020 and third in 2021.
Now, Daboll is the new head coach of the New York Giants, and Allen will have to work with a new play-caller for the first time in his NFL career.
This new OC could be someone Allen is already familiar with, such as Buffalo Bills quarterbacks coach/passing game coordinator Ken Dorsey or tight ends coach Rob Boras. However, if Daboll takes one or both of these coaches with him to New Jersey, the new play-caller could be someone who has no rapport with Allen.
Allen fully supported a team hiring Daboll but also expressed some apprehension about losing the longtime voice in his ear.
After Allen's body heals — with the help of skipping the Pro Bowl — it'll be back to work for the QB to get on the same page with his new OC and finally bring Western New York the Super Bowl title they've never had.
All stats courtesy of Pro Football Reference