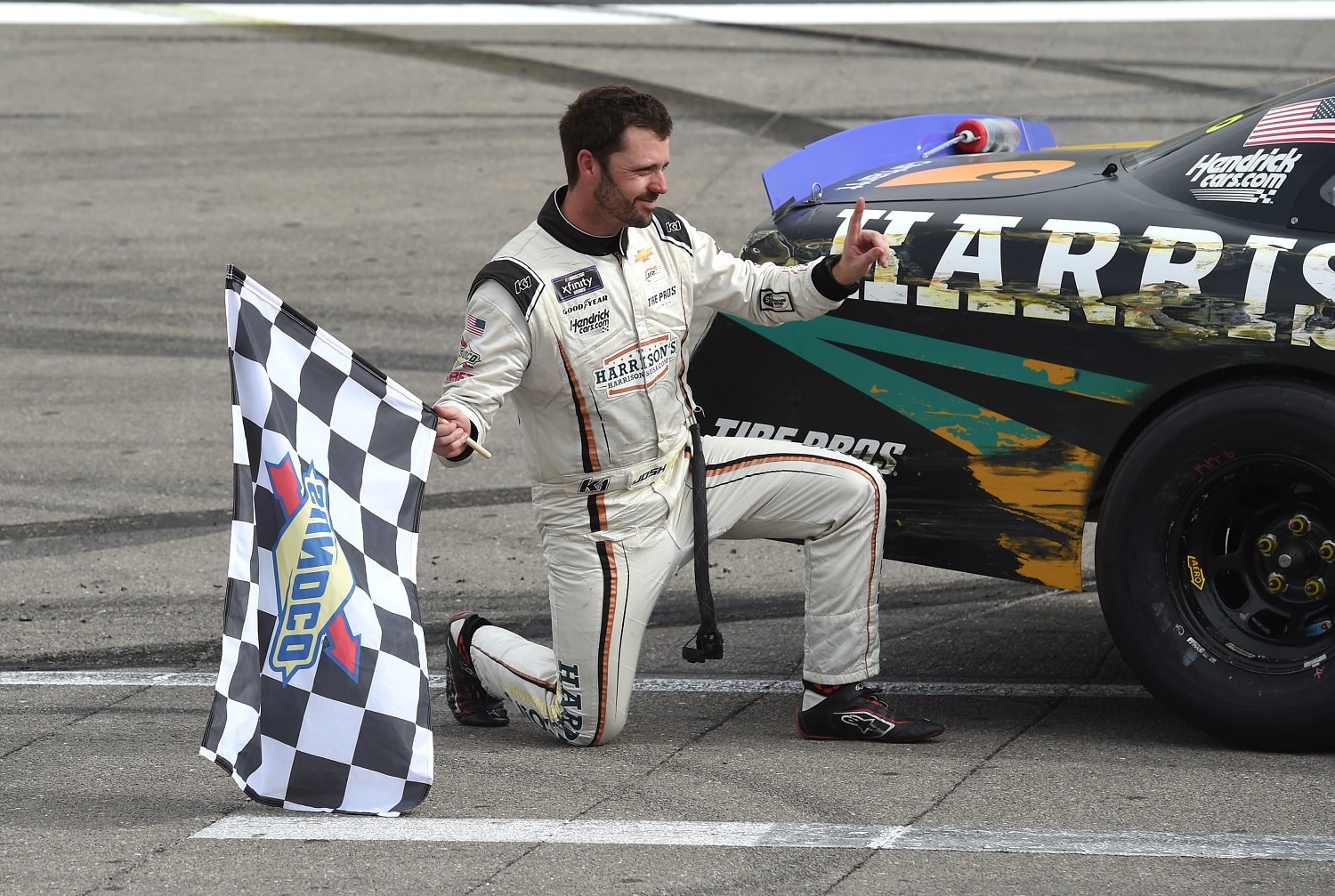 Josh Berry's $50,000 Win Reminds Us Why NASCAR Nation Loves Dale Earnhardt Jr.
Josh Berry picked up a $50,000 win over the holiday weekend while hitting a major milestone in his career with JR Motorsports.
I suspect there's an Xfinity Series championship in Josh Berry's future, but there are no guarantees. The competition is too good for it to be a given, and so much out of the control of the driver and team owner Dale Earnhardt Jr. can derail a title run.
Even if that championship doesn't materialize, you can understand why Berry must be one happy dude to be working at JR Motorsports. Earnhardt is helping him fulfill a dream.
Josh Berry reached a racing milestone over the weekend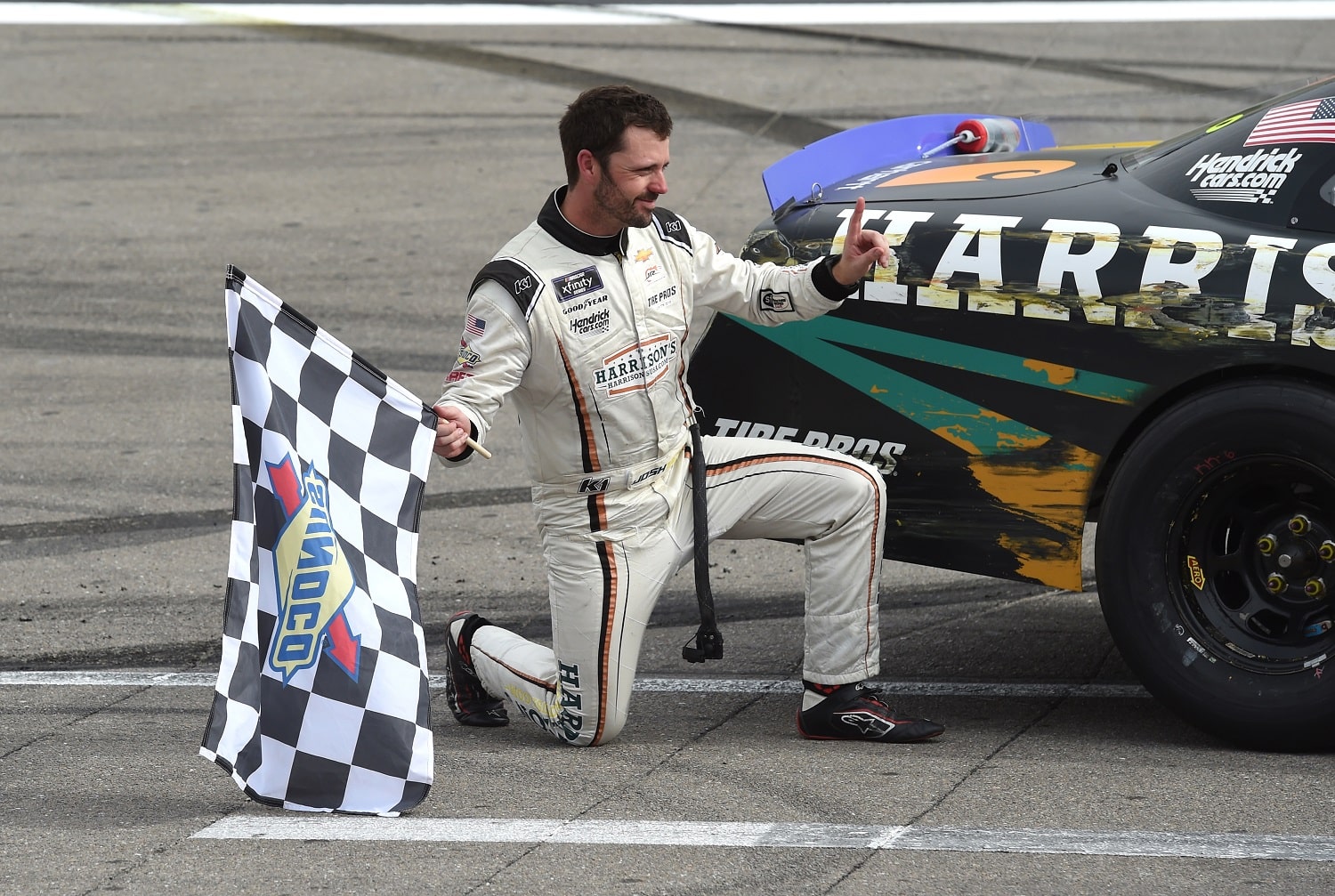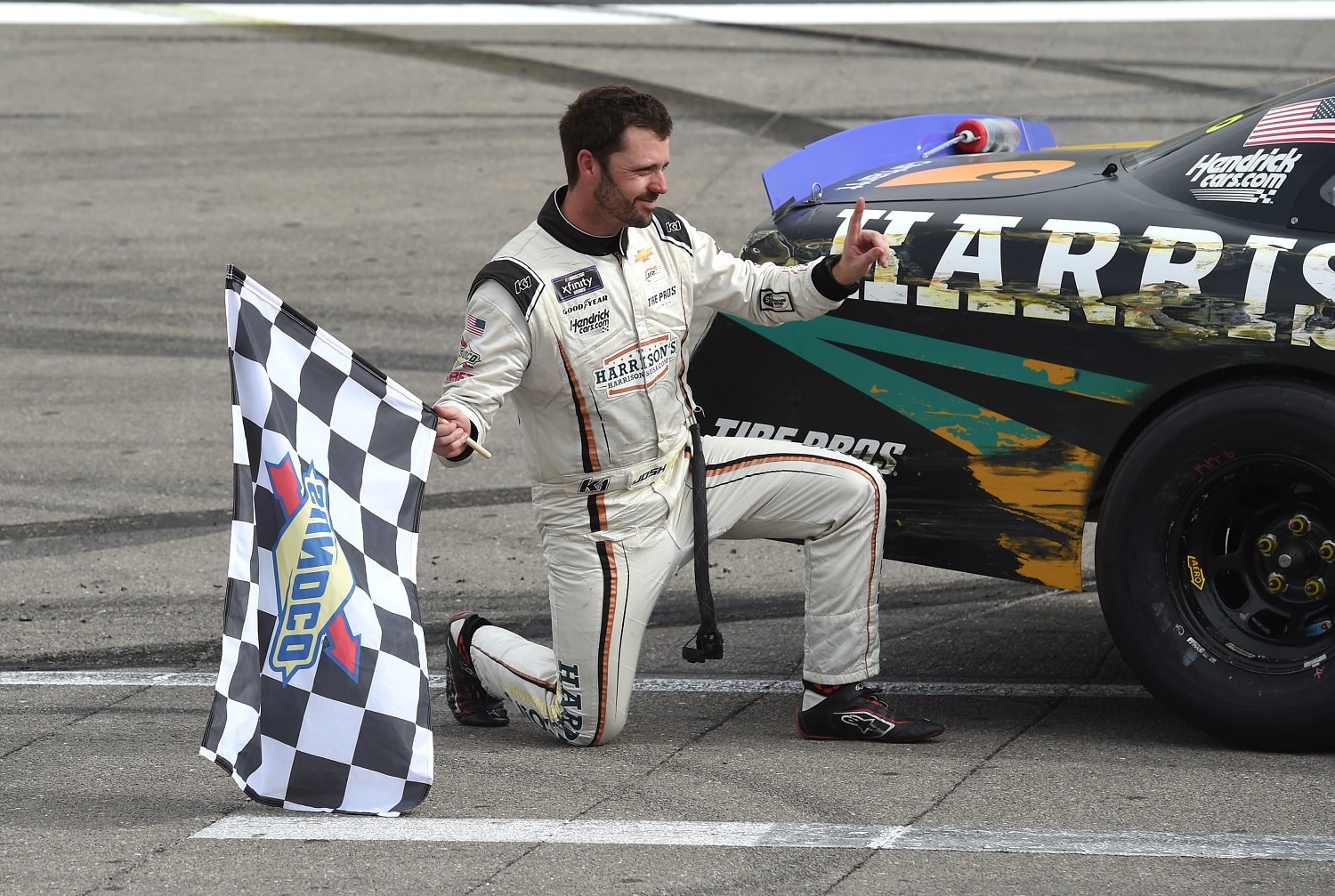 Fresh off an appearance in the Championship 4 in his first full season of Xfinity Series racing, Josh Berry notched another memorable moment this weekend.  Competing at Southern National Motorsports Park in North Carolina, Berry recorded the 100th victory in his time with JR Motorsports.
The circumstances on Sunday were a testament to the commitment of Dale Earnhardt Jr. It was Earnhardt that brought the bank teller into his organization to hone his skills and who gave Berry his shot in the Xfinity Series. His own love of Late Models helps explain why the owner continues to support Berry outside the national NASCAR series.
With Noah Gragson graduating to full-time work in the NASCAR Cup Series, Bass Pro Shops is shifting some of its sponsorship money to Berry's car in 2023. That obviously couldn't have happened without Earnhardt pulling strings, and the support hasn't stopped there.
Josh Berry hauled in $50,000 on Sunday
Josh Berry arrived at Southern National with everything he needed for a Late Model victory, starting with the backing of Bass Pro Shops. The driver and JR Motorsports assembled a full team that included longtime NASCAR Weekly Series champ (and former bitter rival) Lee Pulliam working as the spotter.
There was a $50,000 first prize for the taking, and Berry, himself a former Weekly Racing Series champion, delivered his 95th Late Model victory for JRM to go along with the five wins he's scored in a season and a half of Xfinity Series competition.
Berry won the race a year ago and didn't expect to try it again, but promoter Mike Diaz boosted the purse, making it irresistible.
"We ran this race last year kind of like a sendoff for me," Berry said, according to Racing America. "I hadn't really run this race a whole lot. It's tough on all of your people with Thanksgiving and all. It's a big commitment. When Mike and Solid Rock Carriers stepped up with that big of a purse, we knew we had to be here."
The driver is living his dream
Josh Berry, 32, has had the motorsports bug for a long time, and it even extended to online racing leagues. That's how he made the acquaintance of Dale Earnhardt Jr. in 2008 while attending junior college, working as a bank teller, and competing on weekends at tracks in the Nashville area.
Earnhardt hired Berry in 2010 to race Late Models and just generally be a jack of all trades at JR Motorsports. The driver's breakthrough came in 2020 when he won 24 races in the NASCAR Weekly Series to capture the championship.
Earnhardt reserved the No. 8 Chevy in the 2021 Xfinity Series for Sam Mayer once he reached his 18th birthday. In the interim, the car belonged primarily to Berry, and he made the most of the opportunity. Berry won at Martinsville in his fifth start and posted seven top-10 finishes in 13 appearances.
Once the car was handed off to Mayer, Berry picked up a combination of rides with Jordan Anderson as well at JR Motorsports' No. 1 Chevy. He finished the year with two wins and 17th place in points despite racing only two-thirds of the season.
It earned Berry a full 2022 season, replacing Michael Annett. He responded with three victories and a place in the Championship 4 alongside fellow JRM drivers Noah Gragson and Justin Allgaier. While Berry was a disappointing 13th in the finale at Phoenix, he'll be back for another full season beginning in February.
Got a question or observation about racing? Sportscasting's John Moriello does a mailbag column each Friday. Write to him at [email protected].