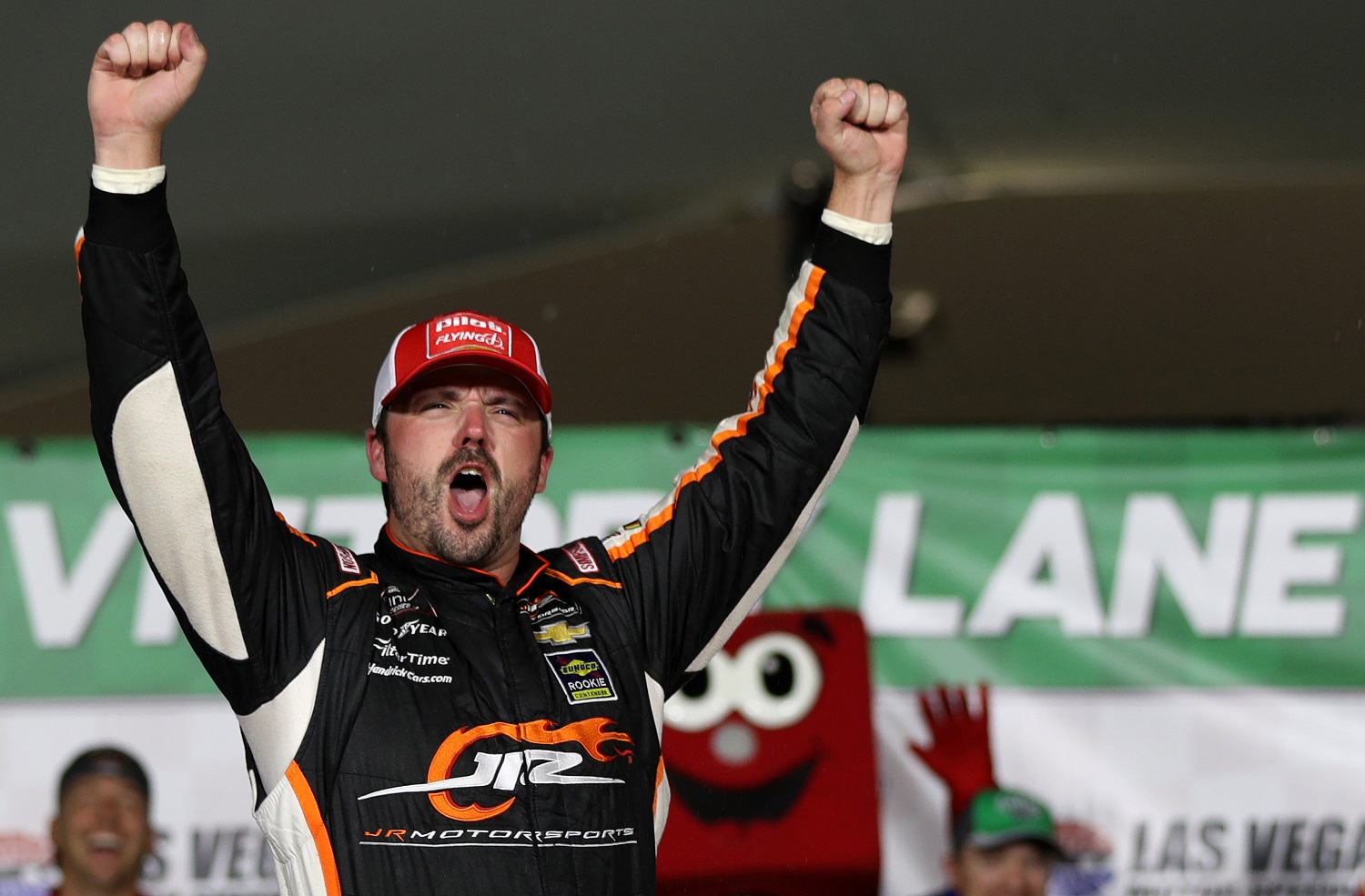 Josh Berry Is Fast on Xfinity Tracks During a Slow Journey to a Potential NASCAR Cup Series Career
Josh Berry has made the most of a part-time Xfinity Series role with JR Motorsports, highlighting a solid season by winning the Xfinity Series playoff opener.
Josh Berry's career remains a riddle wrapped in a mystery inside a stock car, the chief question being why it took until he turned 30 to land his first real shot in a major NASCAR series.
The occasional anger issue aside, Berry is proving to be a rising star despite beginning the season warming the seat for someone not much more than half his age. The Xfinity field will have its hands full when he returns to JR Motorsports in a full-time role next season.
Josh Berry has been busy this season
JR Motorsports collects Xfinity Series talent the way Nick Saban attracts five-star football recruits. Justin Allgaier and Noah Gragson stand third and fourth, respectively, in the points standings. Veteran Michael Annett is 15th and Josh Berry 17th despite not even having a full-time ride.
JR Motorsports lined up Berry and road-course specialist Miguel Paludo to drive the No. 8 Chevy for the first half of the season. Berry knew from the start that the team was going to give his spot to prospect Sam Mayer once he turned 18, the minimum age to drive in the series.
All Berry could do was drive hard to try to open doors for himself in the future. He made a handful of starts in Xfinity and truck races from 2014-17, but this was his first steady ride. Saying that he made the most of his opportunity is an understatement.
After late crashes ended his day in three of the first five races, Berry won at Martinsville and followed up shortly afterward with second-place finishes at Darlington and Dover. Mayer took over in mid-summer and hasn't finished higher than ninth thus far.
Berry's work earned him a spot on Dale Earnhardt Jr.'s speed dial. He has called upon Berry to sub in the No. 1 Chevy four times for Annett, who has been battling leg injuries.
Josh Berry threw an unexpected wrinkle into the Xfinity playoffs
When Michael Annett had to scratch from last weekend's Xfinity Series race in Las Vegas, JR Motorsports put Berry behind the wheel of the No. 1 Chevy again. The surprise wasn't that the organization swept the top three spots in the first round of the playoffs. Rather, it was that Berry took the checkered flag ahead of Justin Allgaier and Noah Gragson to match their victory totals for the season.
Everyone was anticipating the championship battle amongst Allgaier, Gragson, AJ Allmendinger, Austin Cindric, and Daniel Hemric when Berry caught observers off guard. It was a great night for a guy who has been filling holes in his schedule during the second half of the season by racing trucks and Late Models.
"I really hope that I'm giving hope to some of these guys," Berry said, according to NBC Sports. "I hope it opens up more opportunities for them, not just in Late Models or Late Model stocks. There's tons of great racers in Modifieds and DIRT and everything across the country."
Berry is set to drive a full schedule with JR Motorsports next year. The Xfinity Series roster is already full of drivers who are close to being ready for the NASCAR Cup Series. A strong 2022 season would move Berry a little closer to his shot.
For now, he's back in Annett's Chevy for at least one more week and grateful to finally have a bit of job security at age 30.
"All this stuff had to line up," he said. "Sam coming into our program. If he's born a couple of months earlier, there's no place for Josh, or Josh's opportunity might be three or four races instead of 12. It's just so hard to get here. I tell people that all the time."
What took him so long to get this far?
Many drivers reach the NASCAR Cup Series while in their mid-20s. Berry did some pinch-hitting for Spire Motorsports at Dover and Michigan this year, but he may need to do his Harry Gant imitation and reach his mid-30s before landing a more prominent role.
Just getting this far has been an achievement. He owes some of his delayed progress to dust-ups on the track. Driving Late Models the past two years, he twice lost leads when Bobby McCarty spun him. He reciprocated by wrecking McCarty after the second incident, drawing a rare suspension.
"For a long time, I carried frustration feeling that I was capable at this level," Berry said. "I carried that frustration for a long time. I just never let it affect anything that I did. I just worked hard, raced, tried to win, enjoy myself. I just can't believe how much my life has changed in the last year."
If it changes that much more in the next year, then the sky is the limit in his racing career.
Like Sportscasting on Facebook. Follow us on Twitter @sportscasting19.