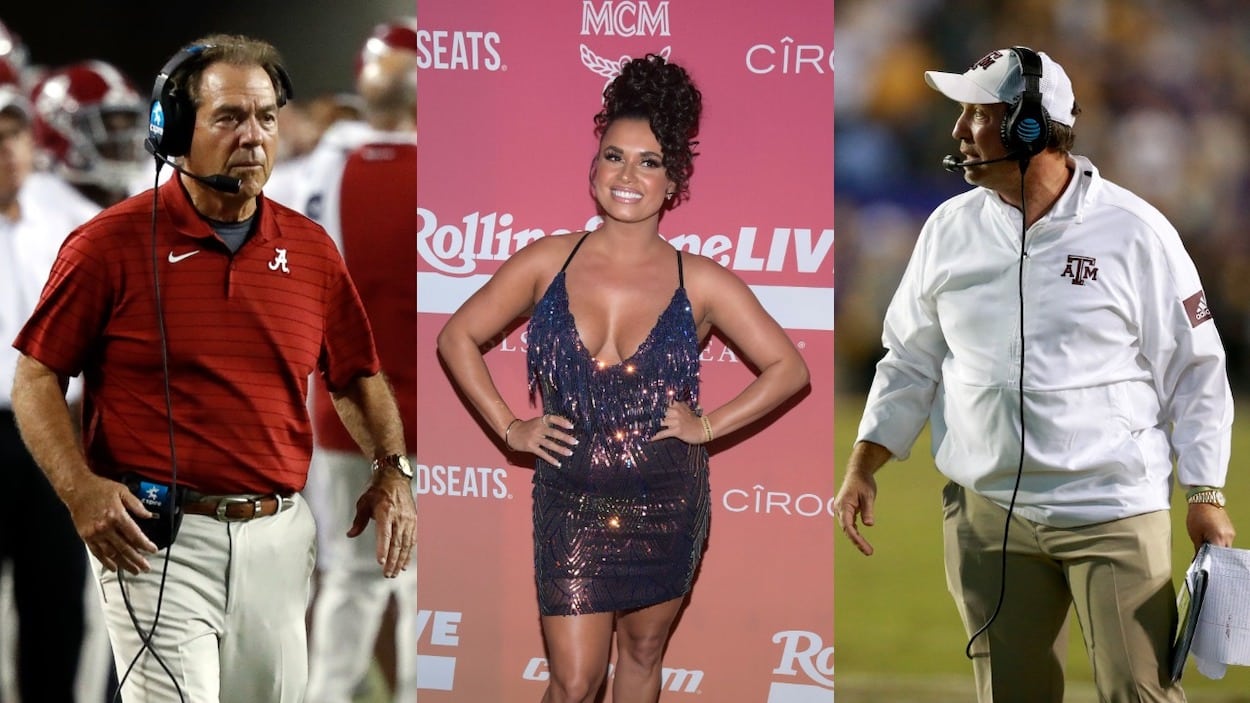 Joy Taylor Crushes Nick Saban and Jimbo Fisher: 'Everyone's Focusing on the Top 1% of 1% of Male Sports'
While Nick Saban and Jimbo Fisher feuded over NIL rules in college football, Joy Taylor explained why they're both missing the point.
One of the biggest stories in the sports world this week was college football coaches Nick Saban of Alabama and Jimbo Fisher of Texas A&M going at each other over "buying" recruits with name, image, and likeness (NIL) rights. While these two highly-paid football coaches debated the merits of a small group of elite college athletes making a lot of money, sports talk host Joy Taylor pointed out that this group isn't what NIL is all about. 
Alabama's Nick Saban and Texas A&M's Jimbo Fisher traded barbs over NIL
For decades, the NCAA didn't allow college athletes to make money while competing in collegiate athletics. That all changed in 2021. The Supreme Court unanimously ruled that the NCAA couldn't prohibit these athletes from receiving education-related benefits. This paved the way for the governing body now allowing athletes to make money using their name, image, and likeness. 
Many college sports fans hailed this as a major step toward fairness. Andas a rebuke of a heavy-handed organization that's profited off free labor for decades while raking in millions or even billions of dollars for the adults and institutions involved. 
However, it also didn't sit well with some, especially those who've benefitted greatly from the old system. And no one has benefitted more from this system than Alabama football coach Nick Saban. 
The seven-time national champion has said he's worried about NIL hurting the "parity" in college football. And, during a recent appearance at a local event, Saban lashed out at NIL rights again. 
This time, he specifically called out Texas A&M (and, by extension, head coach Jimbo Fisher) because, in his view, "A&M bought every player" in its 2022 recruiting class. He also blasted Deion Sanders' Jackson State team because he claims they "paid a guy a million dollars last year."
Fisher took incredible umbrage to these accusations and fired back at his former boss. 
The former LSU offensive coordinator under Saban denied any wrongdoing and said of his former boss, "It's despicable that a reputable head coach can come out and say this when he doesn't get his way. The narcissist in him doesn't allow those things to happen. It's ridiculous when he's not on top."
While the verbal fireworks between two famous football coaches this week were entertaining, Joy Taylor pointed out that they're both missing the point. 
Joy Taylor called out highly-paid football coaches over their issues with NIL 
Joy Taylor, the co-host of The Herd with Colin Cowherd, took on both Nick Saban and Jimbo Fisher this week after the two had their public spat over NIL. 
Taylor first pointed out what a bad look it is for these two coaches, who've made millions in college athletics and changed schools whenever they wanted to be arguing over athletes making money. She even said that if she were a top football recruit, she'd be paying close attention to "how upset they are" that college athletes are allowed to make money now. 
She then explained why trying to create NIL rules to limit what a select few elite football and basketball players can make would be a massive disservice to college athletics as a whole: 
Everyone's focusing on the top 1% of 1% of male sports. NIL benefits all college athletes, including the thousands of female athletes who play college sports. So when you make these regulations in order to control, let's relatively call it 1,000 athletes a year that are at the top level getting top-level NIL money. Those regulations then trickle down to everyone else. So you're not even really focusing on a 'problem.' You're focusing on something that affects you, Nick Saban. You, Jimbo Fisher. You, Bill Self. You're not thinking of the college female volleyball player, you're not thinking of the male lacrosse player. You're thinking of your specific problems. 

Joy Taylor on NIL
Taylor also pointed out that if these institutions and well-paid college coaches are as committed to education as they say, they should want players to have money to learn real-life money management skills. Those skills would serve student-athletes well later in life. 
Saban apologized to Fisher after their public dust-up
While Nick Saban hasn't walked back any of his comments about NIL, he did issue a public apology to Jimbo Fisher and Deion Sanders. It wasn't necessarily for his accusations, though. 
The Alabama coach only says he shouldn't have named names. In fact, in his "apology," Saban doubled down on attacking NIL, telling ESPN: 
Look, I should have never singled anybody out. And I wasn't saying that either one of those schools did anything wrong. I didn't intend it to mean they were buying players, but more that you're able to buy players now and it's totally legal. You're just using name, image, and likeness to do it. What I'm saying is that it's not good for the game and is only going to get worse unless there's some federal legislation.

Nick Saban apology on calling out Jimbo Fisher and Deion Sanders
Despite the public mea culpa, both Saban and Fisher confirmed that the Alabama coach reached out to the Texas A&M head man, but Fisher refused to answer the call. 
Alabama hosts Texas A&M on October 8, 2022. 
Like Sportscasting on Facebook. Follow us on Twitter @sportscasting19 and subscribe to our YouTube channel.