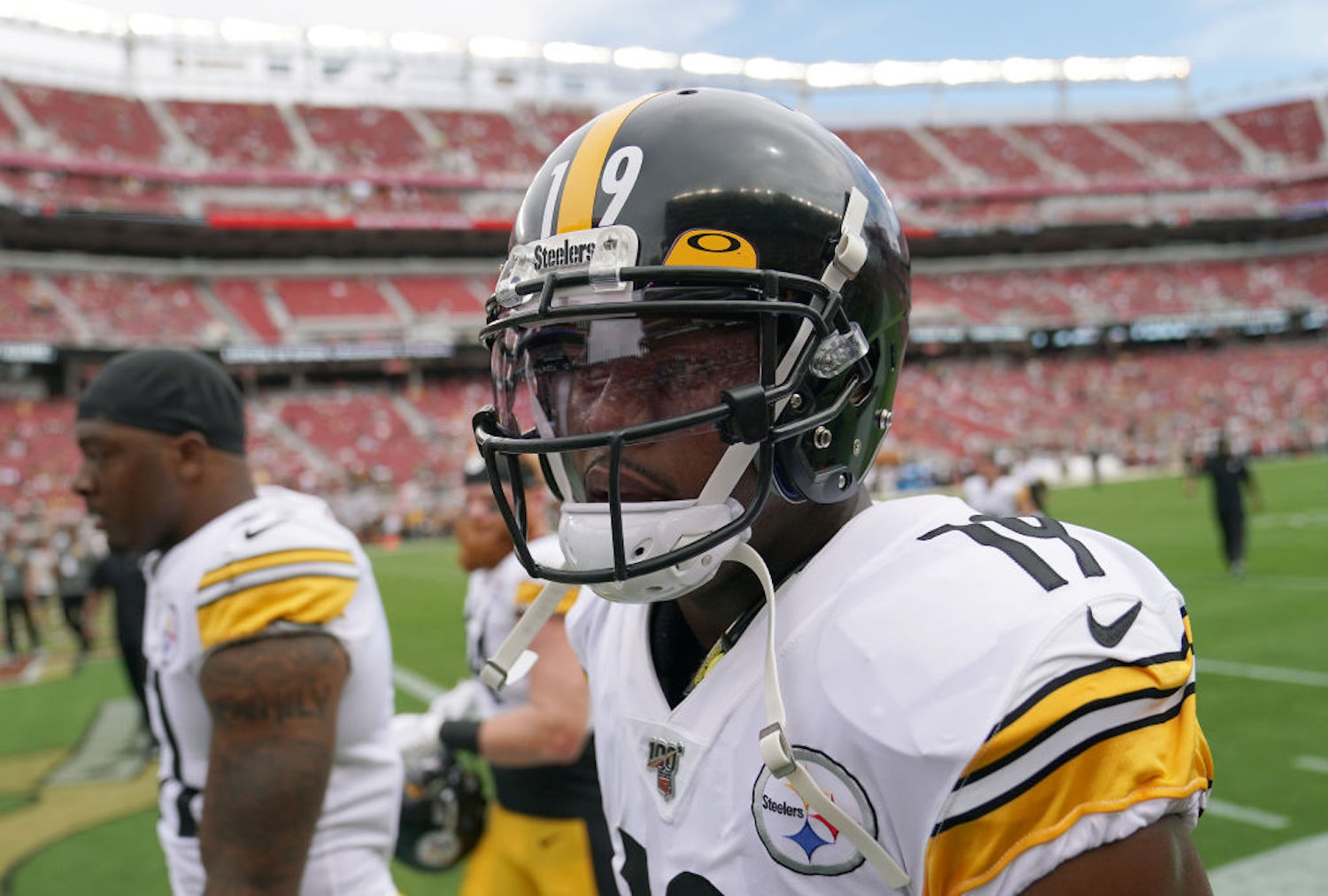 JuJu Smith-Schuster Sends an Encouraging Message to Steelers Fans About His Future
JuJu Smith-Schuster is set to become a free agent after the 2020-21 season, but he apparently has no plans of leaving Pittsburgh.
JuJu Smith-Schuster is expected to be the next all-time great wide receiver in Pittsburgh. Lynn Swann. Hines Ward. Antonio Brown. The torch gets passed from generation to generation, and the Steelers always seem to have a Hall-of-Fame caliber wideout on the roster every season.
Next in line is Smith-Schuster. The fourth-year WR has already shown flashes of greatness in his short career, but now he's ready for the next step. With free agency looming, Steelers fans don't want to see their prized weapon walk out the door. Thankfully for them, Smith-Schuster seems to want to spend his entire career in Pittsburgh.
JuJu Smith-Schuster is the next all-time great WR for the Steelers
If the Steelers organization knows one thing, it's how to draft wide receivers. Pittsburgh is home to some of the greatest wideouts to ever play in the NFL, and the team never has a shortage of talent at the position.
Smith-Schuster is only 23 years old, but his expectations in Pittsburgh are through the roof. The USC product is already 17th on the Steelers all-time receiving yards list, and he could realistically jump into the top 10 with another solid season.
With Antonio Brown gone, Smith-Schuster is destined to take his place as the No. 1 guy, and he's already proven he can be a top-tier wide receiver in the league. In just three seasons in the NFL, Smith-Schuster has racked up 2,895 receiving yards and 18 total touchdowns.
Smith-Schuster made the Pro Bowl in just his second year as a pro, going for 1,426 receiving yards and eight total touchdowns. He had a down year in 2019, but the return of a healthy Ben Roethlisberger should revamp the talented pass catcher.
Smith-Schuster is set to become a free agent in 2021
Pittsburgh fans love Smith-Schuster, and he seems to love them back, but his impending free agency has Steelers nation biting their nails about his future with the franchise.
Smith-Schuster is set to become a free agent after the 2020-21 season, and suitors will be lining up out the door for a chance to sign him. He's already one of the most talented wideouts in the league at 23, and he could become a cornerstone piece to whichever team he decides to sign with.
With Roethlisberger nearing retirement and with no clear heir to replace the Hall of Famer, Pittsburgh might not be Smith-Schuster's preferred destination moving forward. At least, that's what Steelers fans dread.
Thankfully for them, Smith-Schuster recently gave Pittsburgh fans a reason to be optimistic about the future.
Smith-Schuster says he plans on retiring with the Steelers
Not many young players have their careers mapped out before they even sign their first non-rookie contract. Most explore other cities and eventually find a home down the road, but Smith-Schuster is convinced Pittsburgh is where he wants to be his entire career.
During an AMA on Reddit Wednesday, Smith-Schuster answered questions from fans about anything and everything. When a user asked if he sees himself retiring as a Steeler, Smith-Schuster didn't hesitate.
"Yes," Smith-Schuster replied candidly. If he had any hesitations about his future in Pittsburgh, Smith-Schuster would've simply ignored the question. Congratulations, Steelers fans. It looks as if you have your next all-time great wide receiver for the long haul.
All stats courtesy of Pro Football Reference