JuJu Smith-Schuster Viciously Trolls Eagles Defender James Bradberry on Valentine's Day
Kansas City Chiefs wide receiver JuJu Smith-Schuster and Philadelphia Eagles cornerback James Bradberry will go down in history together as the latter held the former on the deciding play of Super Bowl 57. After the game, Bradberry gained a lot of respect around the NFL world by taking accountability for his actions. Two days later, Smith-Schuster did the opposite by viciously trolling the Eagles defender on Twitter for Valentine's Day.
JuJu Smith-Schuster sent James Bradberry an ugly Valentine's Day card
Super Bowl 57 was one of the most exciting and competitive Super Bowls in recent memory. The Chiefs and Eagles went back and forth all game, with the Chiefs pulling out a narrow 38-35 victory in the end.
The unfortunate part of the game was that a referee's flag essentially ended it with under two minutes to play.
Chiefs quarterback Patrick Mahomes overthrew JuJu Smith-Schuster on a 3rd-down with 1:54 to go in the game. Instead of getting nearly two minutes to answer the Chiefs' go-ahead field goal, though, a defensive holding call on James Bradberry let the Chiefs milk the clock down to 0:08.
The call was controversial, but after the game, Bradberry told reporters, "It was a holding. I tugged his jersey. I was hoping they would let it slide."
Two days after Bradberry took the high road, Smith-Schuster decided to go low.
On Valentine's Day, the soon-to-be-free-agent wideout tweeted a V-Day card that said, "I'll hold you when it matters most," with a picture of Bradberry photoshopped on it.
It was a low blow for sure and shows why the Eagles CB is a more desirable free agent this offseason than the Chiefs WR.
Both Smith-Schuster and Bradberry are free agents in 2023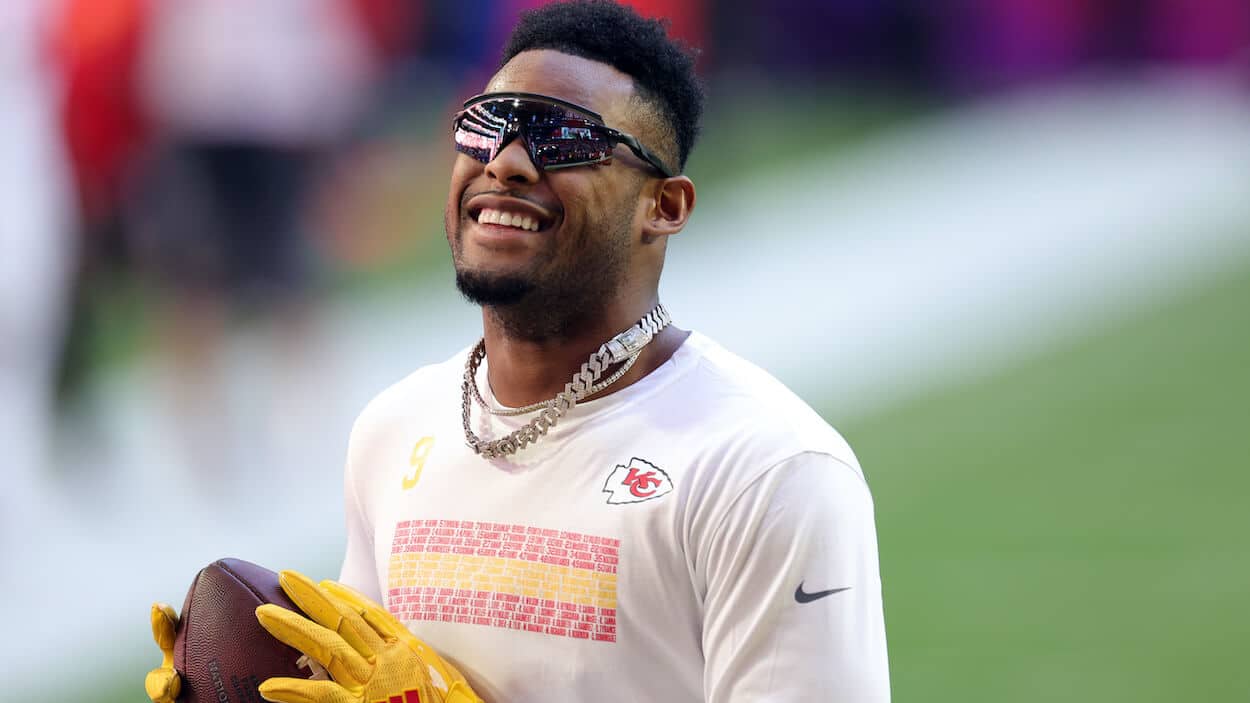 The JuJu Smith-Schuster vs. James Bradberry saga is the tale of two 2023 free agents.
Bradberry is one of the top free-agent CBs on the market this offseason. His combination of age, production, and dependability make him one of the most desirable targets for teams looking for coverage help this offseason.
Nothing that the corner did in the Super Bowl or after changes that. The holding penalty is the price of doing business as a CB in the NFL these days, and the standup way he dealt with it after confirms that he is reliable both on and off the field.
Spotrac.com estimates his market value at $15.1 million per season, which would put him just outside the top 10 of the highest-paid CBs in 2022. That seems about right for the Eagles cover man.
As for Smith-Schuster, he is also one of the top available players at his position in 2023. However, this Valentine's Day dig shows why winning teams shouldn't invest the $14.6 
million per season that his Spotrac.com market value estimate suggests.
The former Pittsburgh Steelers wideout is unreliable both on and off the field.
While Smith-Schuster might think he's a true No. 1 WR, his numbers don't stand up to that assertion. This season, he had 78 catches for 933 yards and three touchdowns. In his last full season before that (2020), Smith-Schuster put up 97 catches for 831 yards and nine TDs. On the two sides of that season, he missed a total of 15 games with injury.
Smith-Schuster is a good No. 2 WR, not a No. 1. And his antics off the field prove he's not a player teams should invest WR1 money in. From the James Bradberry V-Day card to attempting dangerous Tik Tok challenges to dancing on the Buffalo Bills logo at midfield in 2020 before a 26-15 Steelers loss, Smith-Schuster causes more distractions than he's worth.
Some team will take a chance on JuJu Smith-Schuster in 2023, likely with a long-term deal, but that team should consider using that money on James Bradberry instead.