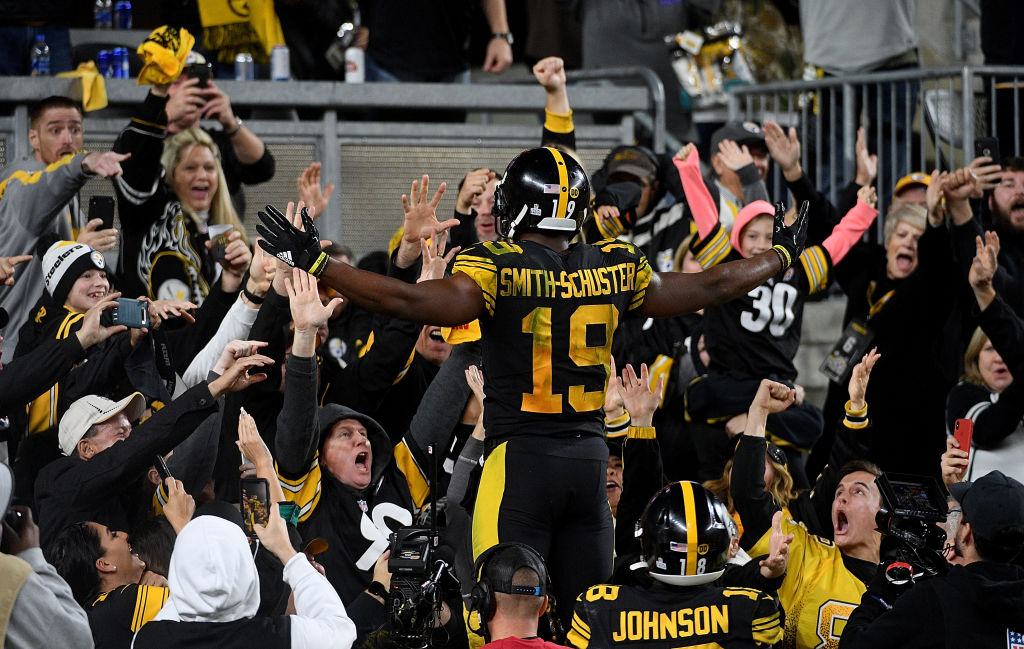 JuJu Smith-Schuster Will Never Be Antonio Brown, and That's Perfect for the Pittsburgh Steelers
JuJu Smith-Schuster might not be the same type of player as Antonio Brown, but the Pittsburgh Steelers aren't complaining.
In sports, it's easy to start making comparisons between players and teams. While it makes sense—the easiest way to explain a new player's game is to compare him or her to an established athlete—it's not always productive; no two players are the same, and comparisons often lead to false expectations. Pittsburgh Steelers receiver JuJu Smith-Schuster, for example, has drawn parallels to Antonio Brown.
On Sunday, Smith-Schuster confirmed that he isn't the same as the former Steelers' wideout. While that may sound self-deprecating, it's perfect for Pittsburgh.
JuJu Smith-Schuster's career
After three college seasons at USC, JuJu Smith-Schuster decided to make the jump to the pros. The Pittsburgh Steelers snagged him in the second round of the 2017 NFL draft and inked the receiver to a four deal.
Smith-Schuster joined a stacked receiving corps and started his pro career sixth on the depth chart. He quickly carved out a niche for himself on the Steelers offensive and special teams units. He caught 58 passes for 917 yards and seven touchdowns in his rookie season and returned kick back for a 96-yard touchdown.
Smith began the next season as a starter alongside Antonio Brown and piled up 1,426 receiving yards and seven more touchdowns; he was also named the Steelers team MVP at the end of the season. Following Brown's departure during the 2019 offseason, Smith-Schuster ascended to the top spot on the depth chart. While his numbers haven't taken off yet this year, he has been dealing with a revolving door at quarterback.
JuJu Smith-Schuster's beef with Jalen Ramsey
Before the Steelers' game with Los Angeles, Rams' cornerback Jalen Ramsey made sure everyone knew exactly who Smith-Schuster was.
"No disrespect to him, he's not Antonio Brown," Ramsey explained. "I matched up with Antonio there for two years, and that was a good battle, and I held my own in those battles, and yeah, now I'm going up against a different person, different body type, different receiver a little bit. He can make plays."
The current Steelers receiver got the last laugh on Sunday, however. While Smith-Schuster had a quiet afternoon, he attracted plenty of attention from the Rams' secondary; that made room for James Washington and Diontae Johnson to thrive, carrying Pittsburgh to a win.
After the game, Smith-Schuster clarified his identity. "He's right, though," the receiver said. "I'm not Antonio Brown. I'll never be Antonio Brown. I am myself. I'm JuJu Smith-Schuster. I'm not as good as him yet. I think I still have time to proceed to get to his level. But we're two totally different persons."
No Antonio Brown, no problem
As he confirmed on Sunday, JuJu Smith-Schuster isn't Antonio Brown. That's perfect for the Pittsburgh Steelers.
The team traded Brown to Oakland because he was more trouble than he was worth, and their decision has been vindicated. Since leaving the Steel City, Brown has spiraled downward. In the worst-case scenario, he has committed several crimes; in the best case, he's just become an even more disruptive presence to invite into your locker room.
By all accounts, Smith-Schuster isn't that type of receiver. His behavioral issues seem to be confined to storming off the practice field in college. He's gone to prom with a local high school student and has no problem with sacrificing his body to block for a teammate. As the Steelers have cycled through three quarterbacks this season, the wide receiver hasn't pouted or thrown anyone under the bus.
When he was on the Steelers, Antonio Brown posted some eye-popping numbers, but that's in the past. Right now, Pittsburgh is perfectly happy having JuJu Smith-Schuster.