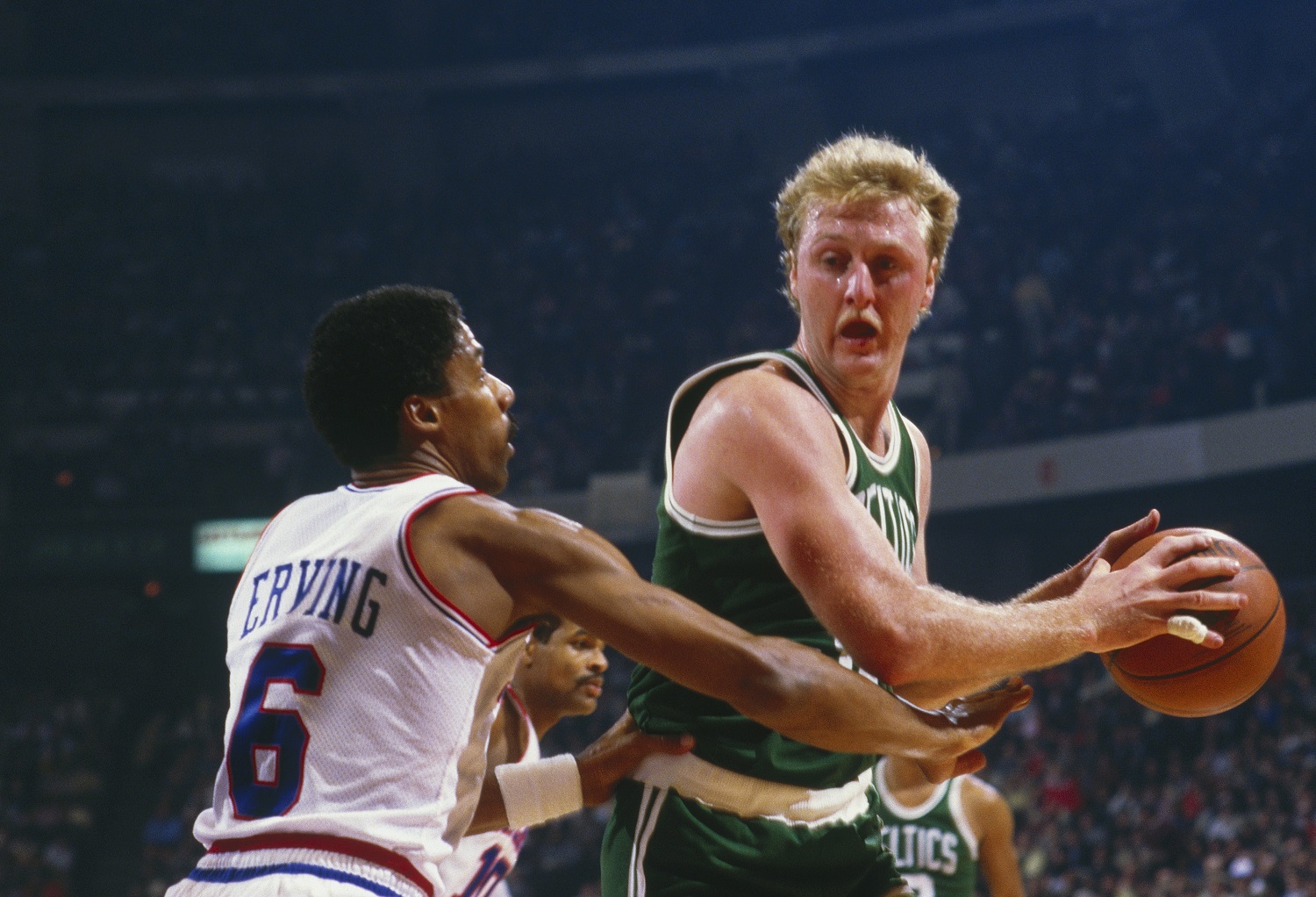 Julius Erving Drops a Fact About the Larry Bird Fight Proving It Was 1 of the Most Overhyped NBA Incidents Ever
So much for the belief that Larry Bird and Julius Erving were bitter enemies after their 1984 fight in Boston. They firmed a commercial together the next day.
How old is Larry Bird? Old enough that people have been talking about a fight involving the Boston Celtics legend for more than half his life without knowing the real story. Perhaps people will let it go now that the other combatant has dropped a nugget about just how inconsequential the scrap between two future Hall of Famers really was.
Larry Bird and Julius Erving fought, because that's what rivals do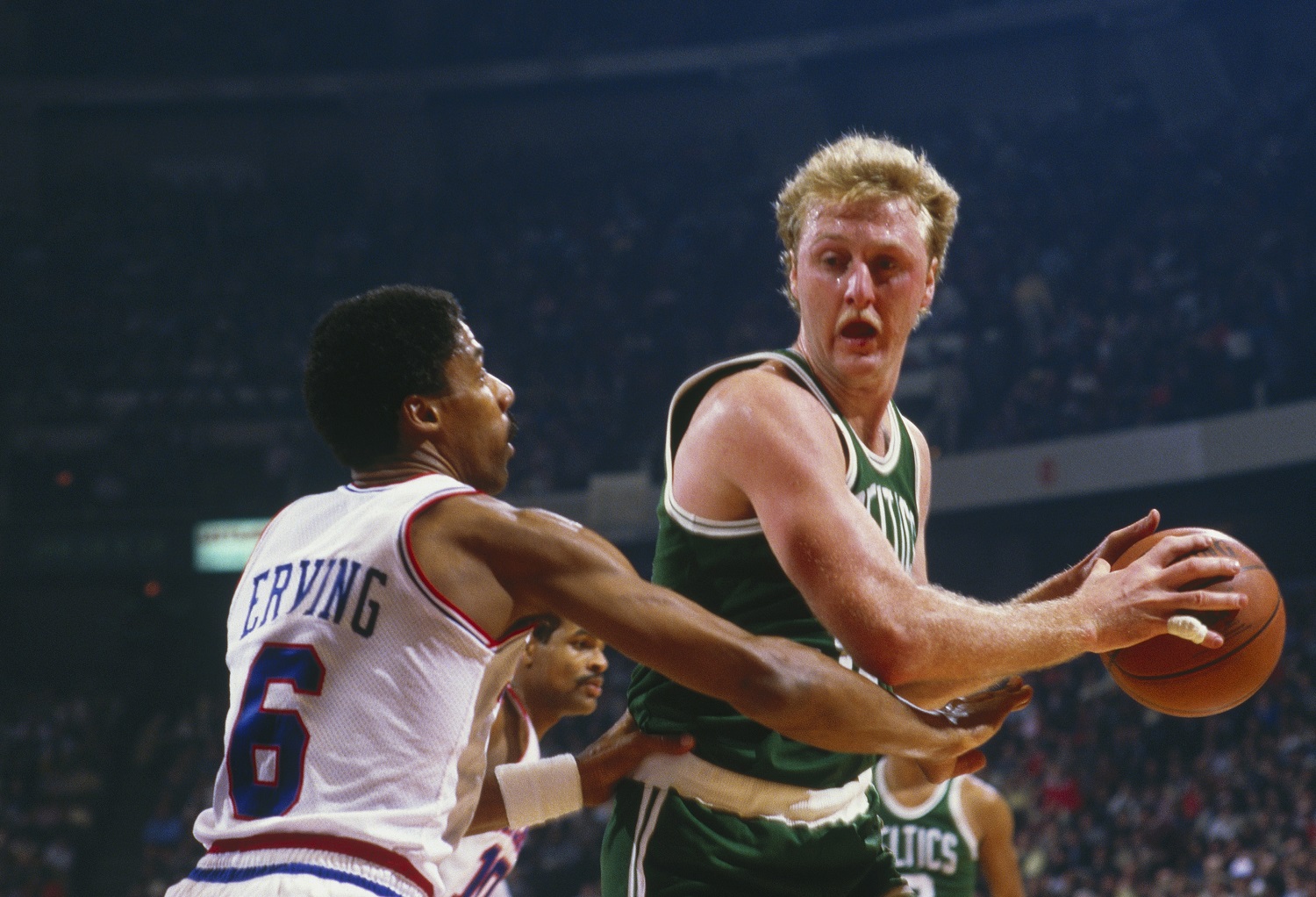 A fight between Julius Erving and Larry Bird didn't have the same entertainment value as Muhammad Ali vs. Joe Frazier. For pure name value in NBA circles, however, it's probably as good as you're going to get.
Bird was early in his sixth pro season and had already helped the Celtics to a pair of league championships while logging 38 minutes a night. Erving, who had made his reputation in the ABA as a three-time scoring champion, was in his 14th pro season.
The Celtics and the Philadelphia 76ers owned a rivalry dating to the days when Bill Russell and Wilt Chamberlain battled relentlessly in the paint. Erving arrived in 1976 and helped the 76ers beat Boston in seven games in the Eastern Conference semifinals in his first season. Philly took out the Celtics in five games in 1980, Bird's rookie season.
The following two seasons reinvigorated the rivalry. The Eastern Conference finals went seven games both times, with Boston advancing in 1981 and Philadelphia moving on in '82.
Seeing each other frequently in the regular season as divisional foes only served to spice matters up more. In a Sixers-Celtics regular-season game the previous year, three separate fights broke out. Thus, energy was understandably high when rivals with unblemished records 10 days into the new season got together in Boston.
Julius Erving explains how little the fight with Larry Bird meant
Bird and Erving were night and day on Nov. 9, 1984. Bird finished 17 of 23 from the field on his way to 42 points, adding seven rebounds and three assists. Erving shot just 3 of 13 and finished with six points in a 130-119 loss.
Late in the game, officials whistled Bird for an offensive foul for appearing to throw an elbow at Erving. Erving started taking swings at Bird as Charles Barkley tried to restrain the Boston star.
The fight was over in a matter of seconds, and there were no injuries. Though some understandably assumed that frustration triggered the fight, Erving explained many years later that he tried to stop Bird from going after the referee who had called the foul. He said his hands slid up Bird's body to his neck, and an already-angry Bird reacted.
To this day, fans like to think of it as honest-to-goodness bad blood between Bird and Erving. Given their greatness and the rivalry between their teams, people likely assumed the two must have had a bit of history and that the bitterness of that night might have carried on until the day Dr. J retired in 1987.
In reality, any hard feelings dissipated within hours, and Erving explained why this week on The Dan Le Batard Show with Stugotz.
"I don't talk about that. He doesn't talk about it," Erving said of alleged hard feelings. "It was gone right after it happened. We did a Converse commercial the next day in Boston.
"People try to keep it alive like it should be a big thing, but it's not."
The NBA dinged Charles Barkley for his role
The officials ejected Bird and Erving that night, and the fight cost them $7,500 apiece, which was a lot of money in 1984. In fact, those were the second-largest fines for player misconduct in NBA history at the time, the New York Times  reported.
To this day, the guy most bitter about the entire affair is Charles Barkley, who was a 21-year-old rookie at the time.
"I won't ever forgive the NBA for fining me," he told NBC Sports. "They fined me because they said I was holding Larry Bird so Dr. J could hit him. I was trying to break the fight up. … The NBA fined me. It really made me mad.
"They owe me money to this day."
Bird and Erving could have easily paid it for him from what they made shooting their commercial the next day.
Like Sportscasting on Facebook. Follow us on Twitter @sportscasting19.