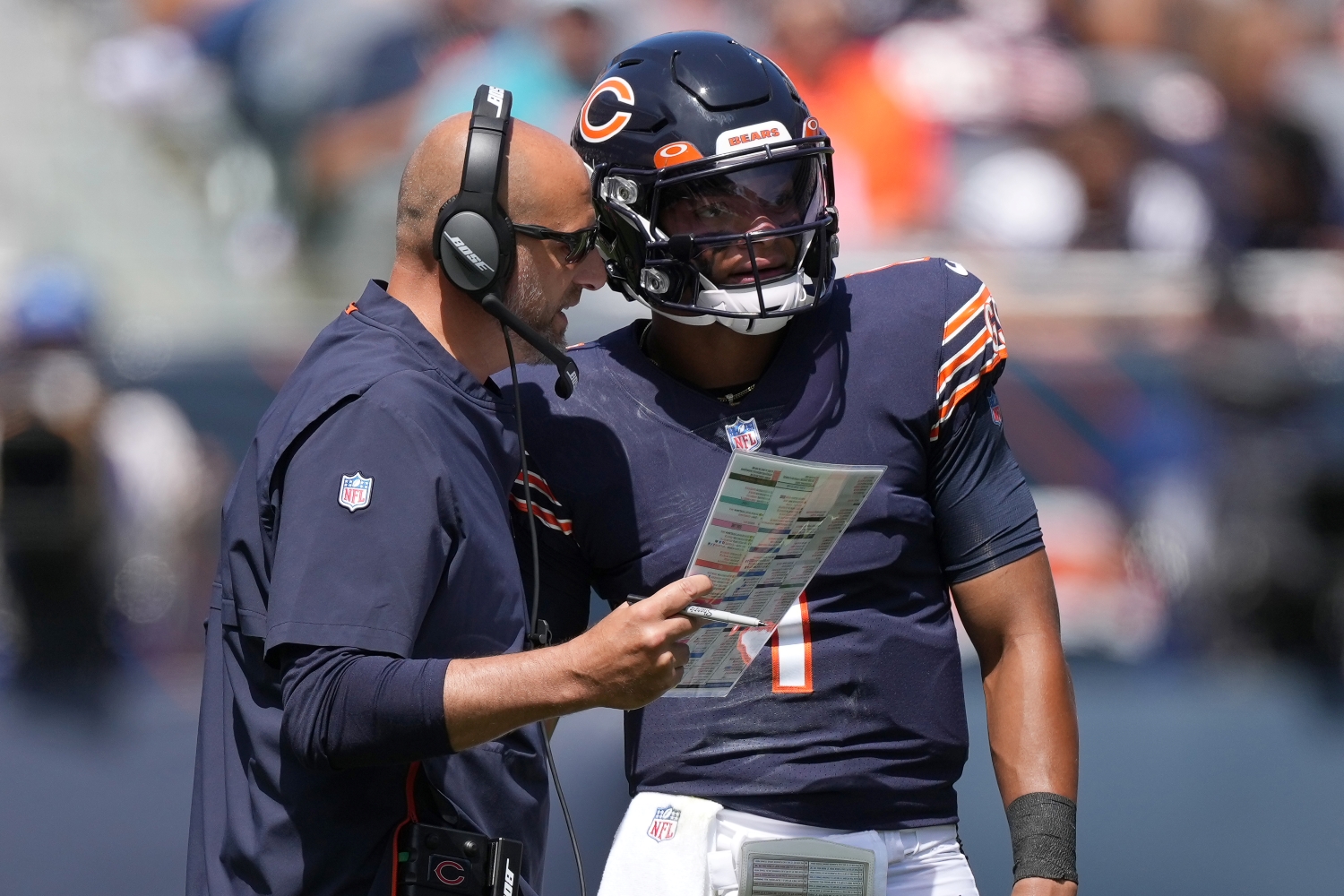 Justin Fields Already Has a Major Obstacle to Overcome That Goes Beyond Playing for an Awful Head Coach
Justin Fields faces a challenging path to live up to expectations as a rookie. Unfortunately for the former Ohio State star, he already has a major obstacle to overcome that has nothing to do with playing for one of the worst coaches in the NFL.
Playing the quarterback position at a high level in the NFL is no easy feat.
It's even harder when you're 22 and roughly nine months removed from competing against amateur athletes.
Unfortunately for Justin Fields, he has other factors working against him besides age and inexperience. In addition to playing for one of the worst head coaches in the NFL, the new face of the Chicago Bears has another major obstacle to overcome as he tries to turn around a franchise that's been searching for an answer at the most important position in sports for what seems like forever.
Justin Fields faces an uphill battle to turn things around in Chicago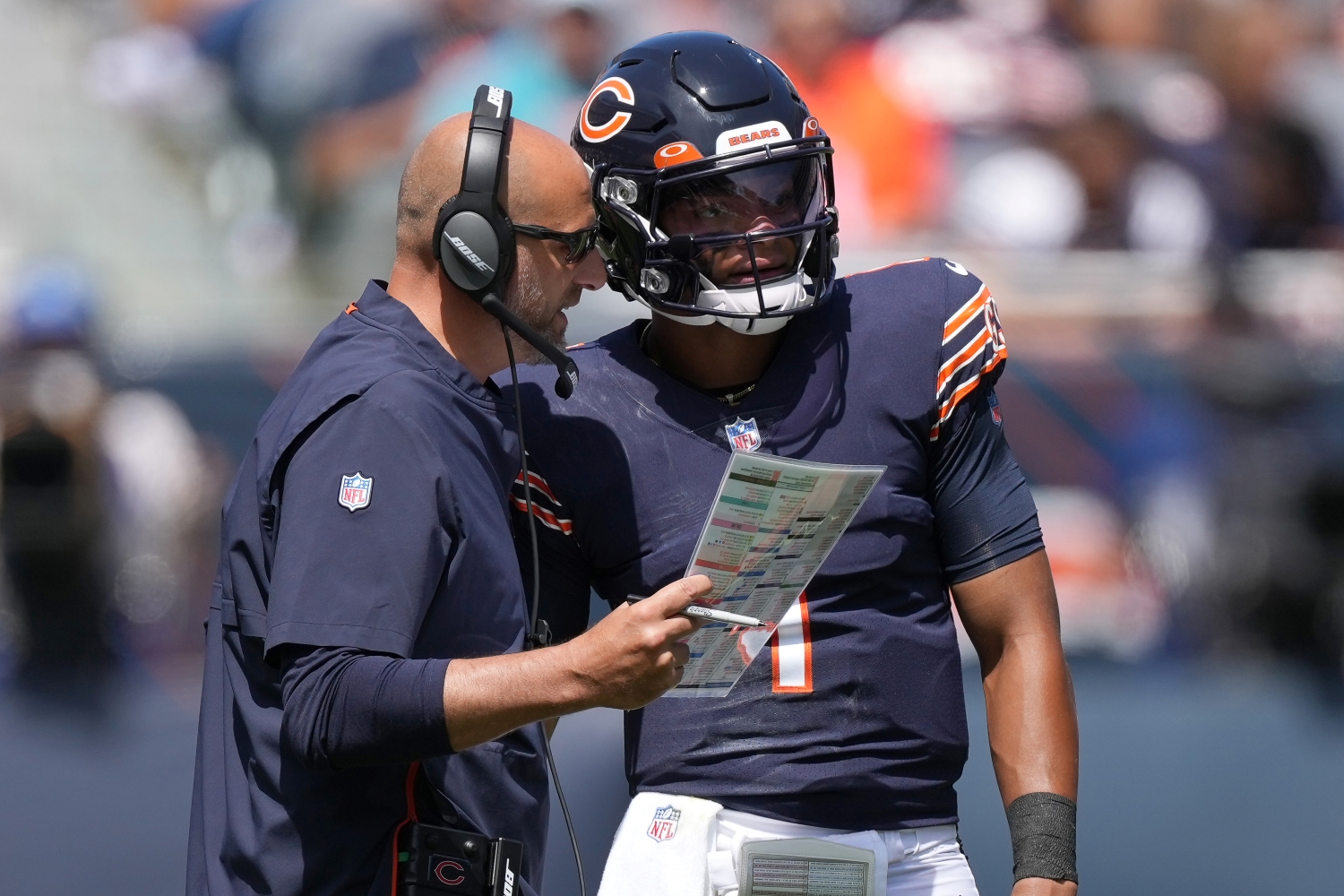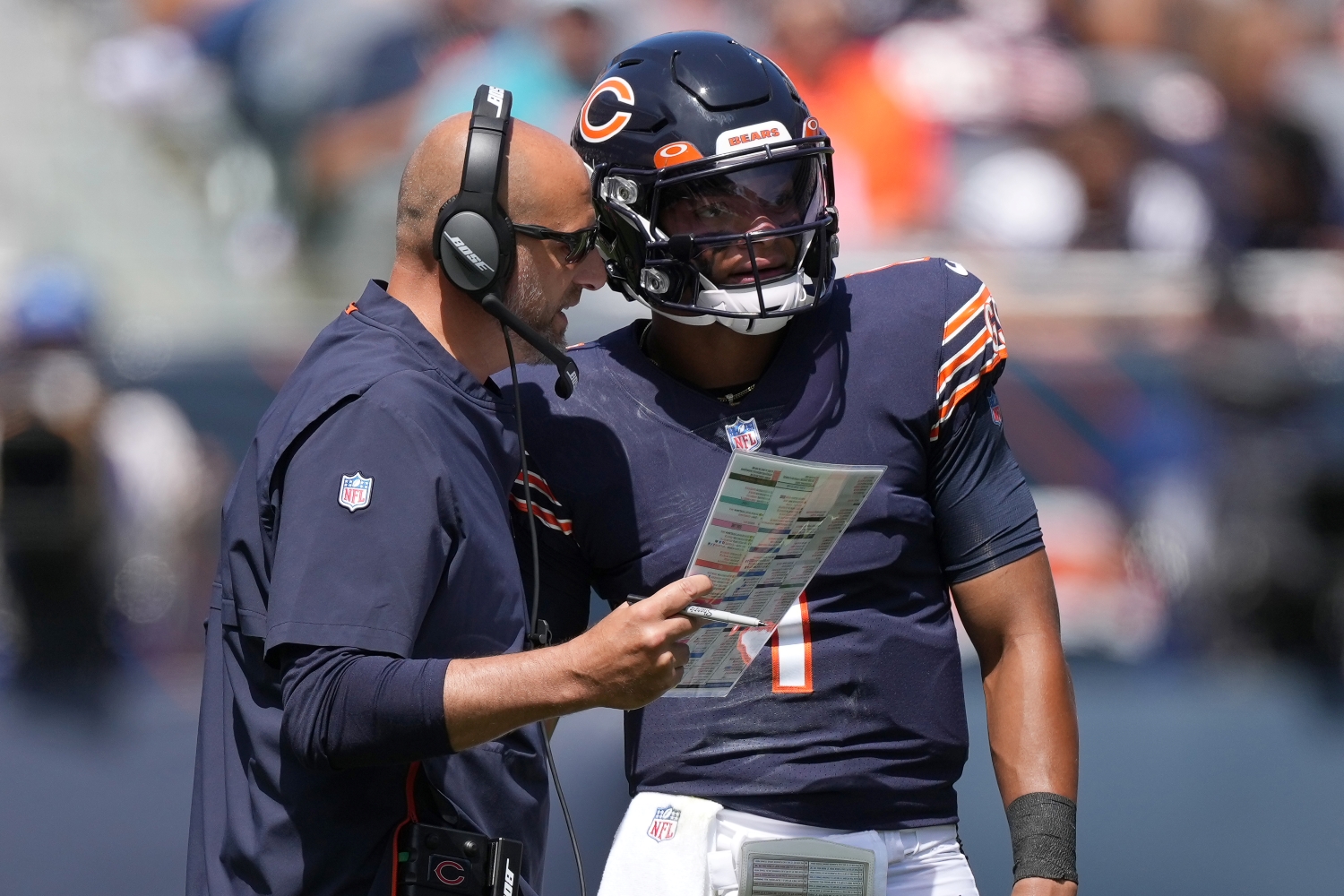 The Andy Dalton era officially came to an end Wednesday. With the Bears sitting at 2-2, Matt Nagy finally decided to move forward with Fields as his starting quarterback.
With the fourth-year head coach speeding up the transition timeline, Fields faces a steep challenge to live up to sky-high expectations in Chicago. While he possesses intriguing physical tools and tremendous upside, the former Ohio State star needs time to develop and master the nuances of playing the position at the pro level. Now, though, he must learn on the fly as he tries to lead the Bears to just their second winning season since 2013.
Will the rookie become a star at some point?
Based on some of the highlight-reel plays Fields has made this season, it's hard not get excited about his NFL future. However, whether he's in the right environment remains up for debate.
After all, the 6-foot-3, 227-pound signal-caller joined an organization that hasn't won a playoff game since Jan. 16, 2011. Plus, Fields plays for a coach who's been trending in the wrong direction.
The Bears' new starting quarterback has a major obstacle to overcome besides playing for a bad head coach
From his odd handling of the quarterback situation to his team's utter lack of competency on offense (the Bears rank dead-last in total yards), Nagy has opened himself up to well-deserved criticism and raised major questions about his ability to do his job successfully. Plus, going 8-8 in back-to-back seasons took away some of the shine from the 12-4 record he posted in his first season at the helm.
For Fields, it's already difficult playing for someone who can't seem to figure out how to run even an average offense. Since they boasted the ninth-ranked scoring offense in 2018, the Bears have finished 29th and 22nd. And Nagy's team currently ranks 30th at 16 points per game.
As if the coaching issue didn't present enough of a hurdle, Fields has another obstacle to overcome: the absence of starting running back David Montgomery.
Coming off a 1,000-yard campaign, the 2019 third-round pick racked up 106 yards and two touchdowns in Chicago's 24-14 Week 4 win over the Detroit Lions. However, he won't be back on the field for a while.
According to ESPN, Montgomery will miss four to five weeks with a sprained left knee. That represents a brutal blow for a Bears offense that sorely lacks high-end playmakers outside of Allen Robinson. In particular, his injury makes life much more difficult for Fields.
Without a dependable back to lean on, Nagy may have no choice but to dial up more passing plays. But if defenses don't have to worry about the run, Fields should expect to face heavy pressure, and that doesn't necessarily bode well for a rookie quarterback. Plus, only the Tennessee Titans have given up more sacks (17) than the Bears' total of 16.
Ultimately, Montgomery's injury could cause Chicago to become more one-dimensional on offense. And even if Fields piles up rushing yards thanks to his 4.4 wheels, does Nagy really want his new starter to subject himself to extra punishment?
The first-year quarterback certainly has the raw talent to become a top-flight player, but it's obvious he's stepping into a less-than-ideal situation. However, the Montgomery dilemma doesn't look quite so bad compared to some of the problems other rookie quarterbacks must deal with.
Fields isn't the only first-year quarterback stuck in an unenviable situation
Things could always be worse, right? Perhaps that's what Fields should tell himself if he gets frustrated with Nagy and the Bears' undermanned offense.
After all, at least he doesn't call Jacksonville home.
Although Trevor Lawrence became a rich young man by going No. 1 overall, landing with the Jaguars did not put him in a position to achieve early success. Urban Meyer has quickly proven to be an abject disaster, and the roster remains at least two years away from being anything close to championship-caliber — and that might be too generous of a timeline.
Zach Wilson joined a New York Jets organization that did just about everything possible to ruin Sam Darnold's development. Will the AFC East franchise avoid ruining another promising prospect? Or will Wilson fail to reach his potential because of a lackluster supporting cast, too?
Meanwhile, the New England Patriots' offensive line has done a poor job of keeping Mac Jones out of harm's way. And with the running game virtually non-existent, they haven't been to establish a strong play-action passing game that caters to his strengths.
Justin Fields certainly isn't the only rookie quarterback who has roadblocks standing in his way of immediate success. Only time will tell whether he and his peers can overcome these early-career obstacles and become permanent fixtures in their respective cities.
All statistics courtesy of Pro Football Reference.