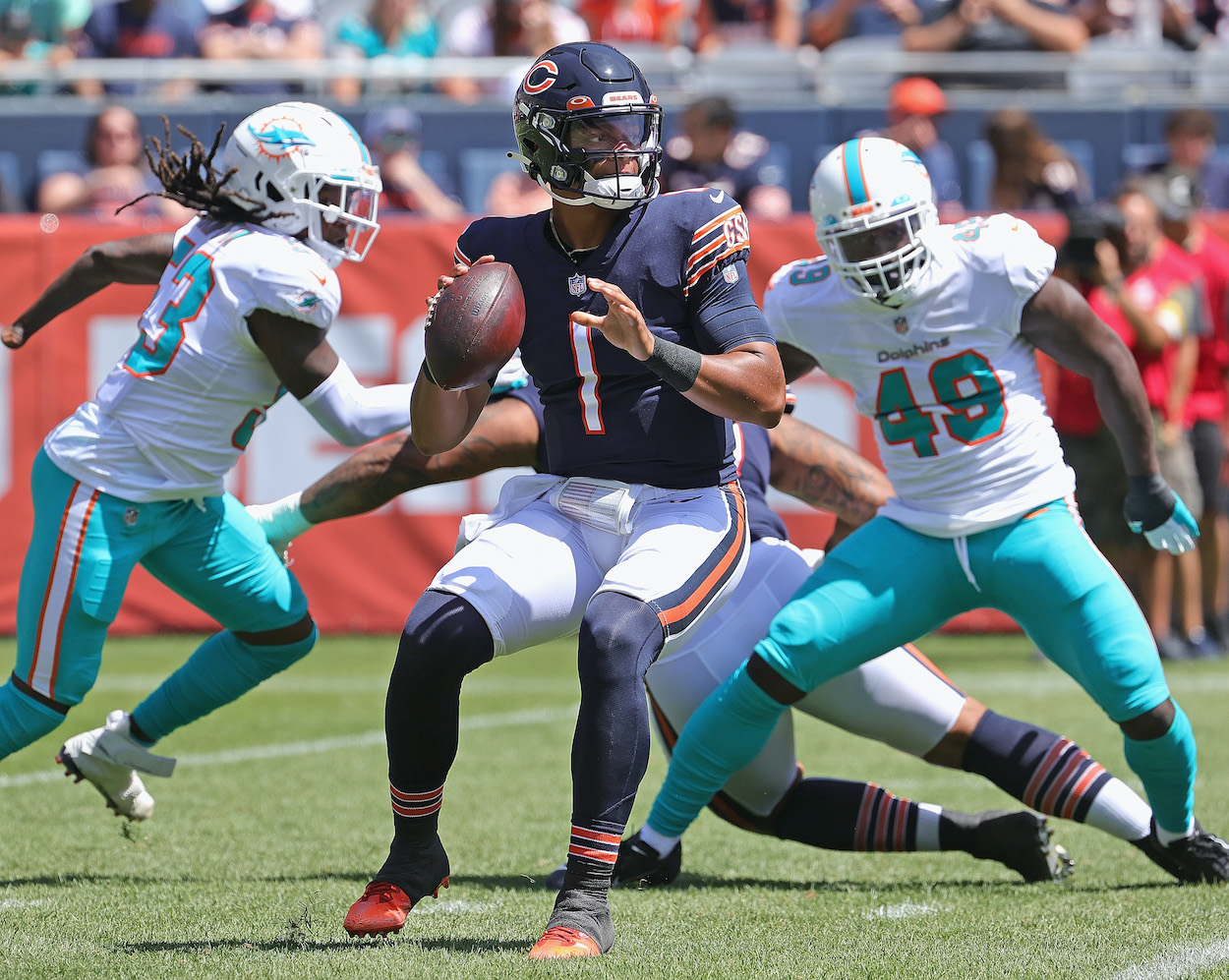 Justin Fields Places Unnecessary Target on His Back With Cocky Comment After His Highly Anticipated Bears Debut
Justin Fields made a cocky comment after his preseason debut that should worry Bears fans.
Justin Fields has been the talk of the weekend following his impressive NFL debut with the Chicago Bears. The rookie out of Ohio State threw for a touchdown and ran for another against the Miami Dolphins on Saturday, and fans are still buzzing about the performance on social media a day later.
But after the preseason game, Fields made his first mistake in the NFL by voicing a cocky comment that surely just placed a massive target on his back.
Justin Fields lives up to the hype in Bears debut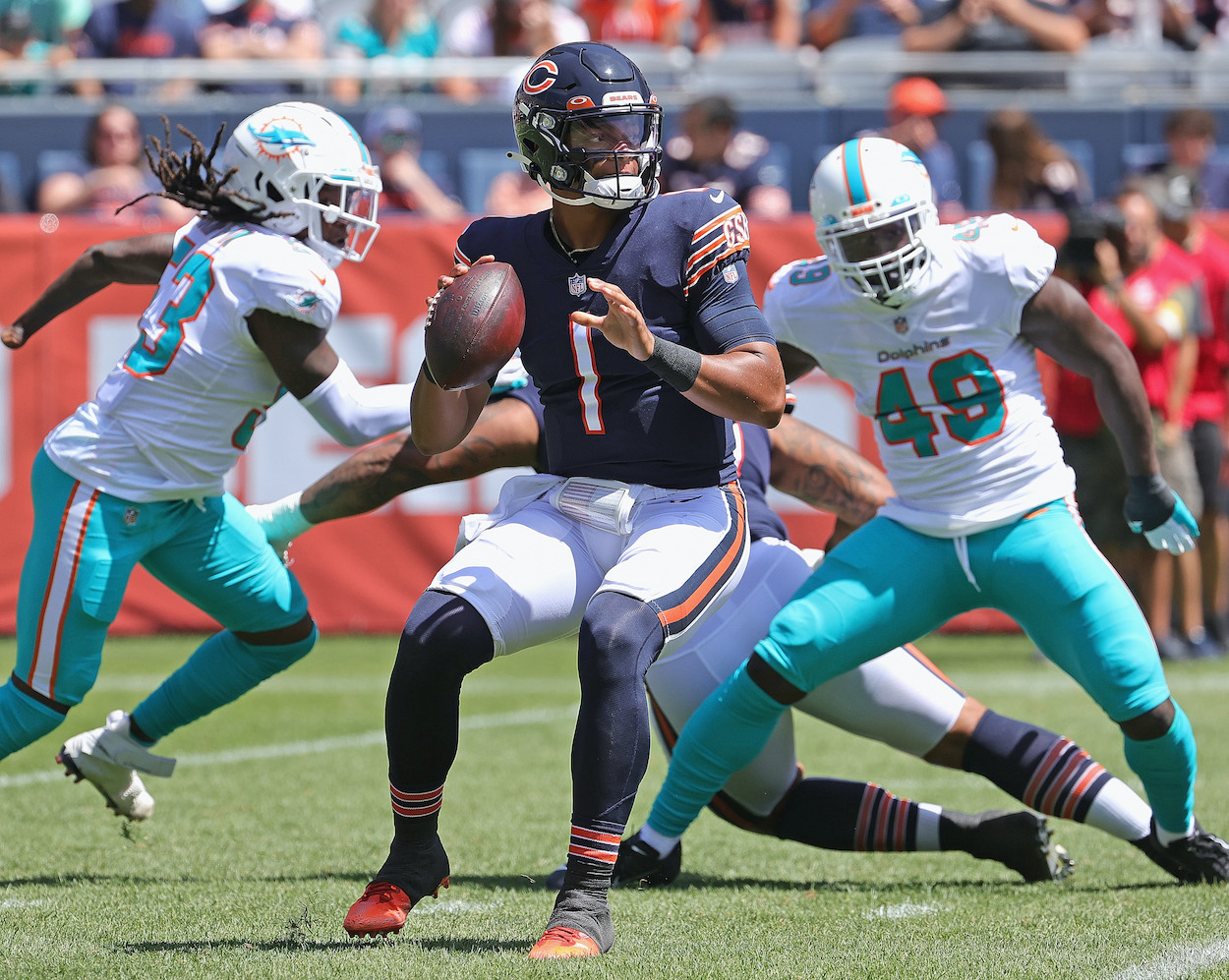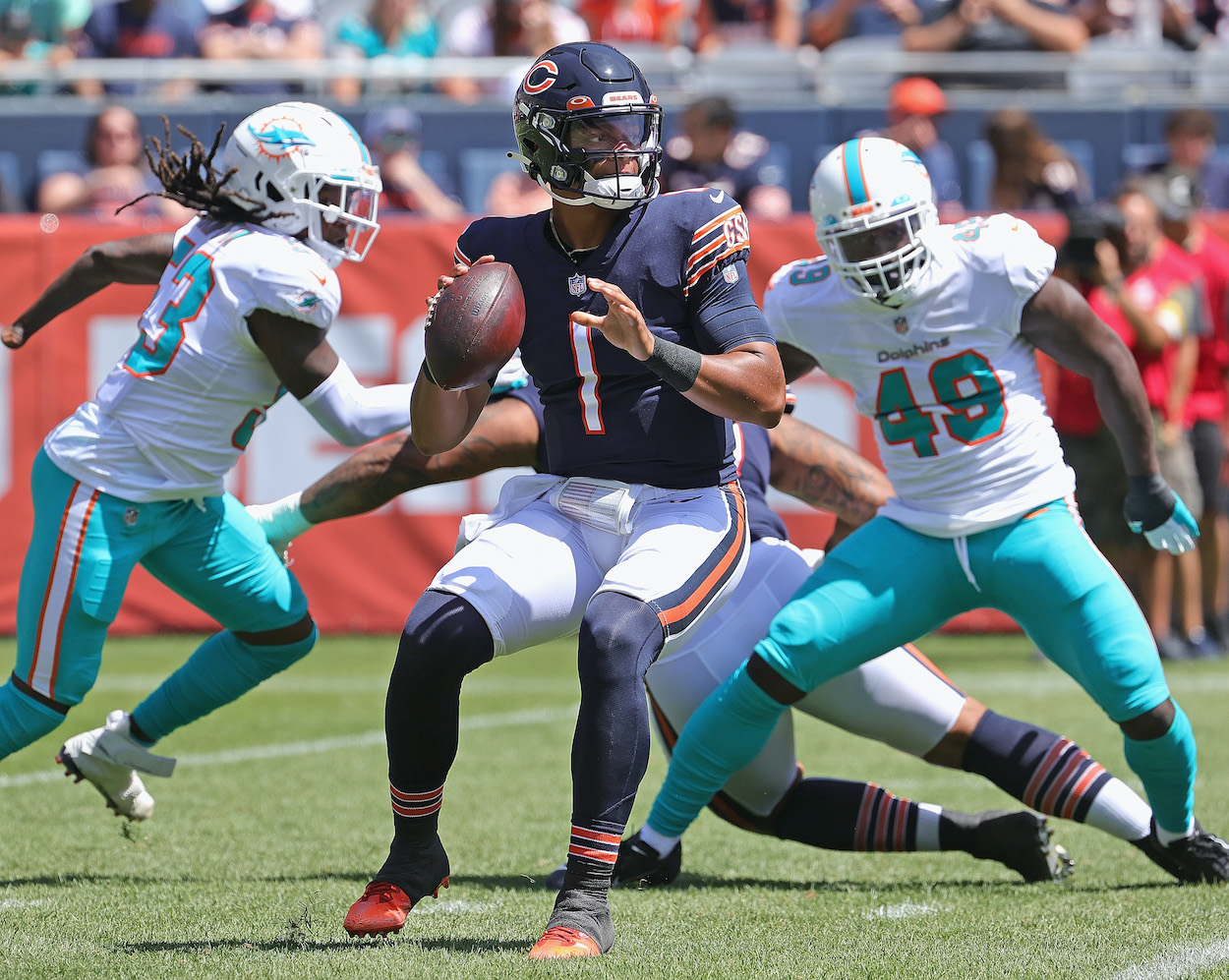 When the Bears traded up to grab Fields in the most recent NFL draft, Chicago fans finally believed they had their franchise quarterback of the future. Mitchell Trubisky was supposed to be that guy, but he failed to prove he was worth the investment in four seasons with the team.
All eyes were on Fields Saturday for his preseason debut against the Dolphins, and he didn't disappoint. The 22-year-old started slow with just two completions and two rushing yards in his first three drives, but he caught fire from there. Over his next four drives, Fields went 12-14 for 131 yards through the air and added 31 yards with his legs.
He punched in his first NFL score with an eight-yard run in the third quarter. Later in the frame, he found Jesse James wide open for a 30-yard touchdown pass. Fields powered the Bears to 17 points in seven drives and led the team to a 20-13 win.
It looked a little too easy for Fields once he warmed up and found some confidence, and that's exactly what he echoed after the fact.
Fields makes his first NFL mistake with cocky comment
After the encouraging preseason performance, Fields was asked how his first NFL experience compared to the college game. Instead of giving out a fluff answer, he said exactly what was on his mind.
"It was actually kind of slow to me, to be honest," Fields told reporters after the game. "I think I was expecting it to be a little bit faster but practicing game speed, going at it with my teammates every day, of course, you know, we have a great defense. So, me going against them every day — it definitely slowed the game up a little bit for me. So, I felt comfortable out there. Of course, I have room to grow, so I'm just gonna try to get better each and every day."
Uh oh.
The game might've seemed slow to Fields in his debut, but that might be due to the fact that he was playing against second- and third-string defensive players. Many of the defenders that Fields diced up on Saturday won't even be on an NFL roster in a few weeks. He probably faced more talent playing in the College Football Playoff with Ohio State than he did against the Dolphins' backups this weekend.
Placing an unnecessary target on his back
Fields seems to think this NFL thing is easier than it's made out to be, but there are more than a few problems with his postgame comments.
For one, he hasn't even beaten out Andy Dalton for the starting quarterback job in Chicago. Dalton has been a pillar of mediocrity in the NFL for a decade, and the Bears think he gives them a better chance to win out of the gate than Fields does. If the game was so slow and easy for the rookie, he would've supplanted Dalton as the starter by now.
Secondly, Fields just drew an unnecessary target on his back ahead of his debut season. Assuming he does take over as the starter at some point, the QB will surely face some hungry defenses after his recent comments. NFL players don't enjoy being disrespected. Starting-caliber players won't take it easy on Fields the way Miami's backups did.
He might not have thought much about his "slow" comment in the moment, but that simple statement immediately turned Fields from the hunter to the hunted. There's now even more pressure on the rookie to perform in year one than there was before, and he better be able to back up his talk in a game that matters.