Justin Fields Gives the Bears Another Reason to Feel Good About a Franchise-Altering Decision
Picking a quarterback in the first round, as was the case with the Chicago Bears drafting Justin Fields this past April, essentially requires putting the team's future into that player's hands.
No position in any team sport matters more than quarterback, so there is plenty riding on picking the right guy. Sometimes that requires going beyond studying game film or letting doctors run knees, shoulders, and elbows through an MRI.
Sometimes, you just need reassurance that the guy you're investing in has a good head on his shoulders. Fields just gave an indication that the Bears can feel good about their new on-the-field leader.
Mitch Trubisky is out, Justin Fields is in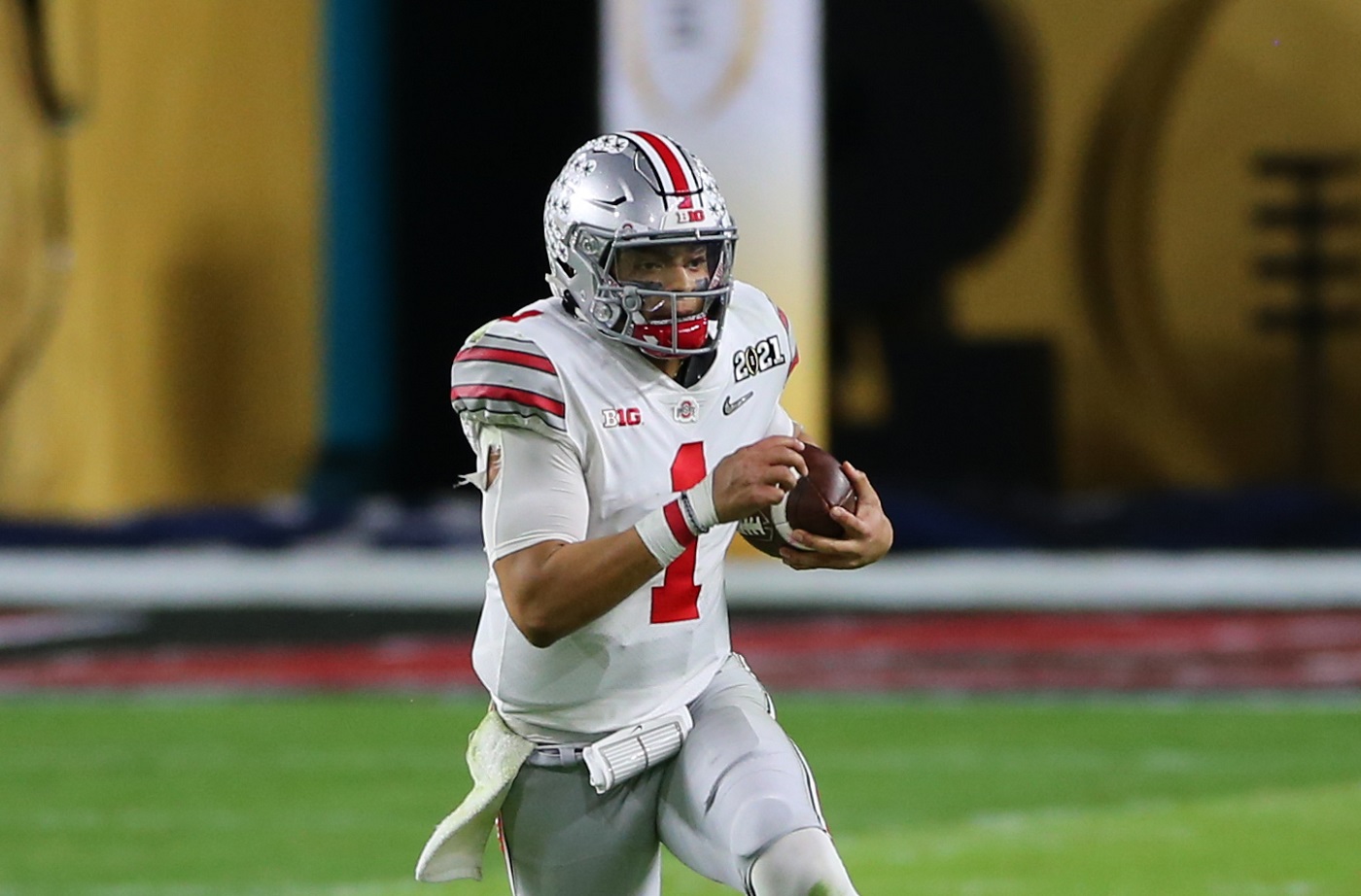 The huge financial risk associated with drafting quarterbacks in the first round no longer exists. After the Rams paid Sam Bradford $78 million over six years in 2010, the NFL and its players' union agreed to changes that slot players into narrow salary bands during rookie contracts depending upon draft position.
Trevor Lawrence, the first pick this past April, landed a manageable $36.8 million over four years. If he turns out to be a mistake, the team doesn't risk time in salary-cap jail while waiting for his contract to come off the books.
Quarterback decisions only start getting dicey for general managers once they must decide on picking up a fifth-year option, often followed shortly afterward by negotiations on the next contract. The Kansas City Chiefs (Patrick Mahomes) and Houston Texans (Deshaun Watson) skipped the fifth-year options and handed out long-term extensions instead.
The Bears opted for "none of the above" in figuring out what to do with the only QB selected ahead of Mahomes and Watson in 2017. After three seasons filled with flashes of potential but too-frequent instances of failure, the Bears did not pick up the fifth-year option on Mitch Trubisky. He finished out his contract last fall and signed with the Buffalo Bills in free agency as Josh Allen's backup.
The Bears instead went all-in on Fields, the two-year starter at Ohio State, as the 11th pick in the draft.
Fields gives the Bears another reason to feel good
Fields and the Bears have agreed to a four-year contract valued at $18,871,957. The deal includes an $11,085,060 signing bonus and is fully guaranteed, according to Spotrac.com. It would be completely understandable if Fields took some of his bonus money to buy a few nice things for himself, but the 22-year-old Georgia native is showing some impressive maturity when it comes to handling money.
Fields' rookie salary of $660,000 will arrive over 36 weeks. The format is a change from the previous collective bargaining agreement, which called for 17 weekly payments during the regular season. According to Front Office Sports, the rationale is that young players should be able to do a better job of budgeting their money if it arrives in smaller chunks over a longer period.
Fields is way ahead of many of his peers when it comes to handling money.
"My plan right now is to not really touch any of my contract money and just pretty much live off of the marketing money," Fields said. 
Fields has already lined up deals without having thrown a single pass as a pro. He has agreements with Bose, Chipotle, Nutrabolt's C4 Energy, and Wonderful Pistachios, and playing in Chicago will open doors to even more opportunities to pitch products in between hurling footballs.
The quarterback missed out on some easy money in college
Had he come along just a few years later, Fields could have pulled down some substantial money while still in college. The NCAA has caved in on Name, Image, and Likeness (NIL) rights, opening the door to athletes profiting via endorsement agreements or as social media product evangelists.
Around the time of the 2020 NFL draft, one estimate had No. 1 pick Joe Burrow of LSU missing out on $700,000 during his senior year at LSU because the NCAA did not allow NIL deals.
College stars are now benefitting, but Fields is urging caution.
"They're hungry to get to the money, but I think they can definitely get taken advantage of with different brands," he said. "It's important for them to know their worth."
And then they need to follow up by knowing where every penny is going.
Like Sportscasting on Facebook. Follow us on Twitter @sportscasting19.