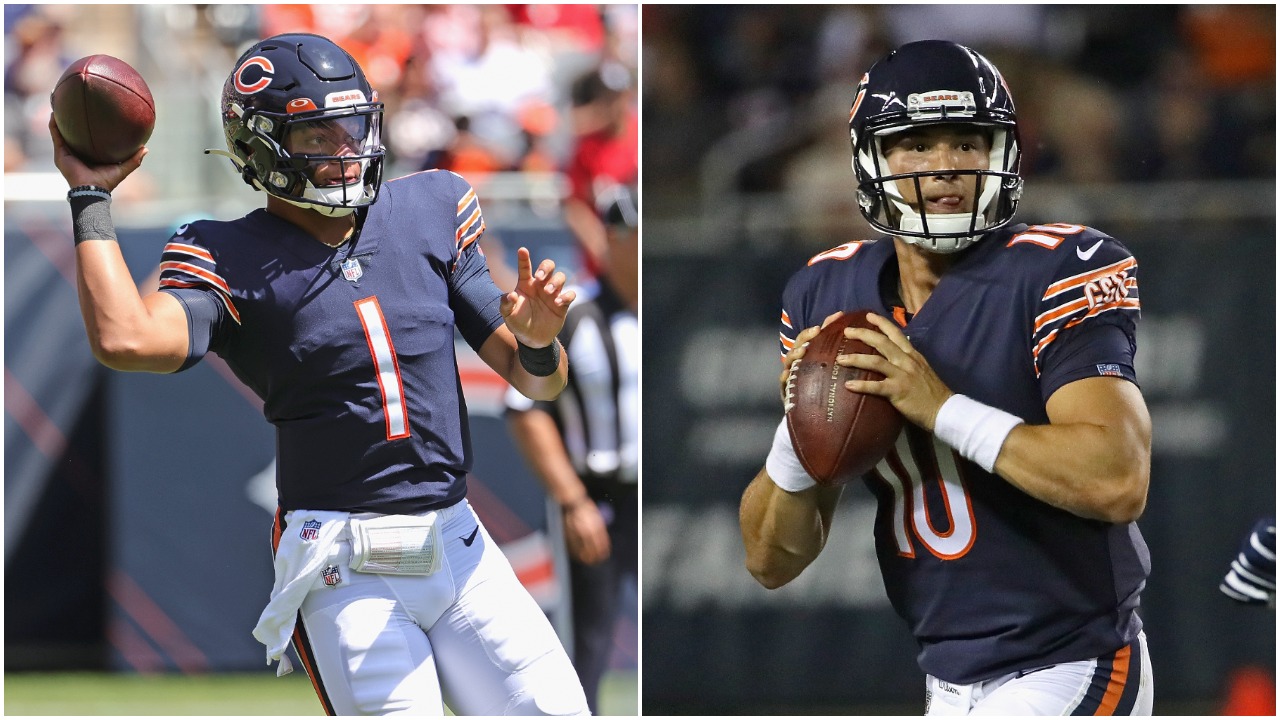 Bears Fans Really Need to Calm Down About Justin Fields and Remember That Mitch Trubisky Had Just as Good of an NFL Debut
Comparing the Chicago Bears debuts of current quarterback Justin Fields and former signal-caller Mitch Trubisky.
Chicago Bears rookie quarterback Justin Fields made his highly-anticipated NFL debut on Saturday and gave the fans at Soldier Field exactly what they were hoping for. After replacing starter Andy Dalton in the second quarter of the Bears' 20-13 victory over the Miami Dolphins, Fields received a standing ovation and played a solid two quarters of football, showing off the impressive skillset that made Chicago trade up to him with the 11th pick in this year's NFL draft.
Those in attendance at Soldier Field on Saturday certainly weren't the only ones to praise Fields' performance as countless Bears fans took to social media to show their love toward the former Ohio State signal-caller. Even before his debut, many were calling for Fields to be the starter when Chicago kicks off the 2021 regular season against the Los Angeles Rams on September 9, and his performance on Saturday only got Bears fans even more excited.
Again, Fields played solid football on Saturday, but everyone needs to remember that this was just one preseason game. And it's not as if he played against the Dolphins' starters the entire time he was in there. And one more thing, Bears fans. Do you know who looked great in his preseason debut a few years back? That's right. Mitch Trubisky.
Justin Fields got off to a rough start but played solid football in the preseason opener for the Chicago Bears
Fields entered the Bears' preseason opener with the Dolphins in the second quarter to the aforementioned standing ovation but got off to a rough start against the Miami defensive starters. His first three drives resulted in zero first downs; he nearly threw a pair of interceptions and nearly lost a fumble.
To his credit, he kept his cool and led the Bears to three consecutive scoring drives while showing off both his arm and legs. But a lot of that came against Miami reserves, not the starters, which is just what happens in the preseason. In seven series, Fields completed 14 of 20 passes for 142 yards and a touchdown, giving him a 106.7 passer rating, and added 33 yards and a touchdown in five rushing attempts.
Look, it was a nice showing for Fields. But it certainly wasn't as great as many are making it out to be, as he made plenty of mistakes. And as a rookie quarterback making his first NFL appearance, that's to be expected. He has a ton of talent and a lot of weapons at his disposal. But, yet again, it's just one preseason game so let's all calm down just a bit.
Mitch Trubisky had a solid NFL debut for the Bears as well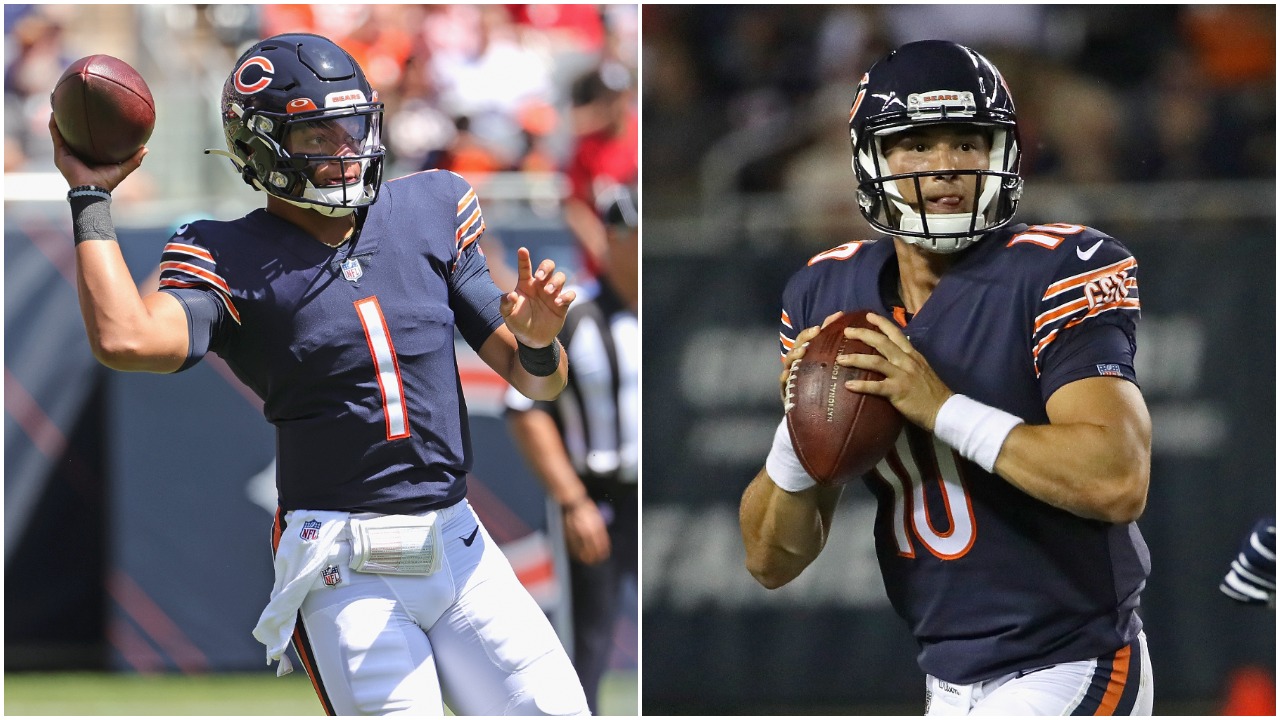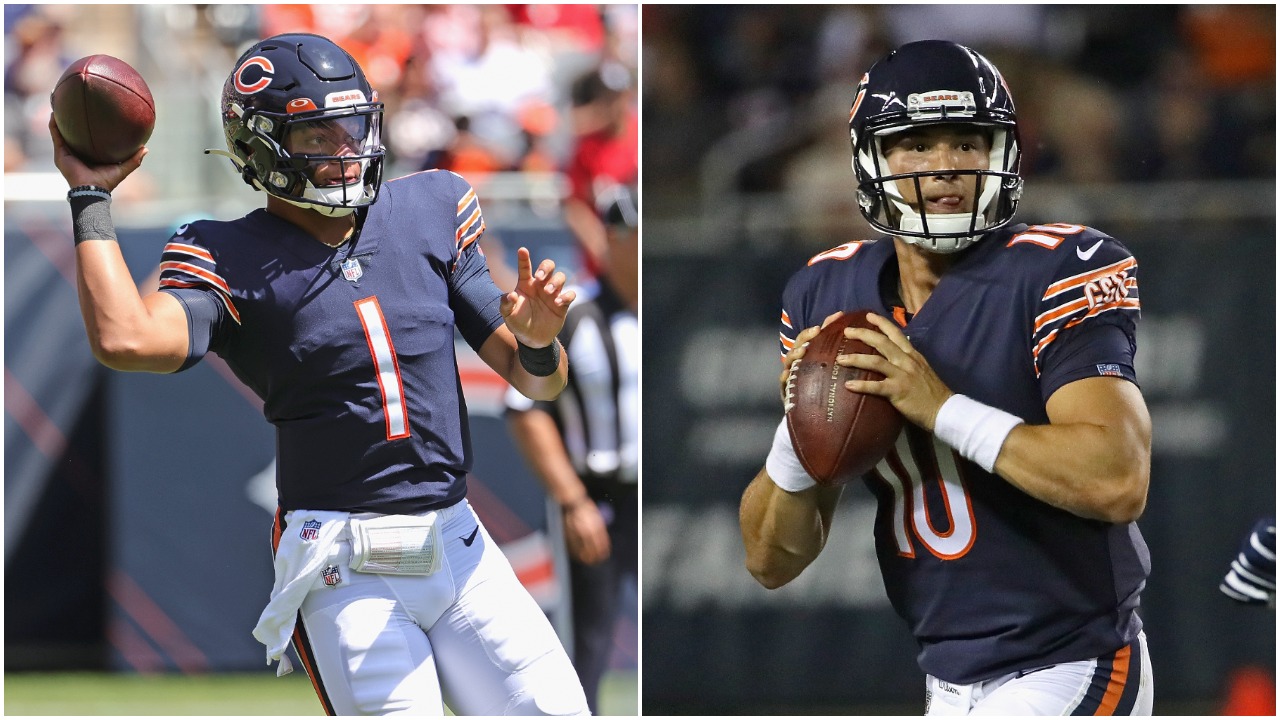 In 2017, just as they did in 2021 to select Fields, the Bears traded up in the NFL draft to draft North Carolina quarterback Mitch Trubisky, who, of course, became public enemy No. 1 in Chicago after a few years and is now a member of the Buffalo Bills.
But just like Fields, Trubisky put forth a solid effort in his first-ever game in a Bears uniform in a preseason loss to the Denver Broncos. Trubisky was the third quarterback into the game that night following Mike Glennon and Mark Sanchez and led Chicago to two consecutive touchdown drives to begin his career, turning a 10-0 deficit into a 14-10 lead.
Trubisky completed his first 10 passes and ended his night going 18-for-25 for 166 yards and a touchdown, giving him a passer rating of 103.1. And just as it was with Fields on Saturday, the Soldier Field crowd went nuts for Trubisky throughout that first performance. So, again, let's just pump the brakes on Fields after just one preseason game.
The only way Fields is the starter for the Bears in Week 1 is if Andy Dalton gets injured
Bears head coach Matt Nagy has said for months that Dalton will be the starter for Chicago in Week 1. And no matter how Fields plays in the next two preseason games, that's going to continue to be the case. The only way Fields becomes QB1 between now and September 12 is if Dalton gets hurt. And that's exactly the way it needs to be.
Look, it's completely understandable why Bears fans feel the way they do right now. As the franchise hasn't had a truly great quarterback in decades (although Jay Cutler doesn't get nearly enough credit…yeah, I said it), they want Fields to be that guy. But, right now, he's still very raw and has a lot to learn about the NFL. The game always isn't going to be as slow as he thinks it was on Saturday, and he's going to continue to make a lot of mistakes.
Is Justin Fields talented? Absolutely. But is he ready to be a starter in the NFL? Absolutely not. Dalton is a solid option for the Bears right now and he's the perfect guy to mentor Fields this season. And maybe Fields does get his chance at some point this season if Dalton gets injured or struggles. But when (not if) he makes the mistakes he's going to make, how quickly will Bears fans turn on him as they turned on Mitch Trubisky, you know, the guy who went 11-3 as a starter in his second year?
Stats courtesy of Pro Football Reference