Former Bears QB Jay Cutler Makes Frightening Admission About Suffering From CTE: 'I'm Just Trying to Delay it as Much as Possible'
Chicago Bears fans probably weren't too upset when the team finally moved on from Jay Cutler after the 2016 season. After all, the talented quarterback posted a disappointing 51-51 record during his eight years with the historic NFL franchise. But for every ounce of verbal and written criticism Cutler took over the course of his career, he also dealt with the physical toll of playing pro football.
And even though he retired from the NFL only a few years ago, the former Bears signal-caller has already started to experience the side effects of competing in a sport that can cause serious long-term health problems. By speaking openly about concussions and delivering a frightening CTE-related admission, Cutler has put the spotlight back on a subject that shouldn't be taken lightly.
Jay Cutler sustained quite a bit of damage during his 12-year NFL career
Selected 11th overall in the 2006 NFL Draft by the Denver Broncos, Cutler entered the league with a ton of hype. With a prolifically powerful right arm and underrated athleticism, he seemed destined to become a star.
That didn't exactly prove to be the case.
In fact, he only made the Pro Bowl once during his 12-year NFL career. And when it came to leading his team to victory, Cutler didn't excel in that area. He posted a 17-20 record in three seasons with the Broncos before he got traded to the Bears. His time in Chicago ended with a .500 winning percentage and an ugly touchdown-to-interception ratio of 154:109.
Of course, it didn't help that Cutler had trouble staying on the field. After playing all 16 games from 2007-09, he never accomplished that feat again. According to Sports Injury Predictor, Cutler sustained the following injuries during his NFL career:
Four concussions
Fractured right thumb
Sprained right thumb
High-ankle sprain
Torn right shoulder labrum
Fractured ribs
Plus, he absorbed 322 sacks in 153 regular-season games. Cutler got sacked more times (52) than any quarterback in the league during the 2010 season. Needless to say, he took plenty of shots and hard hits before he finally hung up his helmet and shoulder pads for good.
The former Bears star gets brutally honest about having to face CTE one day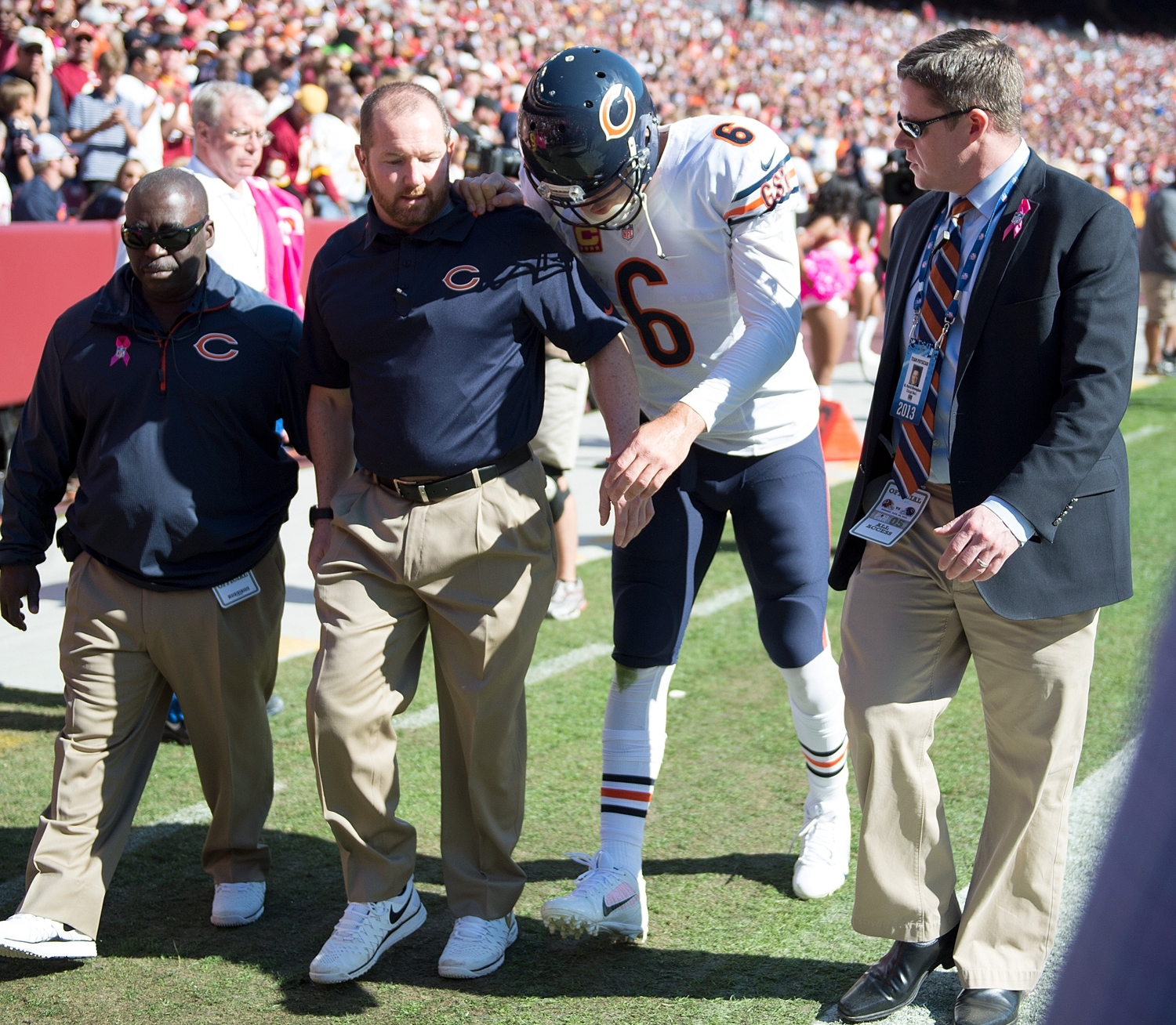 Retired NFL players have to deal with the long-term impact of putting their bodies on the line for a living. GQ's Clay Skipper published a Q&A with Cutler that focused heavily on his health. Unfortunately for the former Bears quarterback, the consequences of sustaining physical damage on an annual basis have already started to show up.
After acknowledging he "absolutely" thinks about CTE, concussions and the toll that took on him, Cutler revealed some starting details about where he's at and where he thinks he'll be in the future.
"I would say definitely my memory isn't the same as it was five years ago," he told GQ. "The amount of concussions I've had are probably in the double digits. It's gonna catch up to me at some point. I'm just trying to delay it as much as possible."
While Cutler's had to make changes to his diet and try NAD therapy to help delay what he believes to be inevitable, that hasn't changed his mind about whether playing in the NFL was worth the risk.
"Absolutely I would," he said about playing again if he could do it all over. "I wouldn't even question it. I'd sign up in a heartbeat."
Cutler's concerns highlight the potential life-altering impact of concussions
Cutler openly acknowledged that he will likely suffer from CTE down the line. That seems to be the reality for many retired NFL players. Given the number of collisions that occur between the sidelines, it shouldn't be a surprise that playing pro football comes with dangerous potential consequences. Cutler discussing his own situation sheds more light on the well-documented topic of CTE.
Considering the history of former NFL players who died by suicide who suffered from this degenerative brain disease, it's impossible to ignore the fact that athletes put their lives at risk by playing a game they love.
Two years after retiring from the league, legendary linebacker Junior Seau died by suicide.
ESPN later reported that five brain specialists consulted by the National Institutes of Health concluded that he suffered "from the type of chronic brain damage that has also been found in dozens of deceased former players."
In 2018, NPR reported Seau's family reached a settlement with the NFL in a wrongful death lawsuit.
At this point, the link between concussions, CTE, and playing pro football seems undeniable. The league needs to do everything possible to truly protect the players during and after their careers. Perhaps Cutler's honesty will catch some attention and continue to drive home the point that retirement may not be so easy for NFL players who sustained damage doing their job.
How to get help: In the U.S., call the National Suicide Prevention Lifeline at 1-800-273-8255. Or text HOME to 741-741 to speak with a trained crisis counselor at the free Crisis Text Line.