Bills Safety Jordan Poyer's Wife, Instagram Model Rachel Bush, Says 'Drunk' and 'Classless' Chiefs Fans Harassed Her During the AFC Championship Game
Buffalo Bills safety Jordan Poyer led his team in tackles this past Sunday during the AFC Championship Game against the Kansas City Chiefs but the defensive unit as a whole couldn't stop Patrick Mahomes from leading the defending champs to a second straight Super Bowl with a 38-24 victory at Arrowhead Stadium.
It was undoubtedly a disappointing loss for Poyer and the Bills, who finished with their best record since 1991 and appeared in their first AFC title game since 1993. It was apparently also a disappointing day for Poyer's wife, Instagram model Rachel Bush, who was in attendance for Sunday's game and says she was harassed by a few "drunk" and "classless" Chiefs fans sitting behind her.
Jordan Poyer led the Bills in tackles during the AFC Championship Game
Jordan Poyer and the Buffalo Bills defense knew they'd be in for a long day facing reigning Super Bowl MVP Patrick Mahomes and the vaunted Kansas City Chiefs offense that averaged 30 points per game during the 2020 NFL season.
The defense was able to contain Mahomes & Co. early on and the Bills took a 9-0 lead into the second quarter before the 2018 NFL MVP got the offense rolling. Kansas City outscored Buffalo 38-15 the rest of the way as Mahomes completed 76.3% of his passes for 325 yards and three touchdowns.
Poyer, a former All-American at Oregon State that just finished up his fourth year in Buffalo, did his part by leading the Bills in tackles with eight, which tied for the game lead with Chiefs linebacker Anthony Hitchens. His wife, Rachel Bush, was in the stands cheering for him but apparently didn't have the most pleasant experience at Arrowhead Stadium.
Jordan Poyer's wife, Rachel Bush, says she was harassed by Chiefs fans during the AFC Championship
RELATED: The Timing of the AFC Championship Game Between the Chiefs and Bills Was Eerily Incredible
According to a report from TMZ Sports, the wife of Jordan Poyer, 23-year-old Instagram model Rachel Bush, had a very unpleasant experience at the AFC Championship Game as she says that a few Kansas City Chiefs fans were harassing her during the game.
Bush met Poyer through Twitter in 2015 when he was with the Cleveland Browns and gave birth to their daughter in early 2017. The two married the following year and she's attended many of his games but says she's never gotten into it with fans…until Sunday.
In tweets that have since been deleted, Bush claimed that a small number of Chiefs fans that knew who she was were being "disrespectful" to her as she was just trying to watch the game.
"These drunk chiefs fans behind me knowing damn well I'm a wife saying s*** directly to me smh yuck.

"I've NEVER gotten into it with fans but holy cow … disrespectful … embarrassing …"

"Most classless s*** I've ever seen … even the fans around them are embarrassed."

Jordan Poyer's wife, Rachel Bush, on Kansas City Chiefs fans
It's not clear if Bush had security called in but she did later clarify that it was just one group of Chiefs fans that were causing the disruption.
Rachel Bush went on to post that some Chiefs fans 'were so nice'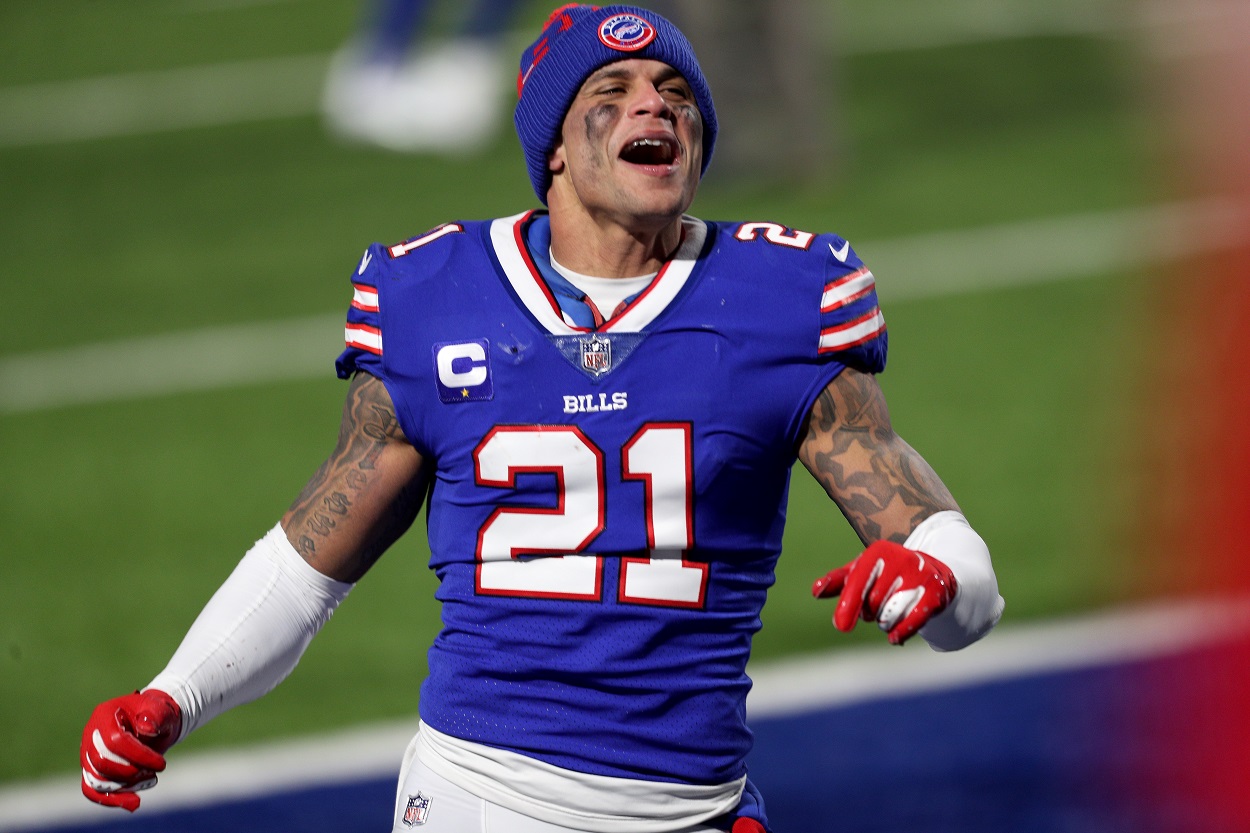 In another tweet that hasn't been taken down, Rachel Bush did make it clear that it was just a small number of Chiefs fans that were acting that way. She knew articles would be written about it (and she was obviously right) and seemingly didn't want anyone thinking she was upset with every Kansas City fan.
Stats courtesy of Pro Football Reference