Justin Herbert Responded to Patrick Mahomes 'Controversial' Comments Precisely How He Should Have
Justin Herbert laughed off a comment from Patrick Mahomes that was completely blown out of proportion.
Justin Herbert and Patrick Mahomes are easily two of the best young quarterbacks in the NFL. Well, we really don't even need the word "young" there, do we?
We already know the Kansas City Chiefs have Mahomes locked up for quite a while, and Herbert will likely get the same treatment from the LA Chargers in the near future. So, barring injuries, of course, NFL fans will see these two superstars battle twice per season for AFC West supremacy for the next decade-plus.
Some in the media (not me) have wanted to make these two bitter rivals since Herbert arrived on the pro scene as the sixth overall pick of the 2020 draft. Mahomes had just won the Super Bowl, so it was only natural, I suppose. The new, young thing in the AFC West coming for the big, bad MVP and such.
So it was also only natural when Mahomes made some comments about Herbert, which weren't malicious in the slightest, to get blown out of proportion, both by the media (again, not me) and those on social media. But Herbert himself took everything in stride and responded exactly as he should have.
Justin Herbert responded exactly as he should have to Patrick Mahomes' perceived controversial comments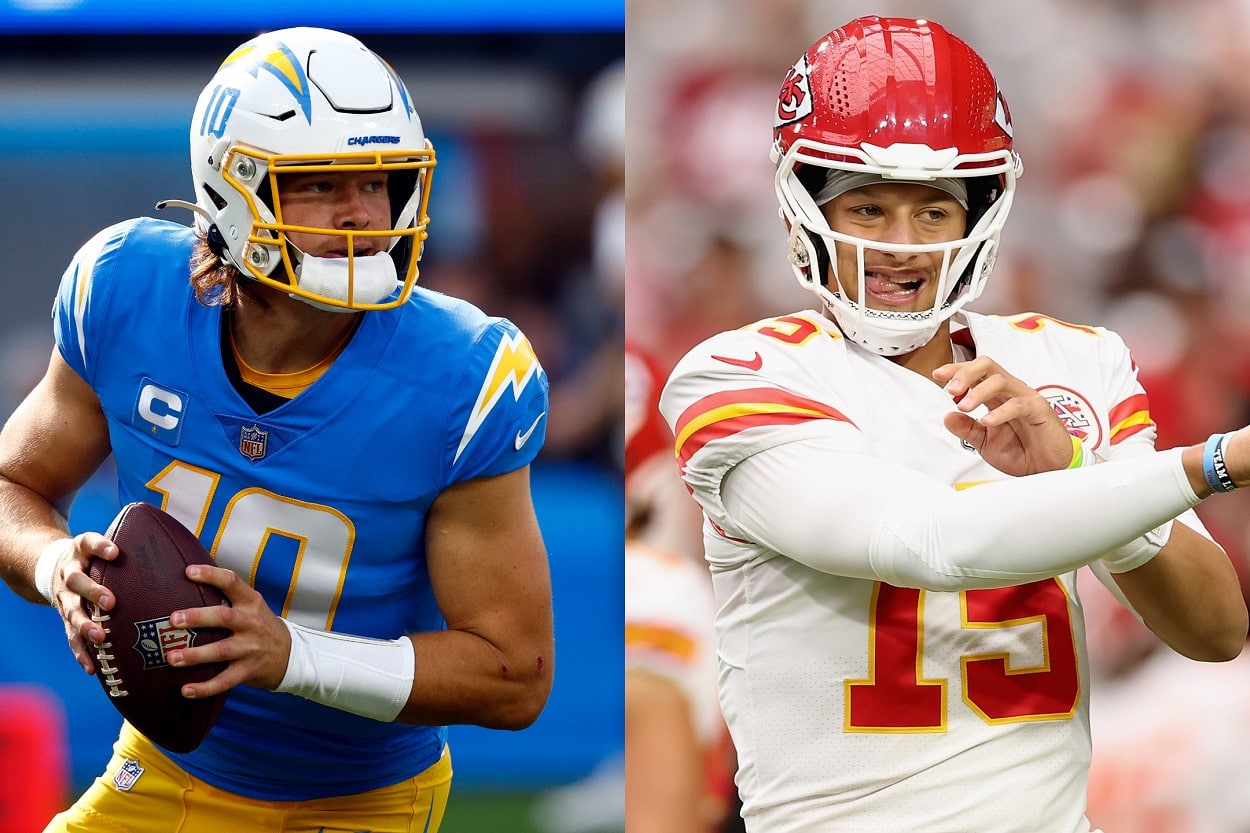 While playing a celebrity golf event in the summer of 2021, Mahomes was encountered by a patron who told him to "watch out for Justin Herbert next year." The guy clearly meant no harm and was just seemingly having some fun with Mahomes.
In response, the newly-crowned Super Bowl champ quickly quipped back, "I'll see it when I believe it." Mahomes was obviously trying to say, "I'll believe it when I see it," but you get the gist.
As you can imagine, Twitter exploded, the consensus being that Mahomes was throwing shade at Herbert and all the hoopla that comes with that.
Even had Mahomes not gotten tongue-tied in his comments, it was evident that there was no actual malicious intent behind them. It was a little rib at another quarterback in his division. That's it. And the 2018 NFL MVP clarified that after his remarks went viral, saying he had nothing but respect for the 2020 Offensive Rookie of the Year.
He'd already seen Herbert twice, and the former Oregon Duck played well in those two encounters. If you recall, Herbert nearly beat Mahomes in his first NFL start as the Chargers took the Chiefs to overtime in Week 2 of the 2020 campaign, losing 23-20. Herbert completed 22 of 33 passes that day for 311 yards with a touchdown and an interception.
And in Week 17, LA handed Kansas City one of its two losses of the year, although the Chiefs were resting some players. Nevertheless, Herbert finished his rookie campaign on a solid note, completing 22 of 31 passes for 302 yards with three TDs and no picks. So Mahomes had seen enough to know he'd have a formidable foe for years to come.
So, again, there was no malicious intent.
And Herbert himself didn't take it as such.
When asked about it, the youngster responded exactly as he should have. It's often easy to forget that professional players were fans first. And Herbert is clearly a Mahomes fan.
"I think it's pretty cool that Patrick Mahomes knows who I am. I'm cool with it. I have such great respect for what he's been able to do, and I've watched him so much."

Justin Herbert
Yeah, it's pretty obvious you've watched Mahomes a bit, Justin. And it's also quite obvious that the youngster clearly knows how to handle social media nonsense.
Stats courtesy of Pro Football Reference
Like Sportscasting on Facebook. Follow us on Twitter @sportscasting19 and subscribe to our YouTube channel.