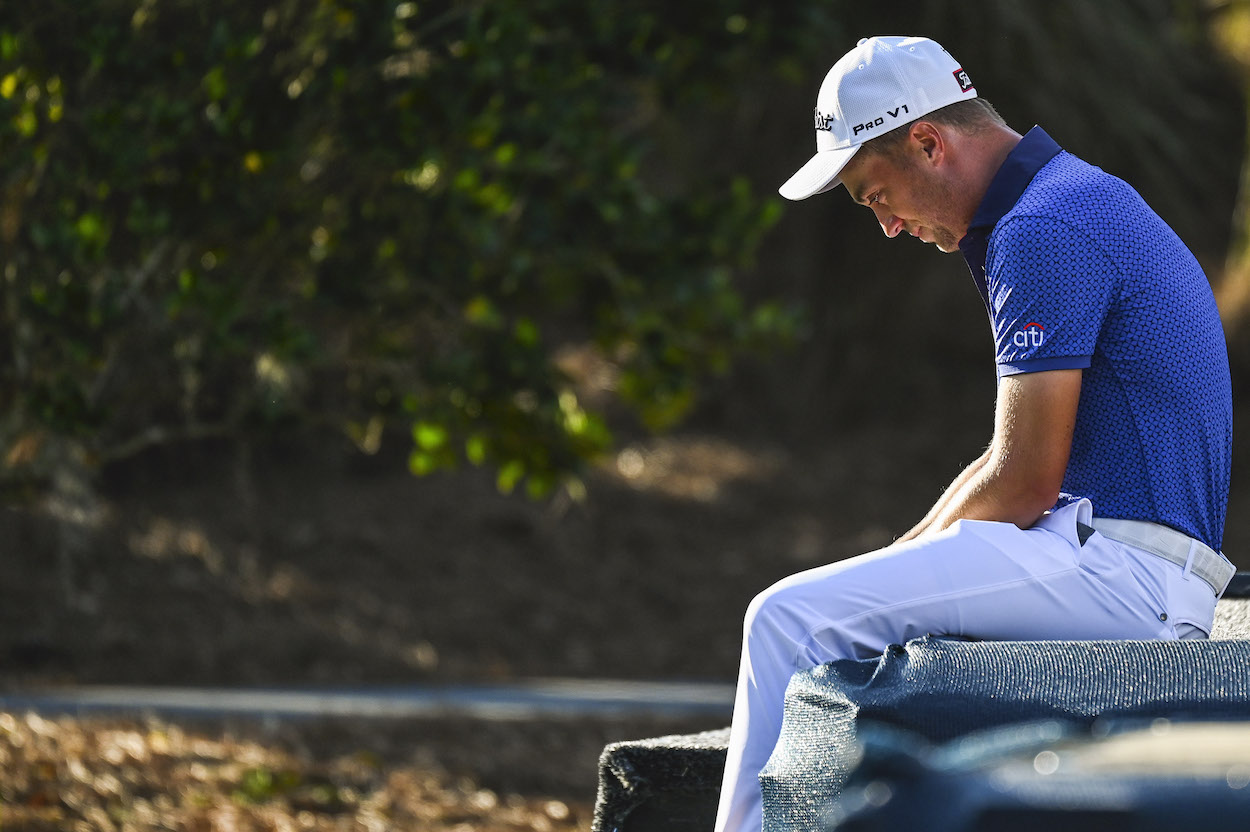 Justin Thomas Captures Players Championship and Candidly Admits to His Recent Struggles and Being in a 'Bad Place'
Justin Thomas admitted that prior to winning the Players Championship he had been in a bad place for several months following his controversial homophobic remarks and the death of his grandfather.
Justin Thomas won the Players Championship on Sunday, his 14th win on the PGA Tour. However, this one was extra special because of what Thomas has had to overcome at the start of 2021. The 27-year-old candidly admitted in an interview on ESPN with Scott Van Pelt how he finally felt like himself this week after being in a bad place on and off the course for months, and the final result proved it.
Justin Thomas makes homophobic slur
Justin Thomas started the 2021 PGA Tour season strong. In his first four events, he finished no lower than 12th, including an eighth-place finish at the U.S. Open and a fourth-place at the Masters. 
Thomas continued his strong play into the new year with a third-place finish at the Sentry Tournament of Champions during the first week of January. It was at that same tournament where Thomas missed a par putt early in his round on Saturday and uttered a homophobic slur, which was heard on live TV. 
"There's no excuse. I'm an adult. I'm a grown man," Thomas acknowledged to the Golf Channel after his round. "There's absolutely no reason for me to say anything like that. It's terrible. I'm extremely embarrassed…I deeply apologize to everybody and anybody who I offended and I'll be better because of it." 
Ralph Lauren dropped Justin Thomas as a sponsor a couple of days later. 
His grandfather dies
After taking a few weeks off, Justin Thomas returned to action in early February at the Phoenix Open. The 2017 PGA Championship winner played well during the first three rounds and was in contention on Sunday. He struggled and shot 1-over in the final round. It was revealed his grandfather Paul had died on Saturday.
His grandfather was a lifelong club pro and introduced Justin's father, Mike, to the game, who in turn did the same with his son. A day after finishing 13th, Thomas posted to Instagram how he could have used his grandpa's advice. 
"Heaven got a good one yesterday," Justin Thomas wrote. "Wish you were still here to tell me how many putts I missed on days like yesterday! Nobody's voice would make me happier when I would hear it over the phone. Will love and miss you, G Pa." 
Justin Thomas admits he's been in a bad place
After Phoenix, Justin Thomas missed the cut at The Genesis Invitational and tied for 15th at the WGC-Workday Championship. His win at the Players was his first victory since August of last year. During an interview with Scott Van Pelt on ESPN Sunday night, Thomas admitted that he has struggled personally and professionally as of late.
"I've really been in a bad place mentally both on and off the golf course the last couple of months," Thomas said. "It's been tough. But at the same time, just like in my golf game, I've been working on it to try to get better and try to get in a better place, and this week was the first time in a while, probably from Tuesday or Wednesday on, that I felt like myself and I think it's not a coincidence that I played better. Obviously, I was hitting better shots, but I just was in a better frame of mind. I was in a better place. I wasn't as hard on myself. I didn't want to just kill everything all the time. I was happy to get it done because it's been a while since I've been able to smile and enjoy it. I know grandpa was looking down today."
Justin Thomas paired his physical and mental game over the weekend in Florida to become just the fourth golfer ever to win his 14th event before his 28th birthday, joining an exclusive list that includes Johnny Miller, Jack Nicklaus, and Tiger Woods. And with things turned around and heading in the right direction, don't be surprised to see him add more trophies in the near future. 
Like Sportscasting on Facebook. Follow us on Twitter @sportscasting19.