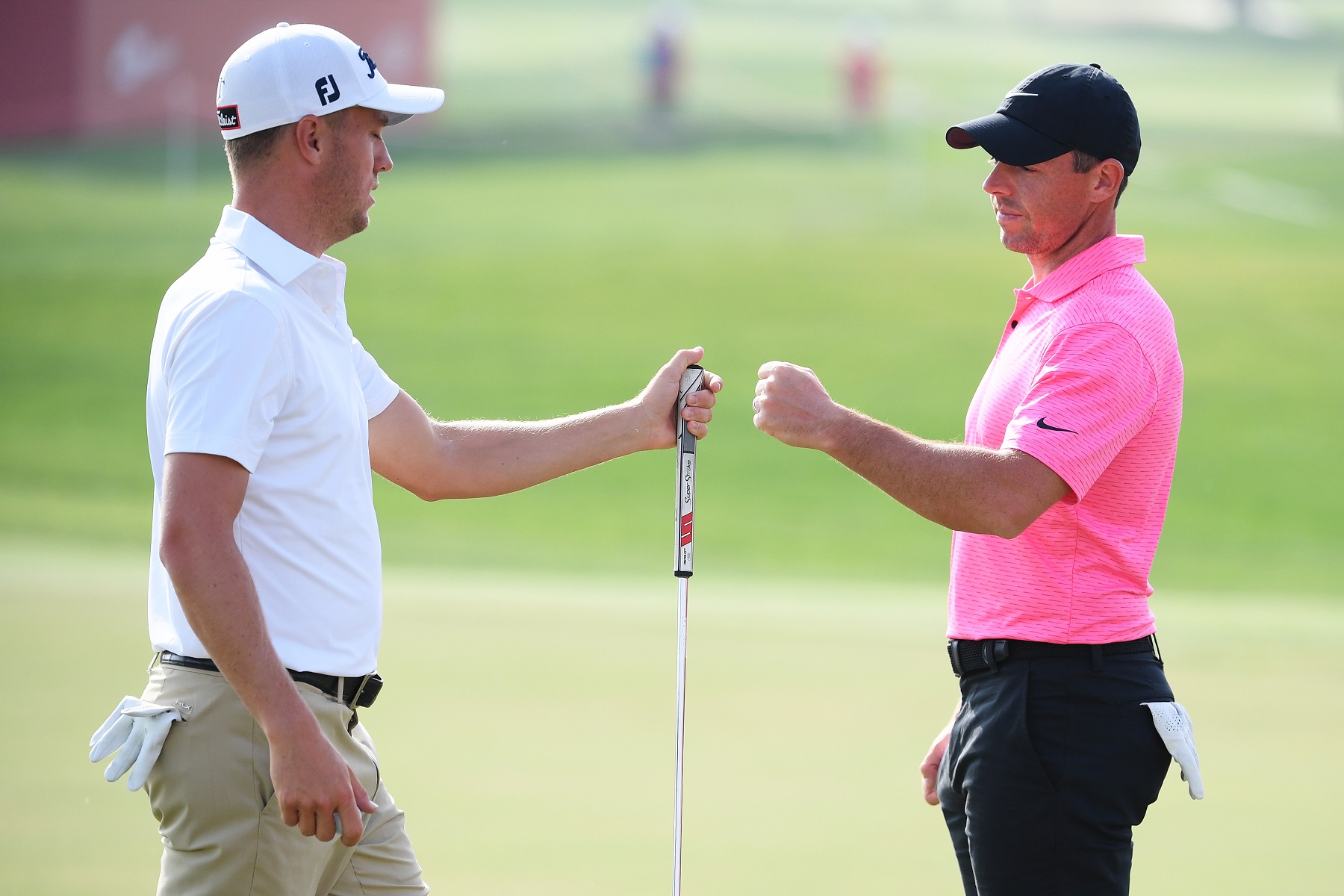 Justin Thomas Is Still 'a Great Guy' Despite the Homophobic Slur, a PGA Rival Insists
Justin Thomas Is still 'a great guy' despite the homophobic slur he uttered during a tournament in Hawaii, PGA Tour rival Rory McIlroy says.
Not surprisingly, Justin Thomas is having a rough go of it in his first tournament since coming under fire for uttering a homophobic slur. Following a chaotic week of issuing apologies, attempting to shore up relationships with sponsors, and committing to a counseling program, Thomas got off to a rocky start in the Abu Dhabi HSBC Golf Championship.
The good news for Thomas, third in the Official World Golf Ranking, is that he picked up a vote of confidence from PGA Tour rival Rory McIlroy.
Justin Thomas is off to a slow start in Abu Dhabi
Rory McIlroy got off to a great start in the Abu Dhabi HSBC Golf Championship on Jan. 21, 2021. Although fog delayed play by three hours, resulting in half the field being unable to finish, McIlroy shot an 8-under-par 64 to take the clubhouse lead.
It was the latest indication that McIlroy is back in form. McIlroy posted four straight top-five finishes in early 2020 before the pandemic put golf on pause. Ten of his first 12 finishes after action resumed were outside the top 10 before he concluded his year with a tie for fifth at The Masters Tournament.
McIlroy teed off in Abu Dhabi with a group including Justin Thomas, whose day did not go nearly as well. Thomas made four bogeys on his way to an opening 73, putting him nine strokes behind McIlroy.
It was a letdown after opening two weekends ago with a third-place finish at the Sentry Tournament of Champions. It was also not unexpected given the firestorm created in that tournament by the PGA Tour's leading money-winner in three of the past four seasons.
Justin Thomas created controversy by using a homophobic slur
Justin Thomas' luck at the Sentry Tournament of Champions finally ran out. The 27-year-old from Kentucky won there in 2017 by three strokes. In 2020, he defeated Patrick Reed and Xander Schauffele on the third playoff hole to earn his second Sentry championship.
This season, though, Thomas kicked off the new year with a third-place finish, one stroke short of joining the playoff that Harris English captured over Joaquin Niemann. That wasn't nearly the worst of it for Thomas.
Early in his third round, Thomas missed a short par putt. As he tapped in for the bogey, a microphone picked up Thomas muttering a homophobic slur. He found out afterward that the remark had been heard on the live telecast.
"I'm extremely embarrassed. It's not the kind of person that I am … But unfortunately, I did it and I have to own up to it and I'm very apologetic," Thomas told Golf Channel after his round. "I deeply apologize to everybody and anybody who I offended, and I'll be better because of it." 
He'll also almost immediately be poorer for it. Clothing maker and retailer Ralph Lauren cut its sponsorship ties with the golfer, though its statement seemed to leave the door open to resuming the affiliation at a later date.
Rory McIlroy has given his rival a vote of confidence
Golfers are among the most image-conscious athletes in the world. That can be attributed to the fact that can be appearance fees for playing overseas, but everything else they earn on the course is based on their performance. If they miss a cut, they make nothing. If they double-bogey the 72nd hole, they could leave $100,000 or more in purse money on the table.
What is guaranteed for golfers is endorsement money with equipment manufacturers, apparel makers, etc. Causing controversy is bad for the sponsor's business, which could make it bad business for the golfer. Justin Thomas learned that the hard way with his Ralph Lauren deal.
Interestingly, however, rival golfer Rory McIlroy has stepped up to show support for Thomas.
"I think he realized he made a big mistake as soon as it was brought to him last week in Hawaii and he completely owned up to it," McIlroy said, according to Sky Sports. "He said he messed up; he's going to try to be better. And you know, Justin is true to his word. He will be."
McIlroy made it clear that he wasn't endorsing what Thomas said or even ignoring it. Rather, he was expressing confidence that his rival understood the gravity of the situation.
"He'll be just as good a golfer as he's always been, and if anything, it will probably just make him a better person than he already is," McIlroy said, "which is hard because he's already a great guy."
Like Sportscasting on Facebook. Follow us on Twitter @sportscasting19.