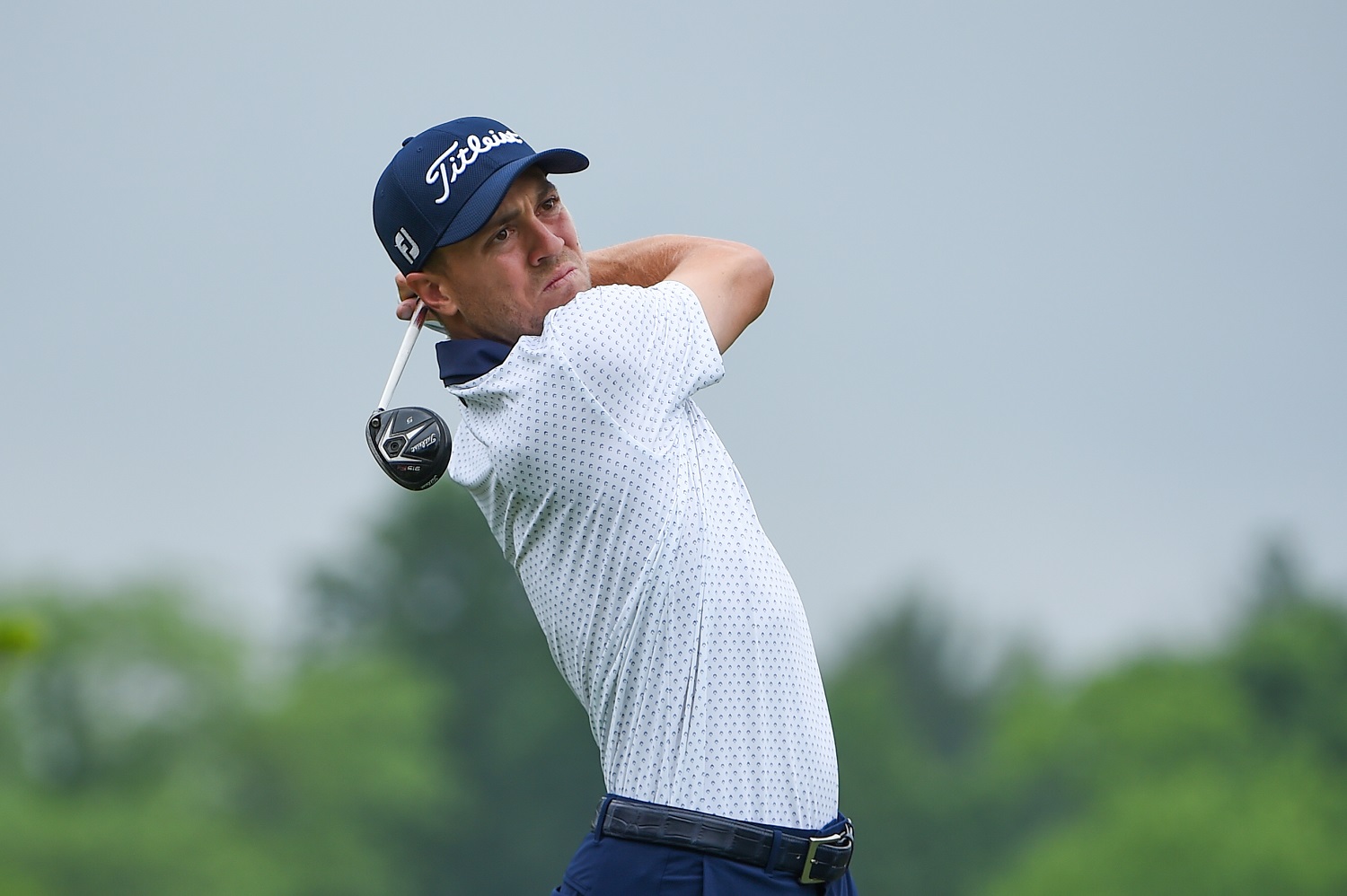 Justin Thomas Put Aside His Own Woes After Being Touched by a Viral Video
Justin Thomas befriended aspiring PGA Tour golfer Mike Visacki recently after after seeing the emotional video of Visacki calling his father to say he'd qualified for a tournament.
Golf is a kill-or-be-killed sport in which competitors like Justin Thomas fend for themselves on the PGA Tour. There's no outfielder to chase down a long fly ball if you groove a pitch or a hockey goaltender to stuff a breakaway if you cough up the puck at the blue line.
Thomas and fellow competitors must perform or they don't get paid. Still, in the midst of a disappointing stretch of finishes, Thomas put aside his own problems and stepped up to help a fellow competitor with an incredibly kind gesture.
Mike Visacki is a 'grinder'
The first clue that Mike Visacki is a relative non-entity in golf is that he turned pro in 2014 and barely has a presence on the PGATour.com website – just a few stats and no personal information, not even his age or hometown. The second clue is that Visacki doesn't have a Wikipedia page, period, at the same time that there are enough details about Thomas or Rory McIlroy to write a novel.
What Visacki does have, however, is a story. Without a full-time exemption into PGA Tour events, he plays third-tier circuits like the West Florida Golf Tour, where shooting a 65 in a one-day event might net him $1,000.
Golfers in Visacki's situation occasionally try making it into PGA Tour fields via Monday qualifiers, where 30 or 40 players compete for a couple of spots to fill out the pairings for the 72-hole event that begins on Thursday. Patrick Reed attracted attention in 2012 by making it into the field six times via that route. A year later, Reed was beating Jordan Spieth in a playoff for his first victory.
On April 26, 2021, Visacki played the qualifier for the Valspar Championship in Palm Harbor, Florida, and found lightning in a bottle. He earned one of the spots in the tournament field after finishing his round with an 18-foot putt to clinch. As a resident of Sarasota, just 90 minutes away, he became big local news as video surfaced of Visacki's emotional phone call to his father to share the good news.
"A lot of people give up on their dreams, probably because they can't afford it," Visacki said, according to PGATour.com. "But I've been lucky enough to be with my parents and been able to help me out sometimes to keep living it."
The story continued as Thomas intervened
Visacki's week didn't have the Hollywood ending. He shot 74-71—145 and missed the cut by four shots, which meant that he didn't cash a check. Still, it was an opportunity for the former University of Central Florida golfer to taste the big-time.
Had that been the end of the story, it would have still been a good one. However, there was more. Organizers of the Charles Schwab Challenge at Colonial Country Club in Fort Worth, Texas, offered Visacki a sponsor's exemption to play. Visacki shot 77-72–149 and once again was far off the cut line, but he did make a friend.
Like many others, Thomas saw the video of Visacki breaking down after qualifying for the Valspar Championship. He learned more about the golfer and was genuinely moved. Thomas connected with Visacki early in the week and invited him to play practice rounds.
Thomas also offered to be a sounding board and to answer questions whenever and wherever as Visacki continues with his career. As they parted ways, there was one more gesture by Thomas. Someone with a camera phone caught him handing Visacki a check for an undisclosed amount to help him keep playing a sport that can be expensive.
"I was a little irritated that it got out. I didn't really want it to. That wasn't the intention of it," Thomas said. "I just saw the video of Mike calling his dad after he 'Monday-ed' in Valspar, and in a day and age where it seems like only anything in the media is negative … I just felt it was so refreshing and great to see and how genuine his excitement and emotions were."
Perhaps some good karma for Thomas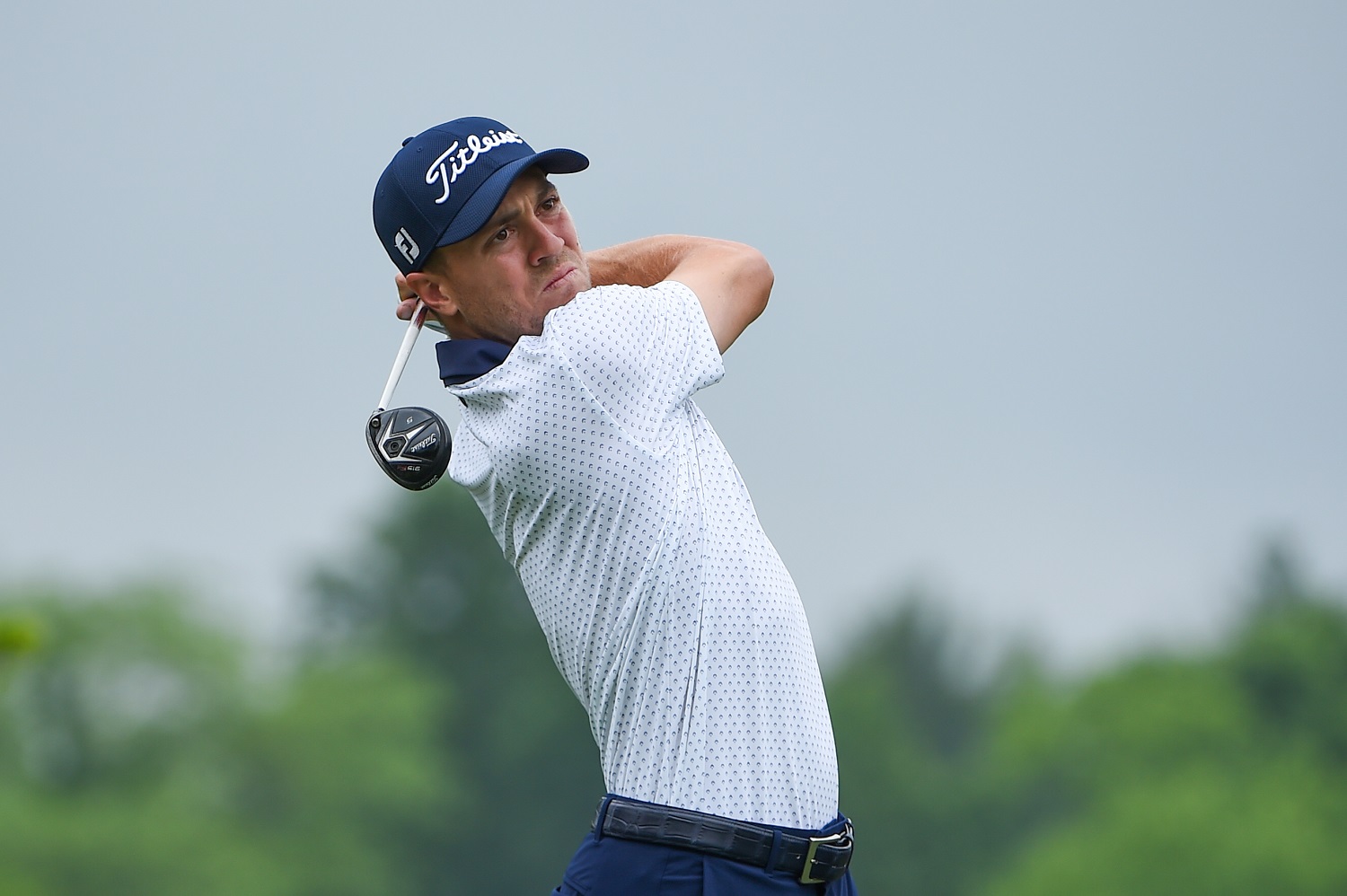 Thomas, the world's second-ranked player, has been having a rough go of it lately. A winner of 14 events, including the 2017 PGA Championship, he captured The Players Championship in mid-March but hasn't cracked the top 10 in six events since.
Thomas even missed the cut at the PGA Championship the week before tying for 40th at the Charles Schwab.
His luck might just be changing. Thomas fired an opening-round 69 and sits in a tie for seventh place entering Day 2 of The Memorial Tournament in Dublin, Ohio.
Like Sportscasting on Facebook. Follow us on Twitter @sportscasting19.