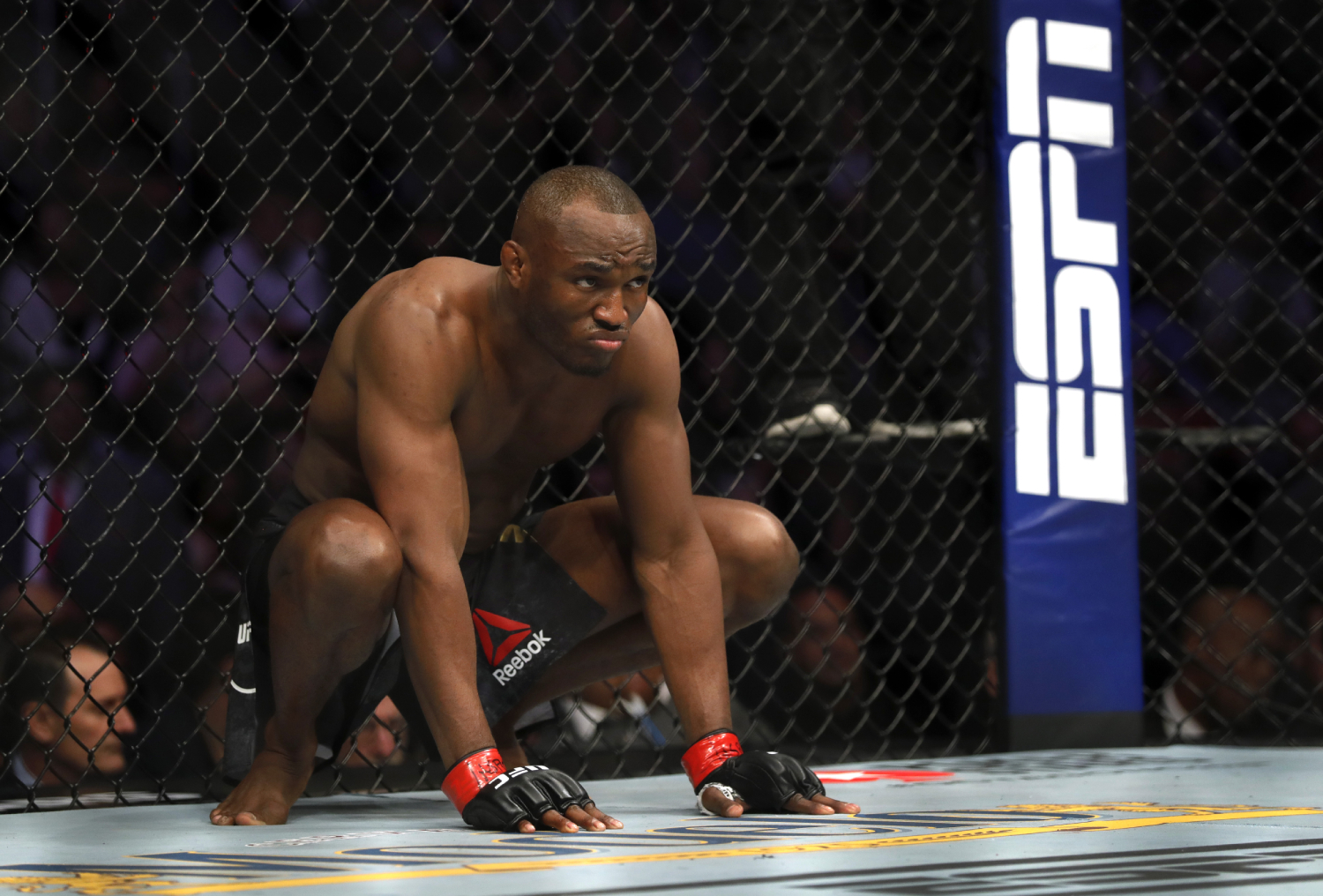 Kamaru Usman Riding Christian Okoye's Trademarked Nickname Through UFC 251
Kamaru Usman will be riding former Kansas City Chiefs running back Christian Okoye's trademarked nickname through UFC 251.
If he's anything like his namesake, Kamaru Usman will have a very successful UFC career. Usman will square off against Jorge Masvidal in Saturday's main event of UFC 251 on Fight Island. Usman's got a strong backing that includes former Kansas City Chiefs standout running back Christian Okoye.
UFC 251: Usman vs. Masvidal
Is Jorge Masvidal coming into Saturday's UFC 251 with a built-in excuse? If he is, he's not using it. Masvidal accepted the fight with Kamaru Usman for the welterweight title on short notice. He said he's not as prepared as he'd like to be as his training was limited. He also said he didn't have to be against his "weak-minded opponent."
"Six days' notice, how prepared could I be, you know?" Masvidal said during media day, according to mmajunkie.com. "I'm as prepared as I need to be for Usman, but obviously it's not a full training camp as if I had six weeks to prepare. I'd be different, my weight wouldn't be this high. So I'm not going to say weight-wise I'm 100 percent. But everything else, my mind is ready, my heart is ready, my skill set is better than his any day of the week, so I just gotta go out and prove it."
Masvidal said if it was any other opponent, it might concern him. "My opponent? I don't have faith in him," he said. "There are other guys that I would have been 'maybe I need more than six days,' you know? Besides him having 17 different personalities and me not knowing which one is going to show up to fight, I think he's weak-minded."
Usman enters as a heavy favorite
Kamaru Usman (16-1) will be defending his welterweight title for the second time when he steps into the octagon with Jorge Masvidal (35-13) on Saturday. Masvidal came into the picture when Usman's original opponent, Gilbert Burns, tested positive for COVID-19 and was forced to withdraw. Masvidal comes in on a roll, having won three straight. He has won his last five fights via knockout.
Usman had won 15 straight fights and enters as a -260 favorite, according to CBS Sports. Usman said there was a lot of pivoting after switching from preparing to fight Burns to now fighting Masvidal, but he thinks he'll be just fine. "The way I train for each fight, I leave no stone unturned," he told ESPN MMA. "It doesn't matter if they're wrestlers, grapplers, or strikers. I work on every single facet of the game to make sure I'm up to par on everything."
Usman has some respect for his opponent Saturday, but not a whole lot. "He's tough and he's been in the sport for a long time," he said, "but when he comes to competing against the elite, like myself, I have to go in there and let him know tomorrow night that he's still just a .500 fighter."
Christian Okoye backing his Nigerian brother
When Kamaru Usman, born in Nigeria, defeated Tyron Woodley in March of 2019 in UFC 235, he became the first African-born fighter to win a UFC title. Usman beat Woodley in a unanimous decision, capturing the UFC Welterweight Championship. He is very proud of his heritage as he brings the Nigerian flag with him to every fight.
Usman is also nicknamed 'The Nigerian Nightmare' which is the name former Kansas City Chiefs running back had during his playing days. "The name symbolizes the most elite athlete," Usman said in The Undefeated. "Christian Okoye was 'The Nigerian Nightmare' in his era because he was one of the elite running backs in football."
Okoye had the nickname trademarked, but has given Usman his blessing to use it. In a text message to The Undefeated, Okoye said he OK'd the use of the name. "It is flattering for sure," Okoye said. "If using it will help him succeed, more power to him."