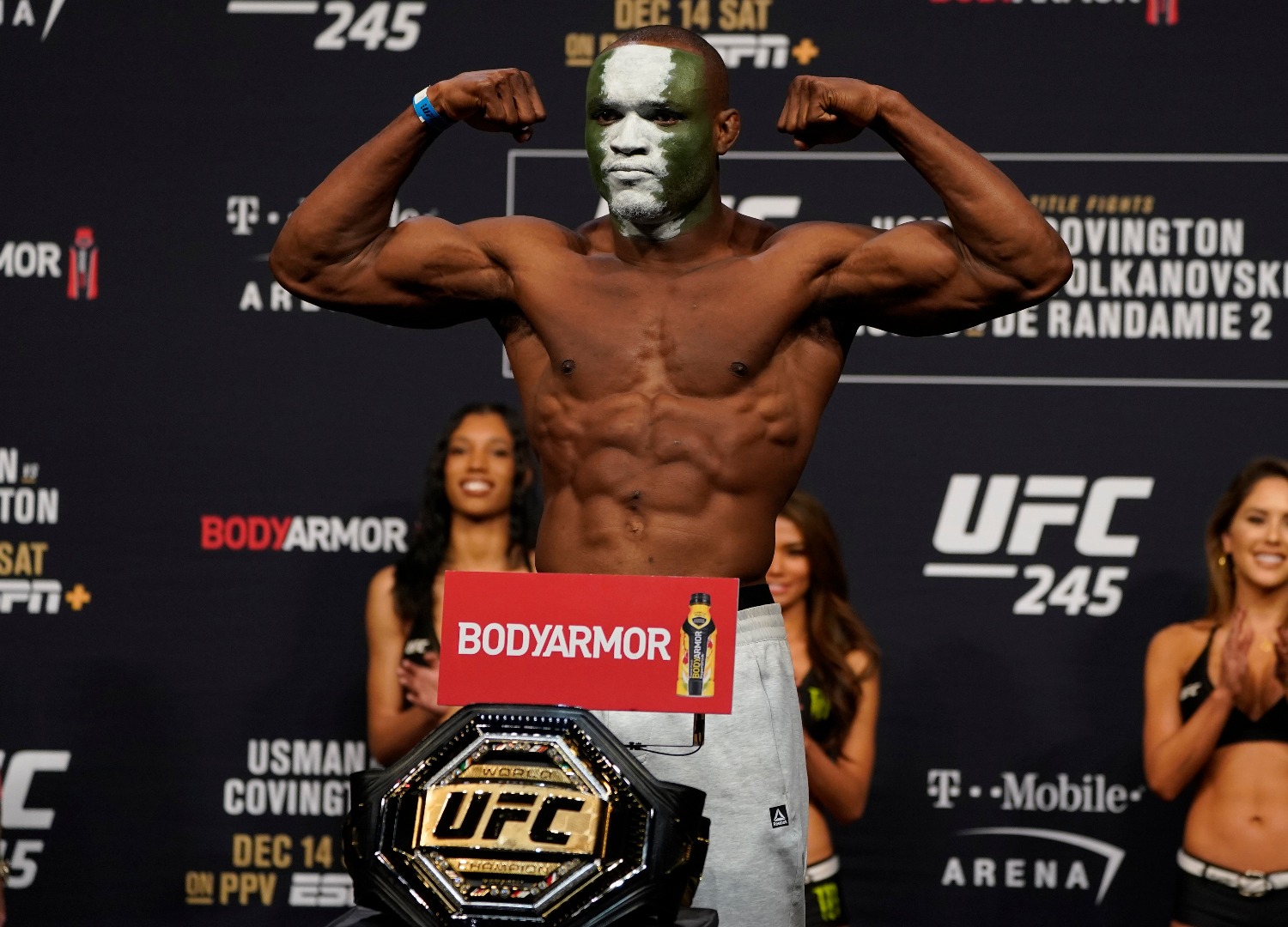 What is Kamaru Usman's Net Worth?
Kamaru Usman has amassed a substantial net worth as one of the top MMA fighters in the world. Will he remain a champion after UFC 251?
Kamaru Usman certainly has come a long way from growing up in Nigeria. The reigning UFC Welterweight Champion spent years honing his craft before emerging as one of the top MMA fighters in the world. With just one loss on his record, Usman looks to continue his 15-fight winning streak at UFC 251 in a highly-hyped matchup against Jorge Masvidal.
Thanks to his stellar performances, the Nigerian native has also racked up an impressive net worth. And considering his humble roots, Usman certainly has plenty to be proud of as he looks to defend his title at UFC 251 on Fight Island.
Kamaru Usman's rise to fame
Borin in Auchi, Nigeria, Kamaru Usman and his family moved to the United States at the age of 8. A talented high-school wrestler, he actually competed alongside fellow UFC star Jon Jones. Ultimately, Usman pursued a collegiate wrestling career at William Penn University before transferring to the University of Nebraska at Kearney.
A three-time All-American, he earned "The Nigerian Nightmare" nickname and embarked on a new career as an MMA fighter. Usman made his debut in 2012 and eventually achieved his goal of making it to the UFC. His first official fight occurred just five years ago when he defeated Leon Edwards by unanimous decision.
Since that resounding victory, he has continued to rise up the ranks. In fact, since suffering a loss in his second professional fight, he has won 15 consecutive matches. Just over a year ago, Usman defeated Tyron Woodley to capture the UFC Welterweight Championship. In December, he successfully defended his title in a TKO victory over Colby Covington.
The reigning Welterweight Champion will defend his title at UFC 251
By the time Kamaru Usman steps inside The Octagon Saturday night, 210 days will have passed since his last fight. The defending champion faces a tough test at UFC 251 in the form of Jorge Masvidal. The Miami native has been competing in UFC for nearly a decade. Masvidal carries a career record of 35-13. However, he has scored victories in each of his last three fights.
Of course, UFC 251 will take place in Abu Dhabi because of COVID-19. Heading into the fight, Usman looks like the overwhelming favorite. Plus, Masvidal has to prove he can hold his own competing in a higher weight class.
Ultimately, the matchup should result in another victory for The Nigerian Nightmare. And that would help him add to his impressive net worth.
What is Kamaru Usman's net worth?
While Kamaru Usman certainly hasn't achieved the same financial success as Conor McGregor or Brock Lesnar, he has still amassed an impressive net worth due to his dominant fighting skills.
According to The Sports Daily, Usman has totaled more than $1.5 million in career earnings. He scored his best payday at UFC 245. By defeating Covington, Usman earned $590,000, including a $50,000 Fight of the Night bonus.
Prior to that, his most lucrative purse occurred roughly nine months earlier at UFC 235. By defeating Woodley and earning the UFC Welterweight Championship, Usman made $380,000, including $30,000 in fight week incentive pay.
That certainly represented massive raises from his early days in UFC. Back in the beginning of his career, the talented MMA fighter earned five-figure paydays that often checked in under $50,000.
Overall, estimates surrounding Kamaru Usman's net worth range between $1 million to $5 million. Nobody knows exactly what he will make from fighting Masvidal at UFC 251, but if he continues his winning trend, Kamaru Usman will walk away from Fight Island an even richer man than he entered.