UFC Fighter Sean Strickland's Candid Admission Is a Stain on the Sport
UFC middleweight hopeful Sean Strickland has rather flippant attitudes toward the prospect of killing someone in the octagon or dying there himself.
There's a long-standing joke that a television network has scheduled a family-friendly showing of Blazing Saddles tonight from 8:00 to 8:07 p.m. It also applies to UFC fighters. If we were to try posting the PG-13 version of Sean Strickland's interviews promoting his UFC Fight Night bout against Uriah Hall, this paragraph would have ended roughly 30 words ago.
If Strickland is as out of control in the octagon on Saturday as he was in promoting the fight, he's either going to knock Hall out in the first 30 seconds or be stretchered out of the arena in a similar timeframe.
Sean Strickland vs. Uriah Hall headlines the UFC Fight Night card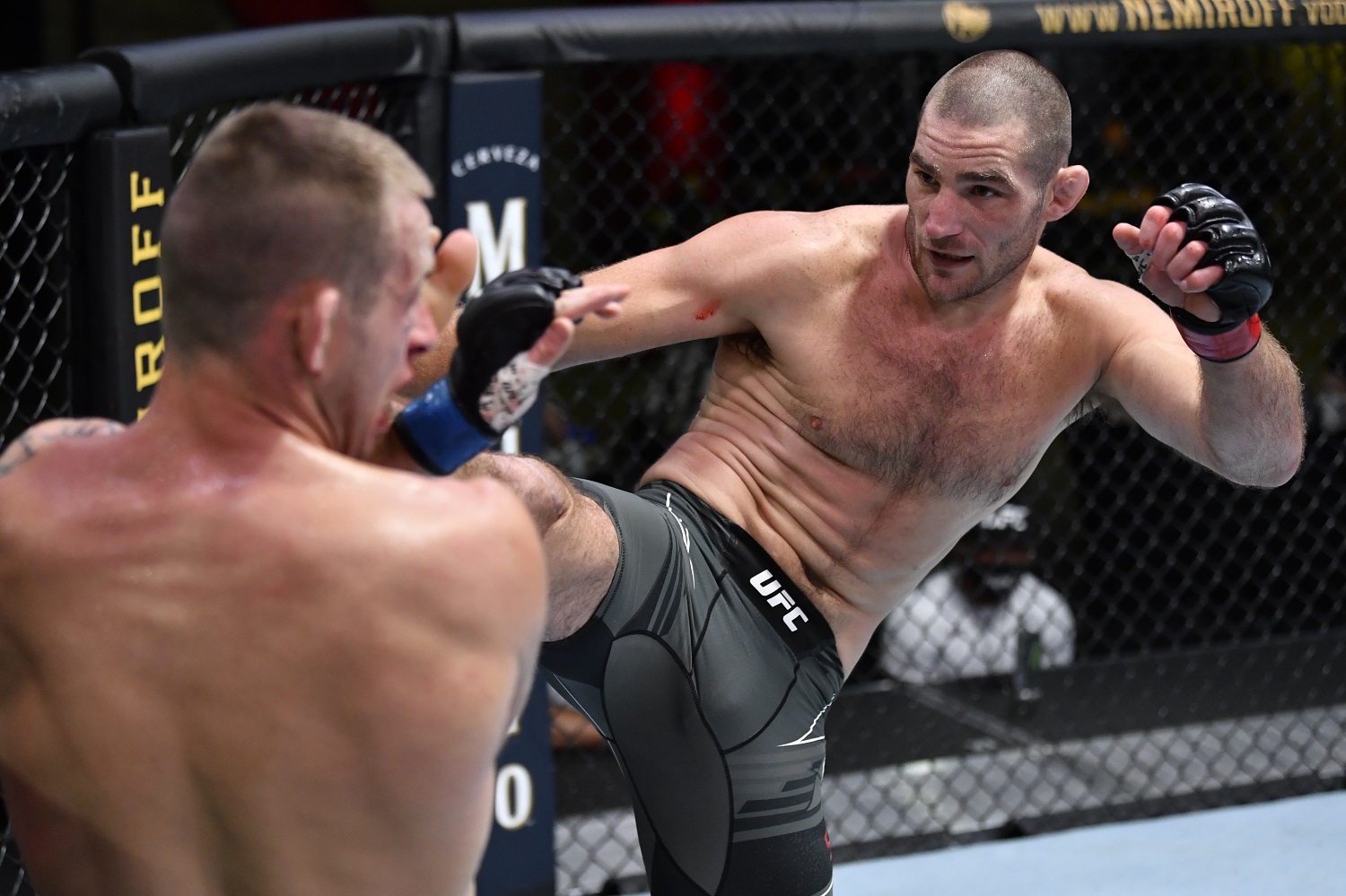 The UFC middleweight division could use some fresh faces. Champion Israel Adesanya has defeated three of the top four contenders in the current rankings within the past three years and took an unsuccessful run at Jan Blachowicz's light heavyweight belt back in March.
With Hall and Strickland ranked as the Nos. 8 and 11 contenders, respectively, neither would be positioned for an immediate title fight by winning Saturday in Las Vegas. However, the winner potentially sets himself up to move one more victory from a title shot next spring or early summer.
Hall is only 10-6 in his UFC career, but he is on a four-fight winning streak even if his most recent victory scarcely counts. On April 24, Chris Weidman snapped his right fibula and tibia 17 seconds into the fight.
Meanwhile, Strickland has rattled off three straight victories in his comeback from a knee injury in a motorcycle crash that cost him two years of his career. He is 9-3 in the UFC, but all the losses came in welterweight bouts. Thus, beating Hall would be another step toward legitimate middleweight contender credentials.
Sean Strickland's candid admission is a stain on the sport
Mixed martial arts is a violent sport with obvious inherent risks for competitors. Weidman's injury against Hall, while gruesome, was tame relative to some of the head shots delivered and absorbed in the UFC octagon. Fighters who are not careful are legitimately subject to potential career-ending injuries at any time.
However, Strickland, 30, has taken that sentiment to a new level while promoting the UFC Fight Night headliner. He managed to combine vulgarity with an appalling career ambition.
"If I killed somebody in the ring, it'd f—— make me very happy," Strickland told TMZ.com.
In a bit of twisted logic, Strickland rationalizes that such a career "goal" is acceptable because he's fine with his own life ending in the octagon.
"I accept that. Like, if Uriah hits me and maybe I have a brain aneurysm and die, you'll hear me saying, 'I'm OK, that's a good death,'"

Sean Strickland
That's a horrendous take on anyone's part. It's not like mixed martial arts fights are supposed to be wholesome family entertainment, but a competitor being so flippant about literal life-and-death situations is a stain on the sport beyond being disrespectful of the implications for his opponent.
And his general take on death?
"It's either gonna be then or now," he told the website. "Just enjoy it."
He's spinning out of control ahead of UFC Fight Night
The mmafighting.com website suggests Strickland "is trying a new thing. It's called not giving an f." His interview transcripts ahead of UFC Fight Night confirm that Strickland turned off the filter between his brain and his mouth.
One telling example is his perspective on pre-fight media days. Compared to Strickland, tennis player Naomi Osaka comes across as someone who'll happily sit down with reporters for hours at a time to rehash her latest losses.
"It's just fake. No one gives a f— about you," Strickland said. "You're only special when you're winning. If I lose, I'm going to wake up Sunday and you guys aren't going to give a f— about me. You guys don't give a f—."
When told that he'd been nominated for Comeback Fighter of the Year at the World MMA Awards but that winning does not come with a financial reward, his response was certainly on point:
"Ah, f—, then no, I don't want to win it," he said. "I'd give the worst speech. You never want me to be on that."
Yeah, we were kind of leaning in that direction already.
Like Sportscasting on Facebook. Follow us on Twitter @sportscasting19.