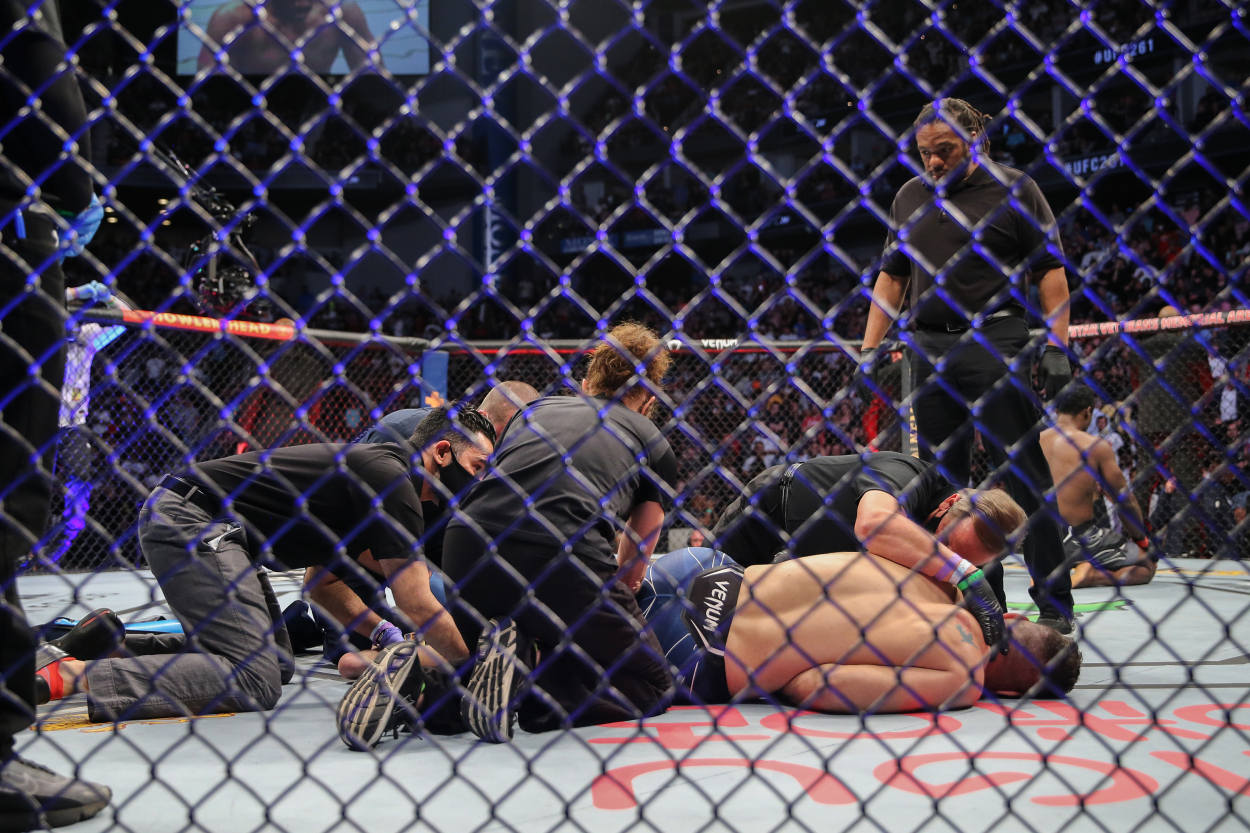 UFC Star Chris Weidman Can't Help But Fear the Worst After Gruesome Broken Leg
Chris Weidman gave a grim update on his gruesome broken leg suffered at UFC 261.
With apologies to Joe Theismann and Alex Smith, UFC fighter Chris Weidman suffered one of the nastiest broken legs during a sporting event in recent memory. During a fight with Uriah Hall at UFC 261, Weidman's right leg snapped. He has since undergone surgery, and a wide variety of emotions has run through his mind during the early recovery period.
Chris Weidman's gruesome injury at UFC 261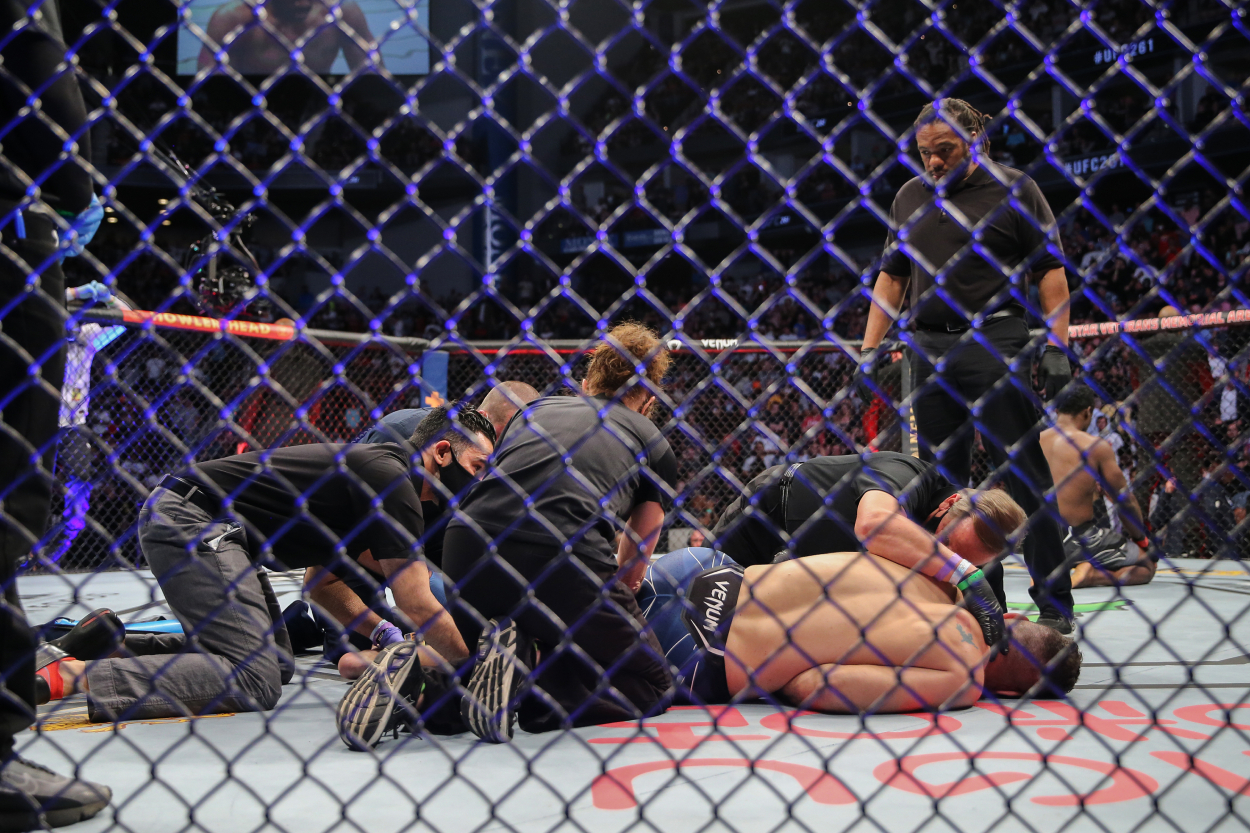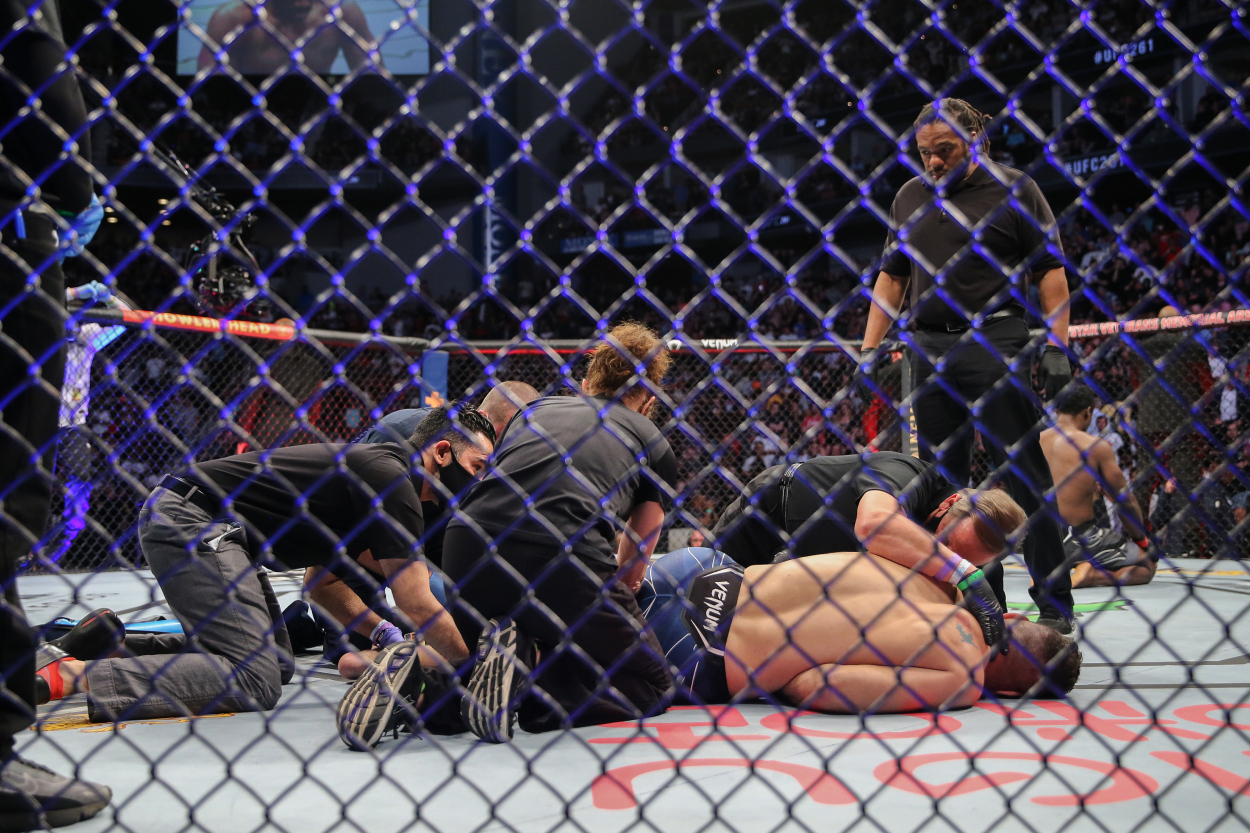 Weidman suffered his devastating injury on April 24 at UFC 261 in Jacksonville, Florida. It happened very early in his bout after he kicked Hall in the calf. When he stepped back, he collapsed as his leg snapped, and the bone pierced through his calf.
"I remember hitting him with the shot, and the first thing that went through my mind was, 'That was a super hard leg kick. He's not taking more than one or two of those,' like, that had to have hurt him," Weidman said to ESPN in a video released Wednesday. "Then, secondly, I looked up at his eyes, and I saw him have almost like a poker face on. … I know that had to hurt. And then, apparently, I stepped back. And that must have been when I looked down, and I got the visual of my leg flopping around. I don't remember stepping down. But I remember seeing my leg, you know, rubbery."
Weidman is no stranger to surgeries. He's had 24. This injury, however, was his most painful.
"I've had 10 knee surgeries, three elbow surgeries, two neck surgeries, three hand surgeries. I've had pretty much everything you could possibly have," Weidman said. "The amount of pain when I got up from having my leg up above my heart when I was putting that leg down — not actually putting weight on it, but just getting on crutches and going to the bathroom — was so bad."
Weidman hopes for the best but fears the worst
 RELATED: If Dustin Poirier and the UFC Don't Work Out, He's Got Something Else in Mind
For Weidman, the dream is to fight in the UFC once again. The reality is he could lose his leg.
In a video update posted Monday on Instagram, Weidman had been out of surgery eight days and said the first three or four days after were probably the best. After that, he said it's been "super painful."
He said he's worried about the pain because that brings on worst-case-scenario thoughts. "I was pretty scared about this pain because I'm thinking about the worst-case scenarios," Weidman said in the Instagram video. "Worst-case scenario is that the blood supply doesn't come back to my bone and doesn't take, which would mean possible amputation." He said he had that problem with his thumb before.
Weidman said blood supply wasn't coming back after thumb surgery, "so they had to take my whole bone out and put my hip bone inside there because the (thumb) bone was just deteriorating and dying," he said. "So if that happened to my shin bone — my tibia or my fibula — I don't know what would happen. Amputation, prosthetic leg, all that. So that scares me."
Weidman trying to remain positive
During Wednesday's interview with ESPN, Weidman said he knows there is a long road to recovery ahead. "Recovery's going to be way longer and harder than I've ever experienced," he admitted. "I went through a tough time about the four- or five-day mark postsurgery because it started going the other way. It started becoming more painful, as opposed to getting better. And it was just so excruciating to just get up for me to crutch my way to the bathroom. I would talk myself into it. I had to amp myself up and mentally prepare myself just to get to the bathroom."
He also said he'd love to be able to fight again but knows he has to be realistic. "I don't know how much work it's going to take, but yeah, this is what I want. I just know how good I am," he said. "And I want to be able to prove it. And I don't have many more years left of being able to do that. My body never felt so good before this fight. I really was excited to show the world how good I am able to put it out there.
"If I can get my body back to where I feel like I'm that guy again, I 100 percent want to fight."