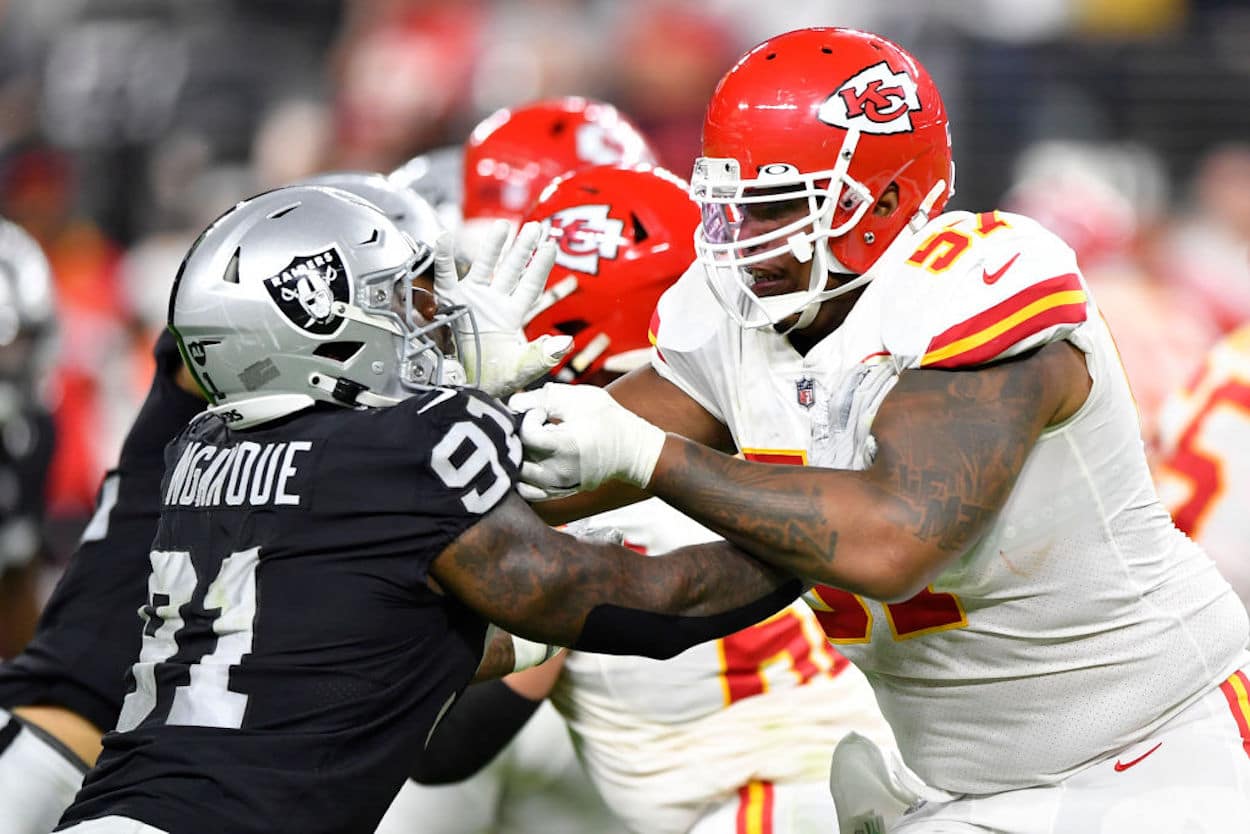 Kansas City Chiefs News: Orlando Brown Jr.'s Seemingly Insignificant Agent Update Shouldn't Be Overlooked
Signing a new agent might seem like a nothing burger, but Orlando Brown Jr.'s decision could have major implications on the Chiefs' offseason.
Being a sports fan in the social media era can get tricky. There are so many tweets, updates, and rumors flying around that it can be tough to parse every single one. Does it really matter, for example, that a quarterback praised one of his receivers after an offseason workout?
While that information overload can be a real challenge, Kansas City Chiefs fans won't want to overlook the latest piece of Orlando Brown Jr. news. Signing a new agent might not seem exciting, but in the context of the club's offseason, that's a major step in the right direction.
Orlando Brown Jr. has chosen an agent, which means he and the Chiefs can get down to business
Barring a few big names, most sports agents don't usually make the news. In this case, though, Orlando Brown Jr.'s partnership with Michael Portner seems rather important.
When the 2021 NFL season ended, the lineman became a free agent. The Chiefs hit him with a franchise tag, but talks beyond that never really got off the ground. Brown was looking for a new agent, and, without that representation, there was no use even trying to talk turkey
On June 2, however, that all changed. As explained in a press release, Brown formed a personal connection with Michael Portner of Delta Sports Group and hired him as his agent. That arrangement, it seems, was at least partially made with this upcoming negotiation in mind.
"Another factor in Brown signing with Portner, I'm told, is he wanted an agent who didn't have prior relationships or friendships with any GMs," Mike Garafolo tweeted. "Portner will be negotiating his first NFL contract, and Brown looked at that as a positive."
While there's still work to be done, securing Brown's future is a must-do for the Kansas City Chiefs
Now that he's chosen an agent, it's safe to assume that Brown and the Chiefs can get down to brass tacks. While that process might be easier said than done — every sports fan can recall a contract negotiation that became messy — getting things over the line is an important part of Kansas City's offseason.
First off, re-signing Brown is important from an asset-management perspective. When KC acquired the tackle, they gave up four draft picks, including a first-rounder. Giving that up for one year's worth of work would be inexcusable.
Brown's presence is also essential when you consider how general manager Brett Veach has assembled his squad. After an embarrassing performance in Super Bowl 55, he rebuilt the entire offensive line. While the Chiefs still fell short of the ultimate prize in 2021, that unit played well. Even more impressively, it's largely made up of young players like Brown, Creed Humphrey, and Trey Smith, who can be constants for years to come.
Losing Brown would destroy that stability and force Veach to back-fill that vacancy. Even if the franchise tag would keep the big tackle under contract for the 2022 campaign, the Chiefs need to be working proactively to improve, not scrambling to replace losses.
Beyond that, it's also worth noting that signing Brown to a proper extension can give the Chiefs a bit more financial flexibility. While a long-term deal will obviously be worth more than $16.6 million, guaranteed money and overall length could combine to reduce the annual cap hot. If the club finds itself with a bit of extra breathing room, that could allow them to bring in a veteran player for added depth or take on a larger contract via a trade. For a team trying to keep their championship window open while navigating a tricky financial situation, that flexibility could make all the difference.
The Chiefs have until July 15 to ink Orlando Brown Jr. to a long-term extension. Now that he's hired an agent, the work can begin in earnest.
Like Sportscasting on Facebook. Follow us on Twitter @sportscasting19 and subscribe to our YouTube channel.