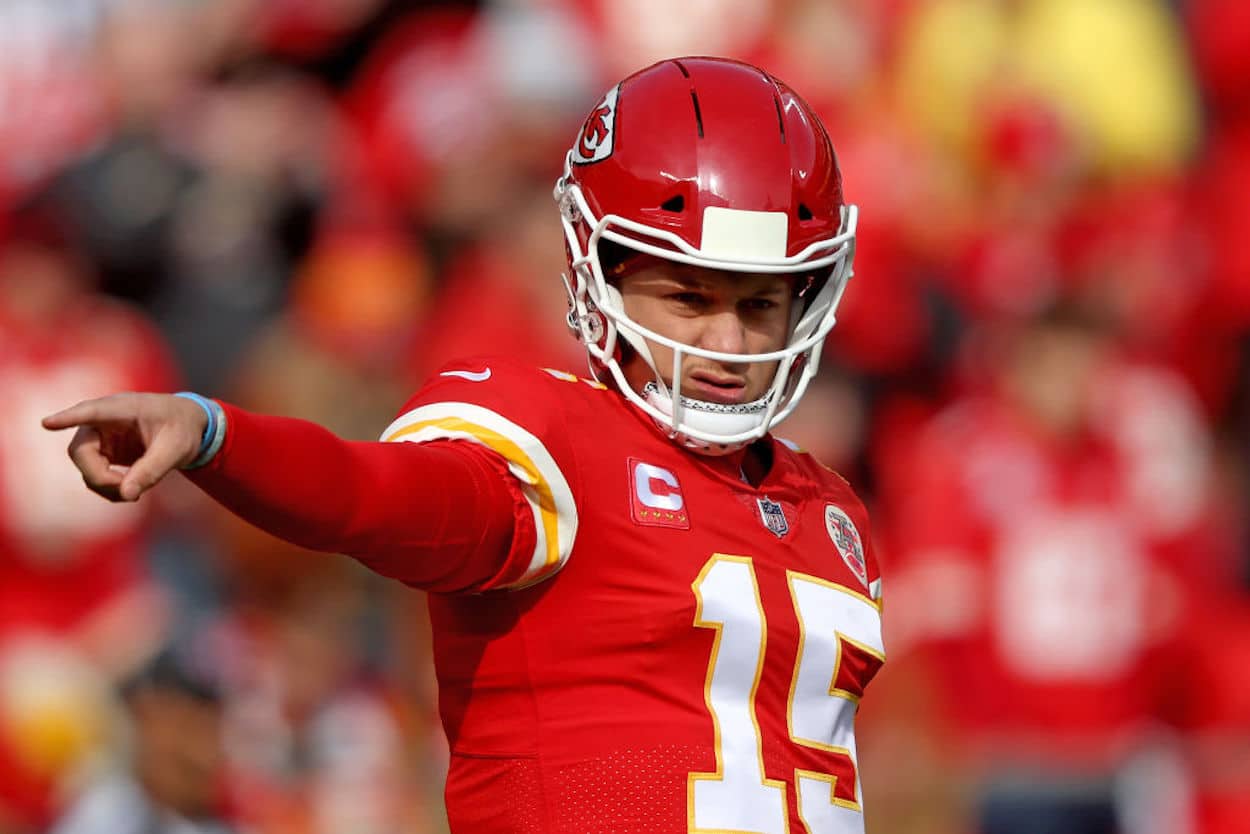 Patrick Mahomes' Endorsement of Justyn Ross Bodes Well for the Chiefs' Chances in an AFC Arms Race
Justyn Ross is yet to play for the Kansas City Chiefs, but he's already earning praise from Patrick Mahomes.
While it may seem unthinkable given their recent success, the Kansas City Chiefs will have something to prove this season. After a disappointing end to the 2021 campaign, the reigning AFC West champs dealt Tyreek Hill to the Miami Dolphins. If you combine that with an offseason that saw the rest of the division improve, Patrick Mahomes will certainly have something to prove this fall. Can he be the one to elevate a relatively new receiving corps to the next level?
Based on some early comments, it sounds like the Chiefs might have an unexpected new weapon in their collective arsenal. Justyn Ross came to KC as an undrafted free agent with plenty of potential. Now, he seems to be making an impression on Mahomes.
Patrick Mahomes is already speaking highly of Justyn Ross
Although some observers expected the Chiefs to draft multiple receivers, they only selected Skyy Moore. The organization did bring some additional offensive talent to town, however, in the form of Justyn Ross.
For those who don't follow NCAA football too closely, Ross looked like a legitimate talent at Clemson but missed an entire season after spinal surgery. While he eventually returned to the gridiron, he was limited during his final college season by a stress fracture in his foot. Those circumstances led to him going undrafted in 2022.
The Chiefs took a flyer on him, though, hoping that his injury woes were officially a thing of the past. While there's still a long way to go before the preseason, let alone crunch time, it seems like Ross is making the most of his opportunity.
"Yeah, I mean, you still see the talent. I think that's the first thing," Mahomes explained, according to Pro Football Talk. "I know people saw the catch on Twitter, but it's just the way he catches the football out of the air. He snatches it — there's no drops or anything like that. Now it's about him learning the NFL offense. That's how it is for every rookie when they come in, is, you don't see that top talent that they can be until they learn and they can just play fast. And I think you've seen that. You've seen those flashes of how talented he can be. And then you've seen times where he's just barely off of what we wanted. And he learns from that, he doesn't make that same mistake."
That may sound like a good start, but the quarterback wasn't done yet.
"And so, the more and more reps that he gets, I can only imagine how good he's going to be because of the talent he possesses," Mahomes added.
The receiver still has a long way to go, but he could be a key piece of the Kansas City Chiefs' offense
It goes without saying that a few offseason workouts don't mean that Justyn Ross will become the next game-breaking NFL receiver. If things work out, though, he could be exactly what the Chiefs need.
While injuries are obviously the complicating factor, Ross' first two campaigns at Clemson tell us everything we need to know about his potential. The receiver is a big-body presence with plenty of big-play capability. Predraft scouting reports also noted his overall athleticism and ability to leverage his size on deep, vertical passes.
It's easy to see how that translates to Kansas City. Mahomes has had to dial back his deep passes as opposing defenses have adapted, but the quarterback has the arm strength to put the ball anywhere on the field. It's also worth noting that Mecole Hardman, Travis Kelce, JuJu Smith-Schuster, and Marquez Valdes-Scantling will probably push Ross down the depth chart, giving him time to adjust to the NFL and grapple with Andy Reid's complex playbook.
You might read that and wonder how a depth receiver can be a key piece to any offense. While that's a fair objection, I'd contend that, at this point, the Chiefs will sink or swim on sheer volume. It's unlikely that any one player, short of trading for another established star, would directly replace Tyreek Hill. Instead, it will be about collective effort. If Mahomes is running the show, can he elevate one elite tight end and a group of talented, if questionable, receivers to the next level?
Through that lens, Ross becomes a bit more important. Even if he's not a game-breaker on his own, he can still make an impact by being a reliable target with a safe pair of hands. He'll spread out the touches and keeps opposing defenses honest. If he and Hardman both go deep on opposite sides of the field, for example, one of them will probably face single coverage. Even if that doesn't set up a 50-yard bomb, it could make some space for Kelce underneath or Hardman running a shallow cross ala Hill.
With all of that being said, though, Ross still has to answer questions about his ability to stay healthy and adjust to life in the pros. If he can put it all together, though, the Chiefs will get a talented receiver at a cut-rate price. Given the club's overall financial realities, that could be exactly what it takes to keep their championship window open while avoiding further cap casualties.
That certainly wouldn't be a bad return on an undrafted free agent signing.
Like Sportscasting on Facebook. Follow us on Twitter @sportscasting19 and subscribe to our YouTube channel.