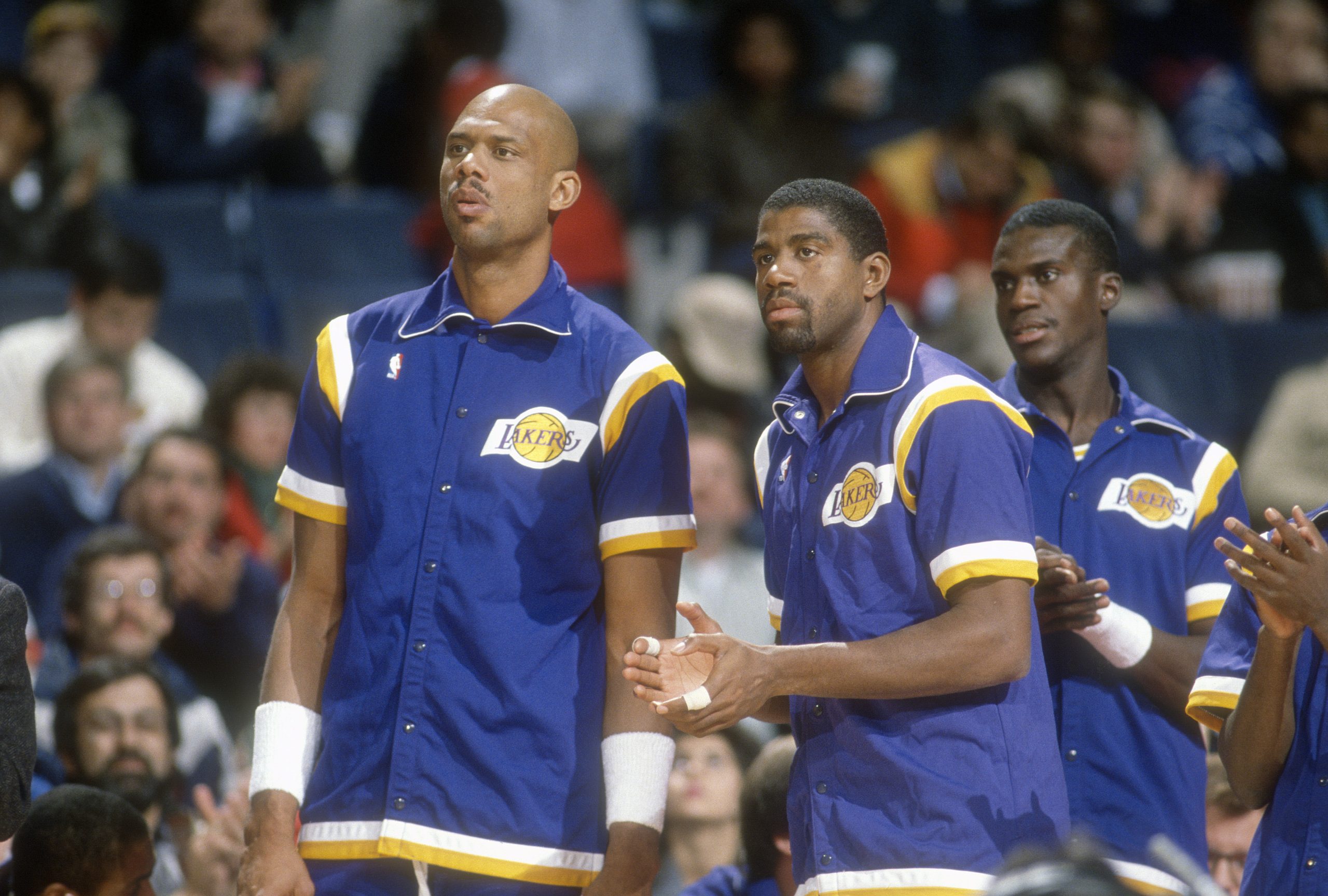 Kareem Abdul-Jabbar Brushed Aside Jealousy Over Magic Johnson to Put Winning First
Former Los Angeles Lakers star Kareem Abdul-Jabbar always put winning first during his illustrious 20-year NBA career.
Kareem Abdul-Jabbar had already secured six MVPs by 1980. The Los Angeles Lakers legend still had four more NBA championships to be won — and winning came first. He teamed with Magic Johnson on the Showtime Lakers as Magic got much of the spotlight and then a big, fat contract. Abdul-Jabbar simply bit his lip and led the Lakers to four more titles in the next seven years.
Kareem Abdul-Jabbar and Magic Johnson led the Lakers to eight NBA Finals appearances in the 1980s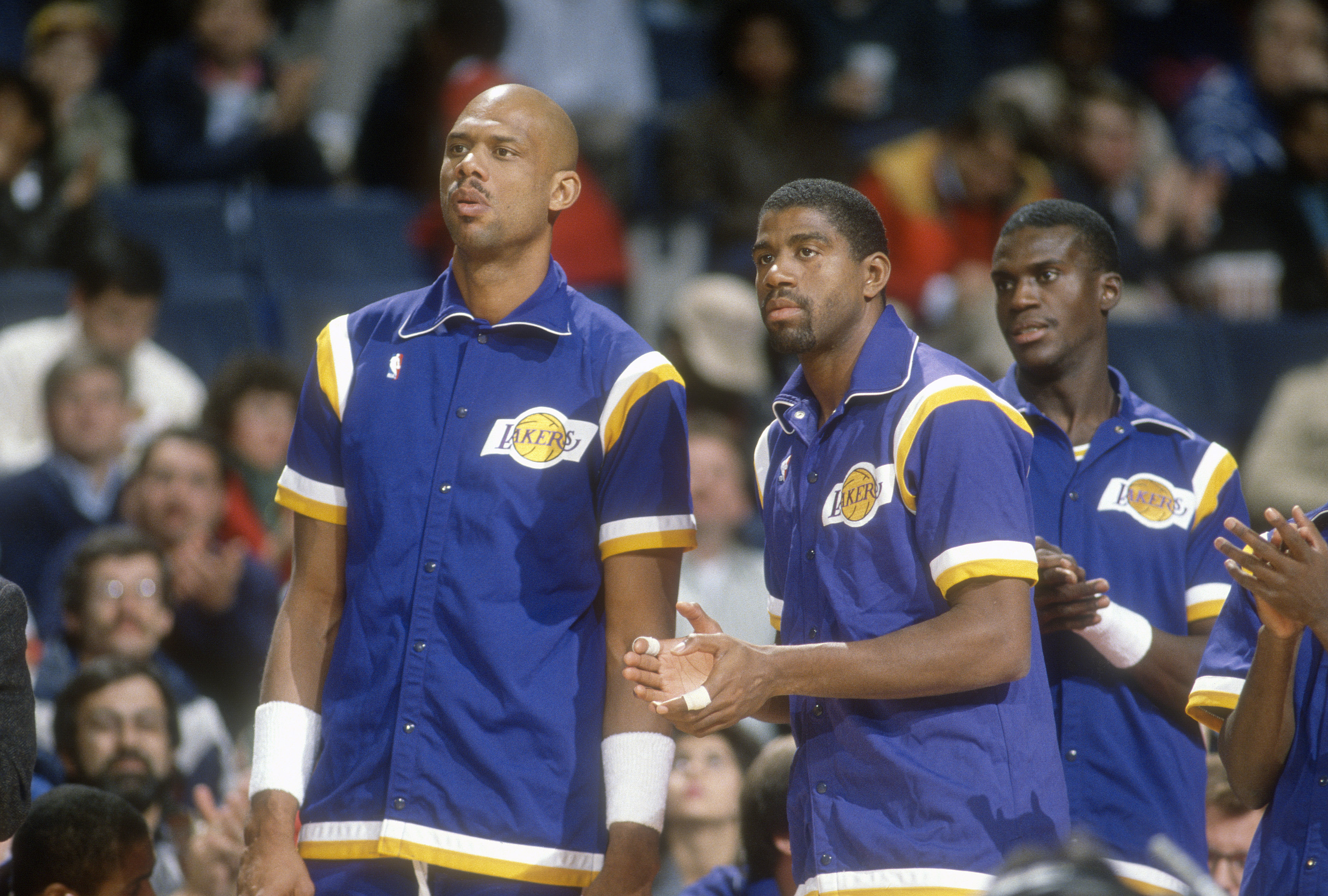 Johnson came into the NBA after his well-publicized college matchup with Larry Bird in the 1979 NCAA men's title game. He was the No. 1 pick in the 1979 NBA Draft after the Lakers won a coin flip with the Chicago Bulls to earn the right to pick first. The Bulls settled for David Greenwood.
Abdul-Jabbar had already spent four seasons with the Lakers when Johnson came on board. He played six seasons with the Milwaukee Bucks, where he led the NBA in scoring in his second and third seasons. He won three MVPs with the Bucks before they made one of the worst trades in history, shipping him off to the Lakers. With LA, Abdul-Jabbar was crowned the NBA's top player three more times.
It was in Johnson's first year with the team when Abdul-Jabbar won his sixth award. Johnson and Abdul-Jabbar formed quite the tandem, winning the NBA title their first year together.
They went on to earn a berth in the NBA Finals each year in the 1980s, except 1981 and 1986 when the Houston Rockets made appearances. The duo won five championships together.
Kareem Abdul-Jabbar put winning before jealousy over Magic Johnson
After just his second year in the NBA, the Lakers made sure they took care of their young point guard. When the 1980-81 season ended, the Lakers inked Johnson to an unheard-of $25 million contract that took care of him well after his playing days. According to United Press International, Johnson signed a deal that would pay him $1 million per year for 25 years. It would go through his playing career and into his future as part of the Lakers' management.
Abdul-Jabbar was still the better player at the time with a much-deeper track record. He was making $1 million per season at the time. After Johnson's deal was signed, the Lakers' center went in to speak with management. The topic of conversation, however, wasn't about money. It was about winning.
The meeting fueled speculation that Abdul-Jabbar's days in LA were numbered.
"A basketball team is much like a family," said Abdul-Jabbar, per UPI in August 1981. "And when one member has been singled out, oftentimes other people in that family can become jealous.
"If you have jealousy, everyone cannot be working toward the same goal. I would also like to point out that salary was not even mentioned during the meeting.
"I have always had an intense desire to win, but the atmosphere here had not been conducive toward that goal. However, after meeting with my boss this afternoon, the rumors of my departure are premature and I look forward to ending my career with the Lakers."
Abdul-Jabbar said if he didn't think winning was possible in LA, he would've wanted to play in New York
For Abdul-Jabbar, winning came first. He finished his illustrious, 20-year career with six championships in addition to his collection of MVPs and 19 All-Star appearances. He still remains the NBA's all-time leading scorer.
Winning, however, was top priority. His meeting was to make sure the foundation for winning was still there. If not, he preferred to head home to New York.
"Had I thought it was impossible to win here, New York is my home and is the only other place I would want to play," he said, according to UPI. "However, my teammates and I are looking forward to the upcoming season and winning the world championship again."
Lakers owner Jerry Buss said before Abdul-Jabbar met with the team, he offered the center a raise to $1.5 million per season.
"Magic Johnson is getting $1 million a year for 25 years starting in 1984," Buss said. "Abdul-Jabbar has to be paid more. He's the best player in the NBA. I would welcome several more seasons at $1.5 million. How many? As many as are reasonable.
"If he wants more years, that will be fine," he said. "I checked with coach Paul Westhead. He says Kareem can be effective for many more years."
Although it may have seemed like the Lakers were wildly throwing cash at their two stars back then, it certainly was money well spent.